Fort Lauderdale, more specifically Port Everglades, is known as being one of the busiest cruise ports in the world. But even if you aren't about to embark on a weeklong Caribbean cruise, you can still sail these local waters of Florida by taking a ride on the Fort Lauderdale Water Taxi.
Fort Lauderdale Water Taxi is not only a water taxi taking you from point A to point B but it's also a nice unique way to see the gorgeous million-dollar mansions, yachts, sailboats, and experience the waterfront lifestyle of the river that weaves its way through the city.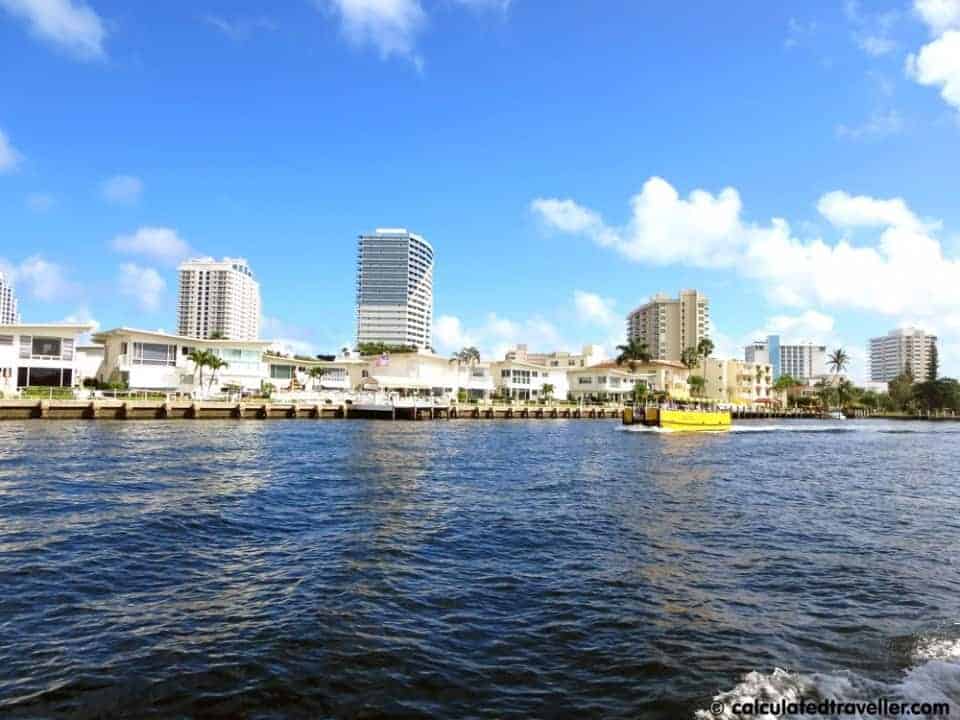 We had the opportunity to ride through the "Venice of America" this past December and had a great unrushed, relaxed visit. Not only was it a great value but also it was quite entertaining. You do get an excellent tour and learn a bit about the history of the lifestyles of the rich and famous that lived and frequented the area both in the past and present. Some of the past residents whose homes you will sail by are Desi Arnaz and Lucille Ball, Burt Reynolds, Nick Nolte, Evel Knievel, Sonny and Cher to name but a few.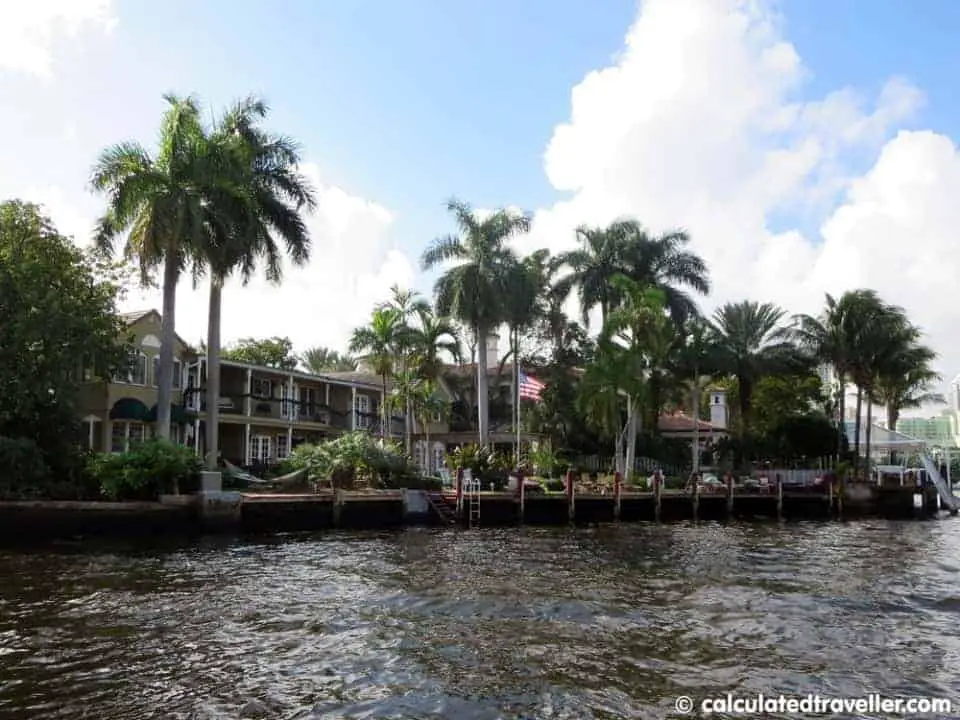 Your one-day ticket includes unlimited hop on hop off access to 17 stops including Fort Lauderdale Beach, Hollywood Beach, Las Olas Boulevard, the Riverfront, Galleria Mall, and the Convention Centre. Many stops are at bars or restaurants along the route, which is perfect if you want to hop off – grab a bite to eat or a drink, and hop back on. (Your ticket does include some discounts at some of the establishments.)
The crew is very welcoming and informative, and they tell some great jokes (albeit some are corny) to keep it interesting and fun. They do go out of their way to make sure that you don't get lost out on the water or stranded at a stop with no return by spending time with each person when they first come aboard to help plan your day.
Parking ($5/day) and tickets are available at the Las Olas Riverfront/Briny Pub parking garage, but you can also buy your ticket directly onboard the Water Taxi from the crew.
The entire trip from top to bottom takes about 3 hours if you don't get off at any of the stops.
Next time you are in Fort Lauderdale, check out the Water Taxi. This sailing was our second time, and I'm fairly confident that we'll do it again…
Here's a video of our experience. Enjoy! 
Fort Lauderdale Water Taxi Pro Travel Tips:
Pay attention to the schedule if you do plan to hop on and off. There are signs next to the stop, and we find it helpful to take a photo of the schedule on our cell phones/camera so that we can refer to it later.
Be aware that if the water taxi is full, you will not be able to board. So, if you are at a popular stop you may have to wait for the next boat.
Travel assistance was provided by Water Taxi and Greater Fort Lauderdale Convention and Visitors Bureau. The opinions expressed, positive and/or negative, are entirely that of the author and are not a reflection of the compensation received.