St Augustine Florida is a city full of history, charm and mystery. The oldest continuously occupied city in the United States, St. Augustine has centuries-old buildings and hidden courtyards, perfect for any visitor to explore.
With its world-class accommodations and plenty of beautiful beaches (42 miles of shoreline to be exact), it's easy to see why over six million visitors each year flock to this gorgeous city. We put this guide together on what to see and do so that you can make the most of your St. Augustine vacation.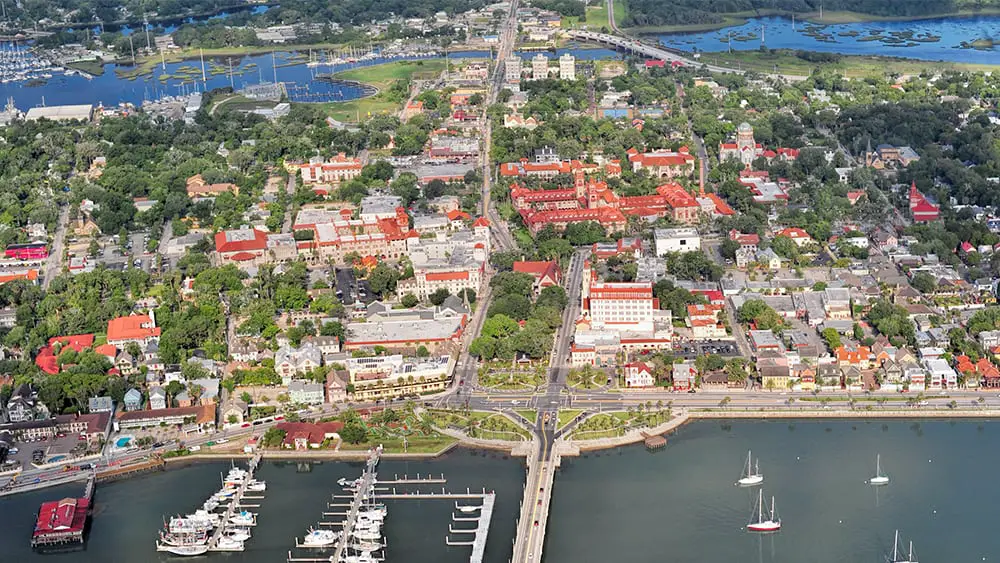 A Traveller's Guide to St Augustine Florida – History and Fun
How to Get Around Historic St. Augustine
There are a few ways to get yourself around St. Augustine. If you have a car, you can explore the outer edges and beaches, but keep in mind that the Historic District of Old Town St. Augustine is pedestrian only. You can park around the perimeter of the historic district at one of the many parking meters (hourly rate only), or you can park at the parking garage located at 1 Cordova Street (hourly/daily rate) next to the Visitors Center.
PRO TRAVEL TIP: Pick up a St. Augustine sightseeing map and guide right away so you can start planning out your adventure in the city.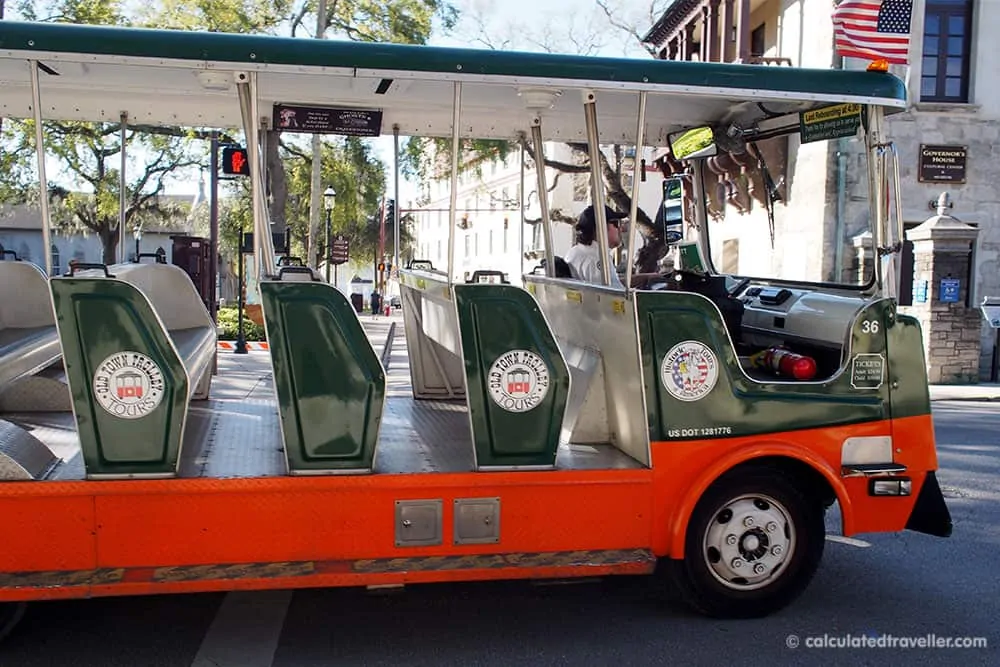 Old Town St. Augustine is very walkable, but you can also hop on Ripley's Red Train Trolley Tour if you don't want to do a lot of walking. The trolley takes you to all the main tourist spots.
For a bit of romance and nostalgia, perhaps try one of the horse-drawn carriage rides for a short tour around the city.
St. Augustine Hotels — Where to Stay
When it comes to where to stay in St Augustine, there are many options to choose from, but the St George Inn is one of our top picks. Located right in the historic district near the Fort Castillo San Marcos and Colonial Quarter, St George Inn puts you in the centre of the city. You can walk to everything the historic district has to offer. The friendly, hospitable staff and a fabulous breakfast make this hotel feel like home.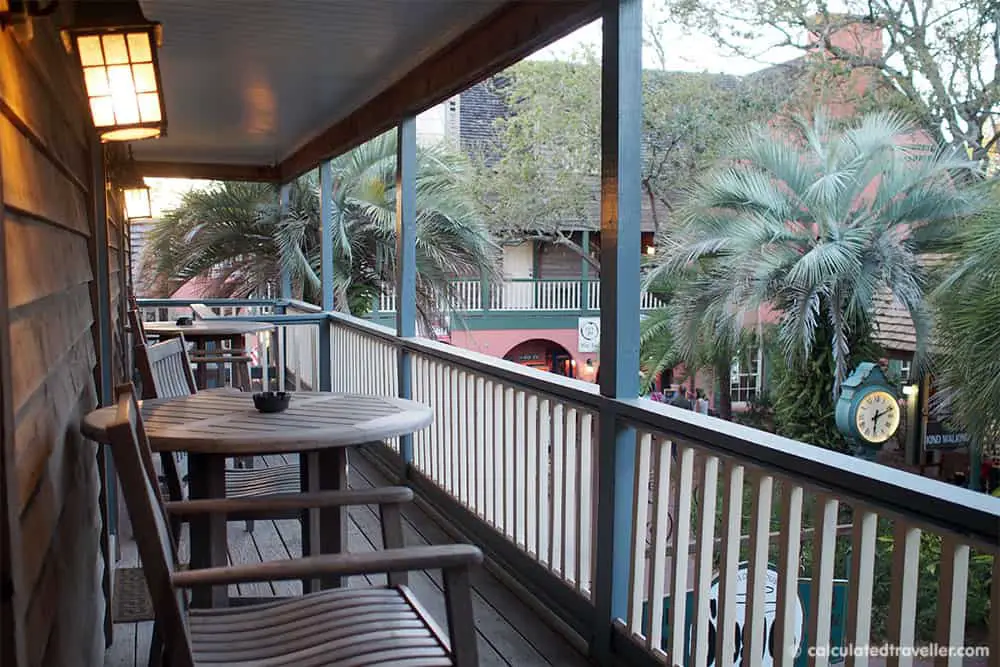 Read our review: Surrounded by History at the St George Inn, St. Augustine Florida
If you want a quieter stay right on the beach, the Pearl of the Sea is an excellent choice. Located on Crescent Beach, this Mediterranean style waterfront bed and breakfast is close to Anastasia State Park and has only 13 guestrooms. Here, you can relax in the hot tub or take a dip in the sparkling pool with a swim-up bar or explore the grounds. Take a trip to the St. Augustine Lighthouse and Museum or the St. Augustine Alligator Farm Zoological Park which are both about ten miles away.
The Tryp by Wyndham is full of all the amenities you have come to know with this popular hotel chain. This property is located in the waterfront and is walking distance from many popular St Augustine attractions like the San Sebastian Winery and Whetstone Chocolate Factory. There is a buffet breakfast and an impressive Spanish restaurant on site, named 333.
Where to Eat and Drink in St. Augustine
In St. Augustine, the food choices are abundant. The foodie will delight in the selection which includes fresh seafood and Spanish influences such as the signature St Augustine Minorcan Fish or Clam Chowder – sweet/tart/citrus/hot courtesy of Spanish datil peppers.
Here are some of our favourites: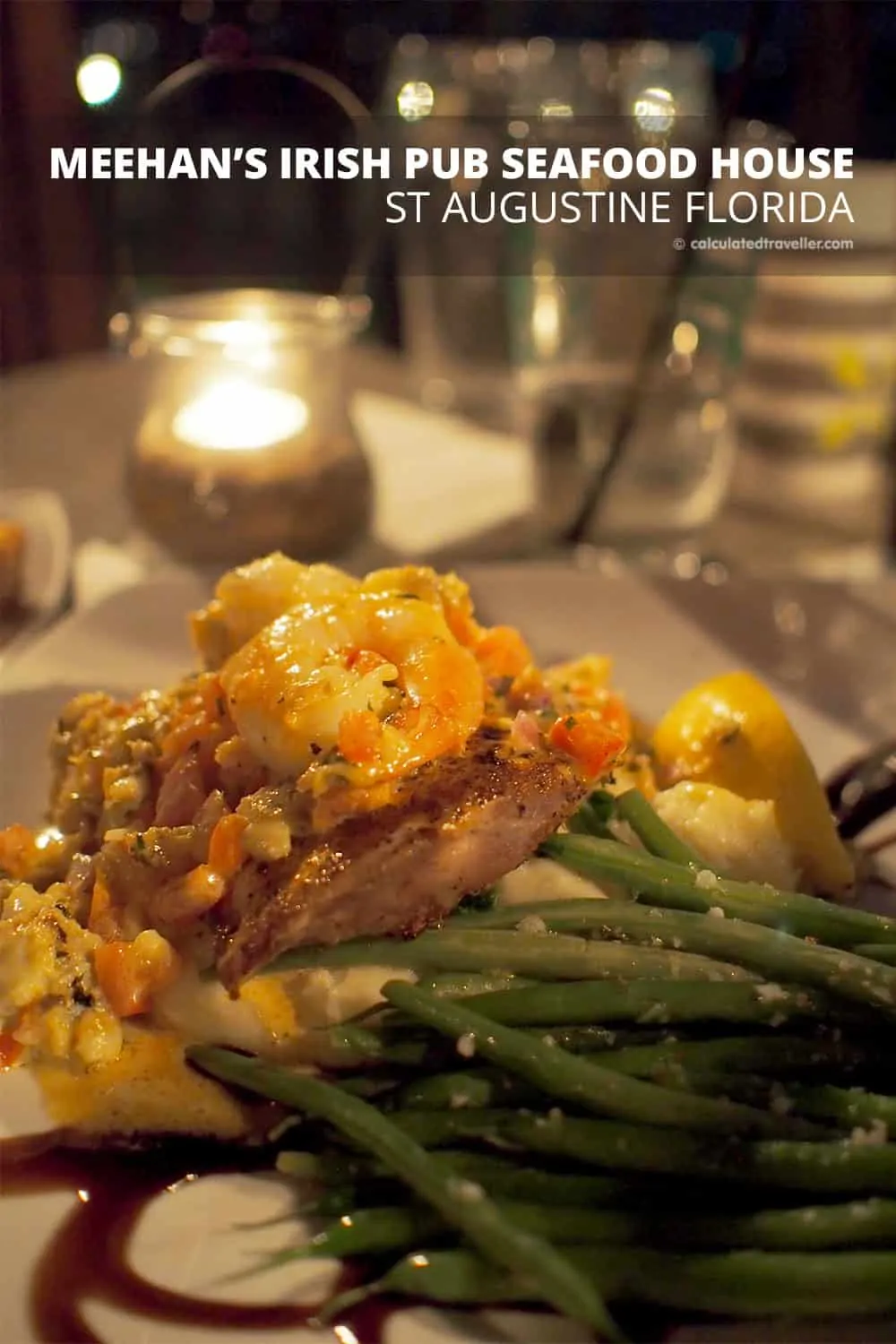 Meehan's Irish Pub and Seafood House

For great views and a mean Minorcan Clam Chowder made fresh every morning, try Meehan's Irish Pub and Seafood House. Here you can get great views of Fort Castillo San Marcos and the waterfront from the restaurant's upper deck. We caught the most fantastic view of the supermoon during our visit.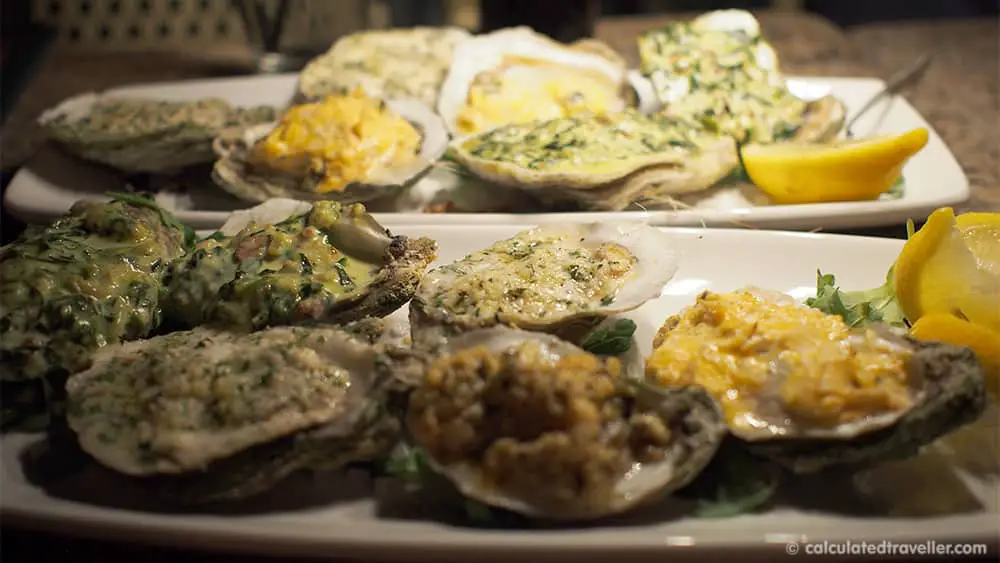 Meehan's is known best for their oyster bar upstairs where you can enjoy these ocean gems served grilled or raw. Castillo, Pico, Johnny, Dynamite, Rock – if you can't decide which topping to put on your grilled oysters choose of flight of 6!
For something special and unique? Try the cast iron calamari and get extra bread for dipping into the delicious herbed lemon garlic butter sauce.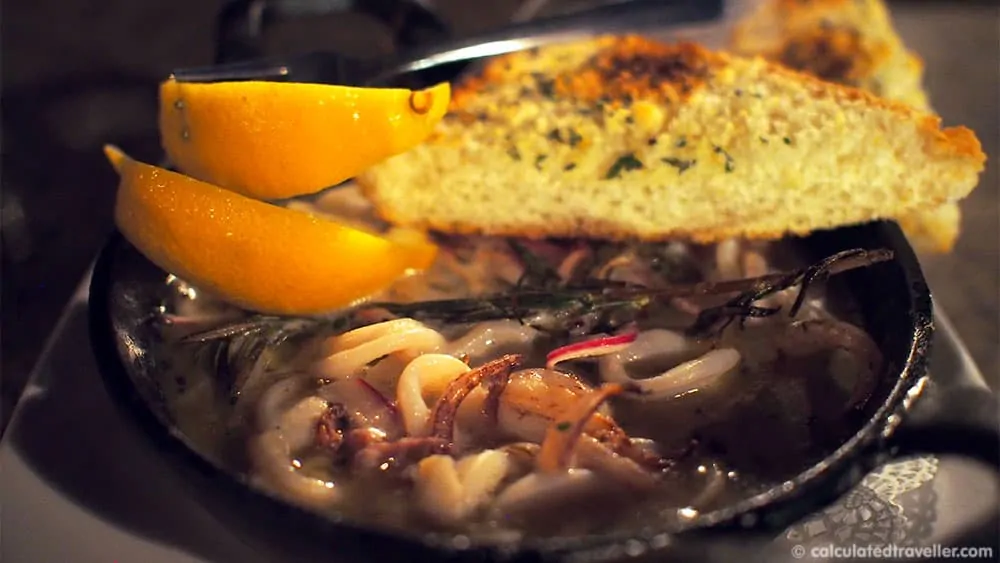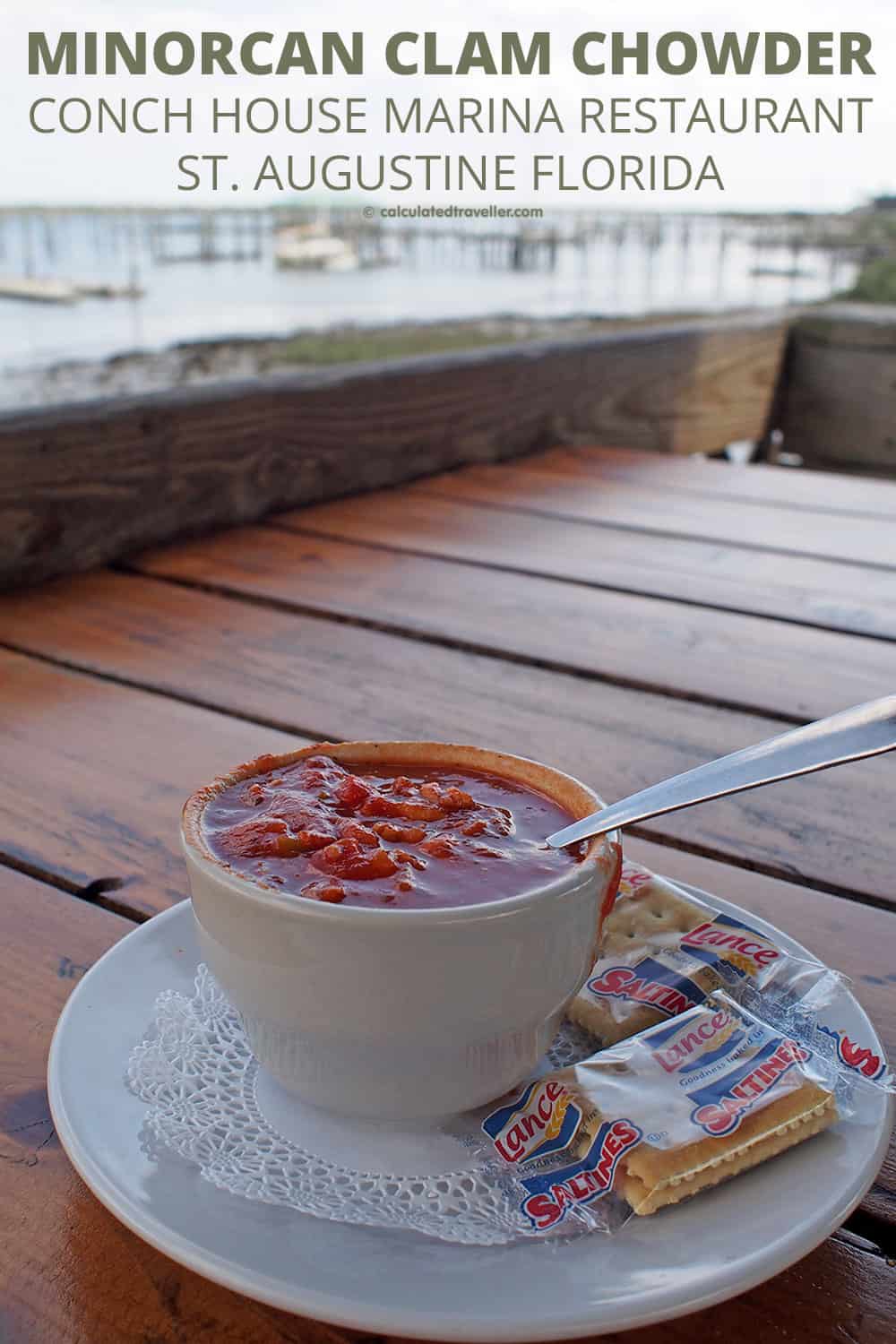 Conch House Marina Restaurant
For more seafood, head to the Conch House Marina Restaurant.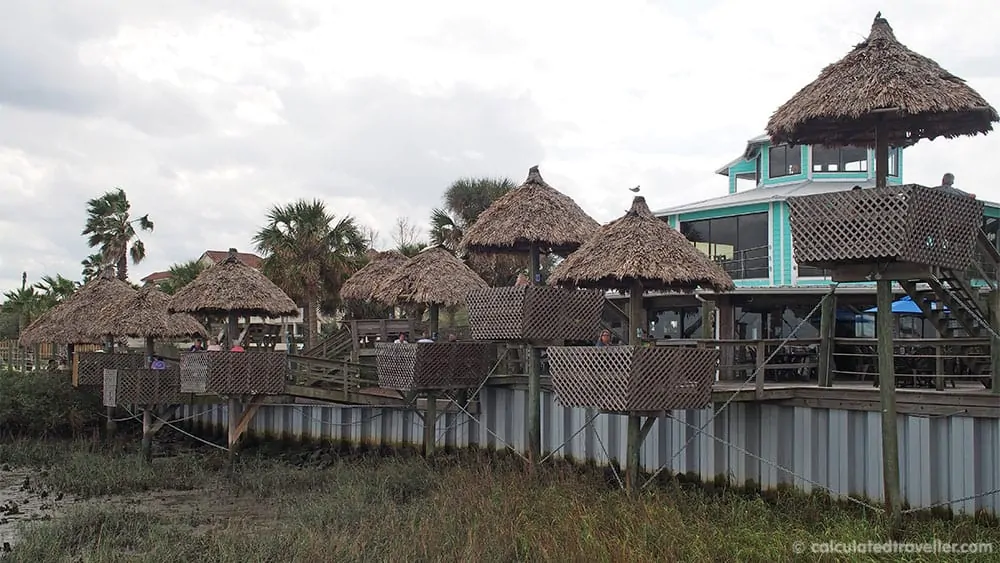 Surrounded by the picturesque marina, we ate our fill of Minorcan Clam Chowder, Fried Butterfly Shrimp and homemade kettle creek potato chips while dining outdoors with the birds.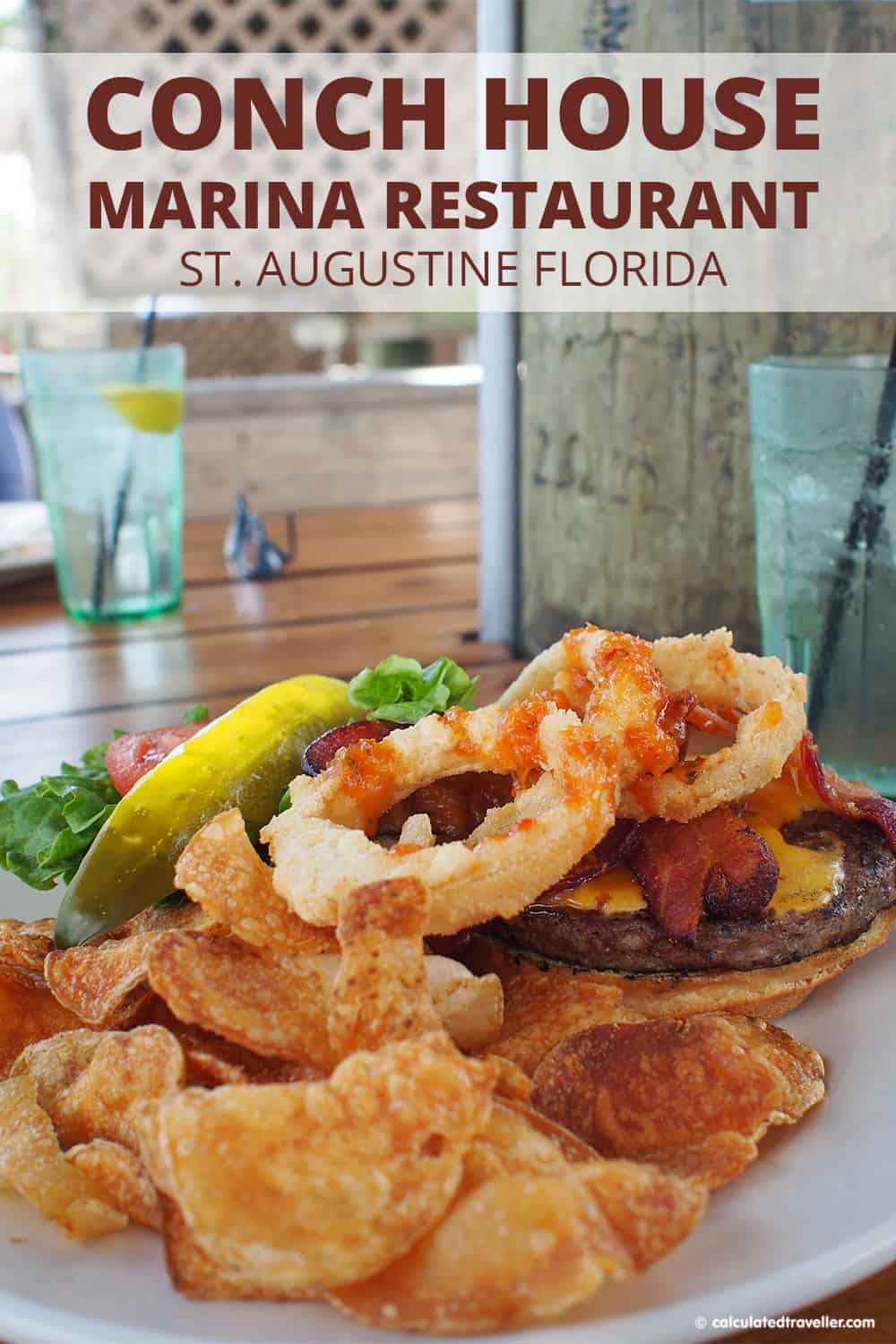 Café Alcazar
You may not think of the Lightner Museum as a place to stop and eat, but here you can certainly have an interesting dining experience – the restaurant is in what used to be the deep end of the swimming pool. Café Alcazar is a great spot to enjoy lunch with your choice of sandwiches, salads and soups.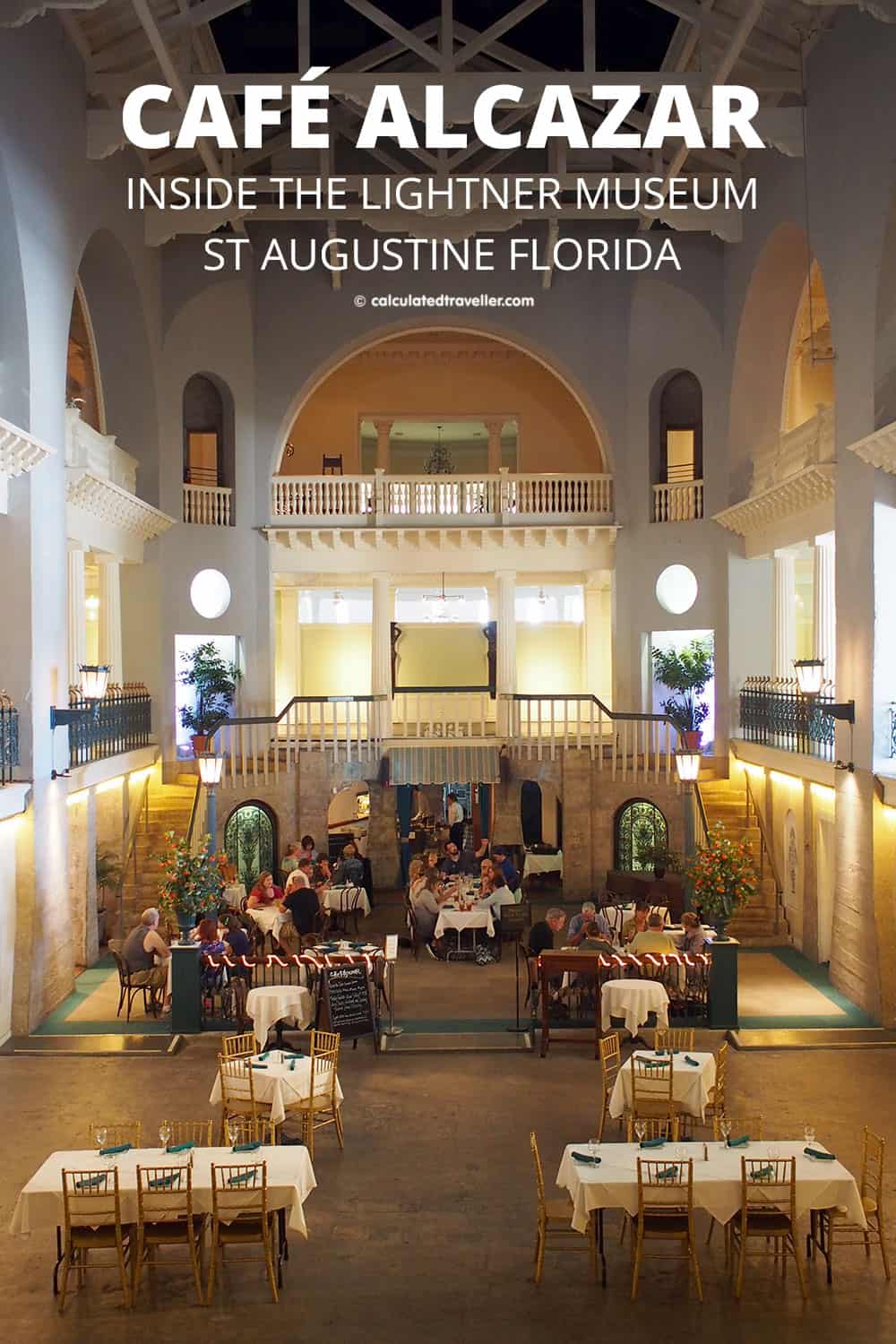 St. Augustine Distillery
For smaller appetites and a killer cocktail, try the St. Augustine Distillery. You can get a drink made with one of their small-batch spirits.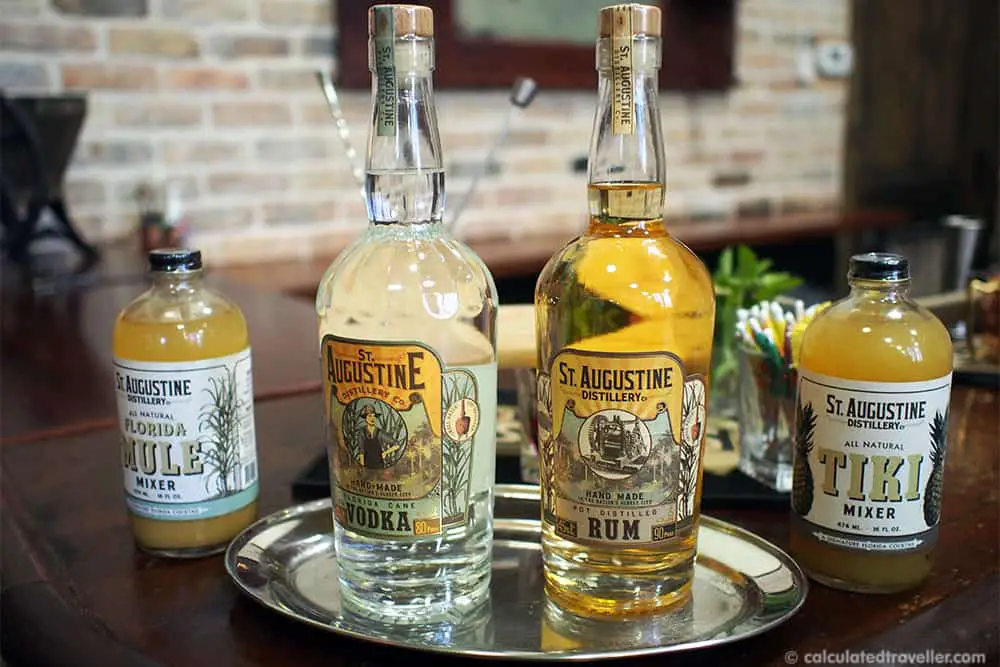 After a long day of touring St. Augustine, treat yourself at Whetstone Chocolates. There are multiple locations, and there you can indulge your taste buds in artisan chocolate or ice cream.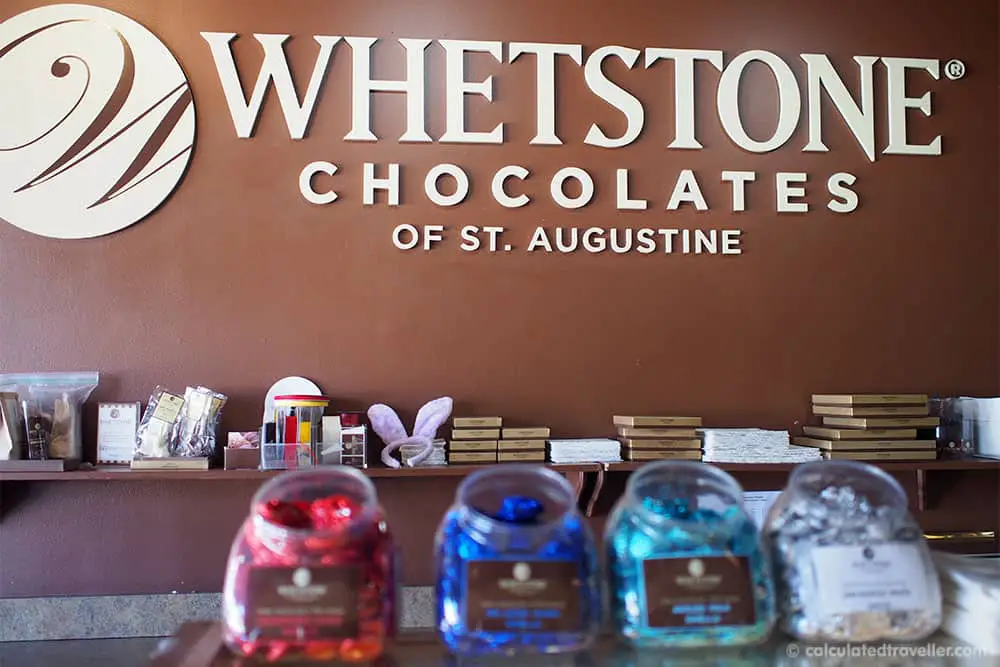 Read our article about both the Distillery and Whetstone Chocolates in the article: A Taste of St. Augustine Florida in Search of Spirits and Chocolate
St. Augustine Seafood Co.
The St. Augustine Seafood Company is the perfect place to pick up some Clam Chowder (get the half Minorcan and half regular), some blackened shrimp or their special catch of the day such as this Parmesan crusted flounder sandwich with strawberry slaw, and honey lemon mayo.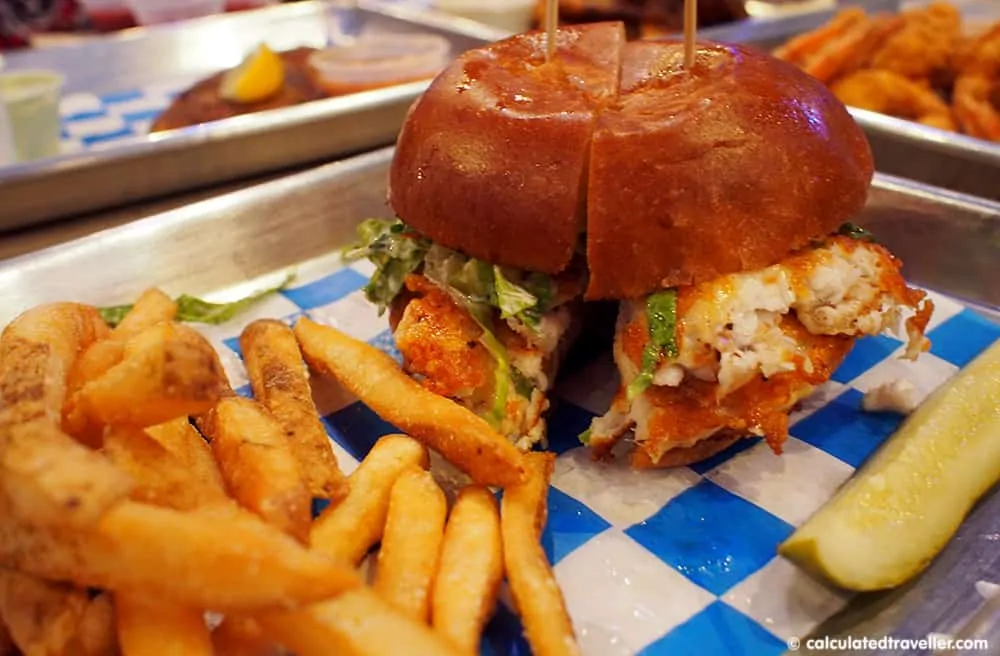 Fresh, tasty and affordable right in the middle of Old Town and conveniently a few doors down from the St. George Inn. They also offer a unique selection of sauces perfect for gift giving.
Take your meal to go and eat it next door at the outdoor Colonial Oak Music Park (see below).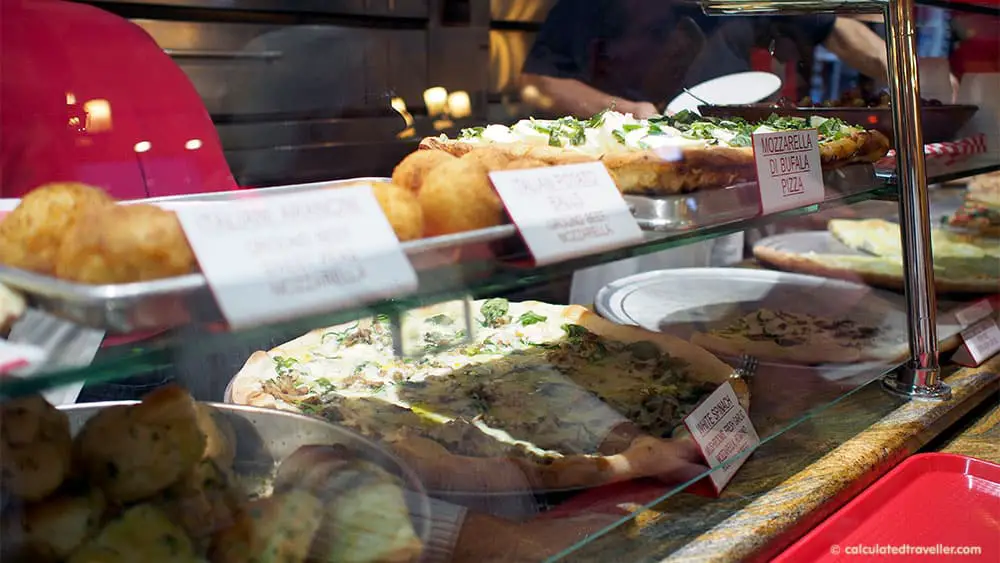 Pizza Time
Located close to the Cathedral Basilica of St. Augustine is Pizza Time. Look for the line up at the door and join the queue. Pizza Time is perfect for a quick grab and go lunch or casual dining with the kids.
Read our article here: Pizza Time in St. Augustine, Florida
Where to Shop in St. Augustine
There is no shortage of shopping in St. Augustine. Take a stroll through the historic district and enjoy some of the small, eclectic boutiques. In Old Town, on the first Friday of the month, art lovers can stroll the galleries on Main Street for Art Walk.
Stop by the St. Augustine Premium Outlets where you can find stores like Ann Taylor, Banana Republic, Brooks Brothers, Coach and more. You can also see some high-end outlet shopping at stores like Gucci, Saks Fifth Avenue and Michael Kors at the St. Augustine Outlets.
Guide to St. Augustine Activities for the Kids
When looking for St. Augustine attractions that are family-friendly, there are plenty of options available.
Kids will love the St Augustine Pirate and Treasure Museum, where they can fire a make-believe cannon, lift a gold bar, touch a centuries-old treasure chest or see Jack Sparrow's Sword! This makes a great stop on a rainy day in St. Augustine.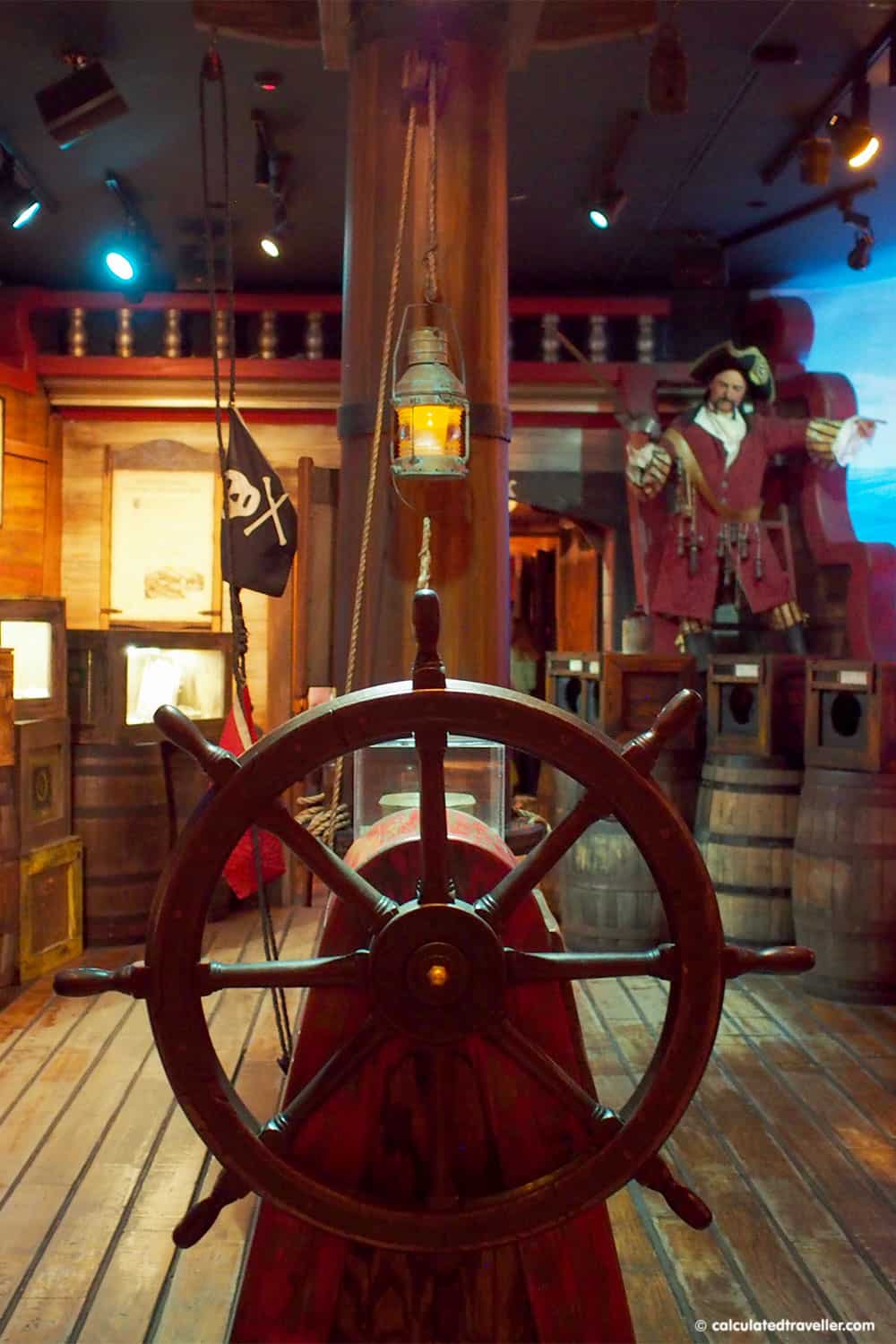 Next hit the St. Augustine Alligator Farm Zoological Park. There are daily wildlife shows for the whole family to enjoy as well as the Crocodile Crossing zip line tour which will have you flying over the zoo. There are more than Alligators to enjoy there; they have many species of birds, reptiles and mammals to enjoy like the Lemurs of Madagascar.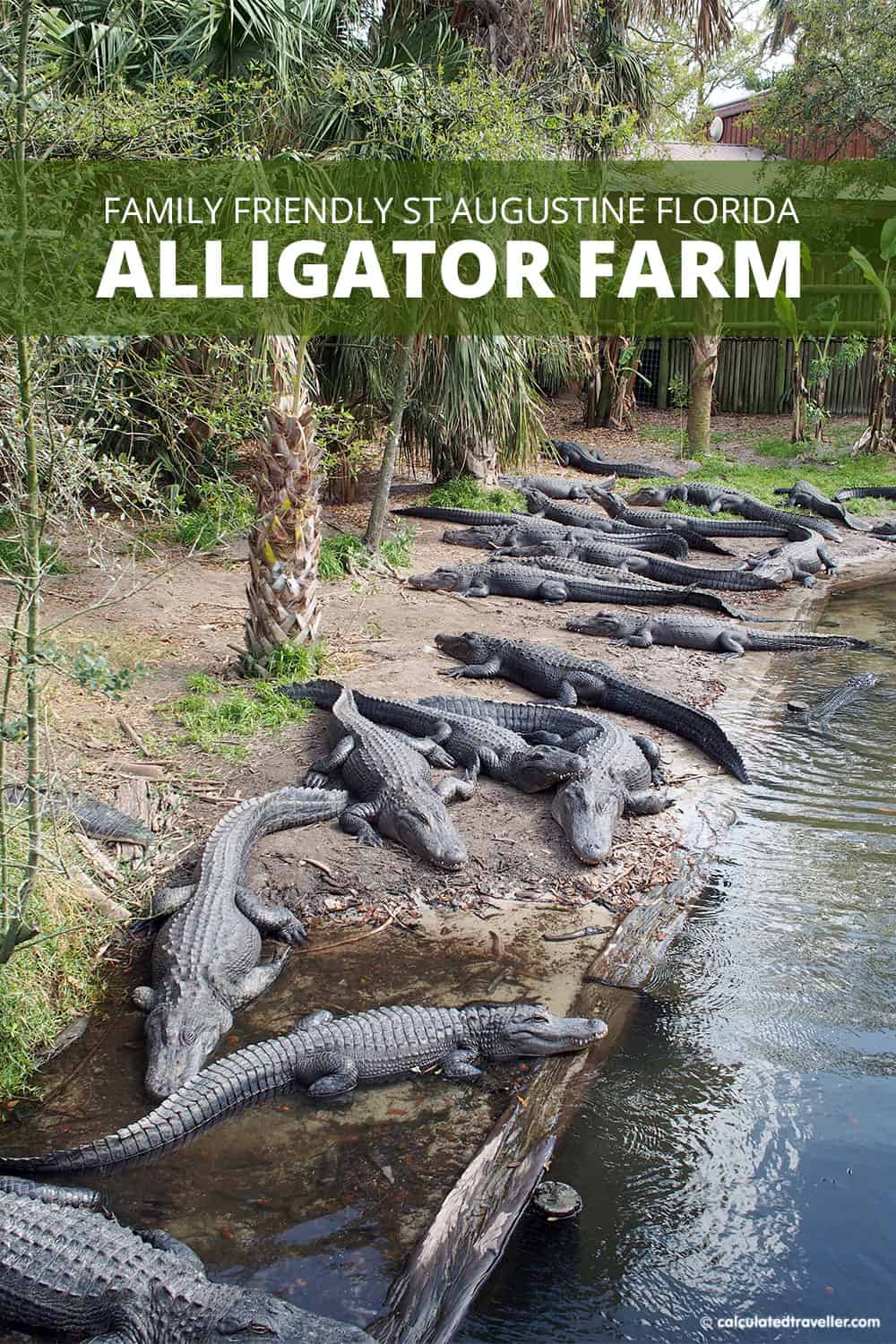 Don't forget to stop by the Ripley's Believe it or Not Museum. Although there are many nationwide, this was the original. Located on San Marco Avenue, you can check out the one of a kind exhibits filled with visual illusions, human oddities and more. The complex includes the museum, mini-golf, the starting point for the Ghost Train and Red Train Tours. You can very easily spend the better part of the day here, and it makes a great spot to visit on a hot or rainy day.
Get Outdoors in St. Augustine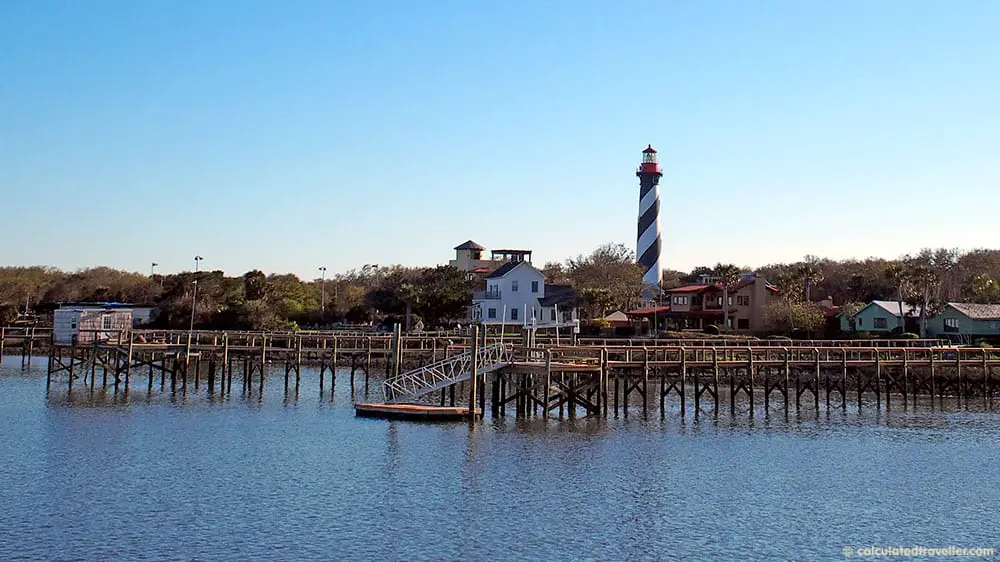 With such beautiful surroundings and a warm climate, take advantage of everything the outdoors has to offer. Climb the stairs of St Augustine Lighthouse and Maritime Museum or take a boat ride along the Intercoastal Waterway and Matanzas Bay to get a waters view of the sights of St. Augustine.
Before you leave St. Augustine, you should visit Anastasia State Park. The beach there is incredible and seemingly endless.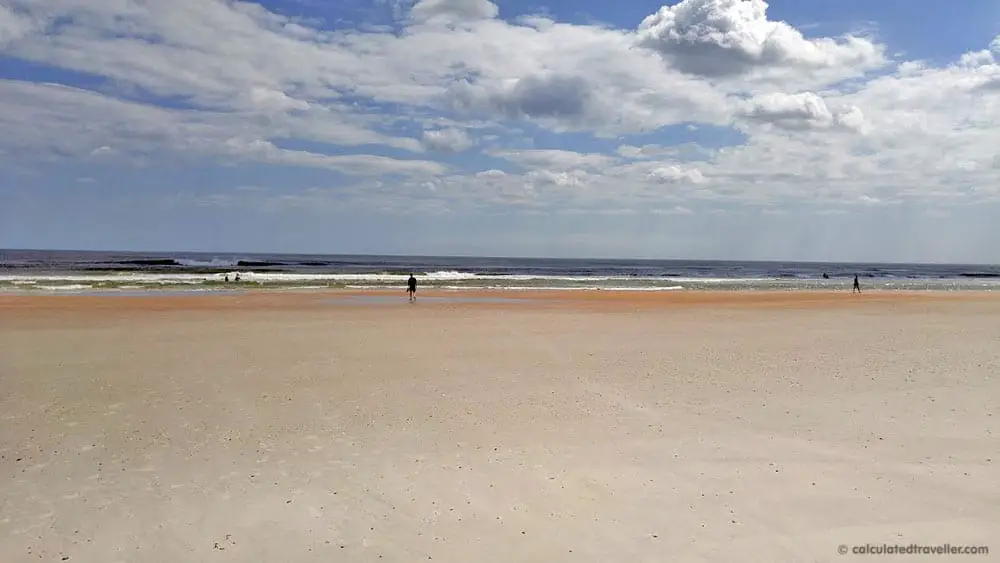 You also can take a kayak tour with Anastasia Watersports through Salt Run. This gentle stretch of water is full of wildlife like birds and turtles. If your timing on the water is right, you may even catch a glimpse of a manatee or dolphin that some visitors have reported seeing.
Interesting Tours in St. Augustine
There are so many impressive places to visit in St. Augustine, and sometimes the best way to get an insider's peek is to take a tour. Here are a few of our favourites.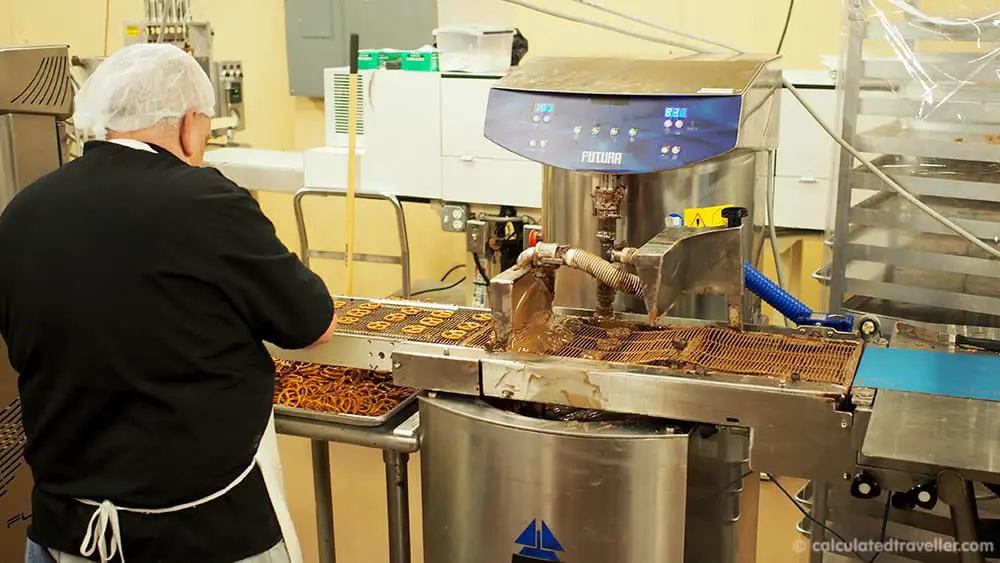 Do you love chocolate? Then you will love the Whetstone Chocolate Factory Tour. It goes over the history of chocolate making, the Whetstone story and of course a tasting of their delicious artisan chocolate.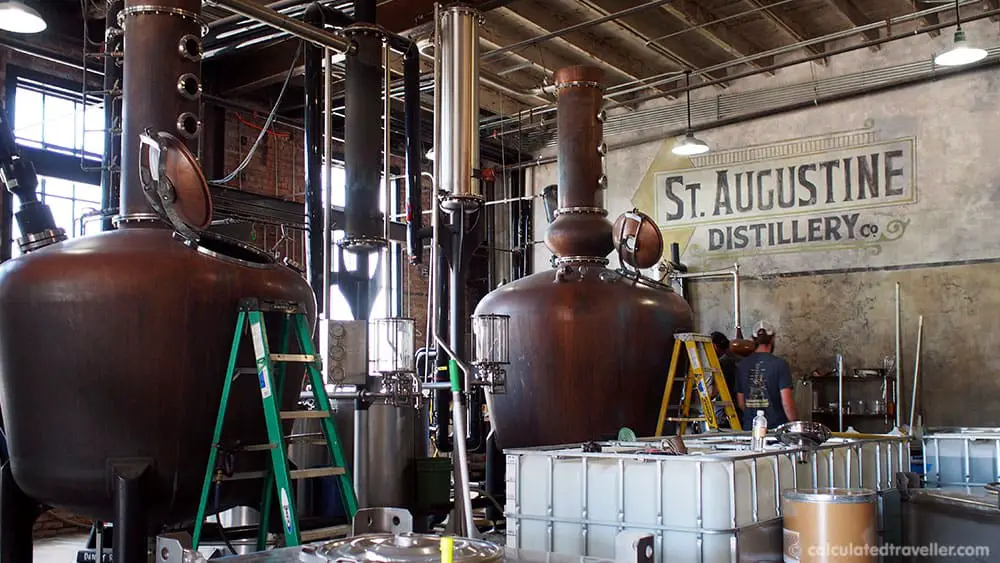 If fine spirits are your preference, take a tour of the St. Augustine Distillery. This free tour will give you a peek into the process of making gin in this renovated ice manufacturing plant. Make your way to the tasting room after the tour to sample their small-batch spirits.
Read our article: A Taste of St. Augustine Florida in Search of Spirits and Chocolate
If you love architecture and history, the Flagler College Tour is a great way to spend the afternoon. These student-led tours take you through the college and the main building which was once a hotel. Check out the cafeteria which is streaming with light and filled with Tiffany stained glass.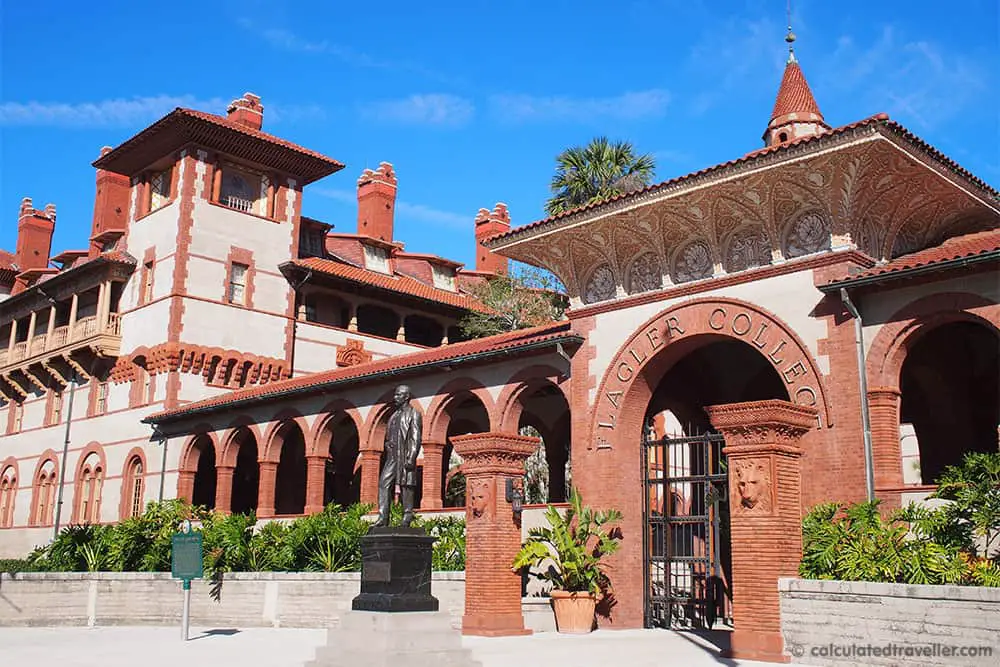 For the supernatural aficionado, the Ghosts and Gravestones St. Augustine Frightseeing Tour is a popular choice. With a city this old, there are bound to be a lot of juicy ghost stories. On this combination bus/walking tour, you will visit various cemeteries in the town, the old jail and Potter's Wax museum while getting the unique and haunted history of this centuries-old city.
Guide to St Augustine Arts, History and Culture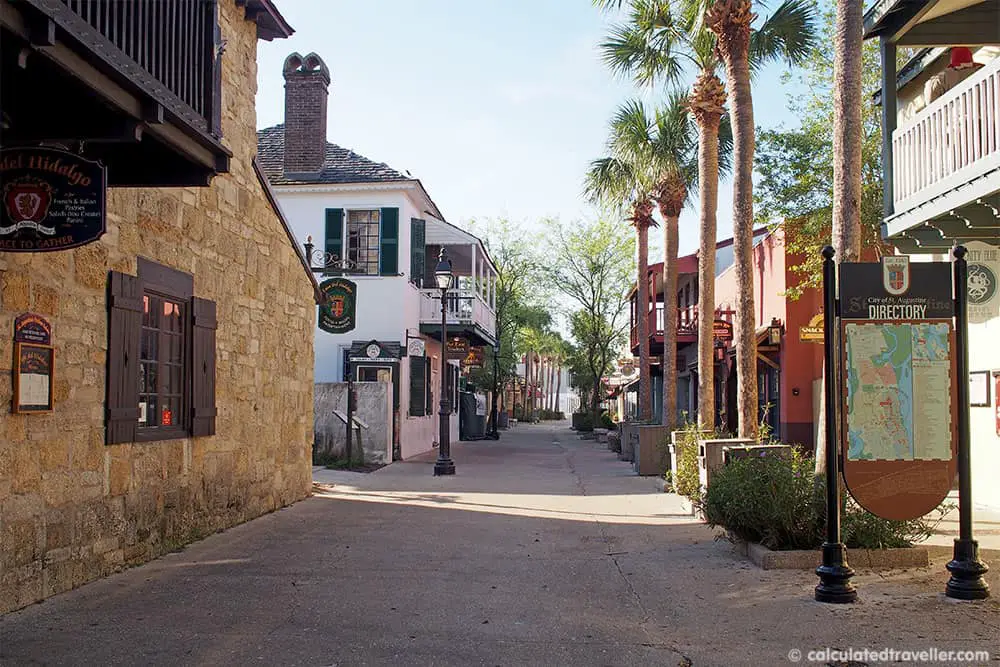 St. Augustine is the oldest occupied city in the US, so more than 450 years of history is waiting for discovery within its city limits. Some of the oldest structures in this country live here from the oldest schoolhouse, church, and more.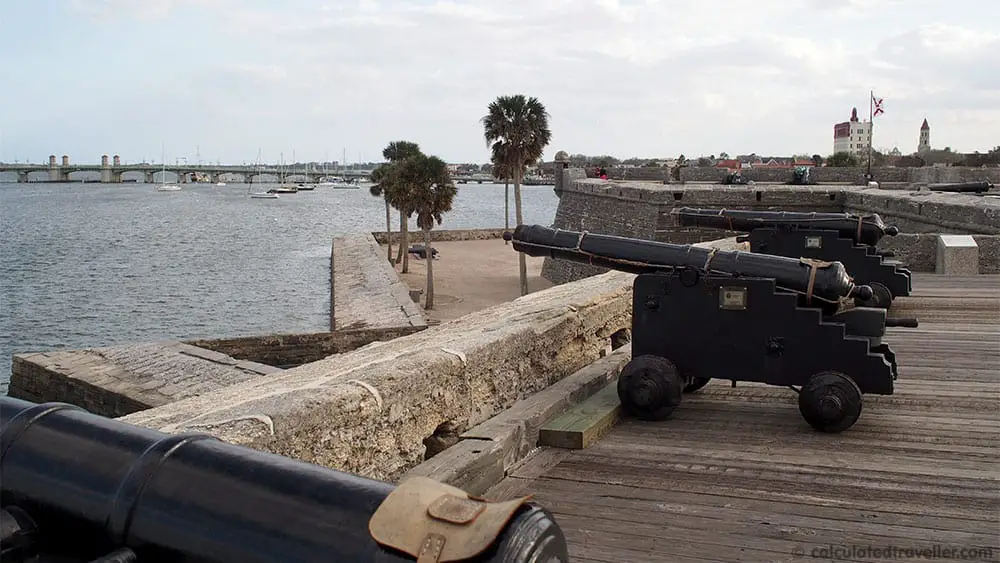 One site not to be missed is the Castillo de San Marcos, which is the oldest masonry fort in the US. Construction started in 1672 on this massive fort. This fort holds a fascinating history and now is there for visitors to explore. Another stop should be the Fountain of Youth Archeological Park. This infamous fountain has served urban folklore for centuries. There you can drink from the fountain, explore the property, see peacocks roam freely and watch cannon firings.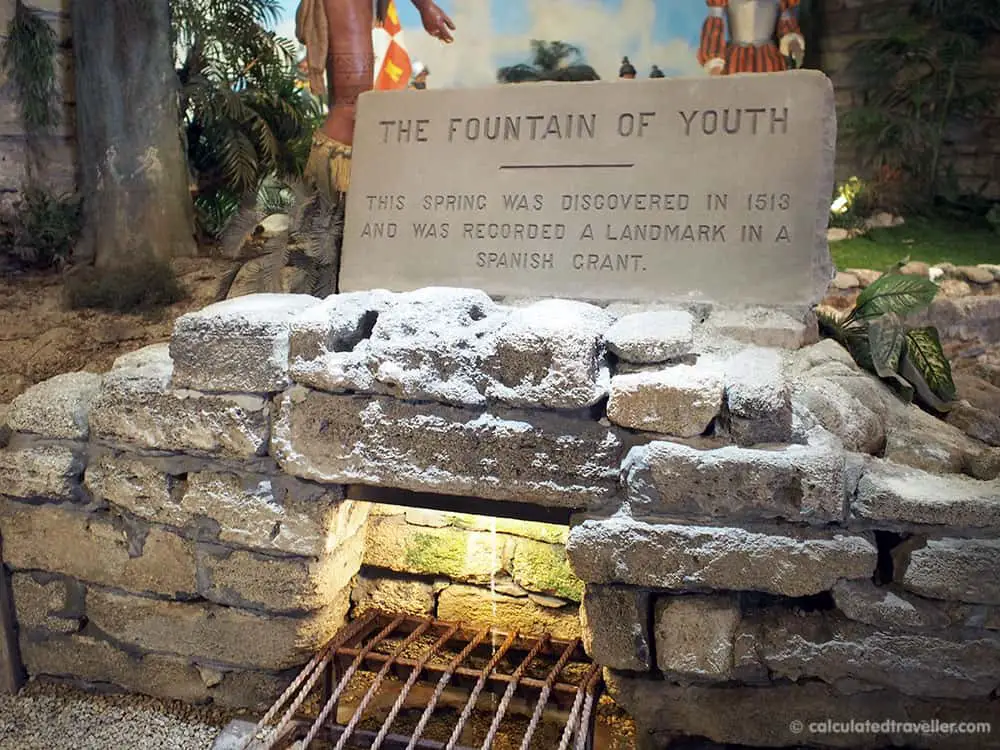 Stop by one of the many museums in the area like the St Augustine Lighthouse and Maritime Museum. Here you can learn more about this active, working lighthouse.
Stop by the Lightner Museum to see the eclectic collection which features everything from Gilded Age artwork to an array of matchbooks and much more. Another unique collection is at the Potter's Wax Museum where you will see lifelike wax statues of celebrities, athletes and political figures.
Walk around the historic district in town and visit the square or the old jail, on the National Registry of Historic Places and where visitors can tour the prison and hear about some of the criminals who once resided there.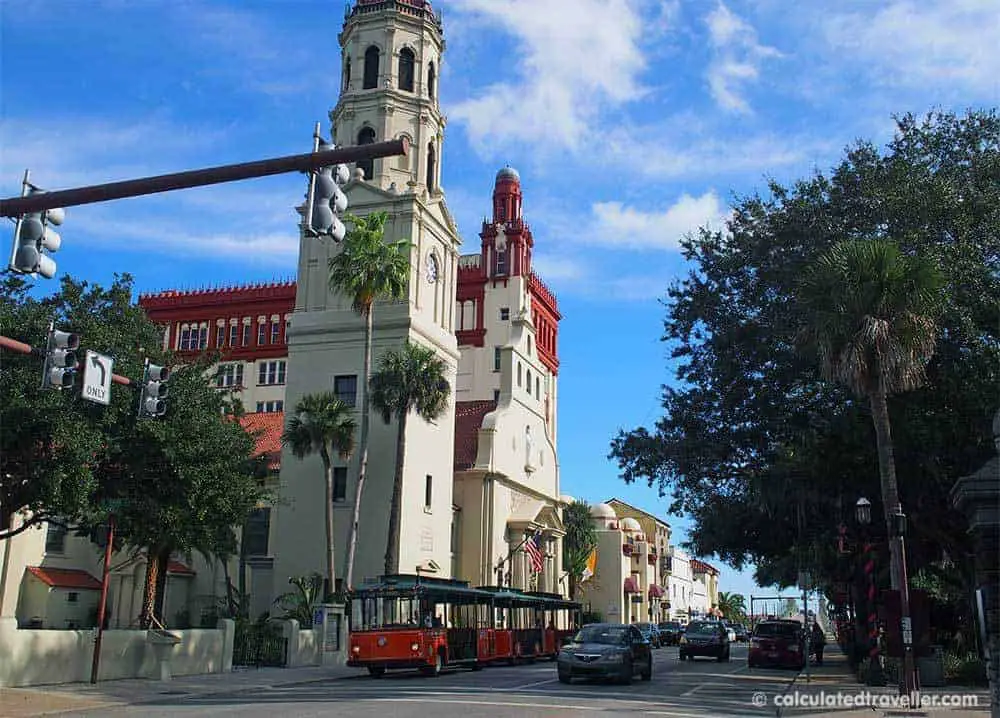 For those visitors who love religious architecture, head to the historic Cathedral Basilica, the seat of the Catholic Bishop of St. Augustine. Take a walk to the Memorial Presbyterian Church and view its impressive facade. This church, which was built in 1889, was named as one of the religious wonders of the US and has been featured in places like CNN and USA Today. Don't forget to check out the Mission Nombre de Dios where a massive cross outside marks the landing site of the rustic altar where the first mass was celebrated in 1565.
Guide to St. Augustine at Night
Cocktails, live music and seafood – could you ask for more?
Colonial Oak Music Park is a free outdoor music venue with lights strung through the trees, picnic table and benches and pop-up food stands, all making for a low key evening of listening to live, local bands.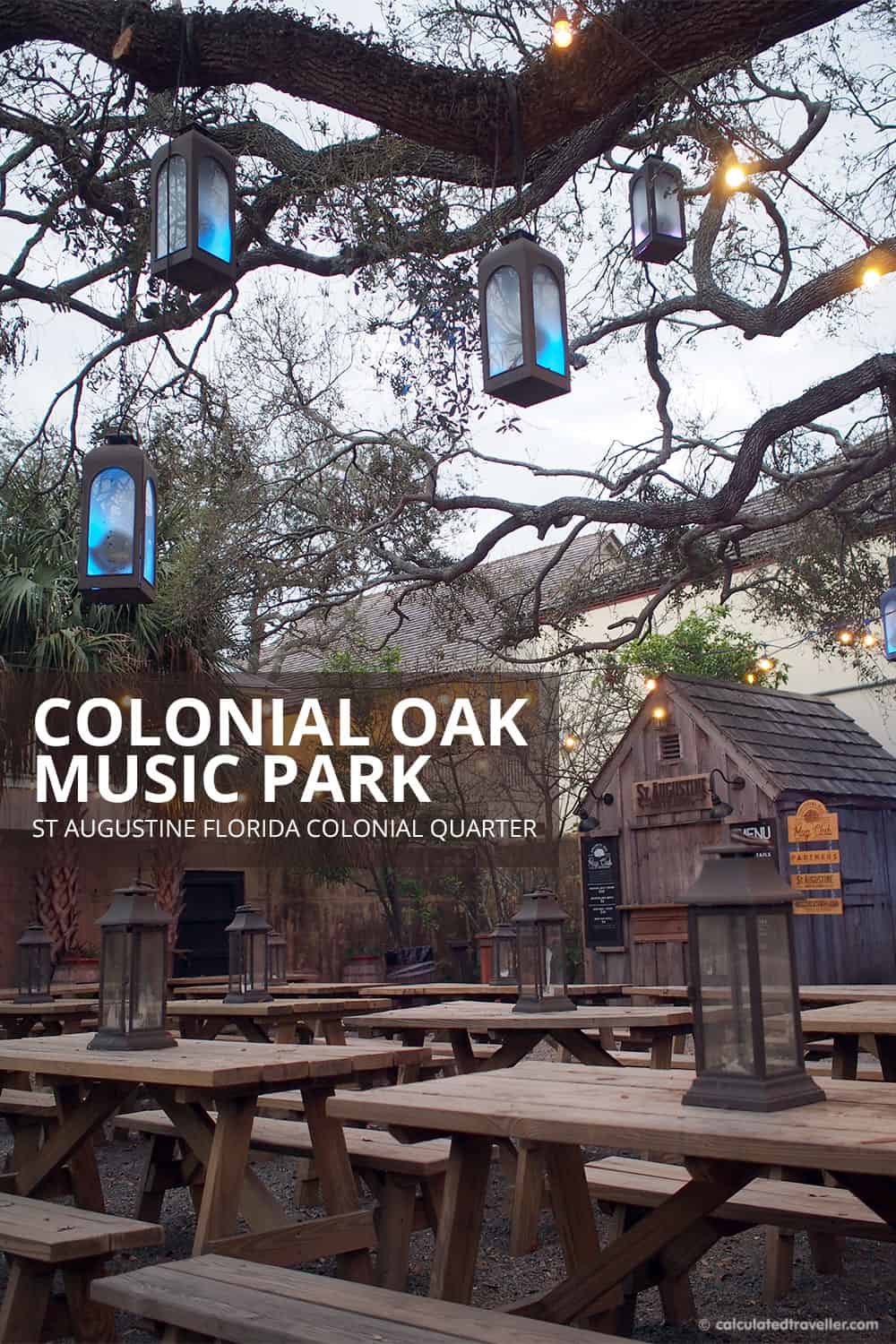 It's not a mystery that the oldest city in the US would also be home to some of the most haunted places in the US. Ghost tours are very popular in St. Augustine once the sun goes down. There are quite a few tour operators available, and all are very different so if you have the time and the interest, take more than one tour!
Whether you are here for a weekend in St. Augustine or exploring for a week, you won't be bored in the oldest continuously occupied city in the United States.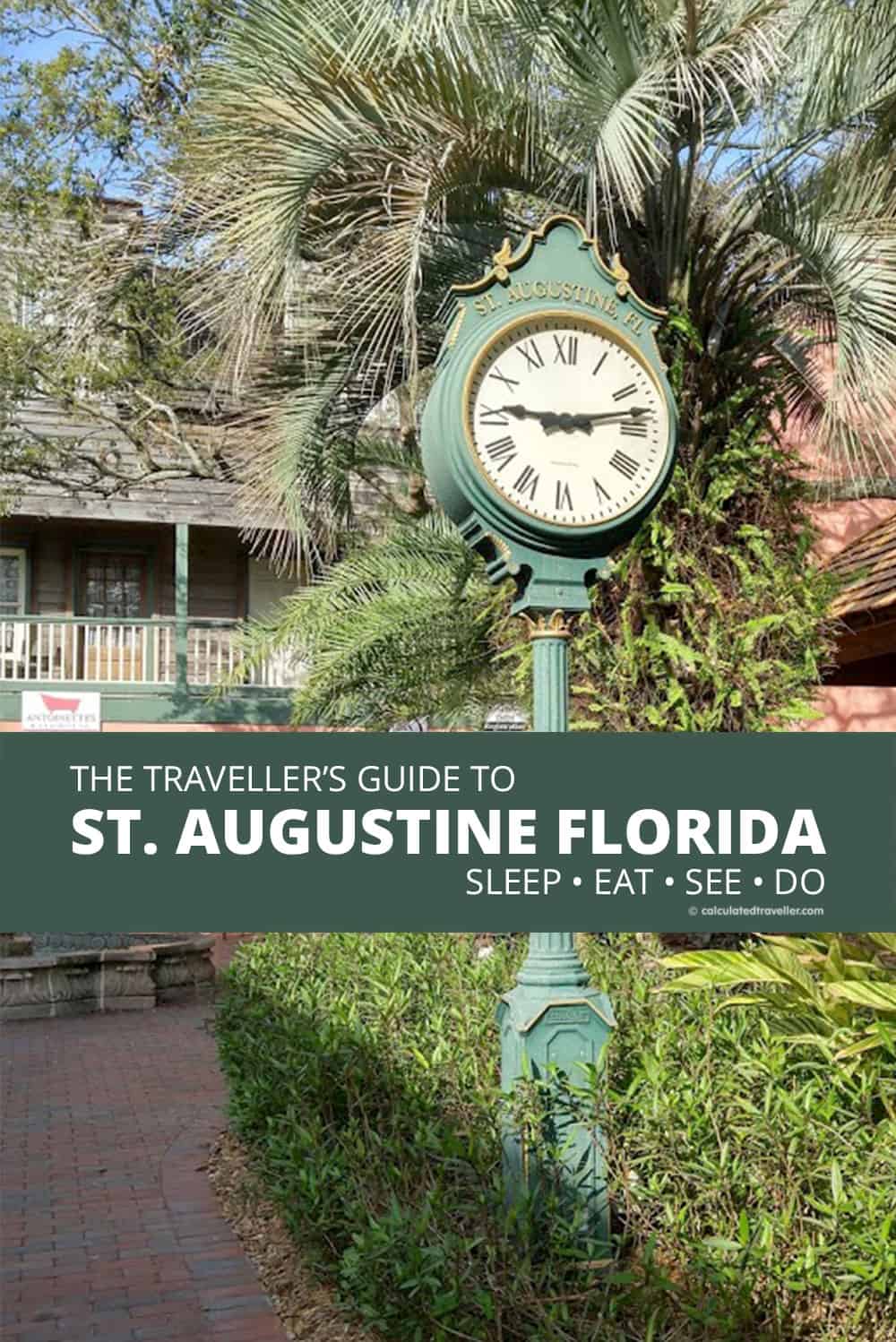 Have you visited historic St. Augustine Florida before? Leave a comment below with your favourite spots!
Travel assistance was provided by Florida's Historic Coast, all opinions are entirely our own.