Dining at Caretta on the Gulf is the most elegant of affairs. Located within The Sandpearl Resort on Clearwater Beach, Caretta on the Gulf is the only AAA Four-Diamond restaurant in Clearwater Florida.
Caretta on The Gulf — Four Diamond Atmosphere, Service and Cuisine
With a seasonally inspired menu, signature cocktails and a gorgeous view of the Gulf of Mexico; the atmosphere is warm and welcoming, the service is impeccable – professional, relaxed and not rushed, and the food is fresh, delicious and beautifully presented.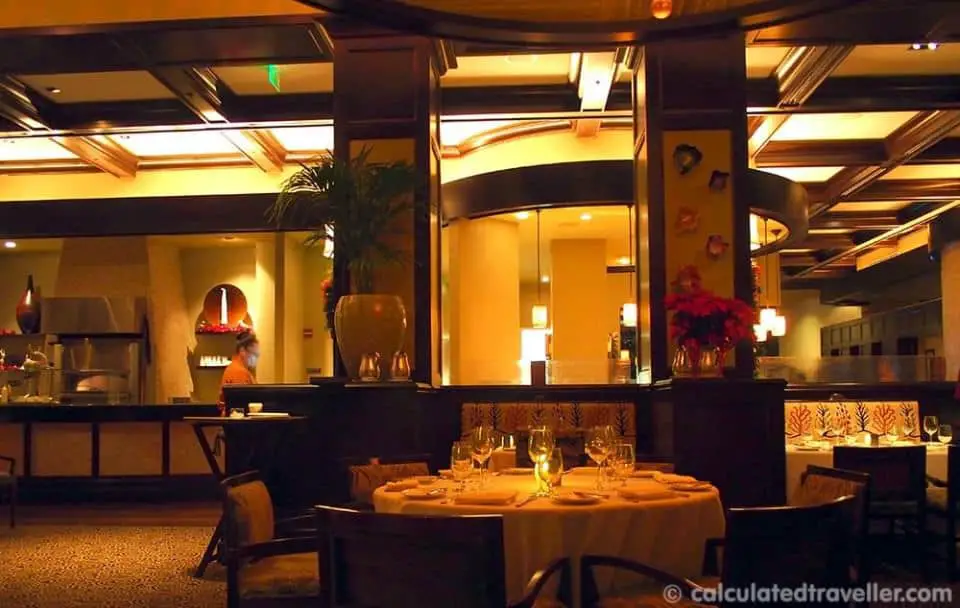 Another fabulous thing about Caretta on the Gulf's dress code is that a jacket and tie are not a requirement! Of course, I wouldn't arrive in jeans and a t-shirt but, when you are on vacation, and you want to dine out at a restaurant of Caretta's calibre, it's good to know that you can dine in khakis and a collared shirt.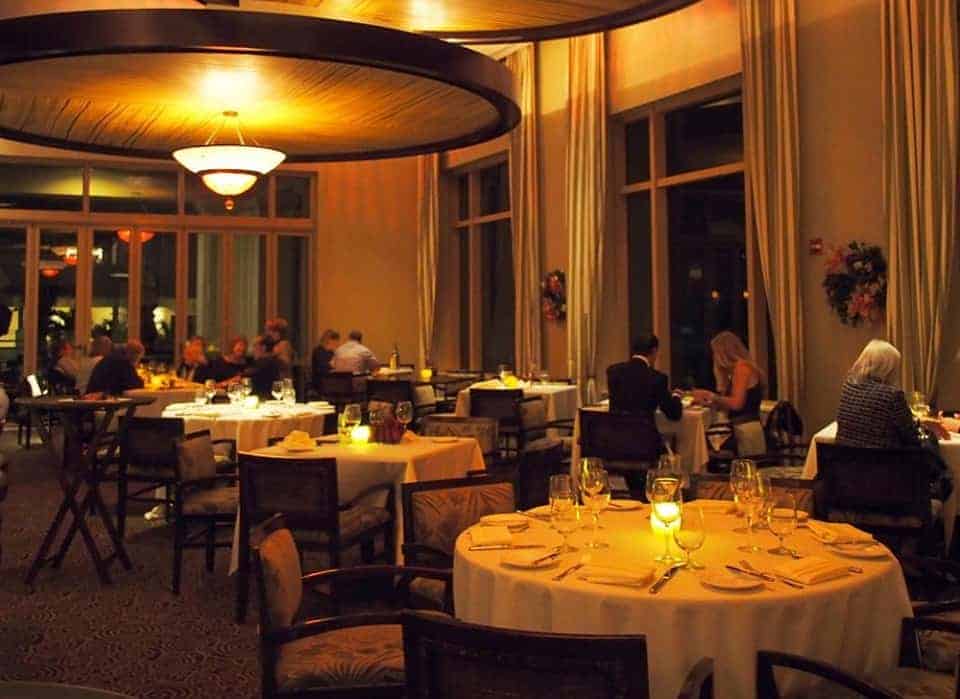 What We Ate
Our evening started out with a classic Mojito and a lovely signature cocktail called The Sandpearl ($12) — La Marca Prosecco, Fresh-squeezed Florida Grapefruit Juice and St. Germain Elderflower Liqueur — as well as freshly baked (made in-house) pumpernickel bread, and pretzel rolls served with whole grain mustard with an orange blossom honey and clarified butter with fruit zest and spices.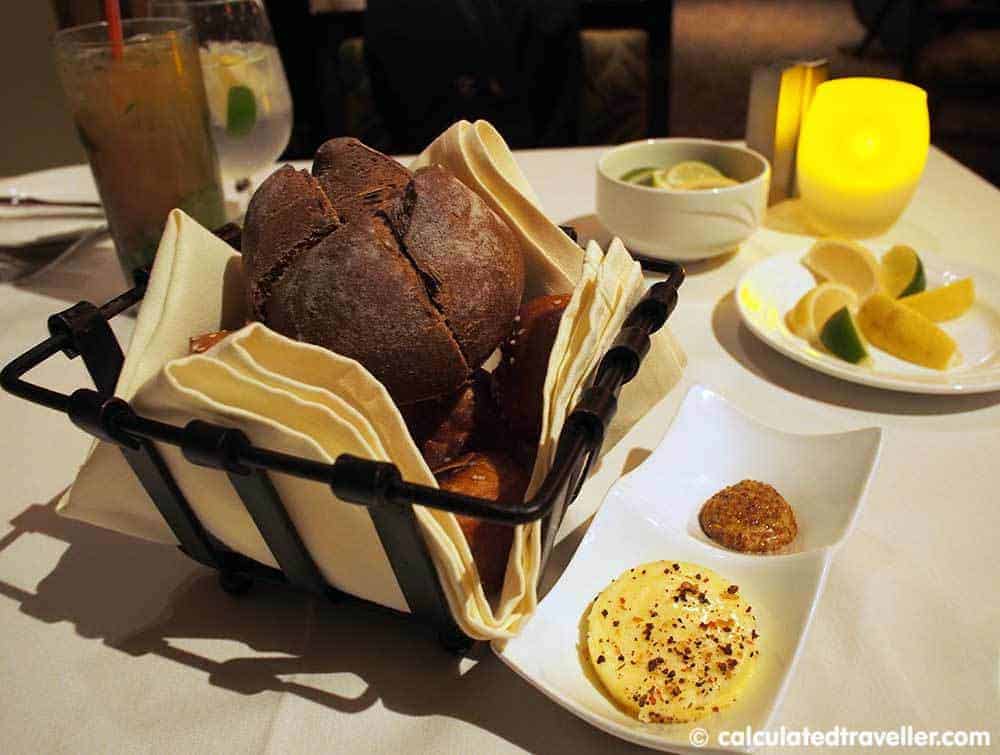 The warm bread with the mustard and honey was so tasty and complimented each other so well that I had to stop myself from filling up on all the bread before my meal arrived! When I commented on how much I loved the bread I was offered a box to go – now that's service!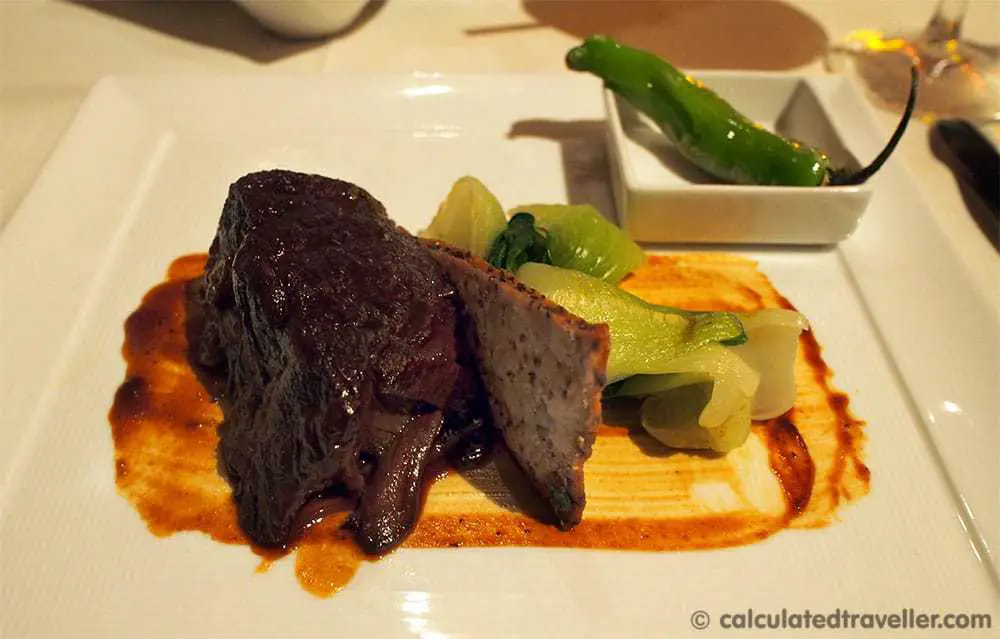 Shoyu Short Rib ($17)
Quinoa Pancake, Scallion, Bok Choy Kimchi, Blistered Shishito, and a Kabayaki Demi Glaze
Oh so tender and something that I would eat again.
We aren't lovers of hot spices, so we skipped the Kimchi. The chef was pleased to accommodate and provided plain bok choy and a chilli pepper just in case. Our servers Sandra and Christine expertly explained each dish to us as it was served and stressed the point that Caretta's makes every item on the menu to order. So substitutions are never a problem.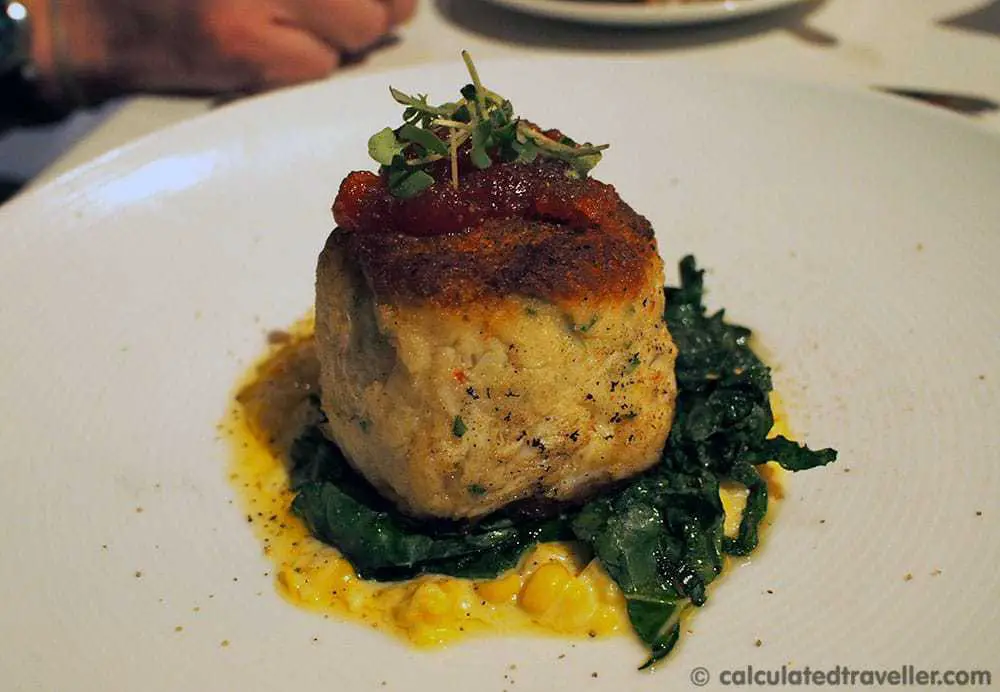 Jumbo Lump Crab Cake ($18)
Creamed Corn, Winter Greens, Tomato Jam, Lobster Butter and Micro Basil.
Succulent and very fresh and perfect with the creamed corn.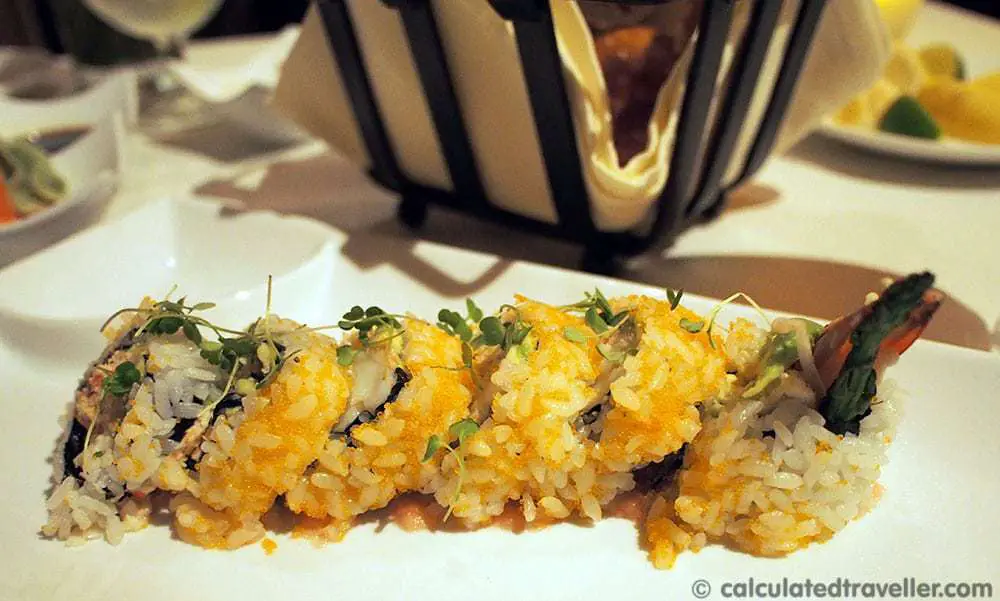 They have a broad range of choices on their Sushi and Raw Bar menu. We dined on the C-Roll ($18) — Lobster, Snow Crab, Shrimp, Avocado, and Asparagus with a Ginger Dressing — Very fresh, flavourful and beautifully presented.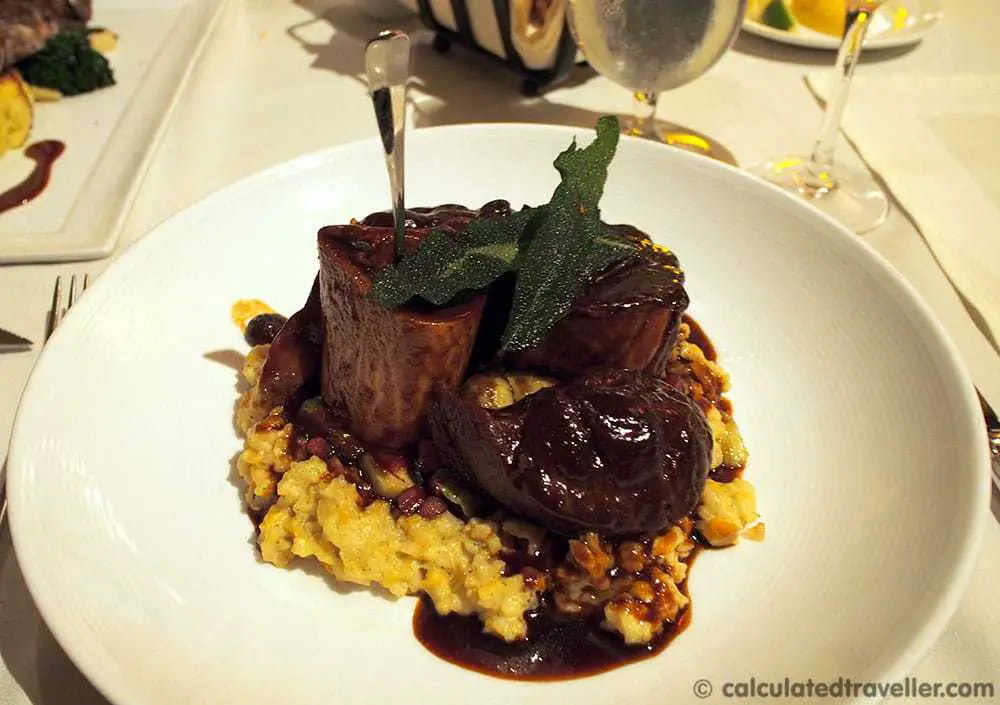 Buffalo Osso Bucco ($48)
Butternut Sage Risotto, Goat Cheese, Brussel Sprouts, Bison Sausage and a Cherry Bordelaise sauce.
I hadn't eaten buffalo or bison before, and I wondered if it would taste gamey, but that wasn't the case at all. I did find the cherry bordelaise sauce to be a bit rich and heavy for my taste, but the butternut sage risotto with goat cheese was very creamy and mouth-watering delicious. A great touch was that the dish came with a little spoon perfect for eating the marrow.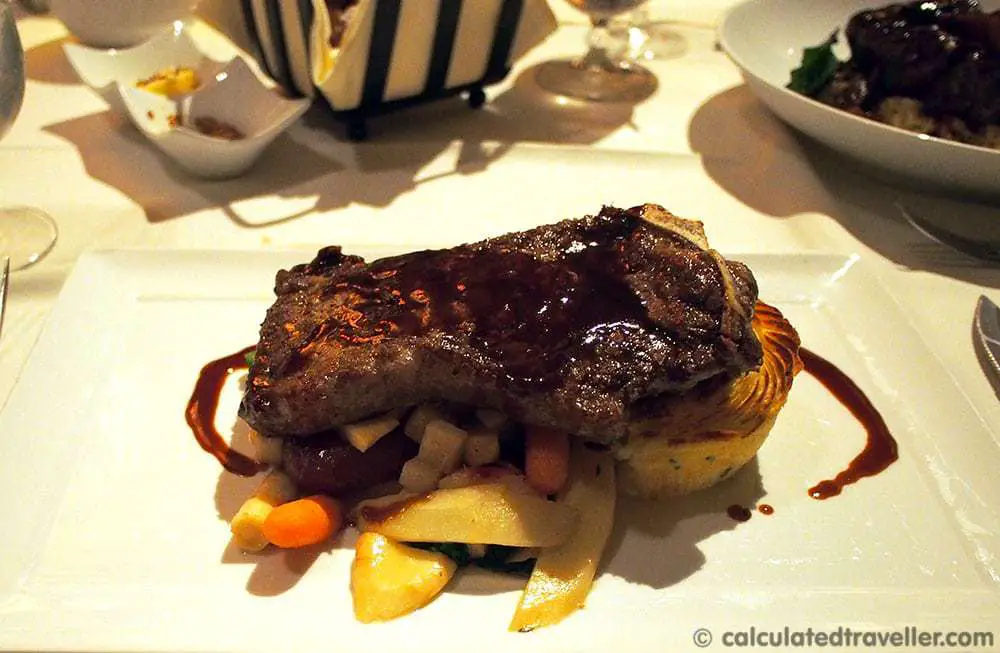 Husband Ray, dined on the Kansas City Strip Steak ($42) — Served with Bryson Farms Organic Vegetables, Braised Cippolini Onions, Loaded Potato Soufflé and Natural beef jus. Ray's a big carnivore and very picky when it comes to his steaks — this one was perfectly cooked to medium rare, and he ate it with a smile.
They also have a very reasonably priced Chef's Prix Fixe ($59) menu available that includes a choice of starter, salad, choice of entrée and choice of dessert.
Caretta on The Gulf's menu when it comes to dessert is very enticing, but you can well imagine after eating all of this that our stomachs just couldn't take anymore. If we had room I would have ordered the Signature Cake for Two ($18) — Espresso Chocolate Cake, Milk Chocolate Mousse, Almond Dacquoise, Salted Caramel Glaze & Raspberry Chambord. Sounds incredible right? Or perhaps the Pier 60 ($10) — Morgenthau Mousse, Honey Biscuit, Mangonosa, Popcorn Crunch, Sake & Champagne
I look forward to our next trip to Clearwater Beach and hope to dine here again. I'm told the view of the beach from the restaurant during Sunday brunch is supposed to be the perfect way to start a lazy Sunday at the beach…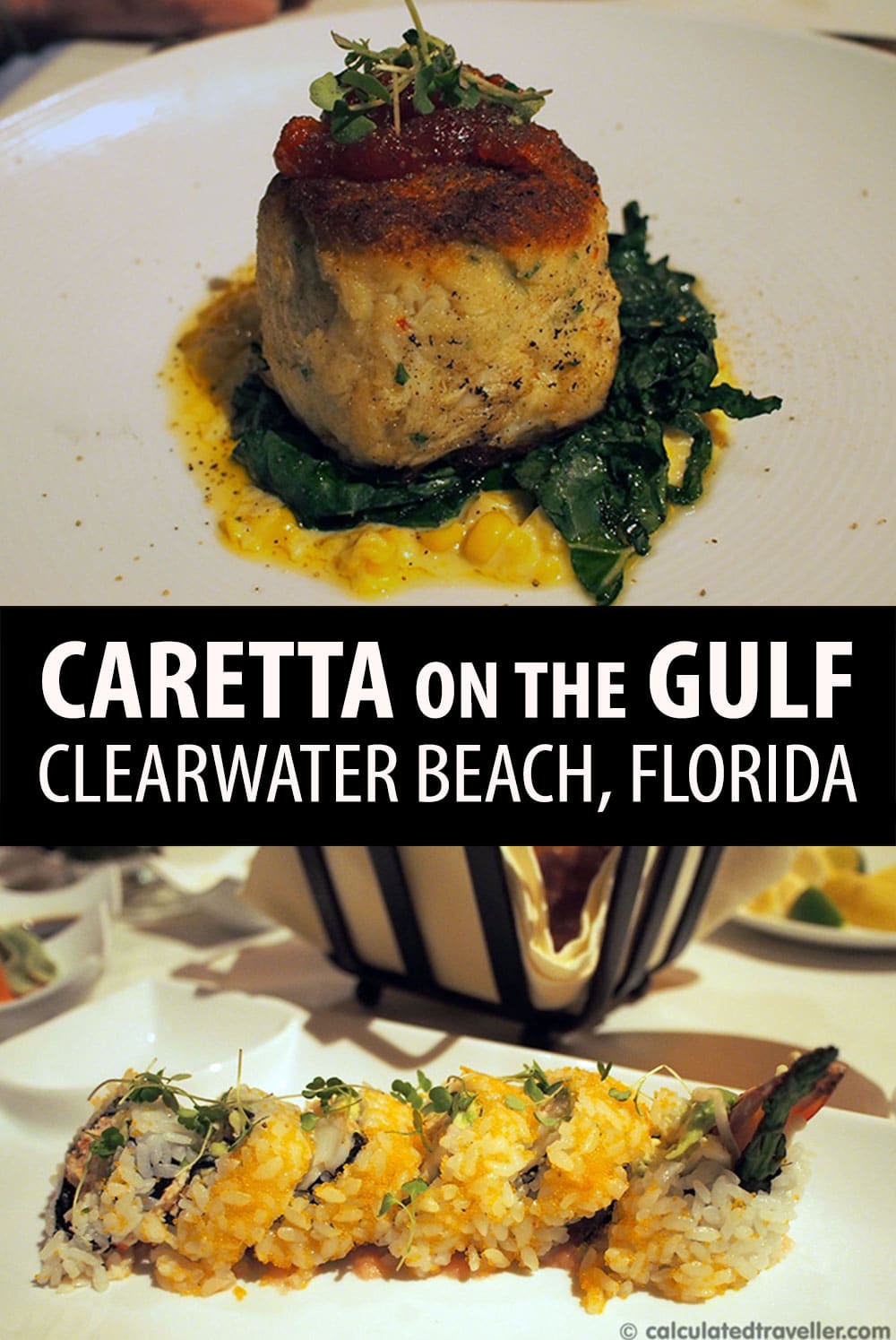 Caretta on the Gulf at Sandpearl Resort
500 Mandalay Avenue,
Clearwater Beach, FL 33767
Carreta on the Gulf reservations are recommended
Valet parking only (ask the hostess to validate your ticket)
Read more reviews on TripAdvisor.
Travel assistance provided by Visit St. Petersburg Clearwater Tourism. As always, the opinions expressed in this post are my own.
While in the Clearwater area:
– Columbia 1905 Restaurant Clearwater Beach Florida – Review
– Clearwater Beach Marriott Suites on Sand Key – Review
– Winter and Hope at the Clearwater Marine Aquarium FL
Looking for things to do in Clearwater?