I have driven on the 401 both east and west – many, many times and saw the sign for The Big Apple — yet kept driving. After a trip to the Thousand Islands, we decided we would finally stop in and check it out. Driving into The Big Apple and seeing farm animals, including rabbits, sheep, and llamas…then, walking up to the front door, listening to the tunes of one of my favourite country singers, Brian White, playing in the background, this country girl knew it was worth the wait. Inside the Big Apple, they have an old-fashioned bakery where you can see them baking the bakery wears of the day. The wall includes an actual count of how many pies, etc they have baked.
When we arrived (on a long weekend), there were more people, including bus tours, than we expected, but despite the crowds, I was surprised to see that The Big Apple not only has a quaint restaurant, and bakery—but a country store. They have several freshly baked options on their menu including pizza, Big Apple Specialties including apple fries sprinkled with cinnamon and French toast made with apple bread (my mouth is drooling as I type this)… We opted to buy some apple cider, some tarts, and a two-person pie. The price for everything seemed a bit steep, but the taste was truly amazing.
Attractions and Animal Land
The Big Apple also includes an area where you can play games with your family including bocce ball, shuffleboard, and ping-pong. They also have an Animal Land, where you can hand feed chicken, rabbits, sheep, donkeys, among other animals.
One of the landmarks, big attractions of this stop—and what you can see while driving by on the 401– is the…as its name implies…The Big Apple. The Big Apple has a modest educational exhibit that includes posters and model farms that depict what happens in the region. Continuing on, the apple also has a winding staircase that visitors can climb for a view of the entire property.
If you're driving near exit 497 on the 401, I recommend that you stop in and enjoy some home-town pie and walk the grounds.
Location
Located just two minutes off highway 401 at exit #497 in Colborne, Ontario.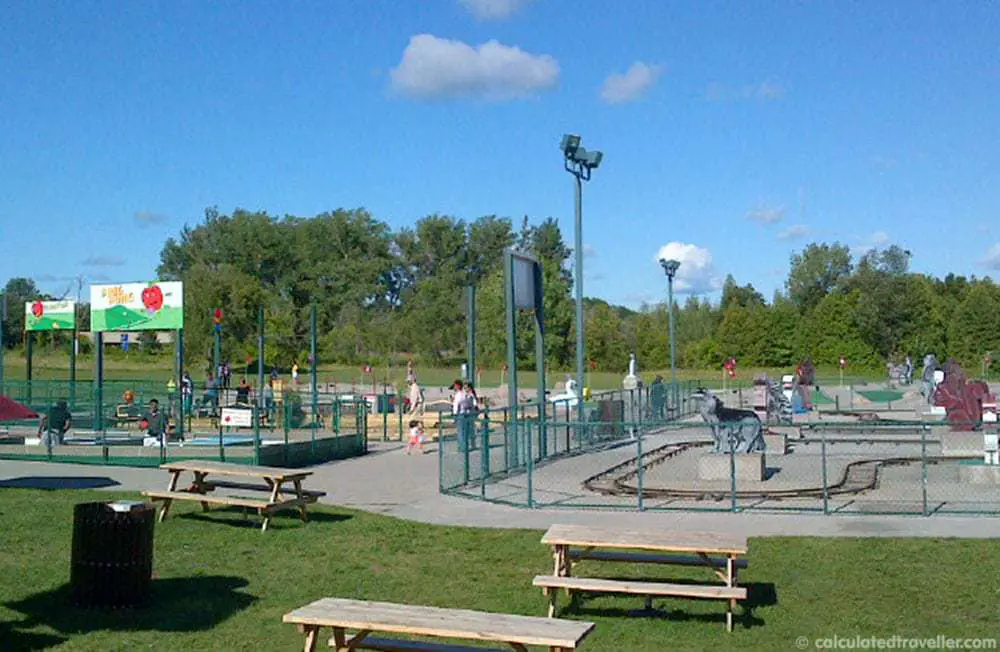 You never know what tourist attraction you might find out in the country…know of any other unusual landmarks or structures in your area? Feel free to share below!
Travelling near by? Read:
– Welcome to the Limestone City of Kingston, Ontario
– A Bird's Eye View from the 1000 Islands Skydeck Tower