Street art is everywhere in Buffalo NY and appears in every style – mixed media, collage, paint, spray paint – it takes many shapes and forms.
Is it accidental, intentional or controversial?
As we learned from a recent graffiti tour in Toronto, graffiti has a message. It's communication between the artist and the viewer (who are sometimes artists themselves), but sometimes graffiti is commissioned, as happens in many of the pieces of street art in Buffalo NY.
Street art in Buffalo NY created to beautify a space…
Here are some of the gorgeous pieces of art that I found through the various villages in the city.
Grant Street
Global Voices by Augustina Droze (pictured above)
When on Grant Street you have to visit the coffee shop on the corner Sweetness 7 Cafe. If you happen to see a warm, loving, blond woman that's handing out hugs to everyone she meets – that's Prish Moran, the owner. Prish is a powerhouse on Grant Street and is actively working to breathe new life into the neighbourhood. We went on a tour with her through town, and true to form – everyone knew her, and she hugged everyone she met. The atmosphere inside the coffee shop is casual and relaxed the food is tasty and fresh, and the wi-fi is reliable!
These are all Wheat-pasted photos by Max Collins.

(That's Prish on the left hand side of the building.)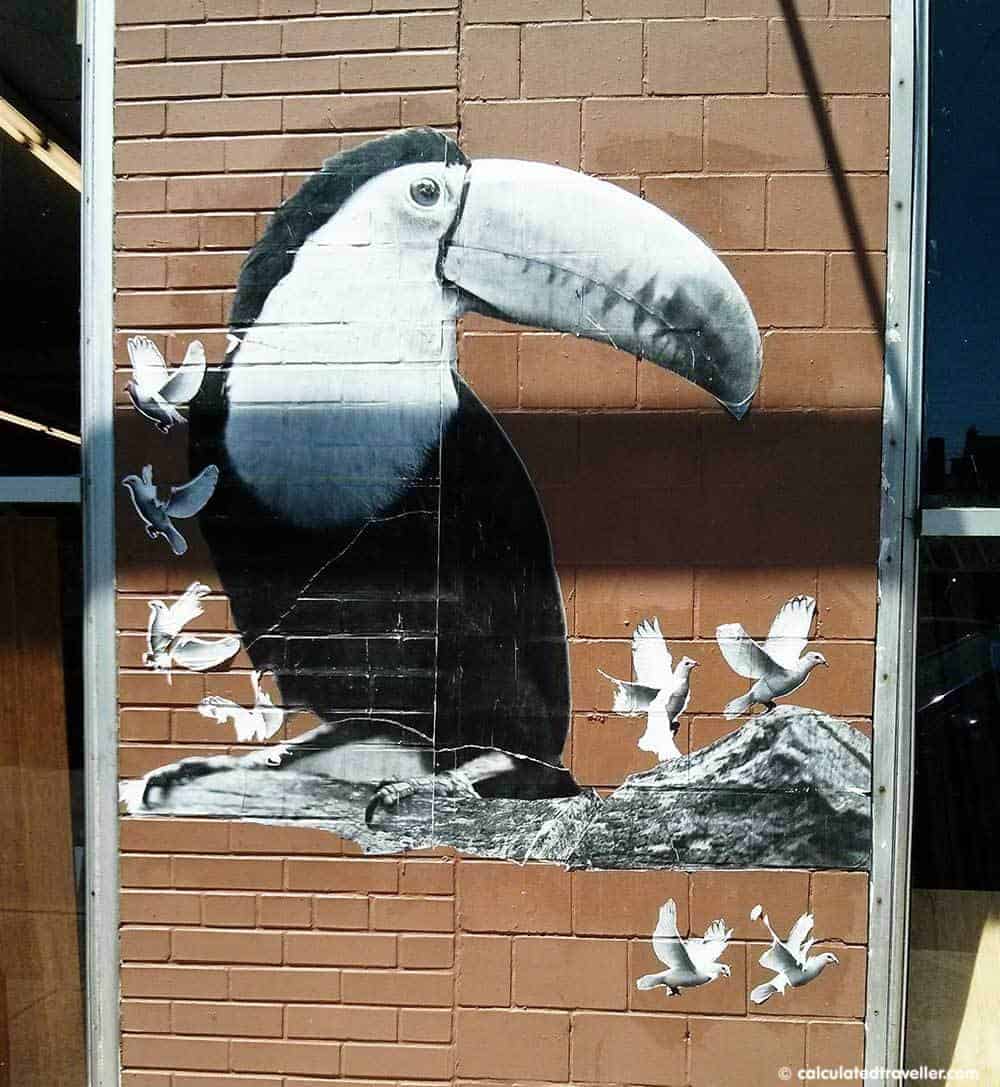 Allen Street
The pieces of art on Allen Street are very different from those represented on Grant Street.
Tribute to Tony Goldman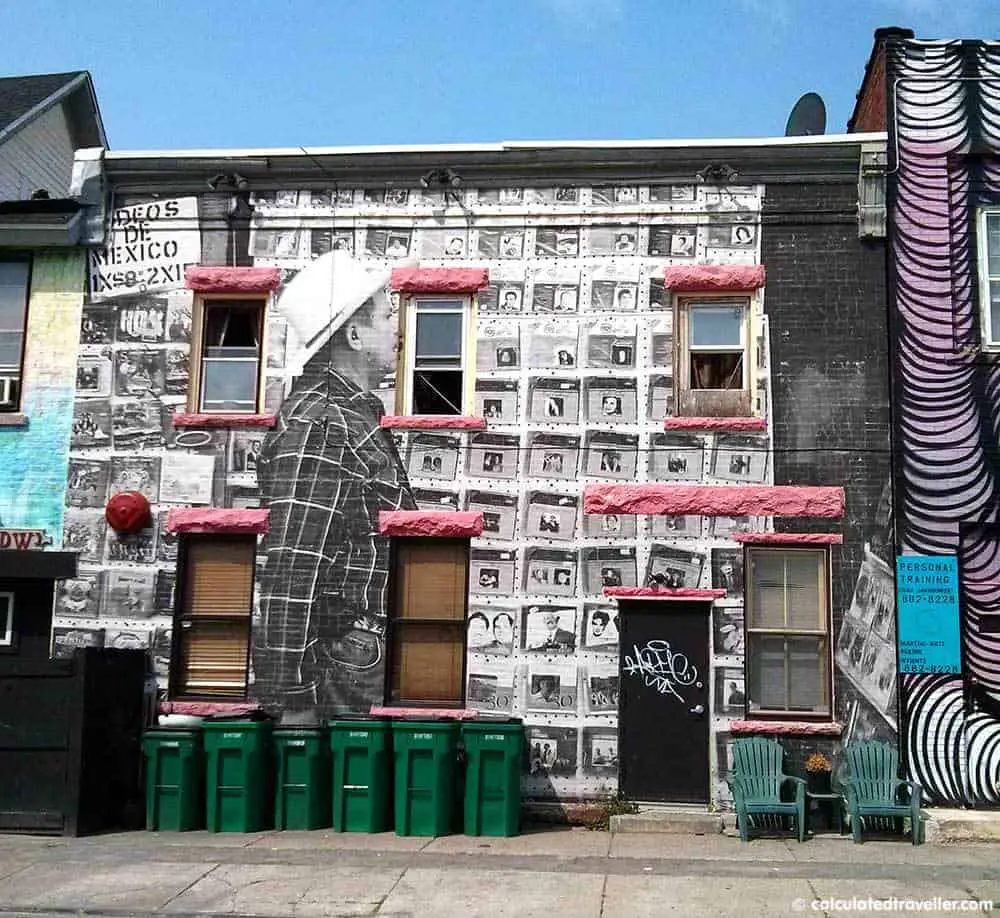 Tribute to Spain Rodriguez by Ian De Beer

Nietzsche

Allen Street Bar And Grill

The Revolution Begins Now

Elmwood Village
Bidwell Elmwood by Bruce Adams and Augustina Droze

The Tree House Mural

Obsolescence by Max Collins

Keep your eye out for the signal boxes along the street – each one is different.

Faces by Chuck Tingley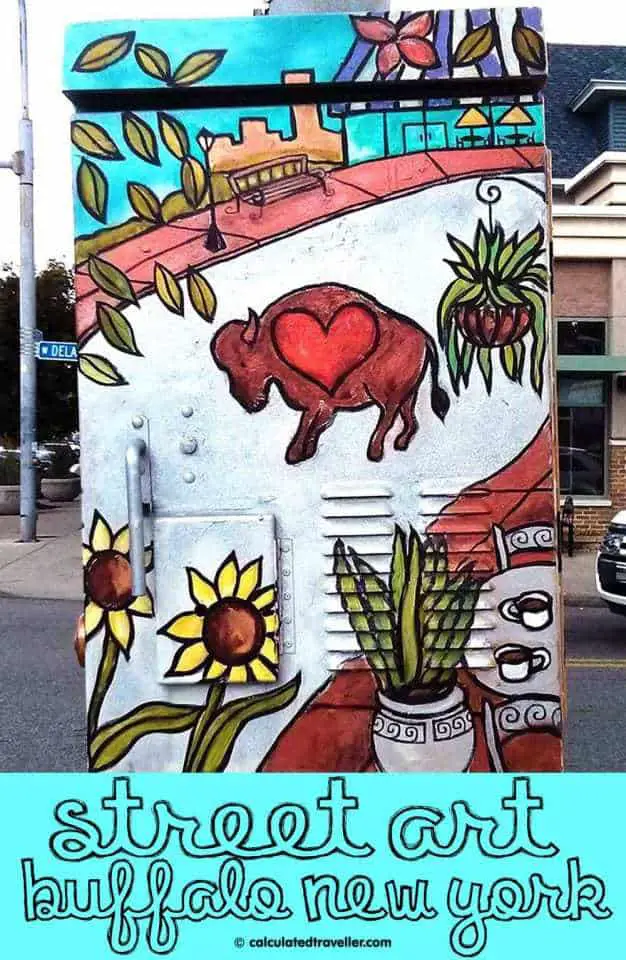 ---
For a great listing of all the artists, outdoor murals, street art, graffiti and their exact locations throughout Buffalo check out this great website.
 
Hope you enjoyed this photo tour of some of the many pieces of eye candy throughout Buffalo NY! Have you seen any great works of art in Buffalo? Let us know in the comments below.
Looking for more street art?
Street Art Photo Essay of Deep Ellum Dallas, Texas
16 Travel Bloggers Share their Street Art Photos