Welcome to another photo essay of all the dishes we ate in the dining room while cruising. In this article, we showcase the offerings from Celebrity Equinox during a 6-night Key West, Grand Cayman, and Mexico Cruise from Fort Lauderdale.
This article focuses on the dishes served in the main dining room. Celebrity Equinox also features several specialty restaurants for an additional fee, including the Tuscan Grille Italian Ristorante, Sushi on Five featuring Japanese cuisine, and Le Petit Chef, where a tiny digitally projected chef "cooks" your meal before your eyes.
Looking for other Cruise Ship Dining Photo Essays? Check out the following articles:
Everyday menu items on board the Celebrity Equinox main dining room menu
Most cruise lines provide a selection of classic everyday menu options that do not change and are always available. These are great options if you don't like any other featured choices on the menu for that day.
On Celebrity Cruises Equinox, starters include Caesar salad, shrimp cocktail, French onion soup, and escargot. Entrée selections include salmon, grilled chicken breast, and New York Sirloin Steak. Dessert selections include cheesecake, apple pie, crème brulée, and chocolate cake.
On the Celebrity Equinox dinner menu, items available everyday items are listed on the menu as follows:
"Timeless Starters" = Appetizer/starter that is on the menu every day
"Timeless Entrées" = Entrées that are on the menu every day
"Classic Favourite" = Dessert selections that are on the menu every day
PRO TRAVEL TIP: Since the main dining room is all-inclusive, don't feel you need to limit yourself. Ask your waiter for recommendations and try something new. If you don't like its taste, you can order something else. Also, if you want two entrées or two desserts – feel free to indulge. After all, a gym is on board the ship if you need to work off those extra calories!
We hope you enjoy the mouth-watering photos and descriptions. Enjoy and Bon Appetit!
Dinner Day 1 on the Celebrity Equinox Cruise
Baked French Onion Soup "Timeless Starters"
– Herb Croutons and Melted Gruyere Cheese
Crispy Thai Beef Spring Roll
– Sweet and Sour Chili Sauce, Ginger Noodle Salad
Aged Prime Rib of Beef
– Mashed Potatoes, Baby Carrots, Green Beans, Pan Gravy
New York Cheesecake "Classic Favourite"
– Served with your choice of Caramel, Chocolate, Strawberry, Peach, and Passion Fruit Toppings
Day 2 Dinner on the Celebrity Equinox Cruise
Escargots à la Bourguignonne "Timeless Starters"
– Shallots, Garlic, Parsley, Pernod Butter
A favourite dish of mine on any menu. If you've never tried escargot before, I suggest you try it on a cruise ship because you have nothing to lose since all your food served in the main dining room is included in your cruise fare. Trust me, the snails have the texture of mushrooms, and the garlic butter makes anything taste fabulous. I dip my bread in the butter to not waste any of it!
Barolo Braised Beef Ragoût
– Sautéed Sage Gnocchi, Roasted Shallots
Mediterranean Seafood Orzo
– Melange of Scallops, Shrimp, Mussels, Roasted Eggplant, Cherry Tomatoes
Roasted Milk-Fed Veal Loin
– Creamy Parmesan Polenta, Green Asparagus, Roasted Peppers, Veal Jus
Dinner Day 3 on the Celebrity Equinox Cruise
Creamy Salmon Rillette
– Cucumber-caper Salad, Avruga Caviar
This rillette was my "try something new that I've never tried before" item, as recommended by our waiter Allen, and I'm sorry to say I was not a fan.
Creamy Wild Mushroom Risotto
– Black truffle, Vegetarian Parmesan
PRO TRAVEL TIP: This is technically an entrée, but we asked for a half portion served as an appetizer. Don't be afraid to ask; the servers will oblige if possible.
Beef Wellington
– Puff Pastry Wrapped Beef Tenderloin, Mushroom Duxelles, Veal Black Truffle Reduction, Petit Sautéed Vegetables, Duchess Potatoes
Slow-Roasted Leg of Lamb
– Ratatouille, Roasted Potatoes, Cabernet-Mint Sauce
Broiled Lobster Tail
– Rice Pilaf, Steamed Broccoli, Drawn Butter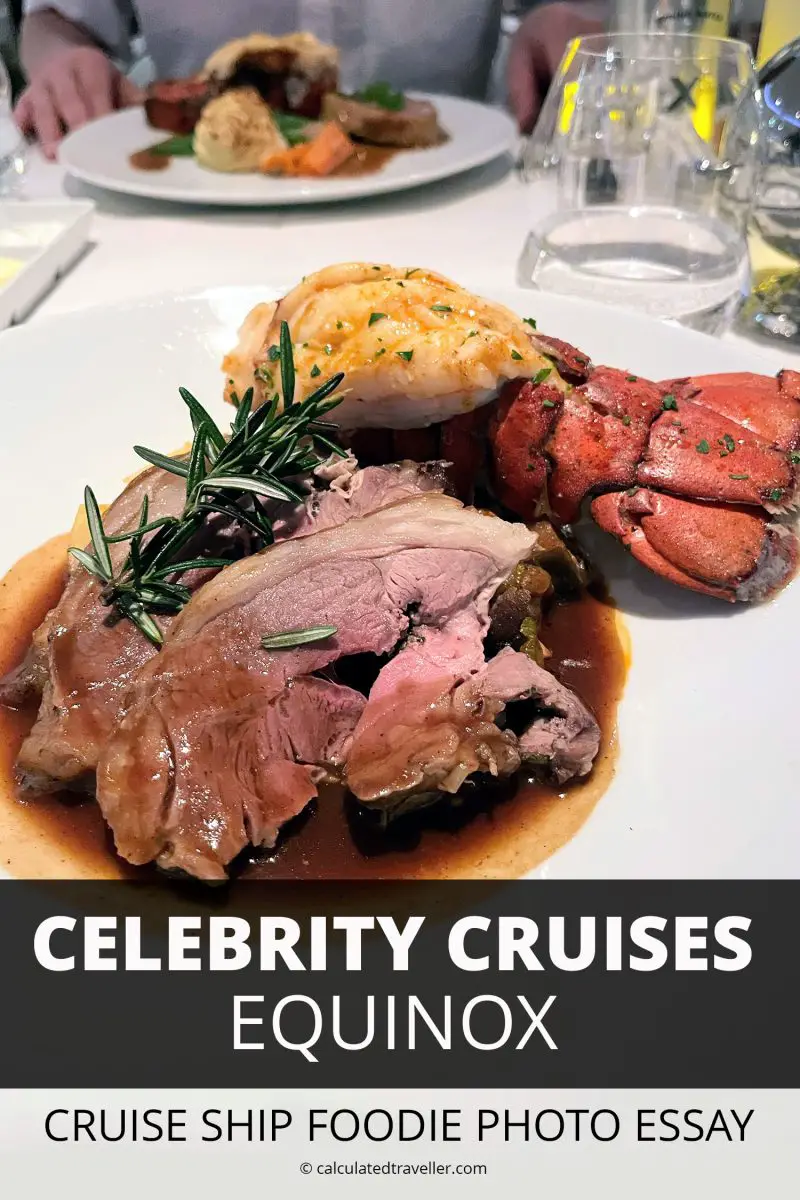 PRO TRAVEL TIP: You'll notice that our Lobster Tail is plated with our meat. We told our waiter we didn't want the extra side dishes and created our own surf and turf entrée.
Don't worry if you are afraid to make a mess when removing the lobster from the shell. The waiter will expertly do this for you after you take your photo!
Citrus Roulade
– Vanilla Roll Filled with Lemon Cream, Served with Berry Coulis
Apple Pie a la Mode "Classic Favourite"
– with Vanilla Ice Cream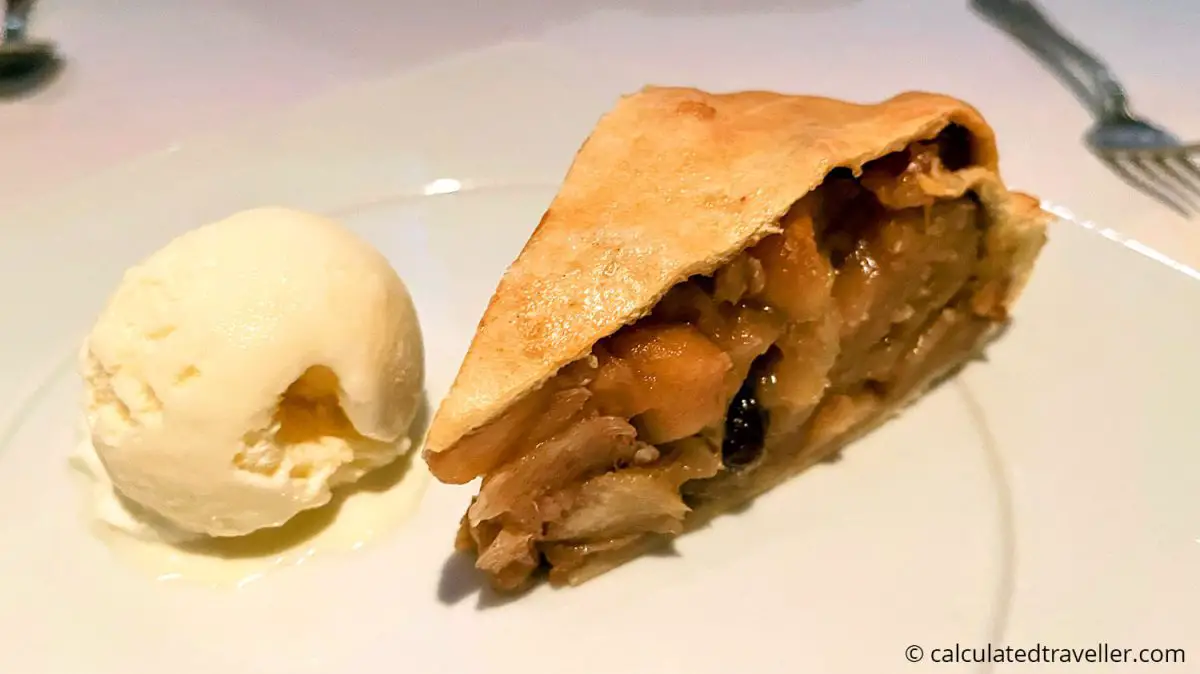 Day 4 Dinner on the Celebrity Equinox Cruise
Chilled Shrimp Cocktail "Timeless Starters"
– Classic Cocktail Sauce
Spinach and Ricotta Ravioli
– Home-made Italian Style Pomodoro Sauce
Broiled Salmon "Timeless Entrées"
– Served plain or with Classic Hollandaise Sauce, Mashed Potatoes, Seasonal Vegetables
Barolo Braised Beef Short Ribs
– Creamy Truffle Polenta, Peas, Carrots, Shitake Mushrooms, Red Onion Marmalade
Dinner Day 5 on the Celebrity Equinox Cruise
Grilled Asparagus Salad
– Toasted Almonds, Pistachios, Goat Cheese, Lemon Basil Emulsion
Seared Branzino
– Parsnip Purée, Lentils, Spinach, Pomegranate
Turkey Parmesan
– Spaghetti with Marinara Sauce
Slow Braised Lamb Wrapped in Phyllo
– Potato Purée, Roasted Root Vegetables
Peach Clafoutis
– with Toasted Pistachios
Day 6 Dinner on the Celebrity Equinox Cruise
Caesar Salad "Timeless Starters"
– Hearts of Romaine, Garlic Croutons, Parmesan Cheese
Homemade Gnocchi al Quattro Formaggi
– Creamy Four Cheese Sauce, Italian Parsley
Oven Roasted Turkey
– Sage Stuffing, String Beans Gratin, Candied Sweet Potatoes, Giblet Gravy, Cranberry Relish
Mango Sorbet
– there is a different featured flavour of sorbet and frozen yogurt for each day
We hope you enjoyed this Cruise Ship Dining Photo Essay!
So, what looks good to you? Join in on the conversation on social media!