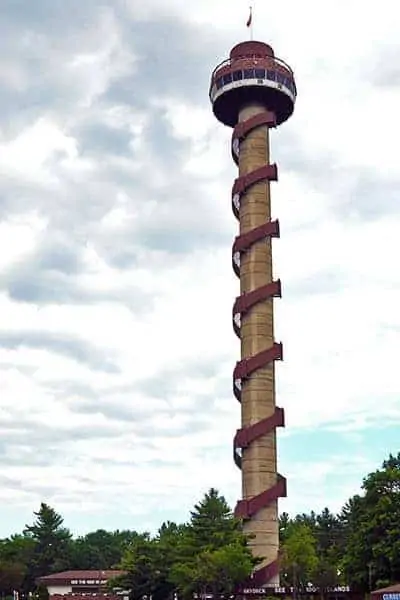 The 1000 Islands Skydeck Tower, with a view of 400 feet high (~130 metres) offers a unique bird's eye view of the islands. Open from April to October, with a particularly spectacular view when the leaves of the trees change colours, this tower, with three viewing levels, "
is the perfect view of the waterways below
" explains Konrad, the new owner of the
SkyDeck in the Thousand Islands
.
After only a short, 40 second ride up in their elevator, you can, (if you chose to also kayak through the Thousand Islands like I did), see a 360 degree view of the waterways you just paddled through, a view of the Wolf Island, which serves as the entrance to the St Lawrence River. You can also see the romantically famous Boldt Castle that was built in in 1900. After the passing of his wife, Mr. Boldt was inconsolable and discontinued construction on the site for 70 years. Still, the show must go on. "This past Forth of July, we were able to watch their fireworks from the tower."
Castles in the Thousand Islands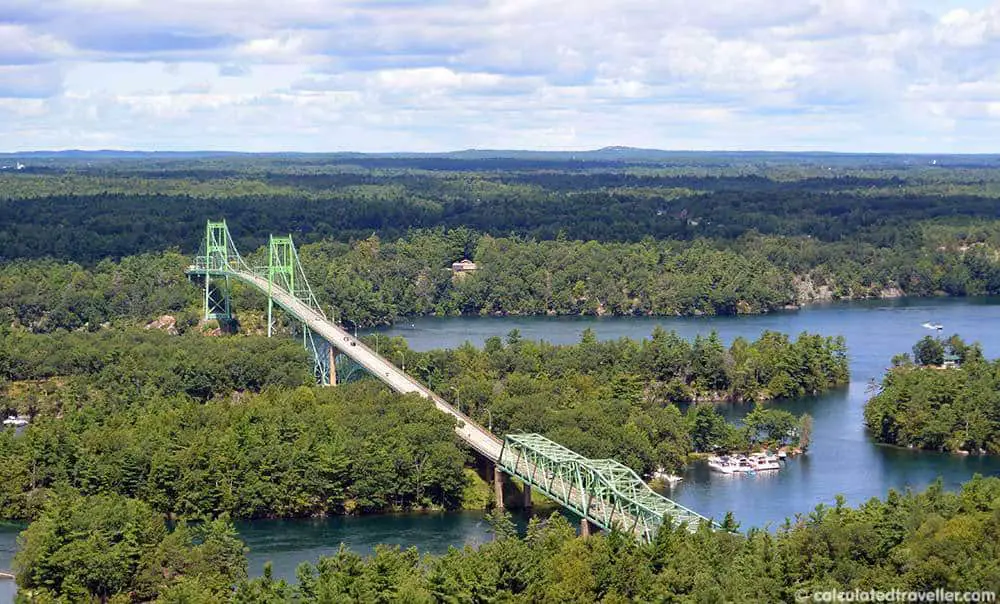 In 1888 the first castle was built on the island, bringing with it not only a flurry of reporters but signaling a 'Keep up with the Joneses' mentality—castle style, explained Konrad. Soon, a flurry of castles were built, each trying to outdo the next. "Eventually the costs of maintaining the castles, with the particularly high costs of not only maintaining a castle," but with bringing the needed supplies across by boat, became too much for most of the green-eyed residents and they were forced to admit defeat and close their doors permanently. The Singer Castle—yes—THAT Singer—owned by the makers of the famous sewing machine, is a 100-year-old castle that still, like the Boldt Castle is maintained and open to the public today.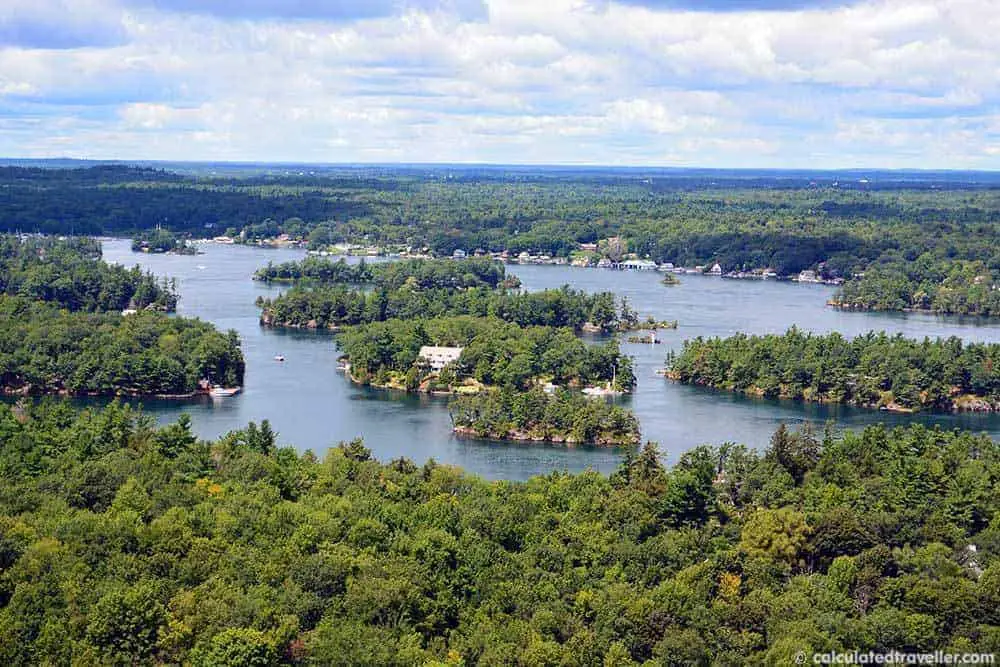 In the winter months, most of the water, except for the faster moving rapids near the bridge, freezes over and the locals travel by snowmobile, and occasionally airboats. Each of the islands has courtesy parking for boats. Regardless, "It pays to make friends with your neighbors when you live on the islands," jokes Konrad, "especially when you need something as simple as sugar."
According to historic legend, the Great Manitou, frustrated with the villagers gathered up what he had once created as a beautiful garden for them and flew away. As he flew, bits of the garden were dropped, and so today, we see what has fallen from his grips and not only taken root, but flourished. A view from the tower offers this unique and breathtaking view.
1000 Islands Skydeck Tower Pricing
Skydeck is open 7 days a week.
For hours and pricing, go to the 1000 Islands Tower website
Note: This was a complimentary tour in exchange for this review. The opinions expressed, positive and/or negative, are entirely that of the author and are not a reflection of the compensation received.
Photo credit: Skydeck Tower – Mr Guilt. All other photos – Covato.

Do you have any sky-high stories? Feel free to share them in the comments below.