Myrtle Beach offers things to do for the entire family but is a great vacation destination for everyone (including any canine friends, as it's a pet-friendly Myrtle Beach). Adults will find countless things to do along this 60-mile popular oceanfront destination. Whether you're seeking an affordable fine dining experience at Thoroughbreds Restaurant or a laid-back beachfront seafood shanty, Myrtle Beach attractions have all of the bases covered.
Shop Until You Drop in Myrtle Beach
Myrtle Beach offers ample opportunities for shopping at several outlets and complexes throughout the city.
Broadway at the Beach is a Myrtle Beach landmark with over 350 acres of stores, restaurants, attractions, and boutiques. If you're looking for something specific or searching for the perfect holiday gift for someone on your list, you'll find just the right thing at Broadway at the Beach. Try tupelo honey samples before buying at Savannah Bee Company or sample some jerky at the Beef Jerky Outlet.
With over 130 stores within the complex from clothes, to food and gifts, you're bound to find the perfect item. Adults of all ages will feel like kids again at the many attractions on Broadway at the Beach. You can lose yourself in a mirror maze or try your hand at a carnival game. The fun is never-ending at this South Carolina landmark.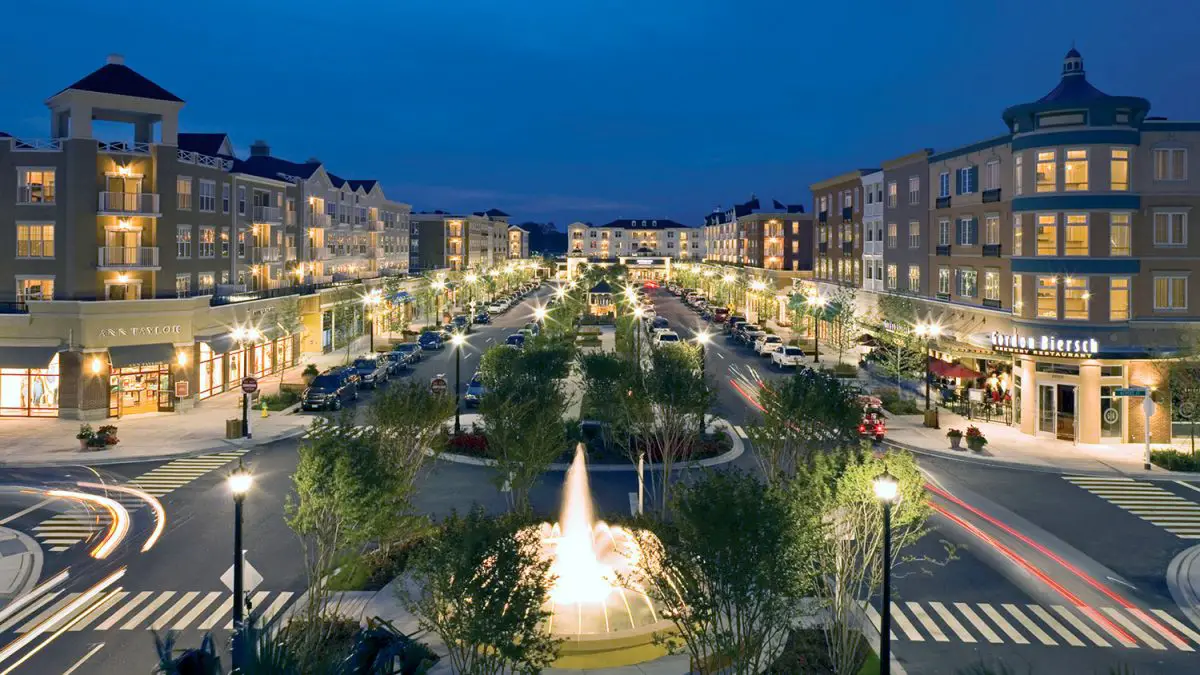 If you're looking for a shopping adventure with a hometown, downtown feel, Market Common is worth a stop. The Market Common is a quaint neighbourhood interspersed with attractions like a movie theatre and bowling alley and an eclectic collection of boutiques and stores. For the ultimate in dining, The Market Common has options for every taste. Try a cereal topped gourmet doughnut at Peace, Love and Little Donuts for those with a sweet tooth. If you're seeking Southern food at its finest, the Tupelo Honey Cafe is a must-visit in The Market Common district.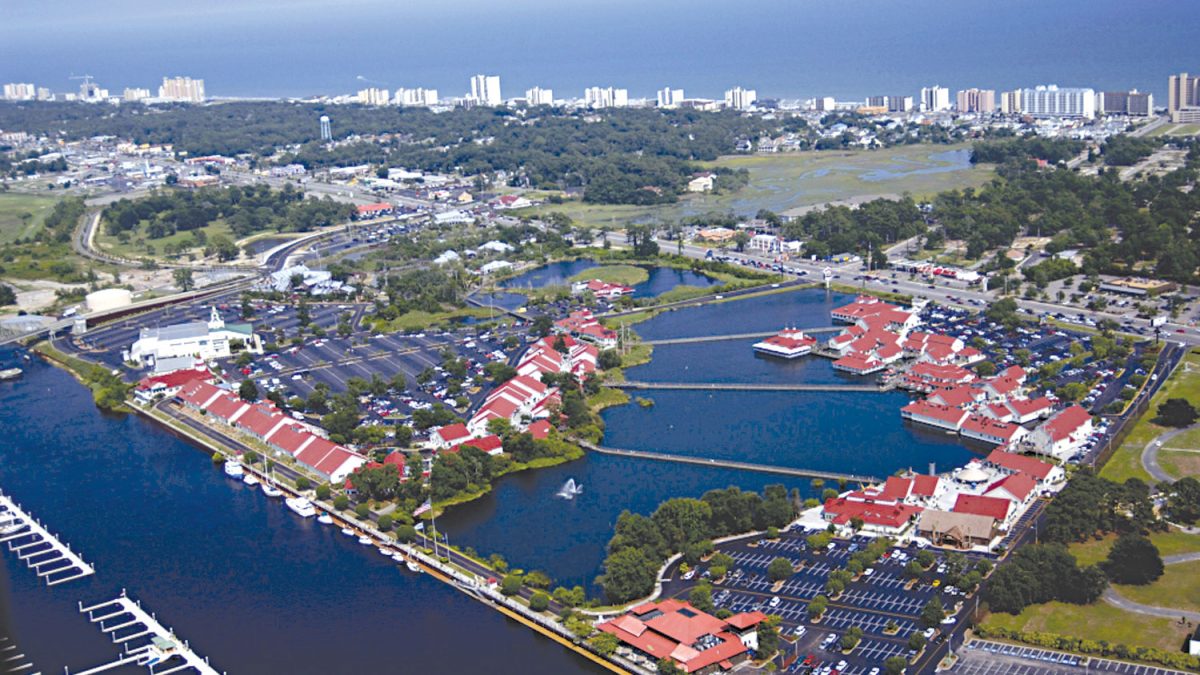 Finally, Barefoot Landing in North Myrtle Beach, adjacent to the Intracoastal Waterway, is within a short distance of several Myrtle Beach hotels and resorts. Barefoot Landing offers fun for adults of all ages, but if you do happen to be travelling with kids, they'll have a great time too.
Myrtle Beach Shows and Attractions to Add to Your Itinerary
When travelling with a group of adults with varied interests, it can be a challenge finding things to do that everyone will enjoy. Myrtle Beach offers a wide range of shows and attractions; you're sure to be able to find something for everyone. Music fans across all genres will enjoy Legends in Concert located at Broadway at the Beach. This live music tribute concert features look-alike favourites like Cher, Elvis, Martina McBride, and countless others; it is a fun night for all ages. If you're travelling with kids, their tickets are free on select nights.
Le Grand Cirque is a spectacular group acrobatics show and one of the best-selling shows the world over. Located at the heart of Myrtle Beach and presented under a state-of-the-art, climate-controlled 850-seat tent, this acrobatic and trapeze spectacular is awe-inspiring. 
The Carolina Opry was Myrtle Beach's first variety show of its kind, and it is still going strong today. Featuring music from the 60-80s, award-winning choreography, laser and light performances, magic, and comedy, it is a must-see when visiting Myrtle Beach.
Finally, Pirates Voyage Dinner & Show is an entire date night in one fun and entertaining bundle. Pirates Voyage show includes jaw-dropping acrobatics, gymnastics, and aerial performances that will have you holding your breath in anticipation. The fun, adventuresome, and romantic storyline will keep you on your toes, and the cute animal tricks will keep you smiling throughout the show.
Fun Adult Things to Do in Myrtle Beach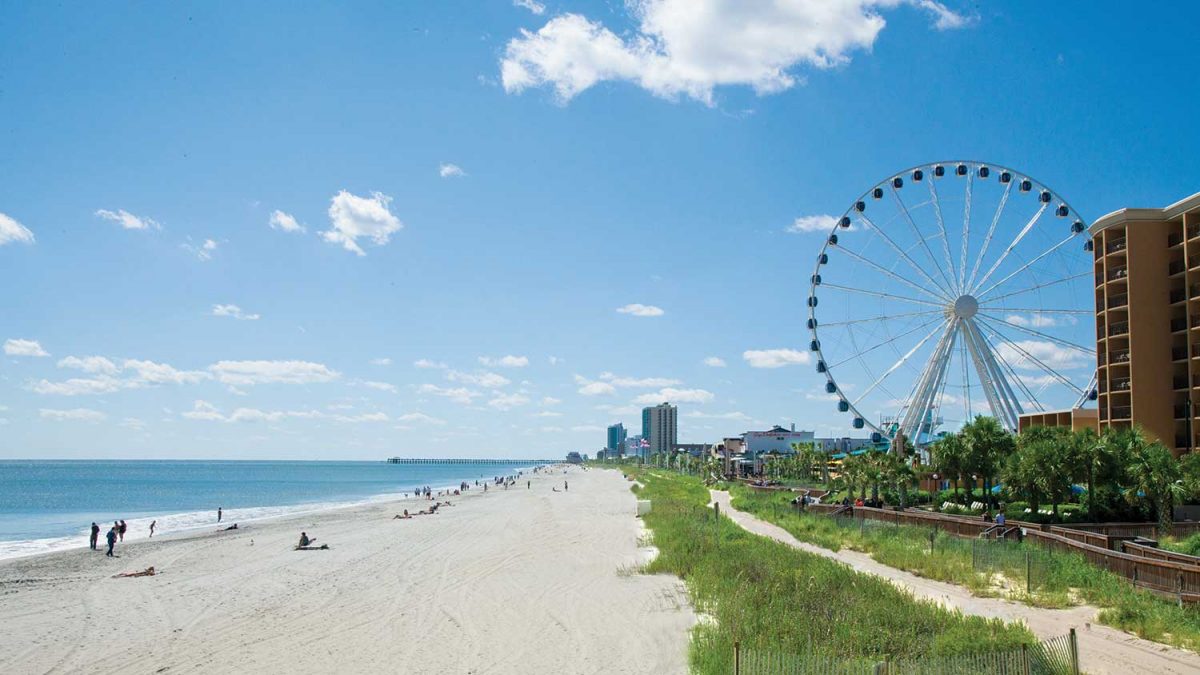 Whether you're travelling with kids or adults who are kids at heart, there are always more fun things to do in Myrtle Beach. The Myrtle Beach Boardwalk in the downtown area includes just over a mile of shopping, restaurants, attractions, and rides. Here you'll find The Skywheel, one of Myrtle Beach's most recognizable attractions. The Myrtle Beach Skywheel is not a typical Ferris wheel but a climate-controlled set of fully enclosed gondolas with glass windows. These private gondolas offer some of the best views of the beach, so make sure to take some photos!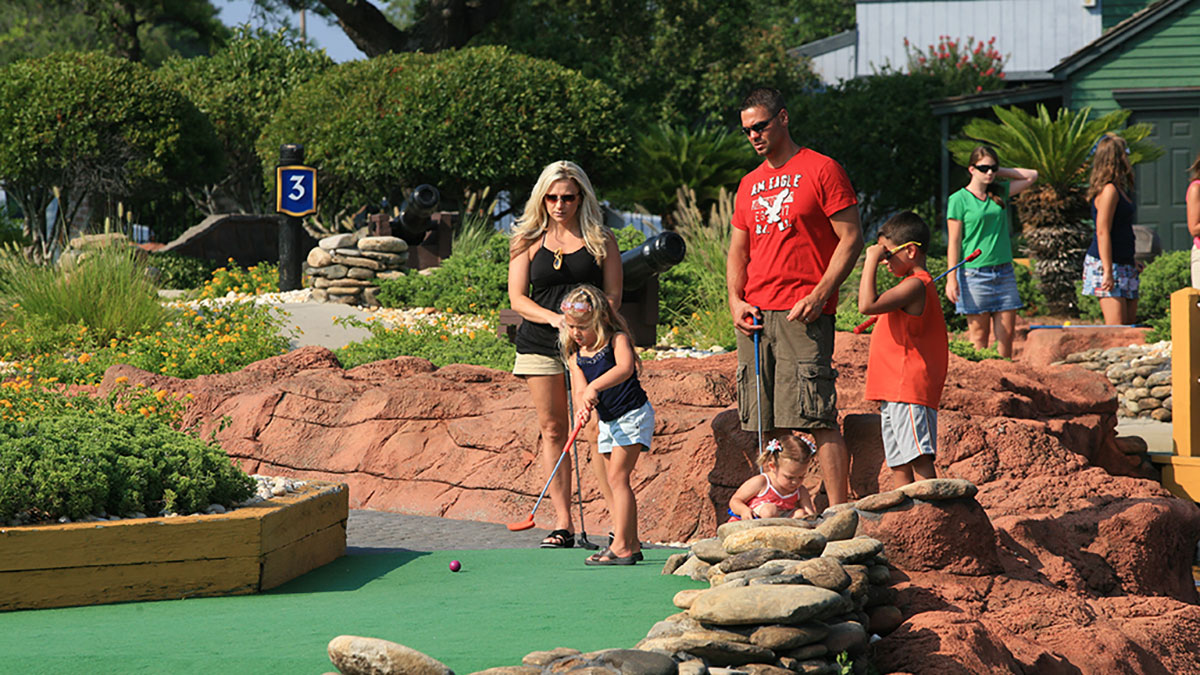 Myrtle Beach is considered the unofficial Miniature Golf Capital of the World. If mini-golf is something you love to do, there's no better place for it. With over 50 mini-golf courses, it ranks as one of the top things to do in Myrtle Beach. Adult craft beer fans will find that there is no shortage of choices in Myrtle Beach. New South Brewing taproom is a great stop to sample some new flavours.
Myrtle Beach has plenty to offer for adventurous adults looking for more active, hands-on things to do. Saltmarsh kayak tours and sea turtle paddleboat adventures will get you out on the water to discover coastal marine life up close and personal. Myrtle Beach Watersports offers jet-ski rentals and boat cruises as well as thrilling Sea Screamer ocean thrill rides.
The Family Kingdom Amusement Park may also be worth checking out if travelling with kids, offering over 38 rides. The rides can vary from thrill-seekers to family and kiddie rides, or go-karting is also available if you want a rest from the coasters.
Myrtle Beach South Carolina: Where Art and Nature Come Together
Huntington Beach State Park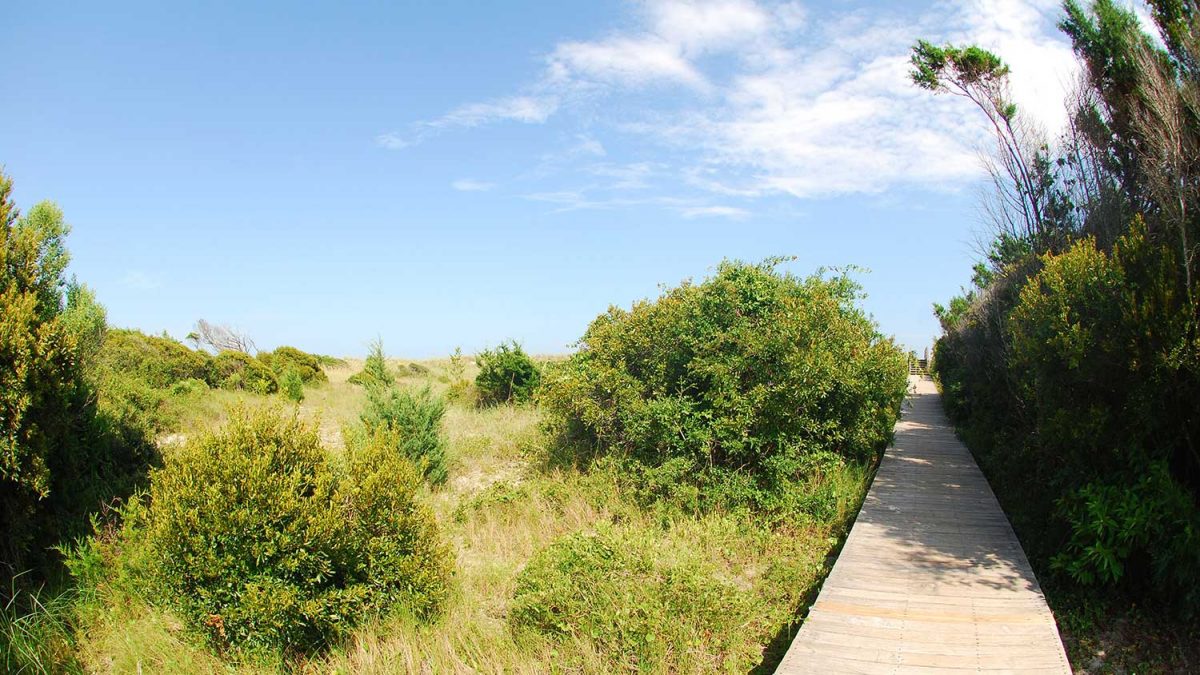 For visitors looking to get out in nature and enjoy the outdoors, Myrtle Beach has you covered. South Carolina's 47 state parks encompass historically significant sites and significant protected or sensitive land. Of those 47 state parks, the Myrtle Beach area is home to two. In Murrells Inlet, located just south of downtown Myrtle Beach is Atalaya Castle. The castle at Huntington Beach State Park is ideal for history buffs and art lovers alike. A juried art show, The Atalaya Arts and Crafts Festival, is held here each Fall, paying homage to the original owners of Atalaya Castle.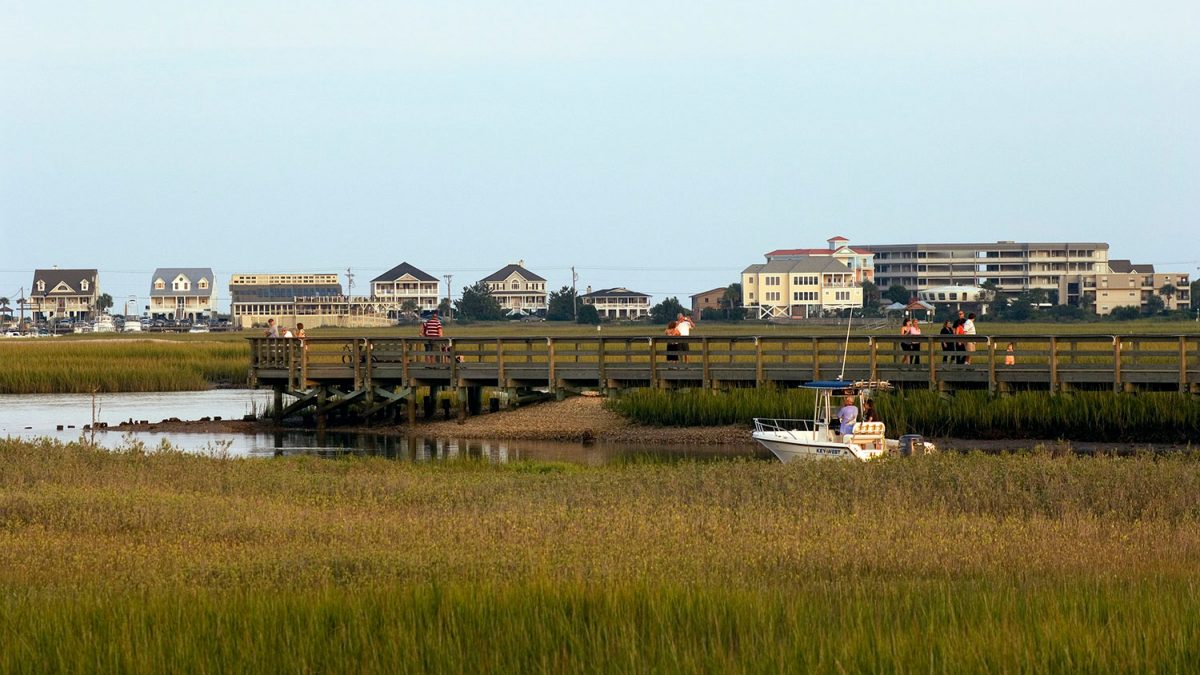 Philanthropist Archer Huntington had the Moorish-style castle, Atalaya, built for his wife in the late 1930s. Anna Hyatt Huntington was a sculpture artist and at Atalaya had space and freedom to create life-size animal sculptures. Take a self-guided tour along the grounds and explore the castle and courtyard. Spend time walking the trail for an afternoon on the beach. Across the road, at Brookgreen Garden, you can find Huntington's sculptures on display.
Brookgreen Gardens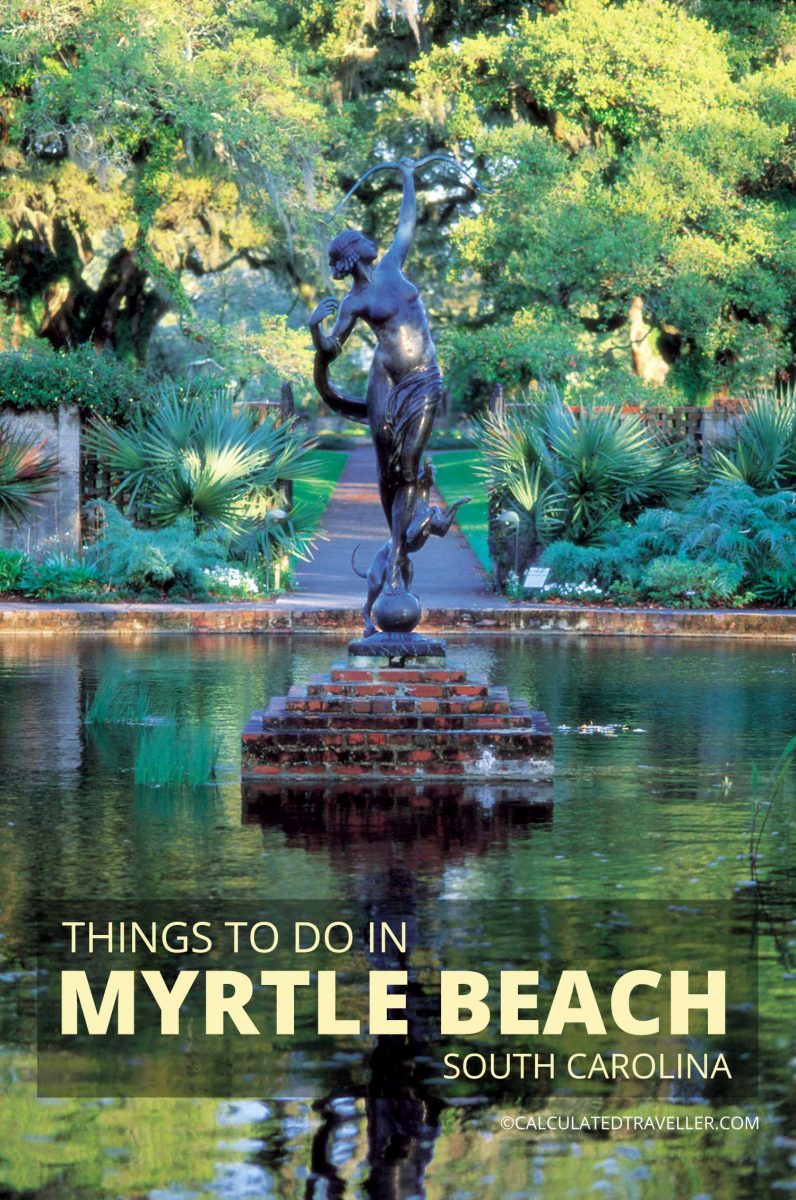 Brookgreen Gardens offers outdoor walking trails that allow visitors to meander through the sculpture garden and wildlife preserve. The Lowcountry Zoo on-site is a great place to stop if you're travelling with kids. All animals here have been rescued and are otherwise unable to survive on their own in the wild.
Myrtle Beach State Park
Myrtle Beach State Park in North Myrtle Beach includes oceanfront forest land and a nature centre with butterflies, saltwater aquariums, reptiles, and historical displays. Walk or bike the trails or spend some time collecting shells and searching for fossils.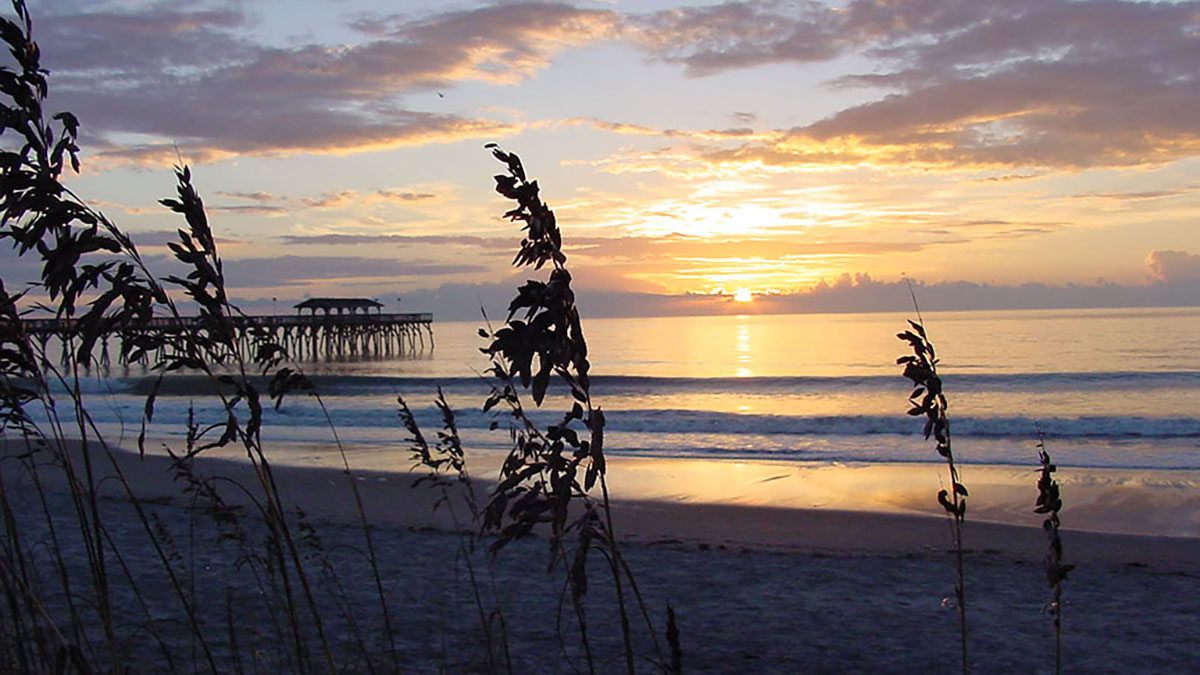 Note: Art enthusiasts will also enjoy the nearby Franklin G. Burroughs and Simeon B. Chapin Art Museum. As one of the museums for the visual arts, visitors of all ages will enjoy the interactive and educational exhibits here.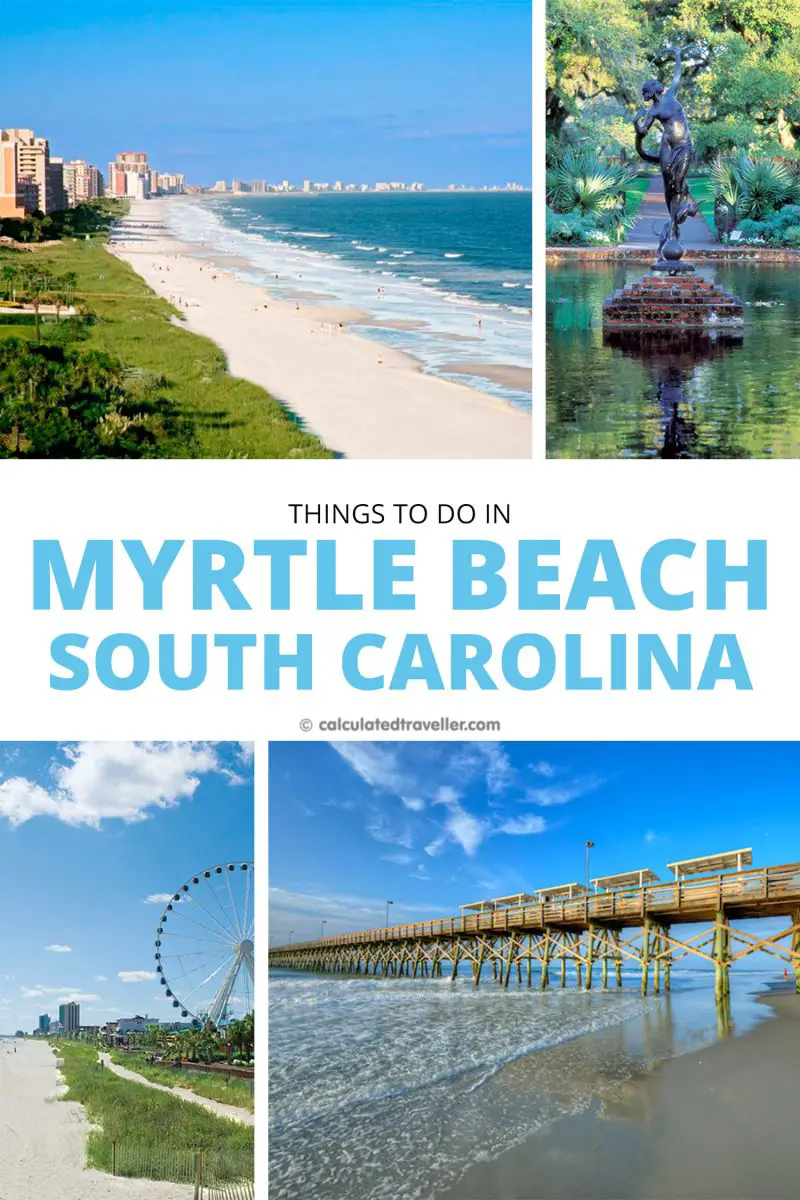 Myrtle Beach is a tourist city, and as such, the hotel and resort options are endless. For budget-minded travellers, the Crown Reef Beach Resort and Water Park are a great option. Adults planning a Myrtle Beach vacation can rest assured there will be plenty of things to see and do, whether travelling in August or January. This tourist-friendly city caters to travellers the world over. As such, there are always deals and offers to be had. No matter if it's a free night stay in the off-season or room blocking options for events, the Myrtle Beach experience is unforgettable. So, are you considering adding Myrtle Beach to your travel bucket list?
Where to stay in Myrtle Beach
Covid-19
Fortunately, Myrtle Beach is still open and operating during this time. However, there are some measures and precautions to keep everyone safe and healthy. These include: 
Patience is a must. As businesses are only just opening back up, there may be longer wait times at restaurants and particular attractions.
Masks are strongly encouraged in public and indoor spaces, like stores, open areas in restaurants, etc. 
Practice social distancing wherever you go.
Wash your hands regularly. 
Tourist attractions are open but call ahead to check for their hours and schedules.
Try and reserve seating ahead of time at restaurants, as some are only open at half capacity or are only offering outside dining (as well as takeout and delivery).
The Franklin G. Burroughs and Simeon B. Chapin Art Museum is closed on Mondays and Sundays.
Make sure to check out the Visit Myrtle Beach website for any closures or cancellations.
Photos are courtesy of Visit Myrtle Beach.