During these past few months, summery pictures of people on the beach, strolling down a boardwalk and eating ice cream have been all over my Instagram, Pinterest, and Twitter pages. What do each of these pictures have in common (in addition to their happy smiling faces)? Everyone is wearing sunglasses. Which got me thinking of how many variations of sunglasses there are in different models and lens types. Plus, what looks good on different face shapes and skin tones (i.e. never, ever, let me wear clear frames *shudder*).
Luckily enough, my family works in the glasses industry, so I'm here to give you the inside scoop with pro travel tips from my father, James Ahola, an eyeglass professional. There are many frames and lens options to choose from, and I know it can be overwhelming. So, hopefully, this guide will make the process of picking out your perfect sunglasses a lot clearer—pun intended.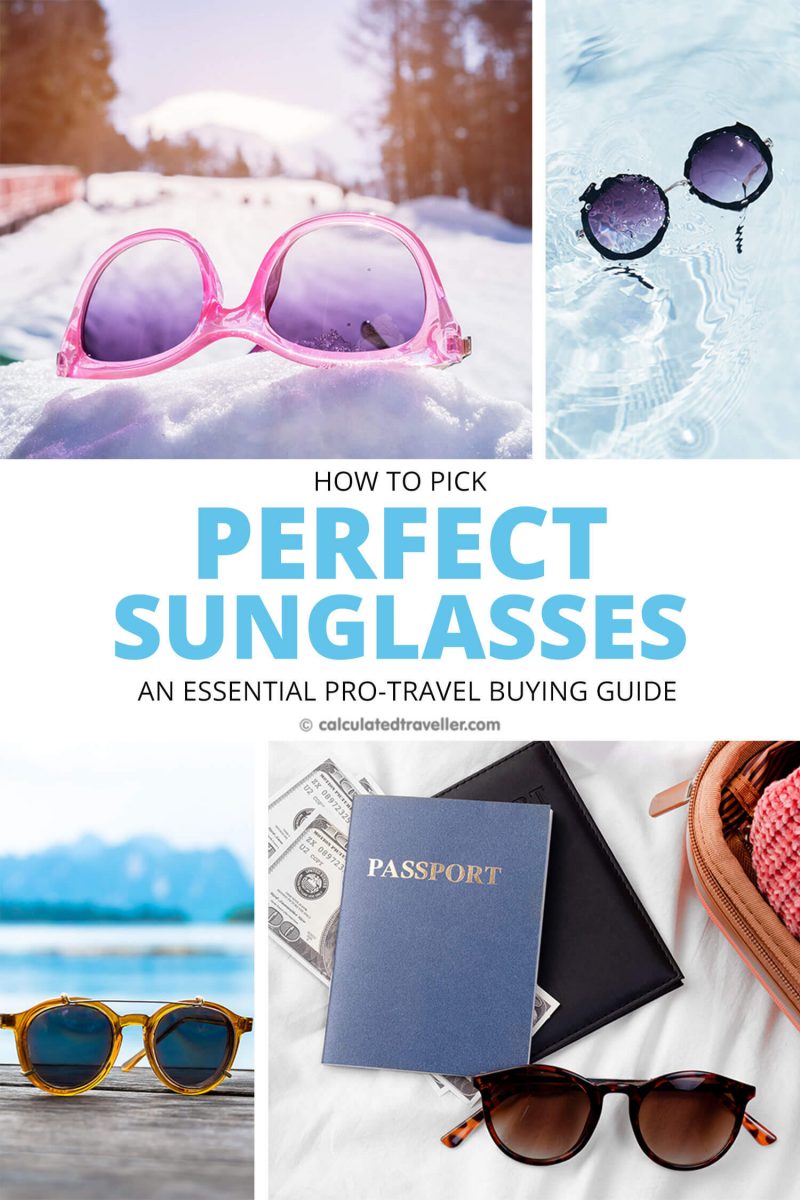 Pro-Travel Guide to Choosing the Best Pair of Sunglasses
Guide to Pick Perfect Sunglasses: The Different Lenses
Pro-Travel Tip 1: Pick the Shade of Lens That Makes Your Eyes the Most Relaxed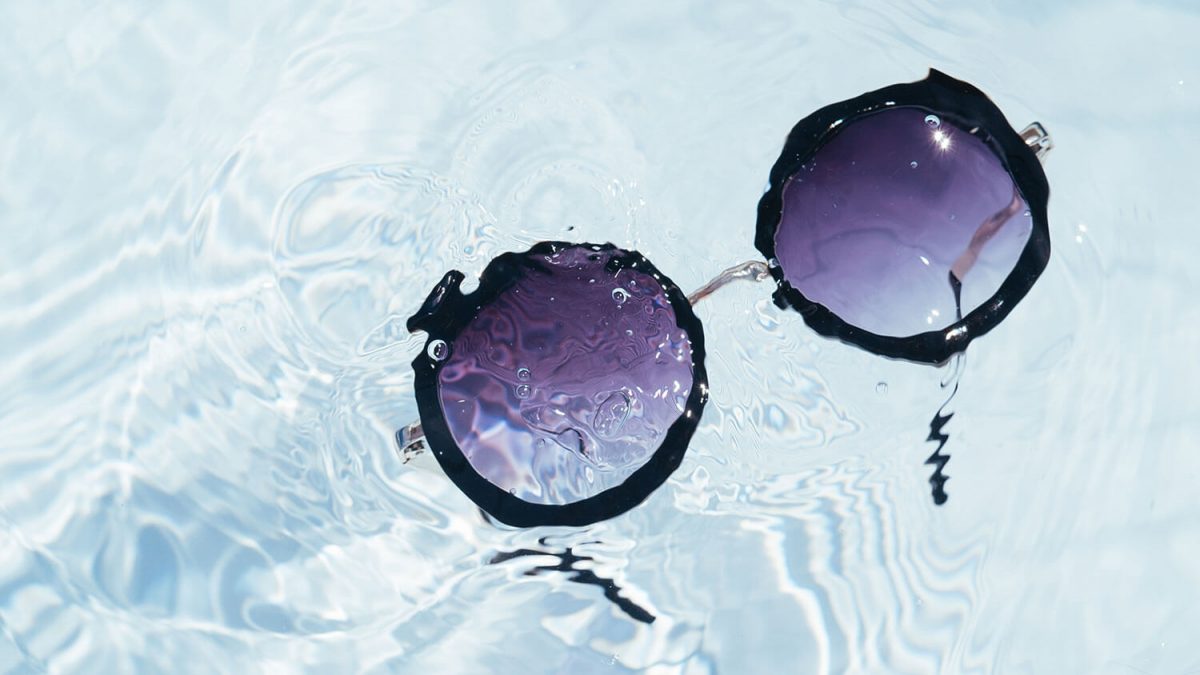 Grey vs. Brown.
First, let me start with the different lens shades available in sunglasses. Lenses are the most important part because they protect your eyes. Two major shade categories account for most sunglass lenses: Grey (G-15) and Brown (Umbra-15). 
Now, what's the difference between these lenses? It's entirely individual. As you'll begin to see throughout this guide, a lot of the decision-making when picking out a great pair of sunglasses involves making a trip and trying them on. Picking a colour lens is no different, as it involves more than just aesthetics. Instead, you should choose which lens is most comfortable and grants more accurate colour perception.
"Pick whichever makes your eyes feel more relaxed. For example, I prefer the brown lens," my father said. On the other hand, I prefer grey lenses. 
Note: There are other coloured lenses out there (i.e. rose-gold), and lenses designed for specific fields (i.e. golfing sunglasses), but these aren't as popular.
Pro Travel Tip 2: Polarized Lenses Go the Distance All Year Long
Polarized lenses reduce glare, and as such, are fantastic for sunglasses. Every single pair of sunglasses my family owns are polarized because of this.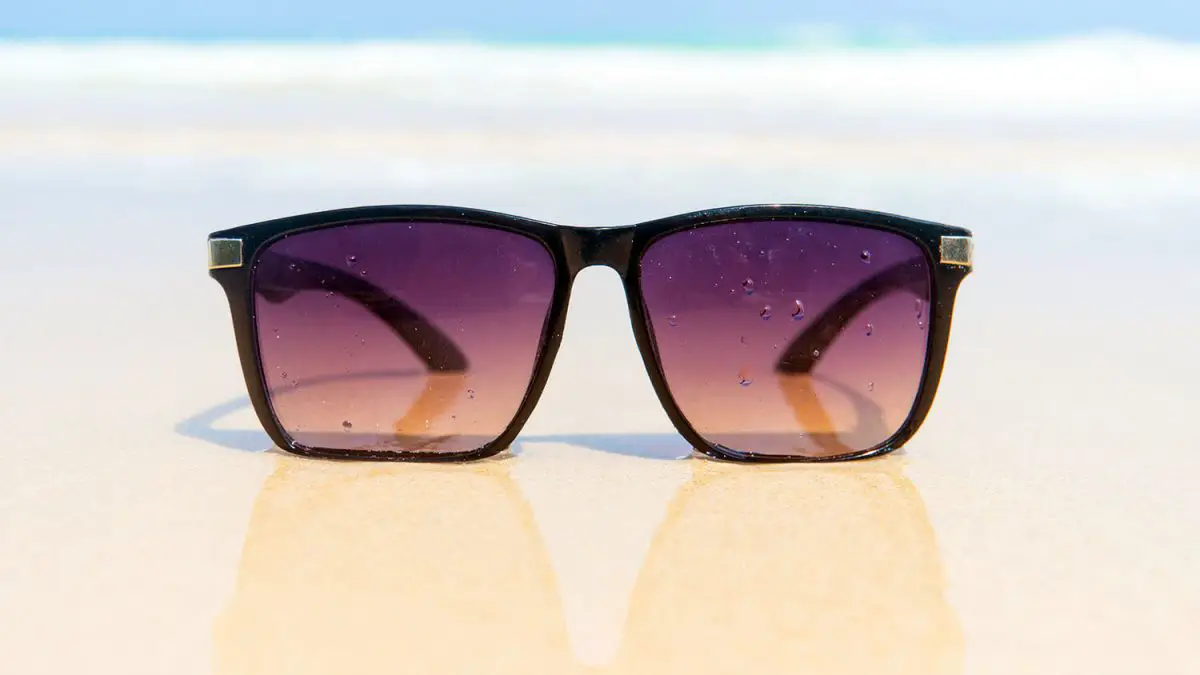 If you're doing anything involving water, like going to the beach or venturing out into the snow, "polarized lenses are the most comfortable for your eyes as they reduce and remove any glare coming off the water." 
My dad also says that polarized lenses are fantastic when driving. Your vision and, subsequently, your safety can be an issue whenever the sun sets or rises when you're driving, but with polarized lenses? "They're the most comfortable thing you'll wear."
One contradiction to this is if you're a pilot or doing some intense, high-velocity skiing. In this case, polarized lenses are not suggested because you may need glare to see things like icy patches in those situations. Other than that, polarized lenses are the way to go!
Pro-Travel Tip 3: Always get 100% UV Protection
My father stressed this point, even saying, "If the sunglasses don't say 100% UV Protection, don't get them." Otherwise, the lenses are just tinted, meaning all those UV rays are still going into your eyes and could potentially cause retina damage.
Bonus Tip: Wear Your Sunglasses in the Winter too!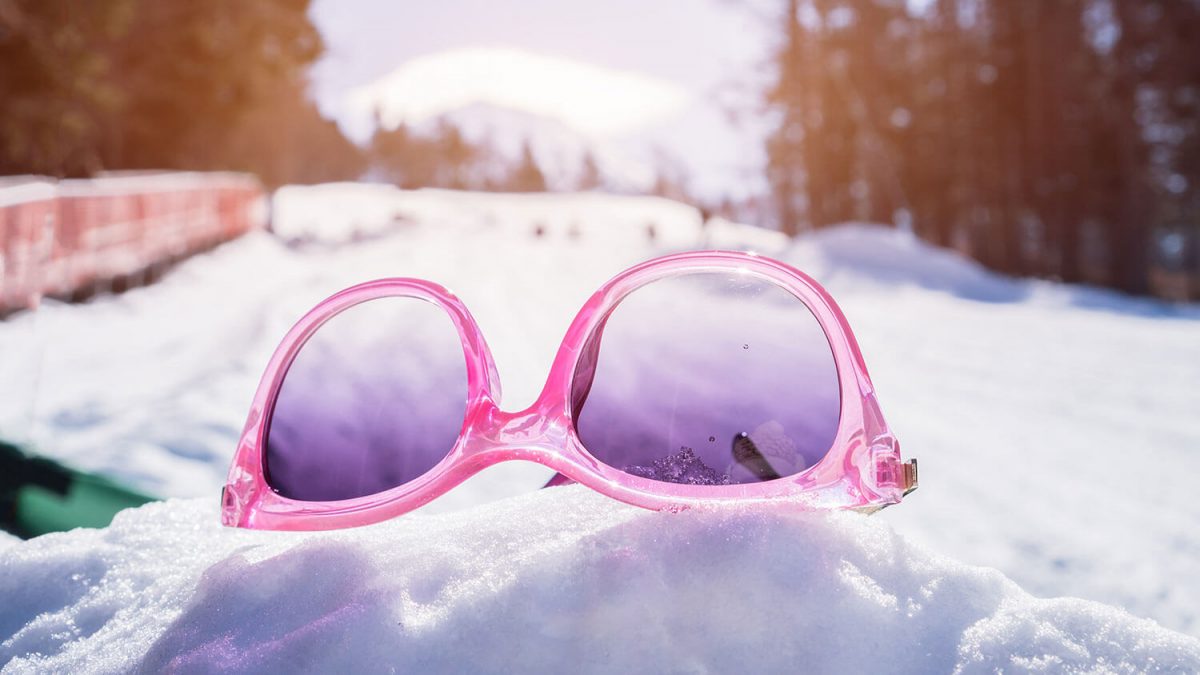 If you live somewhere with snowy, white winters, as I do, remember to put on your sunglasses. My dad stressed this to stay safe because "believe it or not, wearing sunglasses in the winter when it's snowy is more important than wearing sunglasses in the summer. Snow blindness is a real thing."
Glass lenses vs. Plastic lenses
When deciding between glass or plastic lenses, my dad says this: "The best possible lenses to get are glass lenses. They're the most scratch-resistant, and yes, they can be heavier, but they also offer the most visual clarity."
However, plastic lenses can still be an excellent lens; it just has to be a higher-quality plastic. This leads to my next tip…
Pro-Travel Tip 4: (If You Can Afford It) Get Higher Quality Sunglasses
Some sunglasses may seem expensive, and buying a cheaper option has its allure. However, if you can afford it, I'd say go for some higher-quality frames and lenses; they'll last you much longer and better protect your eyes.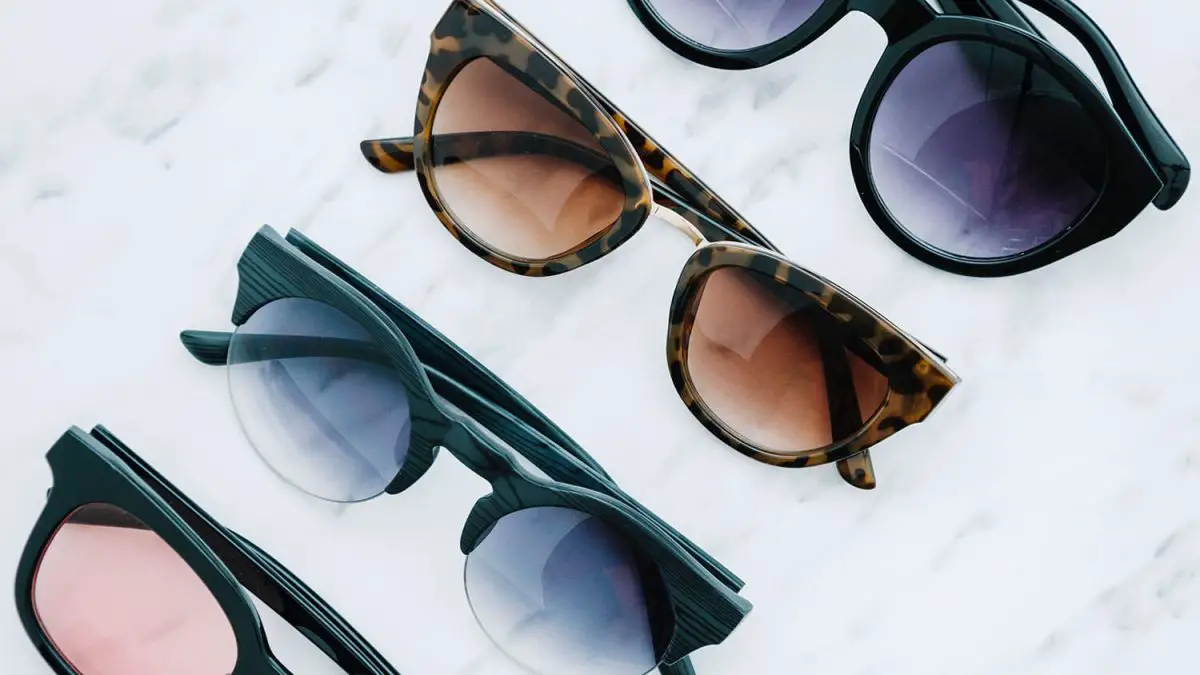 Guide to Picking Perfect Sunglass Frames: What Style to Pick?
Pro-Travel Tip 5: Get Large Enough Sunglasses to Have Proper Coverage
With sunglasses, you want a larger lens that will entirely block out the sun to keep your eyes safe and comfortable. Though those smaller lens sunglasses reminiscent of the 90s (like these below) can be cute and trendy.
However, the more you cover your eyes, the better the protection so look to a style like these classic Rayban Wayfarers. Though keep in mind to not get an overly large style, where the width and size are too big for your face either.
Pro-Travel Tip 6: Generally, You're Trying to Achieve the Perfect Oval
When picking out sunglasses, you've probably heard about considering your face shape to assess which styles will compliment you best. In basic terms, it comes down to making your face the shape of a perfect oval.
So, if you have a more square and angular-shaped face, you may want to go for round frames. Conversely, if you have a round face, try a more angular and linear frame shape.
Pro-Travel Tip 7: Consider Your "Look" When You Pick Perfect Sunglasses
However, even better is considering what "look" you're trying to achieve. When you figure that out, you can search for frames that fit that "look." Don't worry if you think frames that typically compliment you don't match the look you want. "Different products and frames can achieve the same 'look' by matching the right frame with the right face shape," my father, who has helped plenty of people pick stylish frames, said.
Different frames can also enhance other facial features, whether it's to narrow, widen or anything in-between. So, have some fun when picking sunglasses and get creative!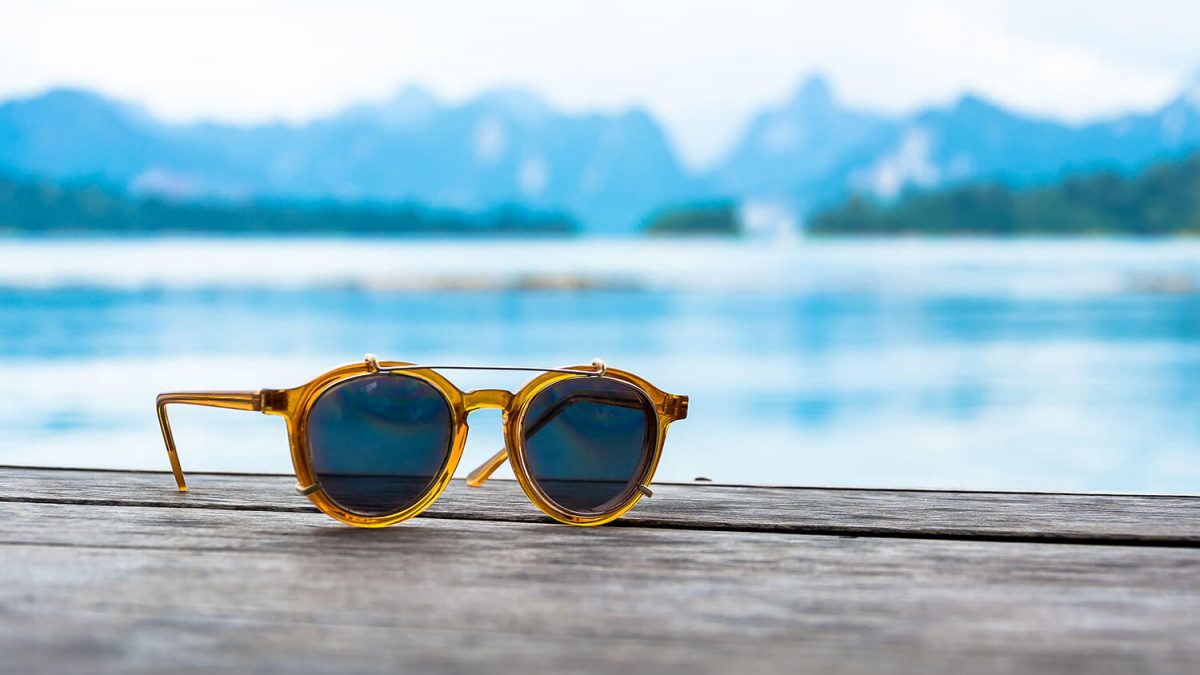 Pro-Travel Tip 8: Try Different Colour Frames when Picking Sunglasses
Typically, black and tortoiseshell frames look good on everyone since they are timeless. Other colours, like red, blues and metals (gold, silver, rose gold), will vary by skin tone. As I said earlier, I try to avoid clear frames as the colour tends to wash me out and instead love tortoiseshell frames. However, there have been a couple of lighter coloured frames that I like as well, so really, the best way to see if the colour is flattering is to try them on.
Pro-Travel Tip 9: Glasses/Sunglasses Combo?
I wear glasses, and anyone who has to wear glasses and sunglasses understands the dilemma of changing from one pair of frames to the other when going in and outside. Sometimes, even wearing both at the same time if your sunglasses aren't prescription lenses. I am here to help solve this problem!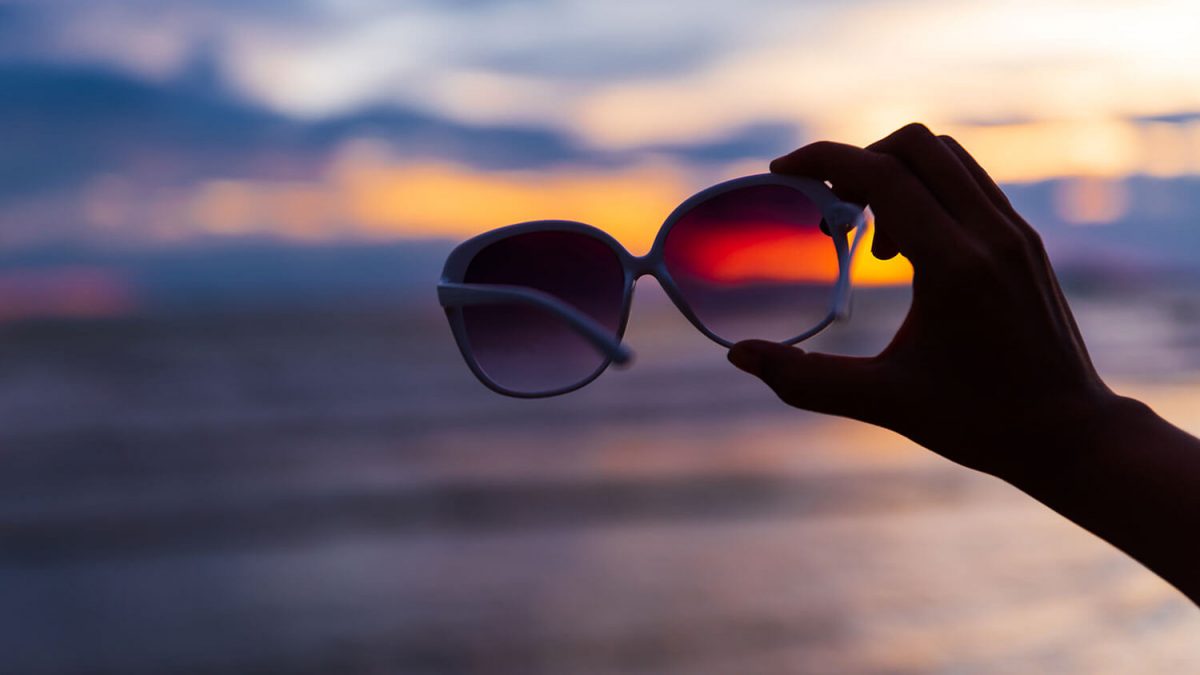 There are transition lenses used in regular glasses, so when you go out in the sunlight, the lenses darken and act as sunglasses. No need to change frames at all! The one issue with transition lenses is that they will not darken inside a car since transitions require UV light to react, and the glass inside cars typically contains UV protection.
If you're similar to me, you may not want transition lenses and have suffered the constant changing of frames with quiet dignity. I have recently discovered snap-on or clip-on sunglasses. I got a pair of these recently (photo below) that have a style similar to aviators, and they're great! You have your regular glasses, and then when you need to, you can snap on the sunglass lens over the others, and ta-da! You can see clearly and safely all-in-one, and save money as you don't have to buy two pairs of frames.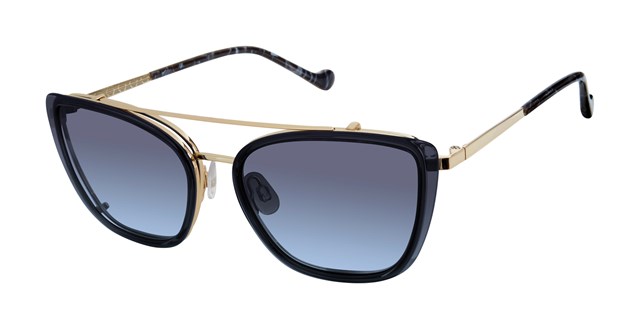 Pro-Travel Tip 10: Keep Your Sunglasses Clean and Safe!
Now that you've read our guide to pick perfect sunglasses, keeping your new sunglasses clean and safe will ensure they have a long lifespan and keep you looking good and your eyes safe. Here is a shortlist of items that could be useful (if you don't already have them):
Eyeglass Cleaner Spray and Cloth—these are usually available at a drugstore, Walmart, and of course, at your optometrist office. However, they are also available online, like this set from Amazon.
Lens Wipes—when your cleaning cloth may not be cutting it, check out the Zeiss Pre-Moistened Lens Cleaning Wipes; or Amazon or retail stores such as Walmart. These pre-moistened lens cleaning wipes are easily packable and do double duty because they are also safe for your camera or binoculars.
Eye Straps or Eyewear Retainers—these are essential if you're doing any sporting activity. Now that you've found your perfect sunglasses don't stress or worry about your glasses falling off. Cablz is one of the best eyewear retainers, and I would recommend checking them out. 
Sunglasses pouch—when buying sunglasses, they typically come with a case. Still, I love carrying them in pouches like these, as they take up less room in my bag.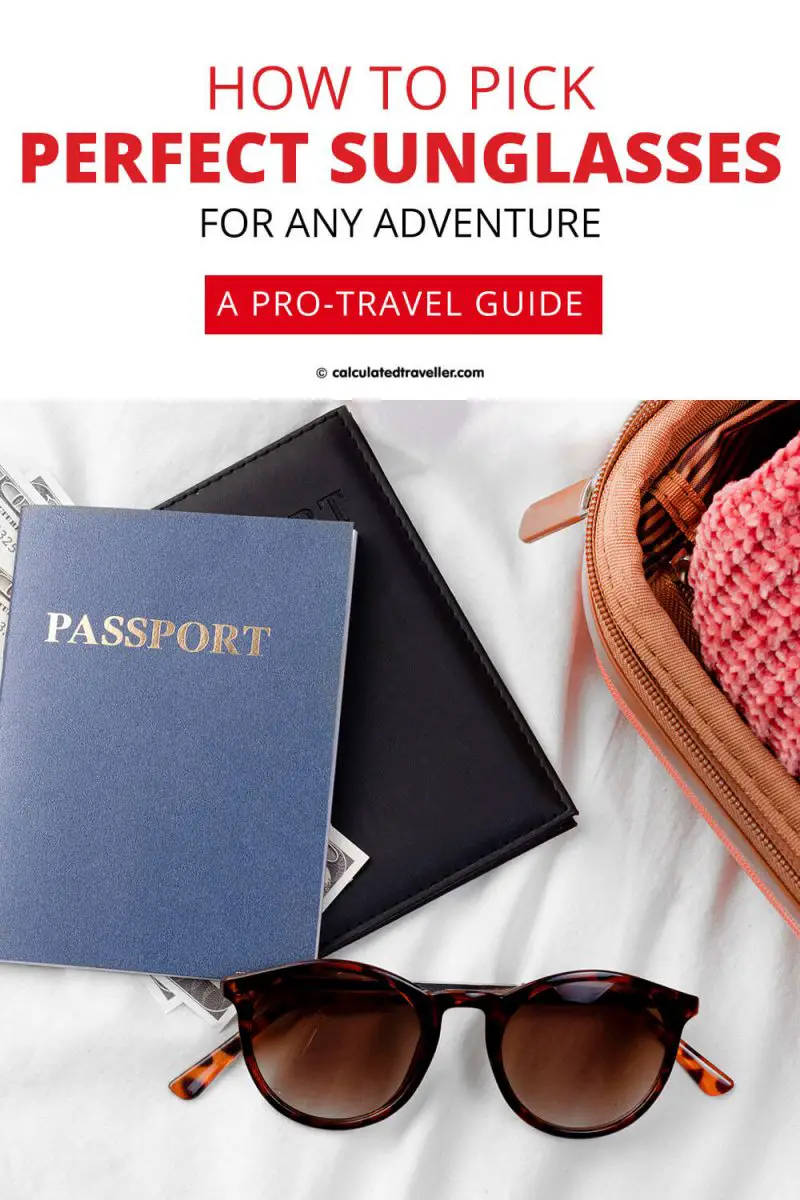 Finally, my last and probably most important tip in this guide to pick perfect sunglasses:
Pro-Travel Tip 11: Pick Sunglasses That You Feel Most Comfortable and Confident In
Sunglasses are the perfect chance to take risks and be bold! You can wear what you've always wanted, as sunglasses make you incognito. So have fun with them, be different, be bold, and pick what you love.
Sunglasses are such a fun and fashionable accessory, as well as being exceptionally important for your eyes. Good, high-quality lenses will let you see clearly and comfortably for a long, long time, thus letting you enjoy what you've travelled all over the world to see.
I hope you found this guide to pick perfect sunglasses helpful! What is your favourite style of sunglasses?
Visit our Travel Health and Safety section for related advice and articles.