"This is the most requested table in South Carolina," said John, our waiter at Thoroughbreds Restaurant in North Myrtle Beach, South Carolina as he was escorting us to our table.
I don't know if it's the truth or if he was kidding but I have to say that Table 12 in the Library was a great table – with high back armchairs directly next to a roaring fire – it was intimate and romantic.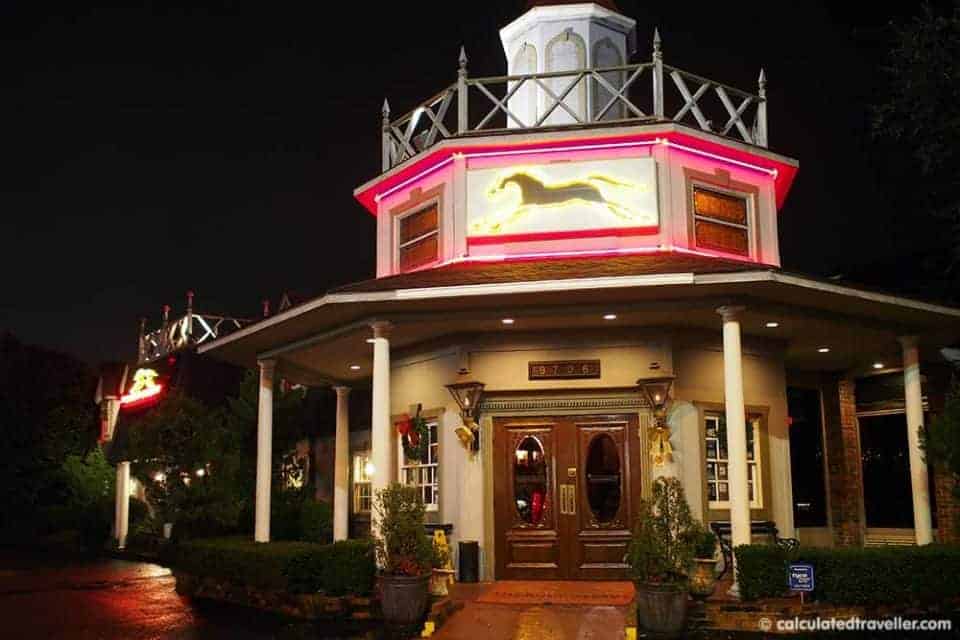 The restaurant is much larger than the exterior leads you to believe. There are multiple rooms and floors in this affordable fine dining Chophouse and seafood restaurant, each room a little bit different from the next but all with the same intimate feeling with comfortable upholstered booths and chairs, dark wood and fireplaces.
Thoroughbreds Restaurant is open 364 days per year; the only day they close is Super Bowl Sunday. We had the pleasure of dining here one evening in December, and I have to say our entire experience was excellent.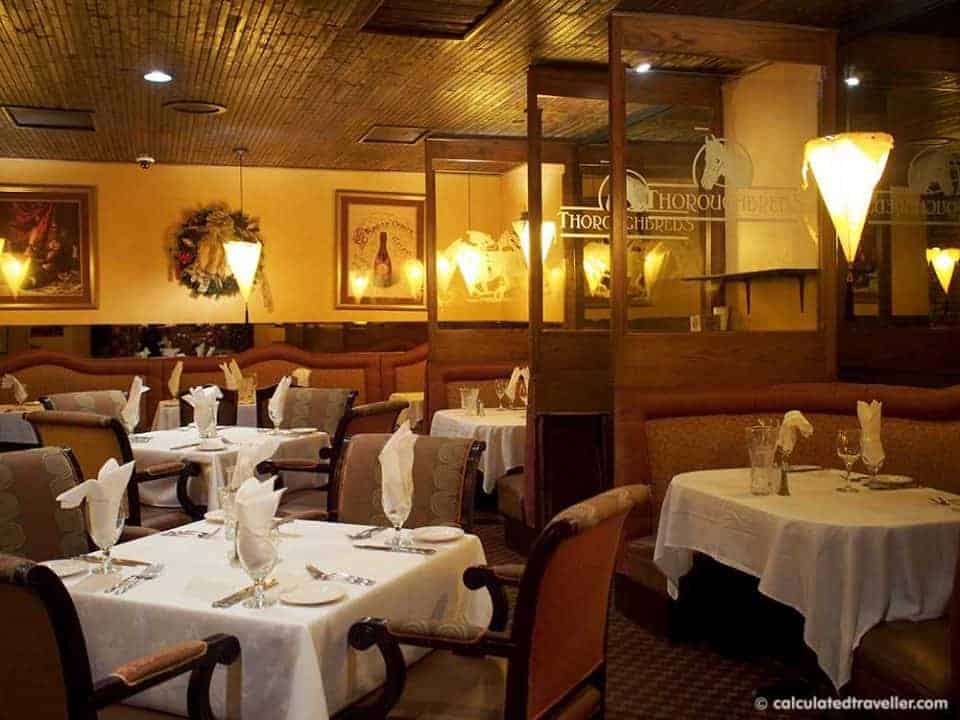 Here's what we ate at Thoroughbreds Restaurant
Run for the Roses Martini – $12
– Smirnoff Ruby Red Vodka, mixed with cranberry juice, orange juice and a splash of sprite.
Blue Lagoon Martini – $12
– Malibu Coconut Rum and Midori Melon Liqueur mixed with pineapple juice and blue curacao.
Angels on Horseback
– Jumbo sea scallops, wrapped in Applewood smoked bacon.
Husband Ray loved these scallops. They were perfectly cooked and were delicious and rich with the addition of the smoky bacon. Yummy and decadent!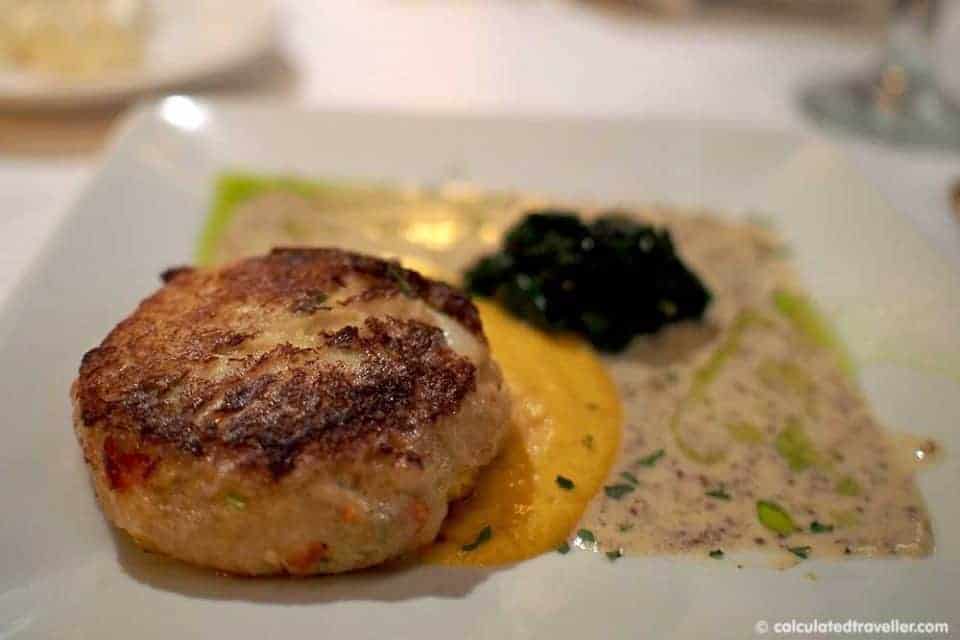 Lowcountry Crabcake
– Colossal lump crabmeat, spinach, sweet potato purée and Chardonnay mustard.
The crab cake was delicious with huge chunks of crab meat and paired well with the Chardonnay mustard.
Honestly, we had the best of both worlds as we shared both our appetizers. I was pretty much in seafood heaven with both scallops and crab.
Australian Rack of Lamb – $36
– Rack of lamb served with silky sweet potato purée, wilted spinach and bacon-bourbon glaze.
– Served with a house salad.
Bacon, bourbon and lamb need I say more?
The lamb was simply amazing, possibly the best I've ever eaten (and you know my name is Mary so, I know a thing or two when it comes to lamb). It practically melted in my mouth and simply tasted fantastic.
I wasn't a fan however of the potato purée. I found the texture of the purée too silky smooth for my taste and thought it had an unusual mouth-feel.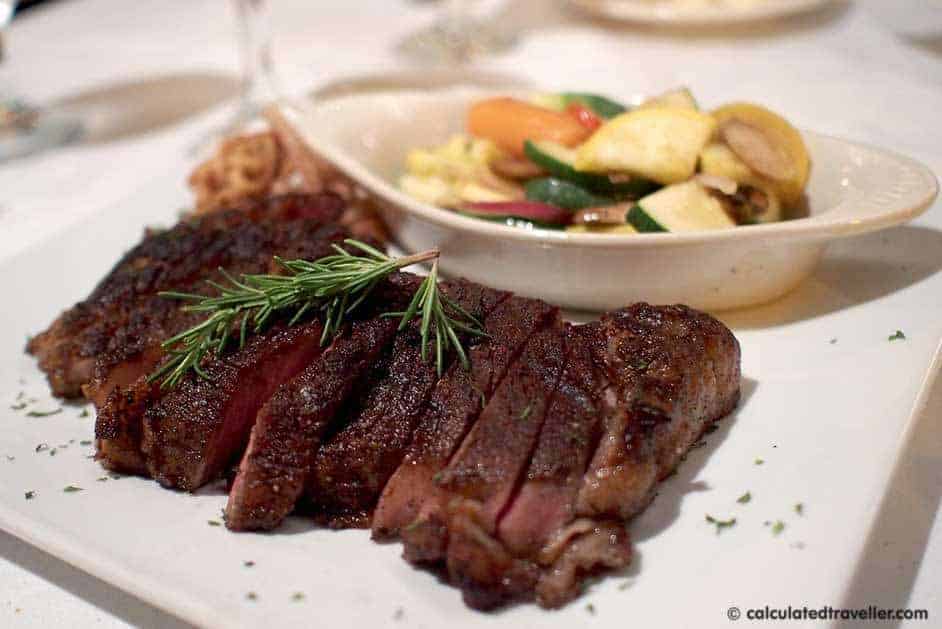 New York Strip Steak – $40
16 oz. cut of Sous Vide Angus beef encrusted with coarsely ground coffee beans, sea salt, and cracked peppercorns.
Having a good waiter is critical if you are particular about how you like your steak served. After an extensive explanation of the sous vide cooking process, Ray ultimately chose to have his steak prepared "black and blue" — rare on the inside but perfectly charred on the outside. Delicious!
Grand Marnier Créme Brûlée
– Egg custard infused with orange zest and the essence of Grand Marnier liqueur, topped with caramelized brown sugar, sliced fresh strawberries and a dollop of whipped cream.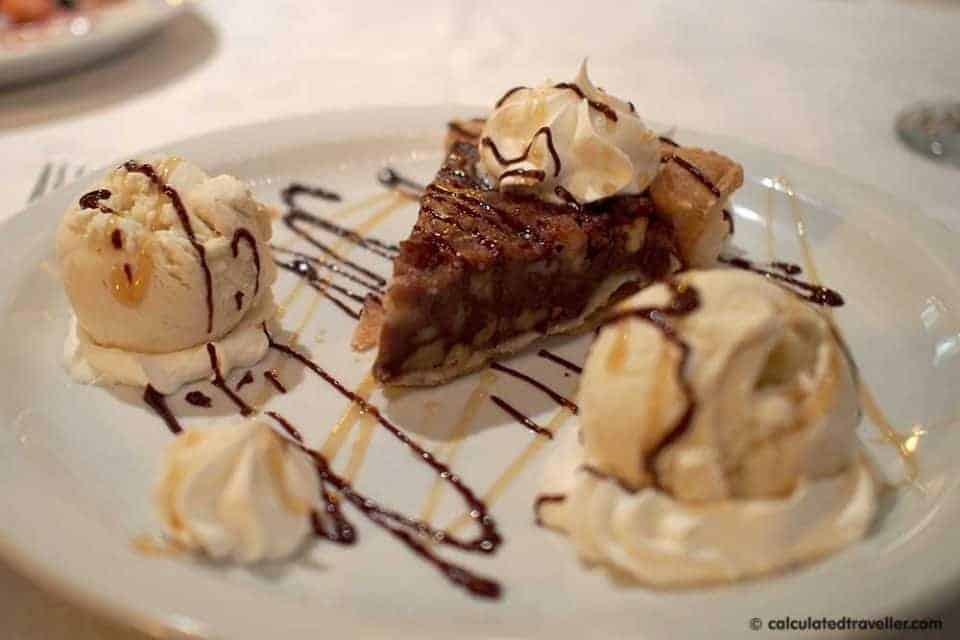 Kentucky Derby Pie
– Pecan chocolate walnut pie, served warm, with Breyers Vanilla Ice Cream, finished with homemade caramel and chocolate sauce.
The service was impeccable, and I must give my compliments to our waiter John as he made our visit memorable. Full of knowledge and experience, John made thoughtful recommendations on the menu and an extensive wine list.
John, when asked how long he had been an employee of the restaurant, replied: "3 Thanksgivings"; as if this was a measure of time. A real personality and smooth talker he explained that he finds the Thanksgiving buffet served in the enclosed "Paddock Porch" to be so extravagant and memorable. It's also the busiest day of the year as they typically serve 800+ customers for dinner on that special day.
I'm not sure if Table 12 in the Library is truly the most requested table in South Carolina, but it sure seems like Thoroughbreds Restaurant is the most requested restaurant on Thanksgiving Day. Given that Thanksgiving dinner is such an important family meal that's quite the testament to the service and food that Thoroughbreds Restaurant provides.
Thoroughbreds Restaurant
9706 N. Kings Hwy., Myrtle Beach, SC 29572
Read other reviews about Thoroughbreds Restaurant on Tripadvisor.
Travel assistance was provided by Visit Myrtle Beach. All opinions, as always are our own.
For more articles about Myrtle Beach read
– Crown Reef Beach Resort and Waterpark, Myrtle Beach, South Carolina
– Tupelo Honey Cafe – Market Common, Myrtle Beach, SC
– Things to Do in Myrtle Beach South Carolina