My hunt for a travel bag continues as I review the Travelon Classic Travel Bag.
Why this bag? I was looking for a traditional "unisex" bag that would be larger than my current Classic Tour Bag so that hubby Ray could potentially carry it when we travel in an urban environment. At least that's what I thought when I saw this photo online!
When I first got the bag (in Black) I thought that the bag looked very utilitarian and not overly feminine but when I asked my husband if he would carry it, he quickly said "Um…No, it looks like a purse." So, there went my "unisex" idea! I still feel strongly that a man could carry this bag – but it would have to be a man more metrosexual than my man!
I did find that as I filled the Classic Travel Bag with all the regular items I use on a daily basis that the pockets on the outside bulged. Mind you for travel; I wouldn't be carrying as many credit cards and loyalty cards but this is something to keep in mind.
I see the practicality of having a pocket on the outside for fast accessibility to your cell phone but in a real travel situation in a high theft part of the world, I don't think I would use this pocket for my expensive phone. It would be a great spot for a pocket notebook or dictionary.
I give the designers at Travelon credit because each time I look at the external bottle pocket, it always seems too shallow and narrow to hold anything larger than a regular bottle of water. Yet my reusable water bottle and thermal mug easily fit inside it.
A mysterious tab on the outside near the top zipper puzzles me. I still don't know what to do with this ringed tab – so if you figure it out, please let me know.
Travelon Classic Travel Bag Pro
RFID blocking card and passport pockets
Cut proof bag and straps
Lots of pockets
Locking zippers
Unisex
External water bottle / umbrella pocket
External cell phone pocket
Fits camera / guide-book / note book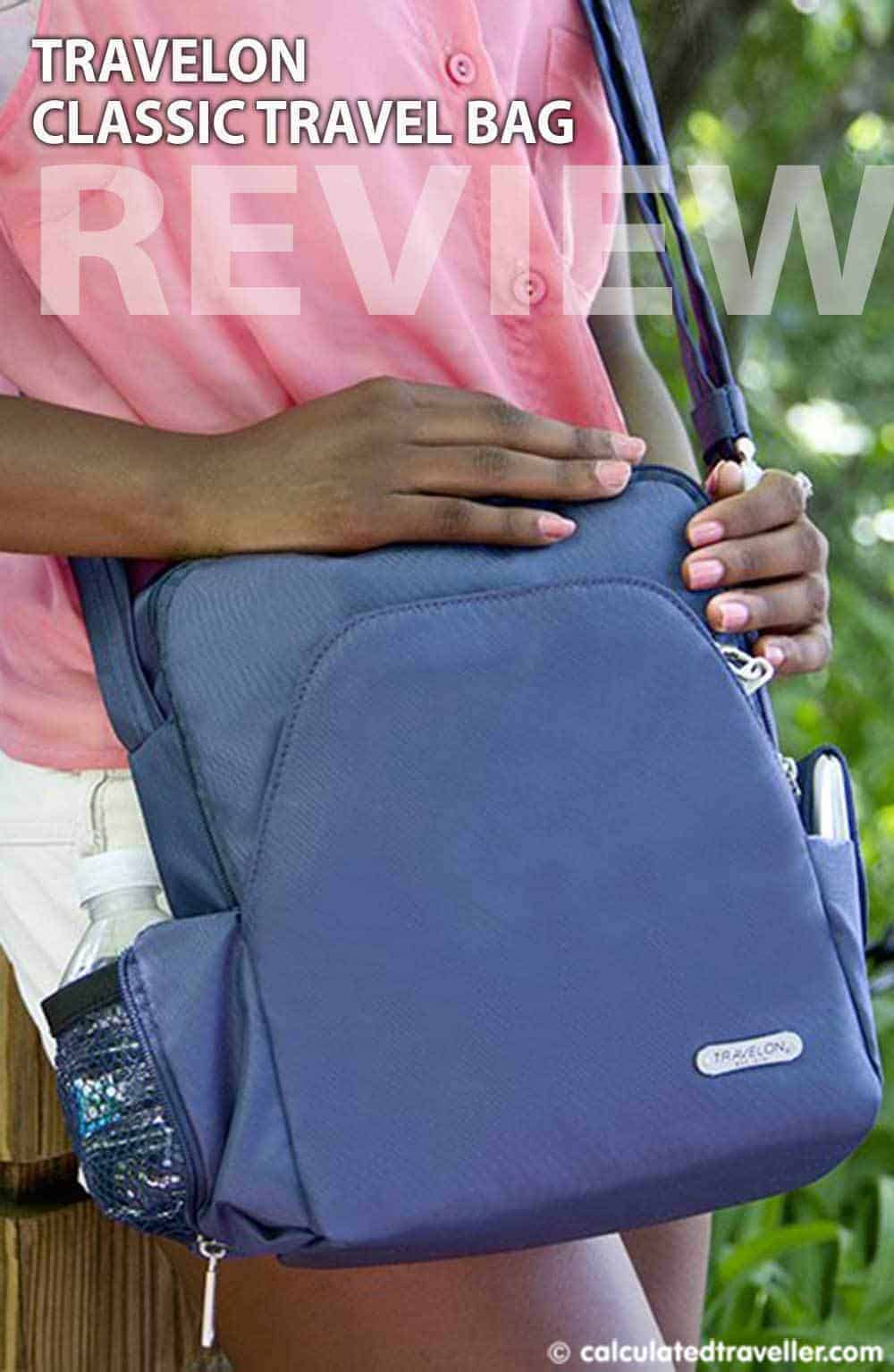 Travelon Classic Travel Bag Cons
Wallet / credit card pockets make the outer pocket bulge as you fill it
Zippers aren't waterproof nor do they have a flap / cover to aid in preventing water from soaking the zippers
A bit debatable whether the bag is truly uni-sex or not
I'm still using this bag in and around my hometown and find it a great size to hold a lot of stuff. Now if only I could get hubby to try it – perhaps he might like it after all.
Shopping for the perfect travel bag is totally a matter of personal preference but I'm quickly becoming a fan of Travelon bags. With so many styles, colours and features there are plenty of designs to suit your needs.
Read my other Travelon reviews
– Review: Travelon Classic Anti-Theft Sling Bag
– Travelon Anti Theft Classic Tour Bag Review
– A Pretty Perfect Multipurpose Travel Scarf by Travelon
The Travelon Classic Travel Bag was provided by Travelon for review purposes. As always, all my opinions are entirely my own.