One of the essential travel gear items on my packing list is a travel scarf wrap or shawl because of the many ways that you can use it. When I saw the new Travel Scarf by Travelon with built-in anti-theft RFID hidden pocket, I was so excited because not only did this cover my need for warmth, modesty, and functionality but it also included my need for security.
The kind people at Travelon sent me one to try out for my trip to Jordan, and I loved it. It worked well as a blanket when sleeping on the more than 11-hour plane ride as I could tuck my passport, money, and cell phone inside it while I slept.
I also used it with great success on a sunrise camel ride through the Wadi Rum Desert. It allowed me to ride hands-free (so that I could hold on to the camel for dear life) and carry my Bedouin tent key and cell phone with me without having to take a purse.

Travel Scarf by Travelon Specifications
Travelon Product Code: 43182
Size: 60×64 inches
Fabric: Polyester
Colours available: raspberry and gray
Since the fabric is lightweight polyester I didn't have to worry about it getting dirty or being too fragile should I have to wash it while on the go like I would with a cashmere wrap or wool scarf.
The raspberry pink colour is quite fashion-forward and stylish.
What's great about the Travel Scarf by Travelon
It's huge. I didn't pay attention to the measurements when ordering it, and I just assumed it would be a regular size scarf, but this is blanket size which is awesome since you don't need to use the blanket provided by the airline. I always wonder if they wash those between flights or if they just fold them up and put them in a bag.
At first, I was disappointed that it wasn't an infinity scarf like other travel scarves I've seen on Amazon where the ends are attached, but I love that it's more versatile with loose ends because you can use it as a blanket plus this one has added security protection.
The size is also perfect to use as a shawl, picnic blanket, and if you are creative, you could probably turn it into a travel wrap dress.
There is an RFID pocket sewn right into the scarf, and it closes with a hidden zipper. The pocket on the scarf when first out of the box was a bit "crunchy" and noisy – it's like a thin metallic paper lining being rumpled but once washed, however, it softened up, and now l no longer notice the rustling noise. It fits a passport, phone etc. but be careful because the more you put in it, the heavier it will weigh down and will start looking bulky.
When I modelled it for my husband, he loved the colour of the travel scarf but thought the hidden pocket was silly. (Men… Sheesh)
Here's a great little video from Travelon
The fabric/material of the Travelon scarf is like a soft cotton t-shirt and very comfortable against your skin.
Washing instructions for this travelling scarf say to hand wash. But you know that ain't happening in my house! I placed it in a mesh laundry bag inside a front load washer and had no problems whatsoever but don't take my word for it — take caution and follow the care instructions.
My only comment that may annoy is that because of the size you may find it too bulky depending on how you tie it around your neck. There is a lot of fabric there.
Otherwise, there isn't anything that I don't love about this perfect travel shawl with pockets. If only they made a men's travel scarf.
Whether you are riding a camel in the desert and need to be hand and purse free or you are just looking for comfort, warmth, and security while flying red-eye on a plane, the Travel Scarf with hidden pockets by Travelon with RFID is a welcome addition to your travel packing list.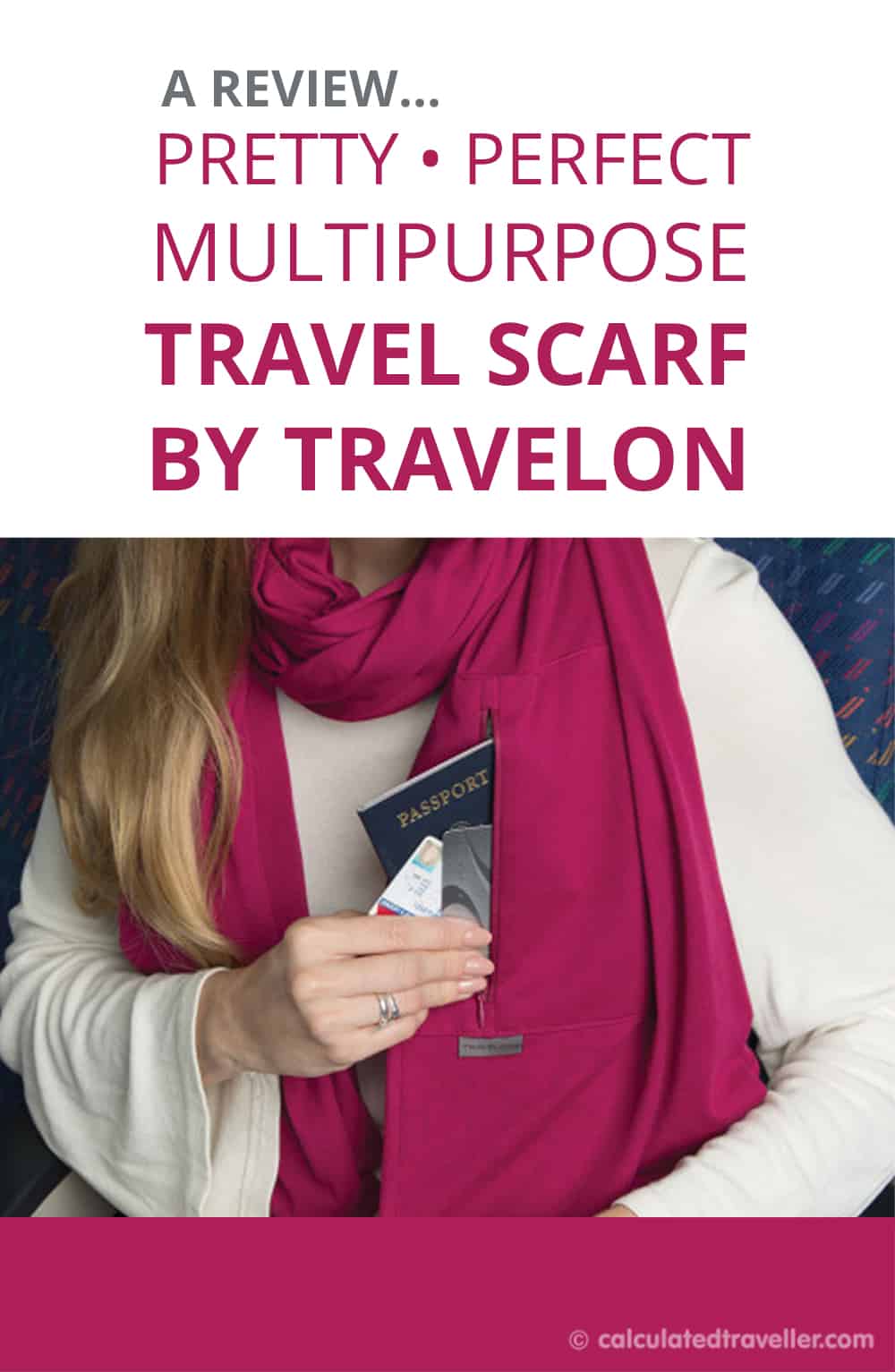 This was provided by Travelon for review purposes. All opinions are that of the author.
Check out these other articles:
– Quick Travel Tip #6 – Travel with a Shawl
– Chaos Multi Tubular Headwear – Review
– Review: Travelon Classic Anti-theft Sling Bag
– Stylish Sun Protection with the Sunday Afternoons Havana Hat Review