One of the most relaxing and inexpensive ways to enjoy Caribbean snorkeling is via beach access. Although not all Caribbean beaches have decent snorkeling, there are many that do. I've seen barracudas, octopi, eels, pufferfish and all kinds of other amazing sea creatures simply by walking into the water from the beach. And believe it or not, beach snorkeling has lots of advantages over deep-water (or boat drop) snorkeling, too.
Advantages of Shore Access snorkeling
Many times shore access – or beach entry – snorkeling is free. You don't have to pay for an expensive tour … you just make your way to the beach of choice and walk on in.
You can snorkel on your own schedule. You can stay in as long as you like and leave when you're ready – not when your 30 minutes is up and the boat heads for home.
Since shore access snorkeling is generally in shallower water, people who aren't confident swimmers can enjoy it without panic or stress.
Beach entry snorkeling is great for kids or beginning snorkelers. It gives them a chance to snorkel in a safer environment while building their skills and confidence.
Prefer to dive instead? Discover top dive sites of the Caribbean here.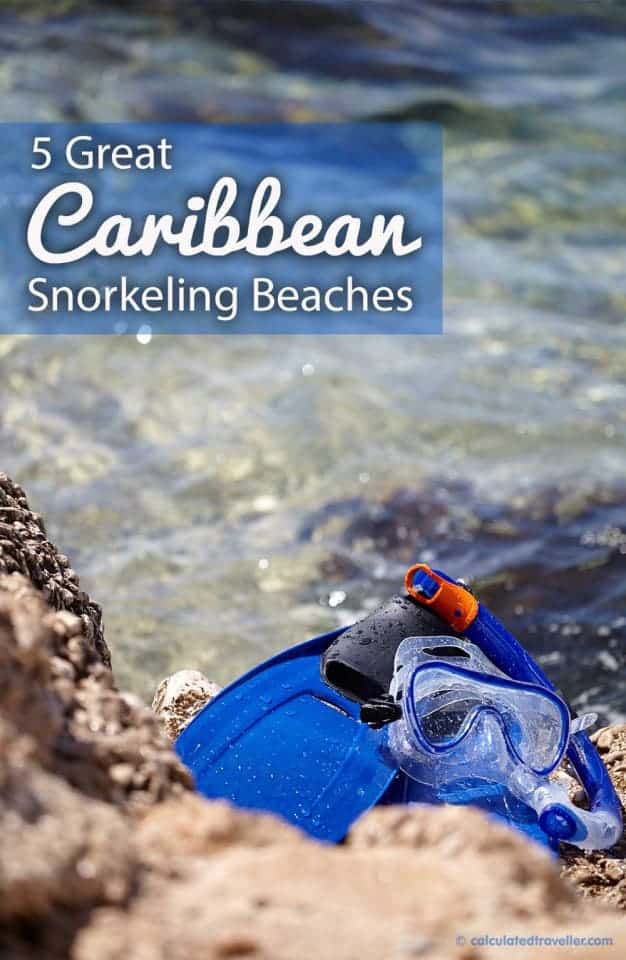 5 Great Caribbean Snorkeling Beaches
When it comes to the best "beach snorkeling" in Caribbean, I suggest the following:
1. Catalina Island, Dominican Republic
When I started researching for my trip to the Dominican Republic, it became clear right away that the best place for snorkeling was Catalina Island. Located about a mile and a half off the southeast corner of the DR, it is accessible only by boat. You don't have to swim far from the beach to reach the reef, and the water is relatively shallow the entire time. My husband and I saw a great variety of fish, including trunkfish, sand divers and even a seahorse!
2. Be Live Canoa Resort, Dominican Republic
A travel agent friend of mine booked my trip to Punta Cana, and she found a great deal for us at Be Live Canoa Resort. Imagine my excitement when I learned that the beach right at that resort has some of the best shore access snorkeling in the Caribbean! Even better, the snorkeling is open to everyone, not just those staying at that resort. You can enter straight from the beach, but it's easier via a set of concrete stairs entering the water from the dock (by the resort's restaurant). At Be Live Canoa I saw tons of beautiful species, including lots of angelfish and butterflyfish.
3. Chankanaab Beach Adventure Park, Cozumel, Mexico
A very popular water park, the $21 entry fee to Chankanaab not only gives you admittance to good beach access snorkeling, but to a sea lion show, botanical gardens and other attractions as well. Access is by a wide set of stairs originating on the beach itself. There are plenty of fish or varying species right around those stairs for people who don't want to venture further. But the true treasures are about 50 yards or so further out where in addition to the fish, there are a few underwater statues to explore. Here the water does get a bit deeper though, but you'll likely see a variety of parrotfish, trunkfish, puffers, trumpetfish and many others.
For another beach a little further away check out: San Francisco Beach Club on Playa Paradise Beach, Cozumel, Mexico
4. Xel Ha, Riviera Maya, Mexico
Just a few miles outside the city of Cancun is Xel Ha – one of Mexico's most environmentally-conscious marine parks. Like Chankanaab, the park's entrance fee gives you access to many other amenities in addition to snorkeling. Here snorkelers can walk right in from the beach and enjoy snorkeling in the comfort and safety of a protected lagoon. It was here, as a rookie snorkeler, that I saw my first barracuda. The lagoon at Xel-Ha also has many other beautiful Caribbean fish, including stingrays.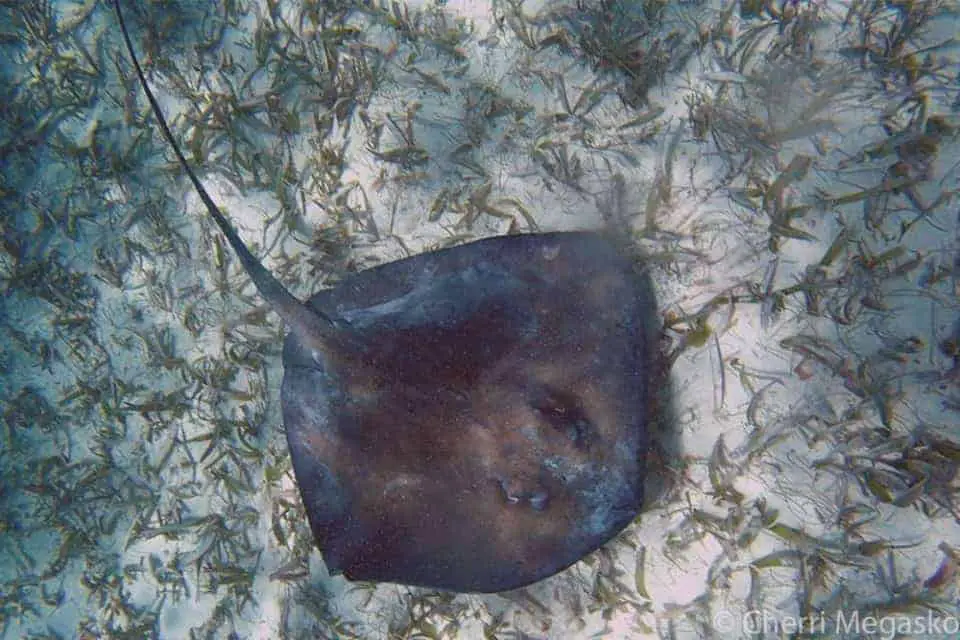 5. The Split, Caye Caulker, Belize
All the way to the north end of Caye Caulker there's an area that locals call "The Split." By night it's party central, but by day it's the best place on the island from which to snorkel. The beach is on the west side of the split and you can enter from there. Then make your way around to the east side. Here there's a retaining wall where all sorts of fish hang out. My husband and I just swam around in the same 25-square-yard area and let the fish come to us.
Looking for a place to eat? Check out our article Where to Eat on the Beautiful Island of Caye Caulker Belize
Do you enjoy snorkeling? Where's your favorite Caribbean snorkeling beach?
Looking for other beaches in the Caribbean? Check out these articles: