If you haven't been to Buffalo's revitalized Canalside area yet you really need to!
The area is definitely a buzz with plenty of sights to visit such as Naval Military Park and Harborcenter as well as a whole slew of family-friendly active adventures such as boat tours, water bikes, and paddleboats. Canalside is a great place to spend some time…
Courtyard Marriott Buffalo Canalside Hotel – A Perfect Location Canal Side
The Courtyard Marriott Buffalo Canalside is fairly new and arrived on the scene in 2014 and with 78 rooms, 24 of them suites, the hotel is a less than 5-minute walk to the water's edge.
Another bonus is that there is a very nice water feature directly in front of the hotel complete with shade for you to sit and enjoy your Tim Horton's coffee (It's always a bonus for us Canadians who need our "fix" and conveniently enough Timmie's is located across the street!)
The lobby area is modern and bright complete with a Starbucks, café, snack shop, sitting area and internet/computer zone.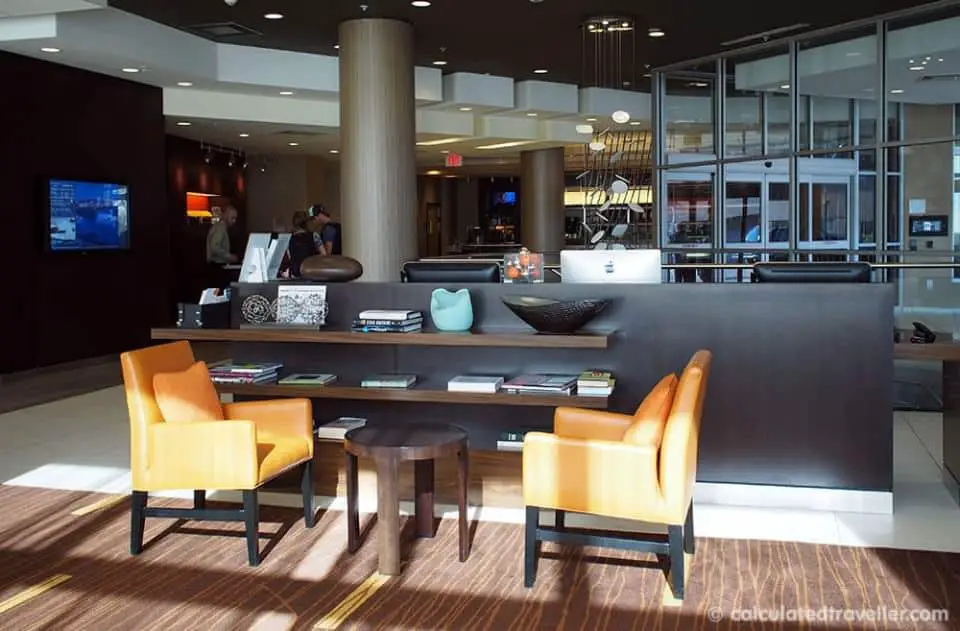 We stayed in a standard King Guest Room – Room 230
Beautifully decorated, very comfortable bed with modern furnishings and fixtures, including multiple USB plugs in most of the electrical outlets — perfect for charging all your digital gear.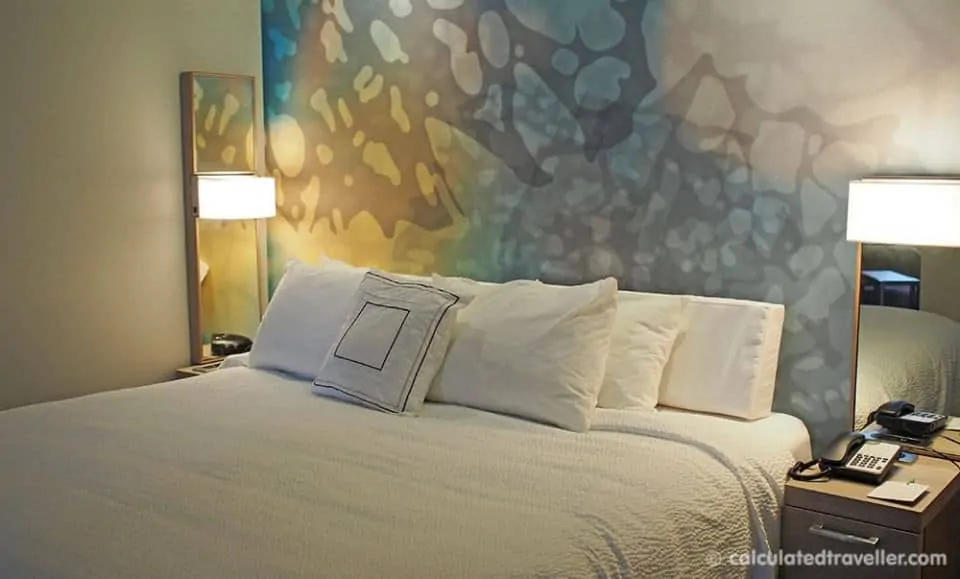 We had a very large bathroom with large walk-in shower, rain showerhead and Paul Mitchell toiletries. Another plus was that there was a towel hook — my pet peeve is that hotels rarely provide a towel hook to hang your towel yet they always have the sign asking you to be environmental and to reuse your towel.
Amenities
Complimentary Internet (very fast)
In-room coffee, microwave, mini fridge, iron, hair dryer
Coin operated laundry
Starbucks, café and tuck shop
Fitness facility
Pool
Business Centre, Meeting facilities on the lower level of the building
No in-room safes (available at the front desk only)
Valet parking only $12/day (no self-parking)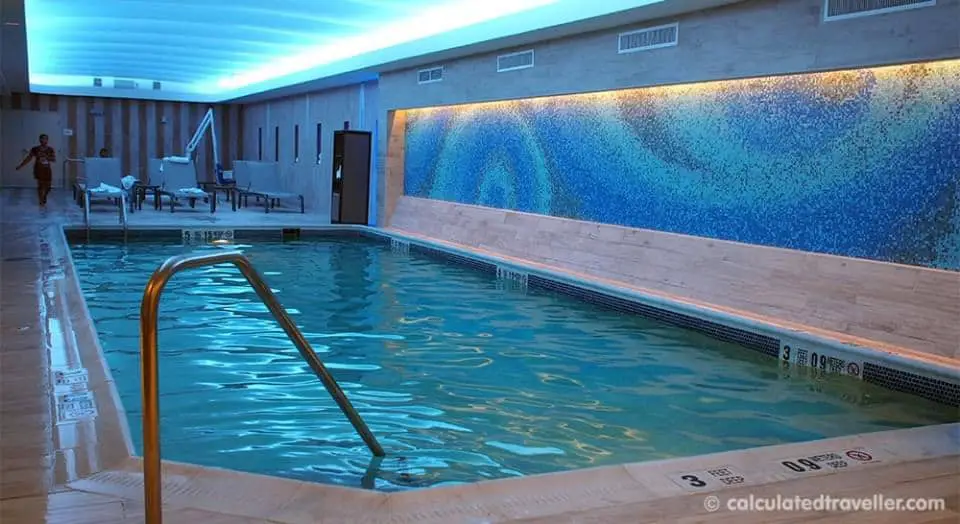 Oops, how did that elephant get in my room?
All was not perfect…
Although I really wanted the hotel to be perfect there was an "elephant in the room" that I have to share with you. The elephant's name was PILLAR.
Not just a small pillar but a large 2-foot square pillar smack in the middle of the room!
At first hubby and I didn't mind the pillar but after a day it became a real nuisance.
It blocked the view of the sofa, it blocked the light from the windows and I kept walking into it (I know I'm a klutz).
If the furniture was arranged in a different configuration it would have been disguised more or at least made to look like it was planned but it became quite the eyesore the longer we stayed in the room.
Obviously, all other hotel rooms ending with 30 (i.e, 330, 430 etc) would have the same pillar because clearly it's there to hold up the ceiling but I would also assume that if there is a pillar in one room that there would be pillars in other rooms too. A suggestion would be to call ahead and ask prior to checkin.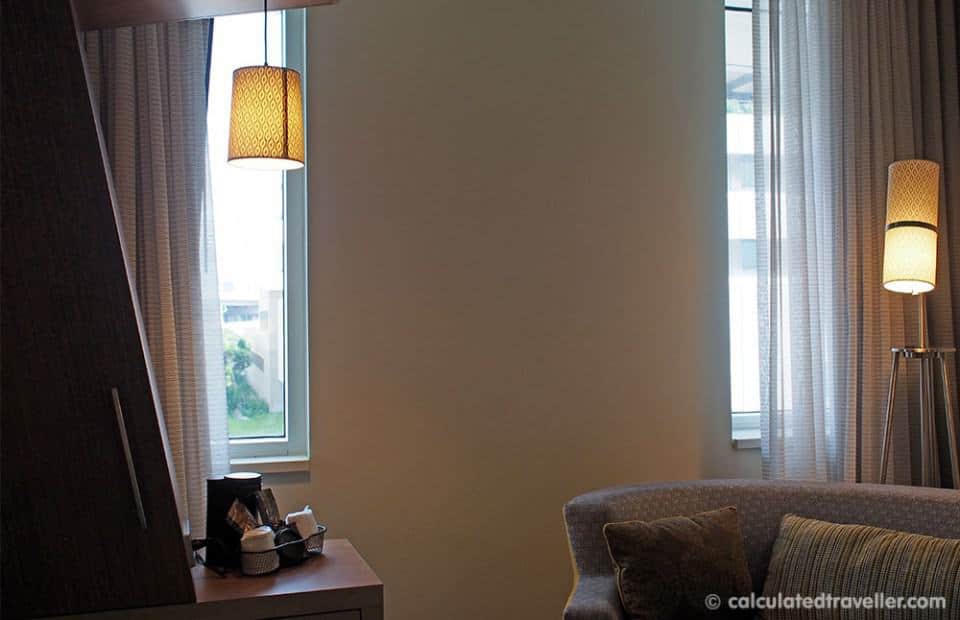 Another bit of an oddity – in reference to the same architect that put the pillar in the middle of the room – was the approx. 4-foot solid wall where a window could have been. I would have expected a wall of windows but instead there was only 1 window on either side of the centre wall.
One other thing I should mention was that sitting on one of the nightstands was a package that contained a single pair of earplugs. Being calculated travellers, we always travel with our own earplugs but I was surprised that the hotel provided them.
Did we need them?
Yes, the doors and walls are a bit thin and you can hear noisy people in the hallway but that occurs in a lot of hotels. The main reason you may need ear plugs is that Canalside is the entertainment spot at the moment with free outdoor concerts, sports events at Harbourcenter and the First Niagara Center (both of which are located nearby) as well as (716) Food and Sport (a restaurant/bar across the street)… so if you are an early sleeper best to arrive prepared.
Courtyard Marriott Buffalo Canalside – Would I stay here again?
Most definitely yes!
The location is fabulous, the bed is very comfortable, the room is beautifully furnished, the staff is very friendly and welcoming, the entire facility is non-smoking and the Internet is really fast.
Next time though, I'll just ask first if there any elephants in my room….
Click to read other TripAdvisor reviews of the Courtyard Marriott Canalside
Courtyard Marriott Buffalo Canalside
125 Main St, Buffalo, NY 14203, United States
Travel assistance provided by Visit Buffalo Niagara. As always, all my opinions are entirely my own.