Nothing but soft sand, low surf and sunshine – that's what makes Turners Beach in Antigua so special.
On a normal day of the week, searching for pristine beaches in Antigua to spend some time is easy because there are 365 beaches, one for each day of the year, on this pretty Caribbean Island. But, finding a beach that is quiet and not crowded when there are multiple cruise ships docked in Port St. John Antigua is another thing entirely. With thousands of people disembarking a cruise ship on the very same day, you can imagine how congested a beach can get with everyone looking for that perfect patch of sand to call their own.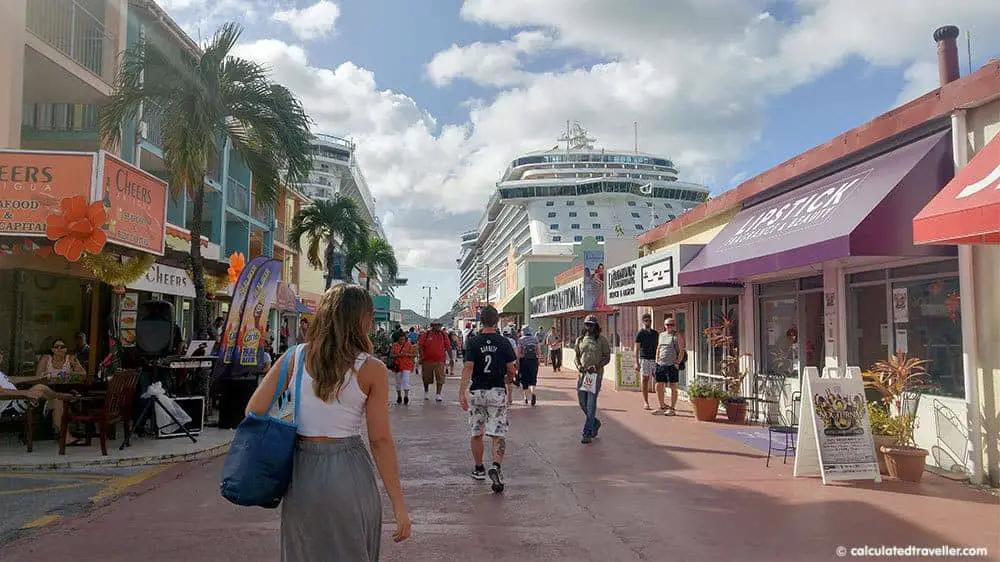 Our choice for our one special day in Antigua is Turners Beach. It's a little far from the cruise port, but it's worth the 25-minute drive to experience this view.

There are a lot of popular beaches to visit along this same shoreline such as Jolly Beach, Church Beach (Rum Bus), and Darkwood Beach; Turners Beach is near the end of the coastline and therefore is not as crowded.
How to get to Turners Beach via Ship Excursion
Taking a ship excursion to the beach is the most expensive method but honestly, the easiest and with the least amount of fuss. For example, on our Princess Cruise, there was a 3-hour four-wheel drive expedition that included drinks and a visit to Turners Beach for $75 US/person. Another excursion involves a 3-hour island tour with a 45-minute visit to the beach for $70 US/person.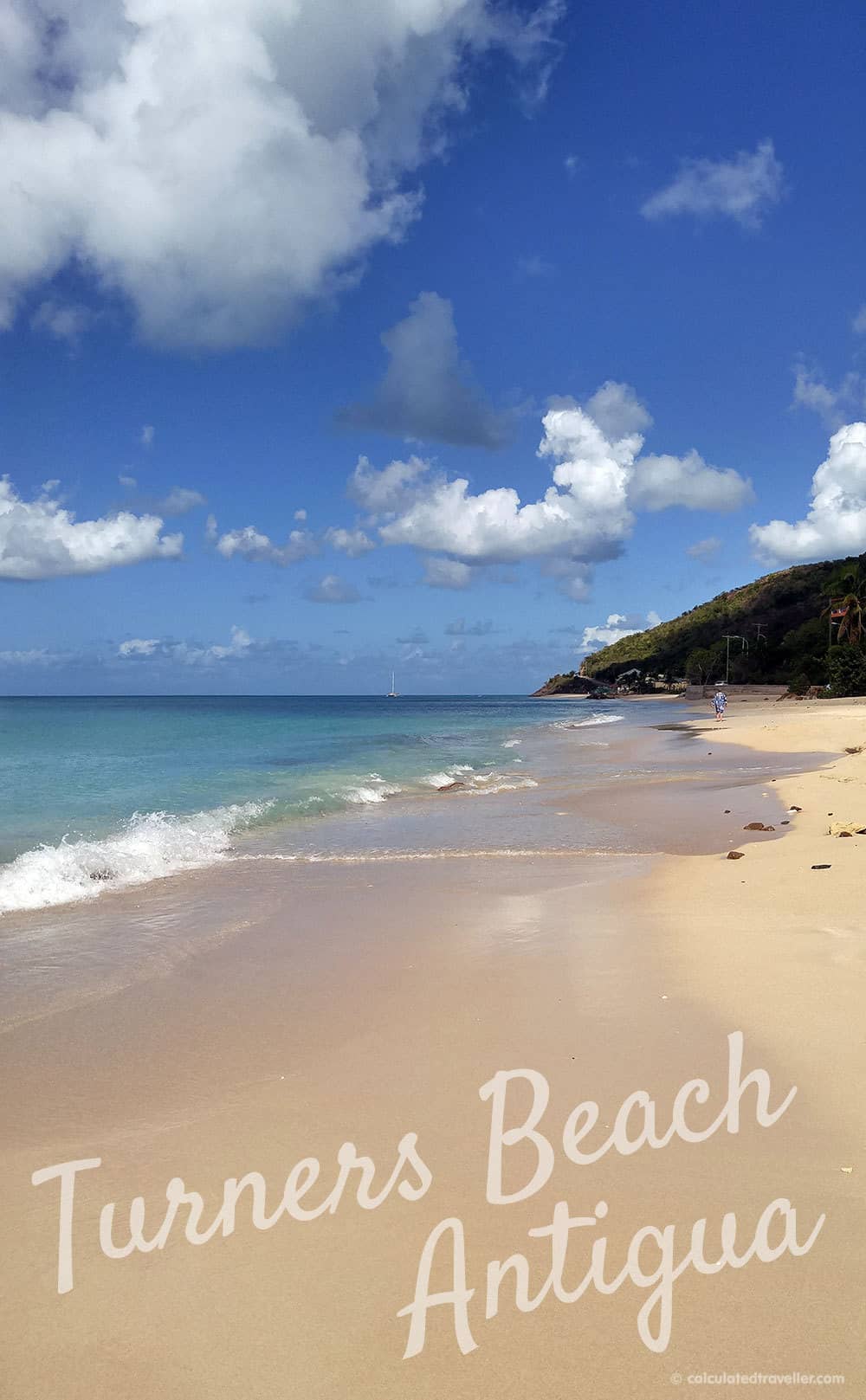 Payment is easy – it simply gets charged to your shipboard account. If the excursion is a popular one the cruise line suggests you pre-book the tour months before your trip or, you can book it once you are onboard your cruise if space is available. If one hour of beach time is enough and budget isn't a factor then this might be worth considering.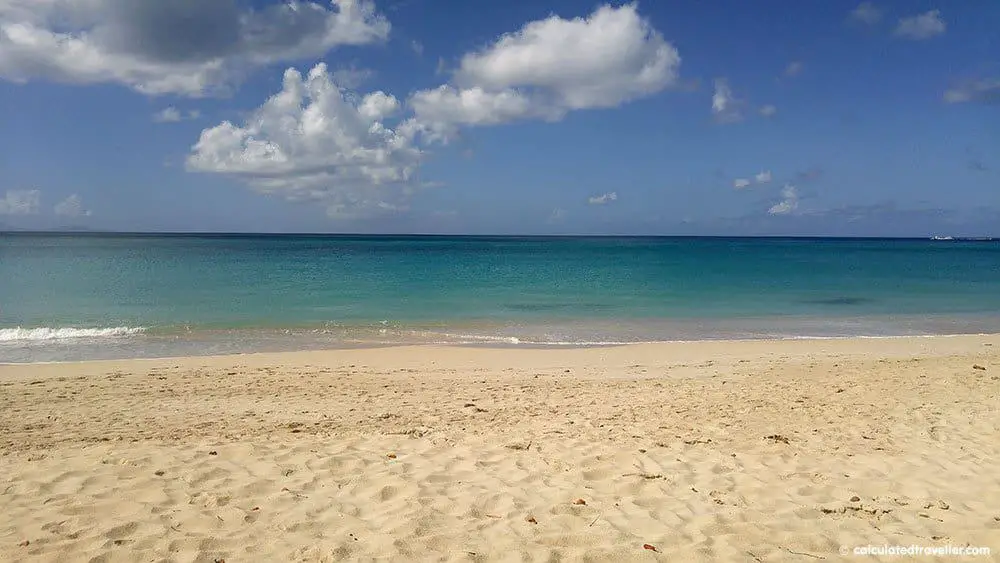 How to get to Turners Beach via Private Tour
Many tours are available to be booked online, just make sure that you check cancellation/refund policies before you book and ensure you have the pickup location information with you before you leave for your trip.
If you didn't prearrange a private tour, once you disembark your cruise ship, you'll be met with multiple independent tour operators that will offer island tours with optional stops at the beach. Ensure you negotiate before you commit and explicitly discuss the various stopping points on tour, inclusions, and how long you'll have at the beach before you start so that there are no miscommunications. You'll pay in cash once your independent driver takes you back to port. Cost depends entirely on how many people you have in your party, time of day, how many ships are in town and even who is doing the negotiating — it's all about supply and demand!
PRO TRAVEL TIP: Have the exact change in US$ and carry small bills.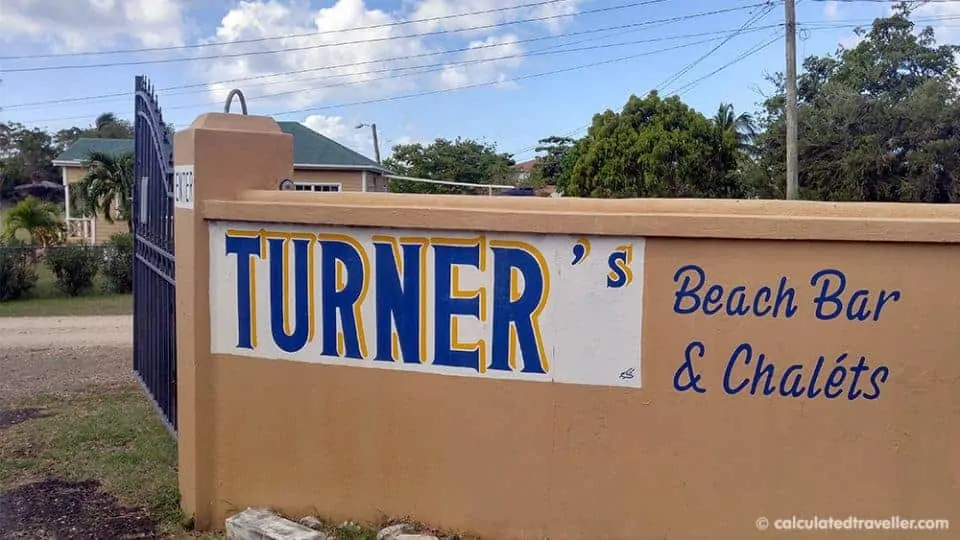 How to get to Turners Beach via Taxi
Taxis are available at the Antigua cruise port. Ensure you confirm the fare per person before you get into the taxi and arrange a pickup time and location for your return. If you are travelling with a group of 4 or more people taking a taxi is a good option if you don't wish to take an island tour or ship excursion. Cost is $24US/taxi each way for 2-4 people in the car.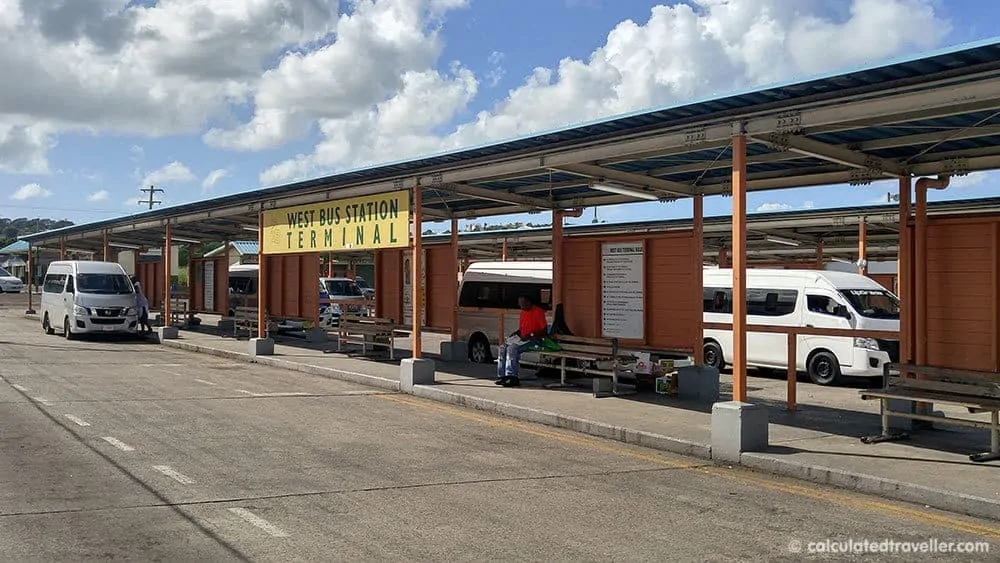 How to get to Turners Beach via Public Bus
Saying the words "Public Bus" is often met with fear and nervousness but with a little research it's easily done and can save you quite a bit of money. We take public transportation whenever we travel and love the experience of riding with the locals. Everyone is amicable in Antigua and happy to offer directions or suggestions for enjoying your time in their homeland. So, I say, give it a try!
TIP: Public buses in the Caribbean are not like the large buses you would find in North America. In the Caribbean, they resemble mini-vans and are distinguished as a bus by the license plate and route number marked on the windshield.
In Antigua, the Public Bus Station is located across the street from the Public Market and is a quick 10-minute walk through town. Walk directly opposite the ship to Market Street and turn right.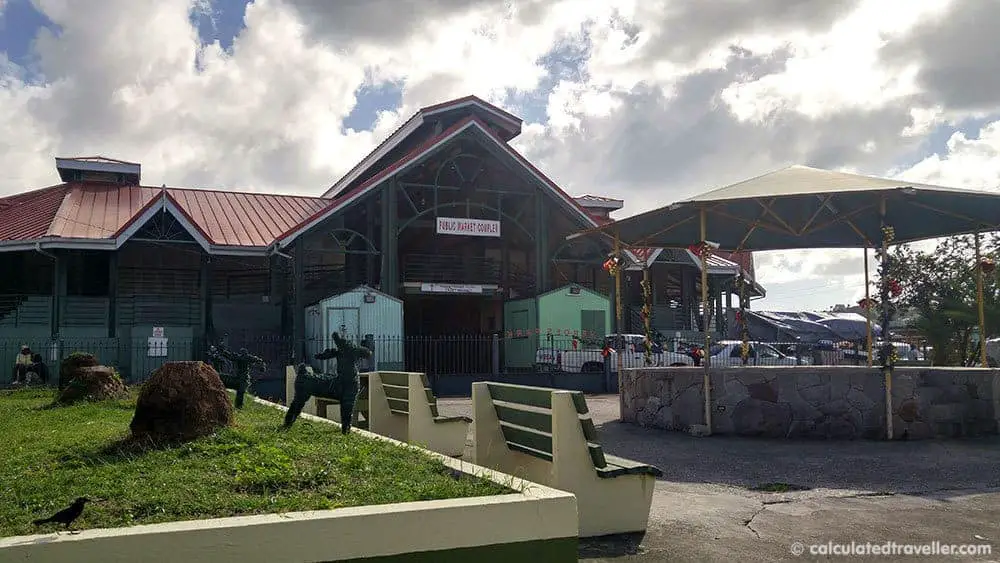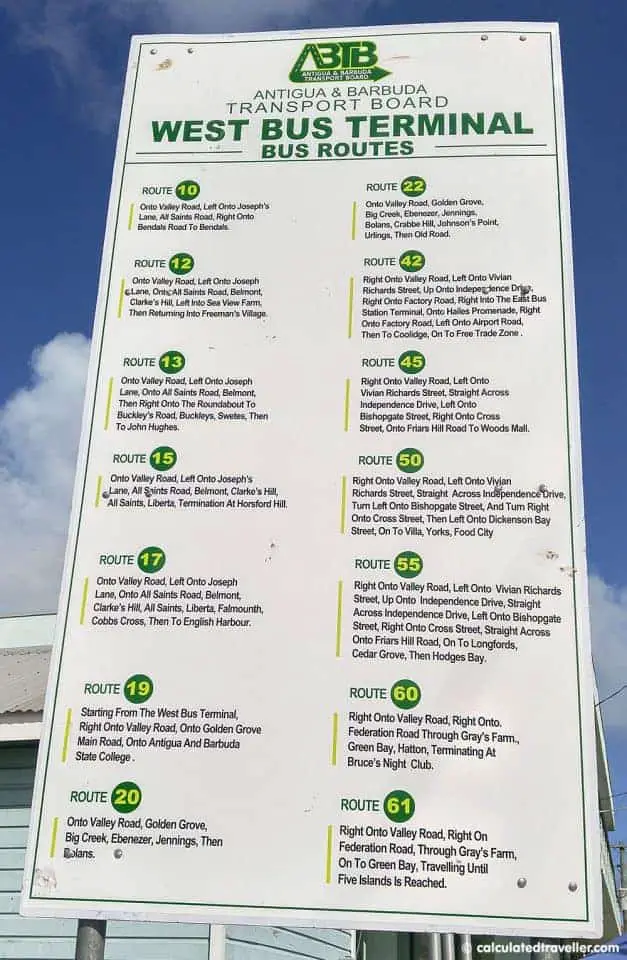 Bus Route Number 22 gets you to Turners Beach.
Bus fare is $3US/person one way.
TIP: Have exact fare for the bus, or you'll receive local currency EC$ (Eastern Caribbean) dollars in change.
No matter which method you use to get to Turners Beach in Antigua, you'll either be dropped off right at the entrance or you'll have to walk down a short road from the main street.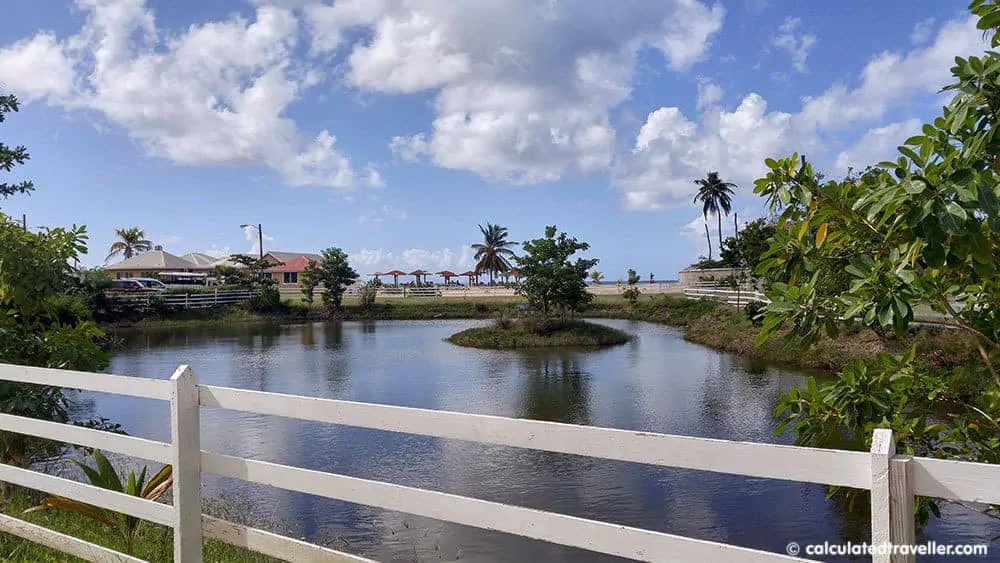 Here's what you'll find when you get to Turners Beach.
– Restaurant
– Lounge chairs/umbrellas $5US each
– Restrooms
– Gift shop
– Water sport rentals
– Some trees for shade
– Shallow shoreline
– Nice breeze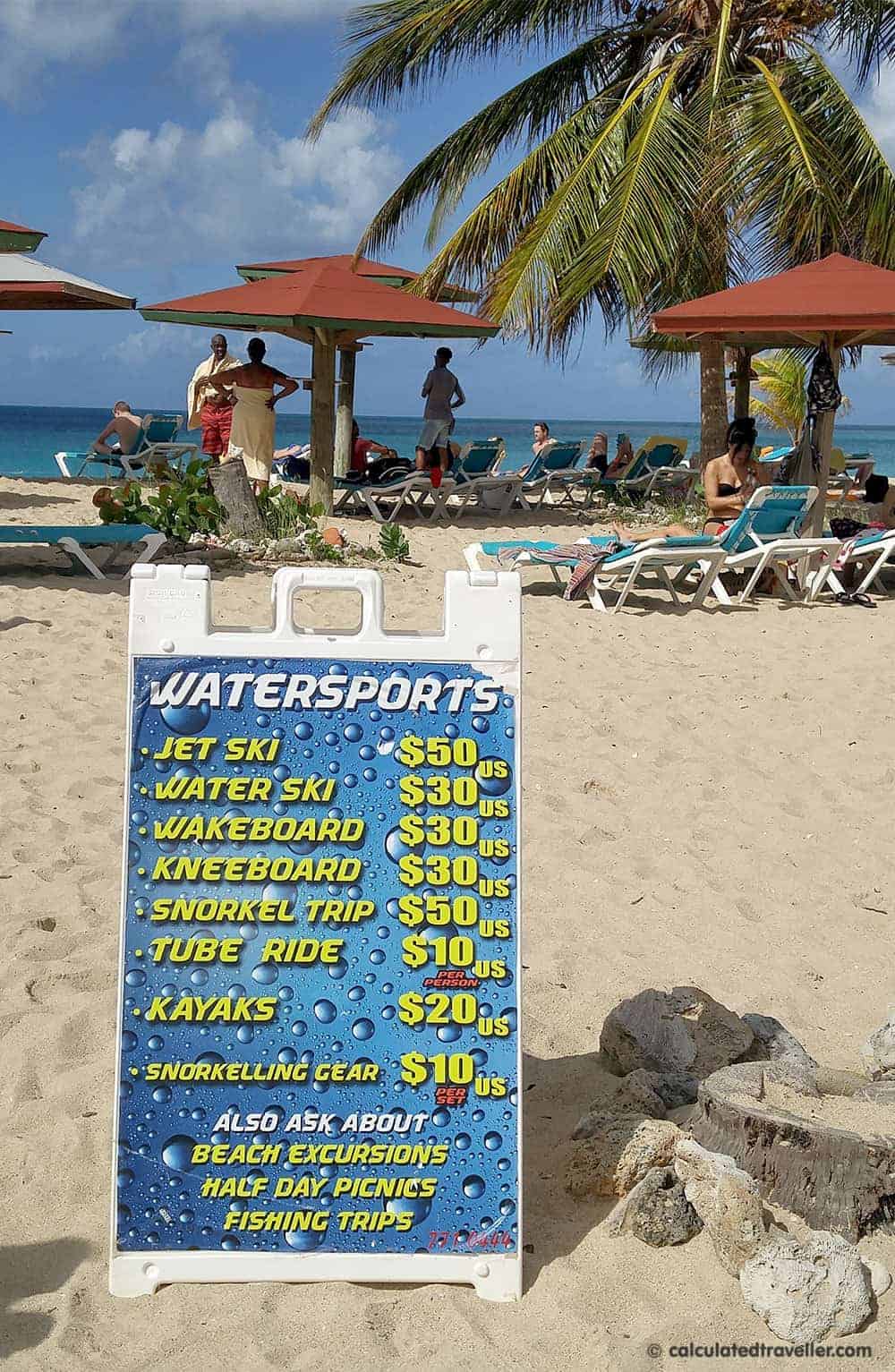 I should mention that Turners Beach doesn't offer much snorkelling. The entire time I was in the water, I didn't see one single fish.
We typically walk away from the entrance in search of a quieter spot far away from the congestion of the bar and facilities. We bring our own beach towel and seek shelter from the sun under a tree and just laze the day away in peace. It's a short walk back to the hubbub by the bar if we need to use the restroom.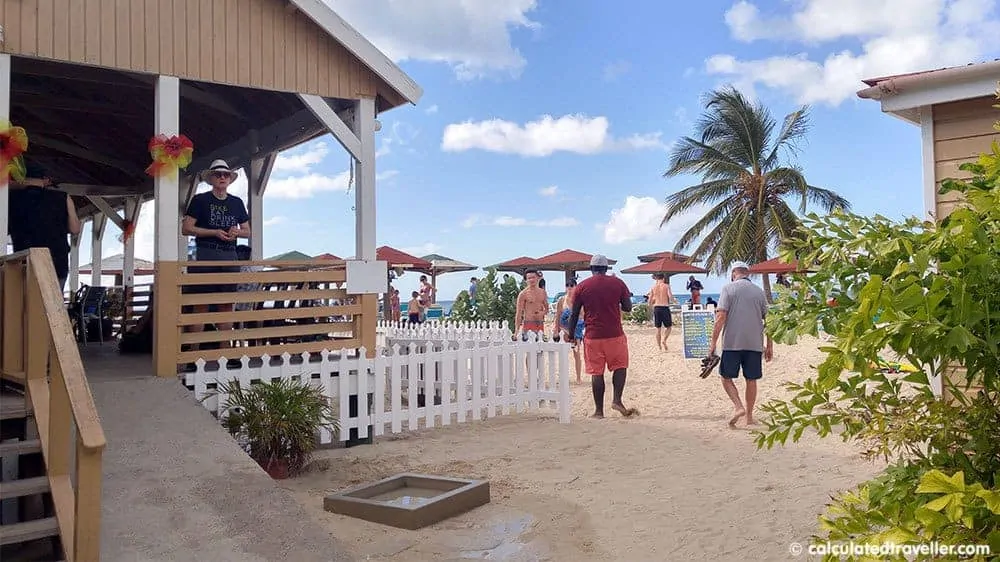 PRO TRAVEL TIP: Just because you get dropped off at Turners Beach doesn't mean you need to stay here for the entire day. All the best beaches in Antigua are public, and you can easily walk along the water's edge to Rum Bus Beach or Jolly Beach at the other end of the shore.
I hope you enjoyed your day at Turners Beach in Antigua!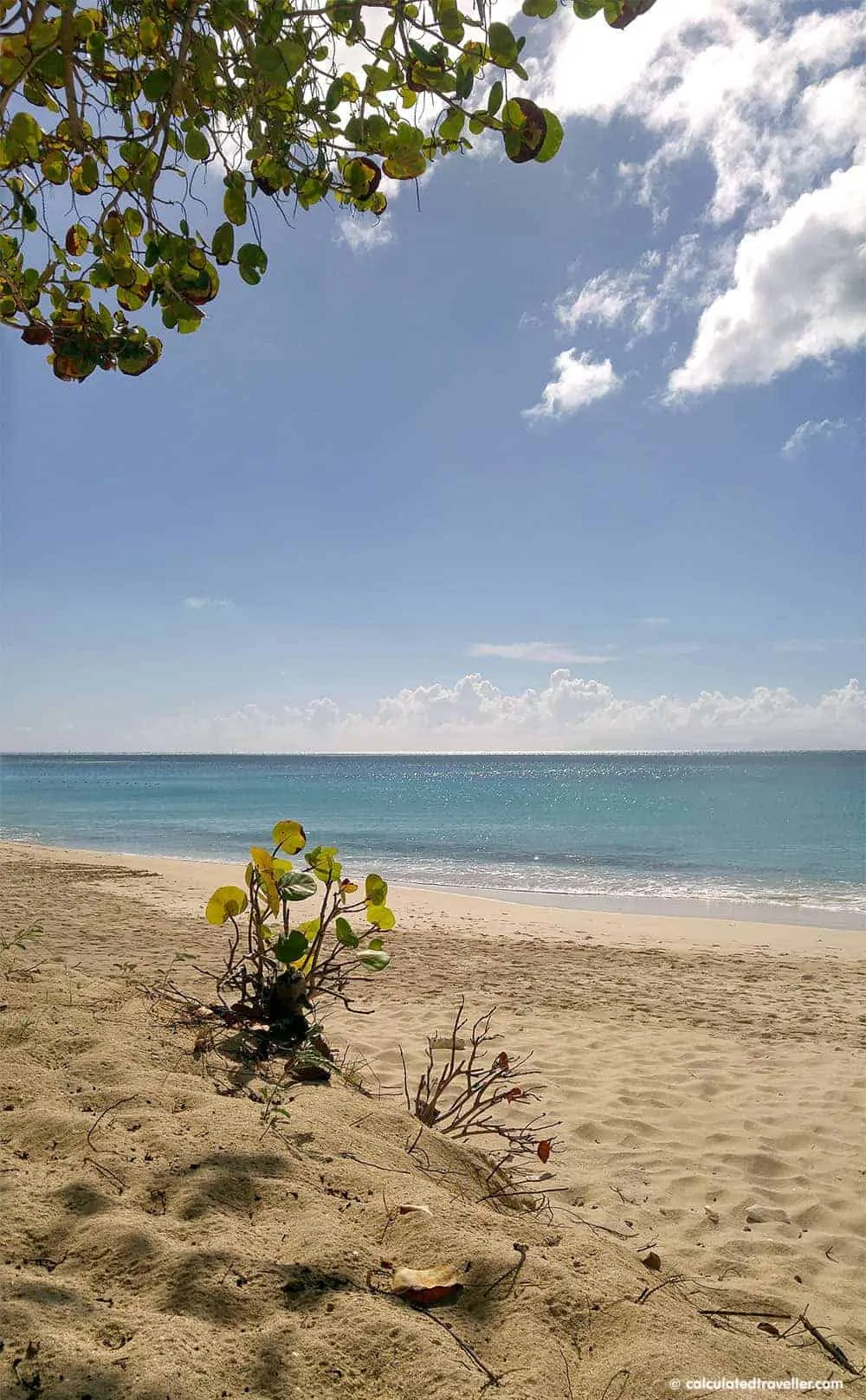 Read reviews of Turners Beach on TripAdvisor.
What's your favourite beach in Antigua? Let me know and I'll visit it on my next trip to the island.
 
Visiting other ports via cruise ship? Read these articles
– Avoid the Cruise Ship Crowds at Sapphire Beach, St Thomas USVI
– White Sand Seclusion at Governor's Beach Grand Turk, Turks and Caicos
– A Relaxing Day with the Black Sands of Shipwreck Beach St. Kitts