The game is on at (716) Food and Sport.
Which game?
All of them.
With a 38 foot tall wall of tv screens as well as 70+ TVs in the booths and even a tv in the restroom, you don't have to miss a minute of any game.
It doesn't matter what sport you are a fan of either because the chances are high that your game will be playing somewhere in the room.
With the perfect "sporty" location right at Harborcenter — Buffalo's new hot spot Canalside, (716) Food and Sport is located near the First Niagara Center Stadium.
Hockey fans are in the majority at (716) Food and Sport since the restaurant/bar is owned by the same owner as the Buffalo Sabres but also because there are two full-size ice rinks ABOVE the restaurant. The counters of the 3 bars are even made to look like ice complete with skate grooves on the surface.
Oh and in case you didn't know (716) is Buffalo's area code.
What we ate at (716) Food and Sports
Championship Rings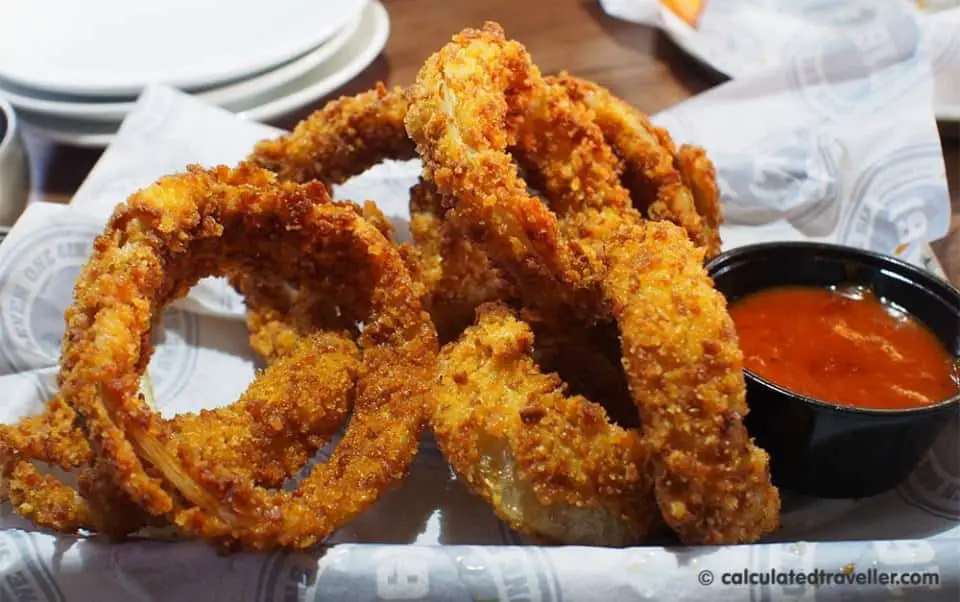 This is part of the "Triple Play Combo Platter" so if you wish to have it as a separate item on its own, just ask.
These "onion rings of champions" are thick cut and coated in Wheaties — the "breakfast of champions" — Wheaties are produced at the local General Mills plant in town. They were delicious, and you could taste the grain, but I found that the coating didn't stick as much as a wet batter would have. They were addictive though and came with a beer barbecue sauce.
Wings

We're in a sports bar/restaurant, after all, so we had to order wings. You can choose between 8 different sauces – all made in house; we chose a half and half combo of dry rub and beer barbeque. Served with the requisite celery/carrot sticks and ranch dressing.
The dry rub reminded me of barbeque potato chips, and the beer barbecue was more of a traditional wing sauce made with Small Town Saison/Farmhouse Ale by Hamburg Brewery of Hamburg NY.
Roast Beef on Weck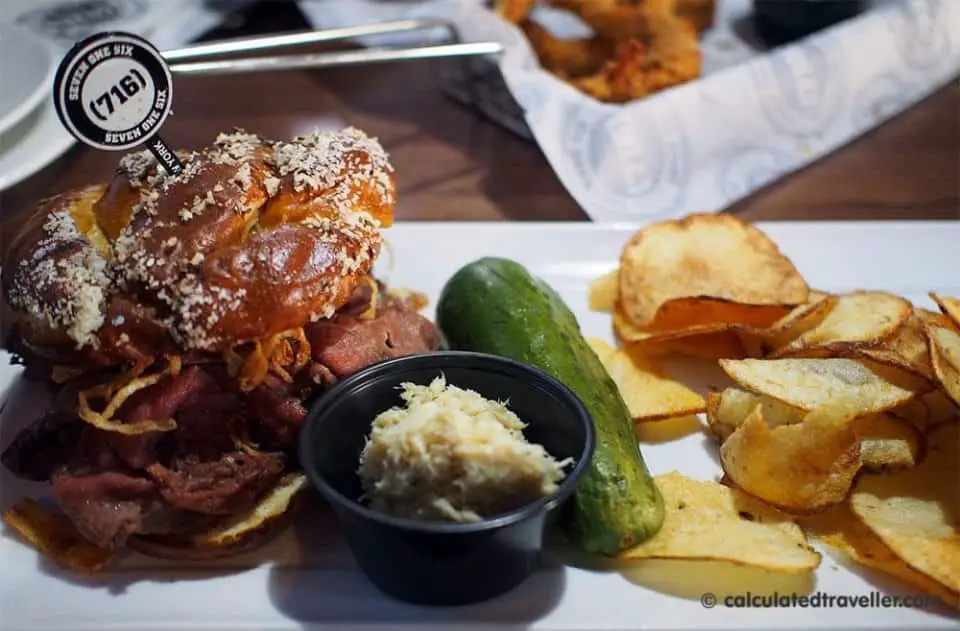 Slow roasted beef with savoury au jus on a pretzel Kimmel weck roll topped with horseradish, horseradish cheddar and crispy onion rings. Served with house-made potato chips.
You'll see this sandwich on many menus throughout Buffalo. It's an iconic staple so of course, I had to have one. (716) Food and Sport make their "beef on weck" a little differently from the traditional by using a pretzel Kimmel weck roll… Tasty, and messy – I'm a new fan.
Blackened Flat Iron Steak

Seasoned 6 oz. flat iron steak served with fresh baby spinach and cannellini beans sautéed with caramelised onions and garlic, topped with crispy fried onions.
Hubby seemed to like this dish but there wasn't anything spectacular or extraordinary about it and besides he was already occupied with the 40 different beers (20 on tap) not to mention the extensive craft beer selection and of course all the TVs.
It's a sports bar, and as expected it can get a bit loud, but it's the perfect hangout for sports fans!
Oh and while you are in the neighbourhood…
If you are a Canadian (or even if you aren't) stop by the Tim Hortons coffee shop next door to (716) Food and Sport. It has a unique decor quite different from your typical "Timmies" found in Canada with its hockey theme and blue (not brown) logo.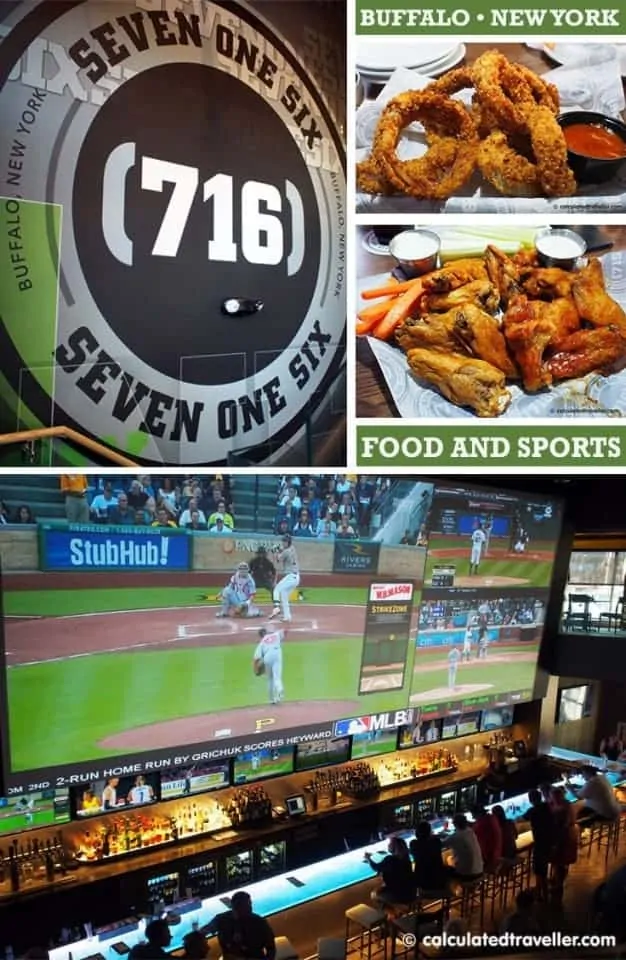 (716) Food and Sport
7 Scott St, Buffalo, NY 14203
Have you visited (716) Food and Sport? What did you think?
Travel assistance provided by Visit Buffalo Niagara. As always, all my opinions are entirely my own.
Looking for more Buffalo articles?
– Courtyard Marriott Buffalo Canalside Hotel Review
– Buffalo NY Boys Trip Adventure Plan
– Buffalo, NY: Frank Lloyd Wright's Darwin Martin House