It's summertime in New Zealand. The time of year when Kiwis and tourists alike grab their rucksacks and head for the hills.
Last summer, friends and I spent four days backpacking and hiking in the South Island's lush Nikau rainforests of Kahurangi National Park. This year, our group is reconvening for a lakeside travel adventure in the North Island's Te Urewera National Park.
What do I love most about hiking in New Zealand? The pure mountain air, the breathtaking scenery, and the chance to go completely off-grid with great company for a couple of days. (Actually, that last one can be a curse if you love to Instagram every minute of every day like I do). Also, the sheer absence of snakes, venomous spiders, and deadly jellyfish further glamorise the thought of visiting the country.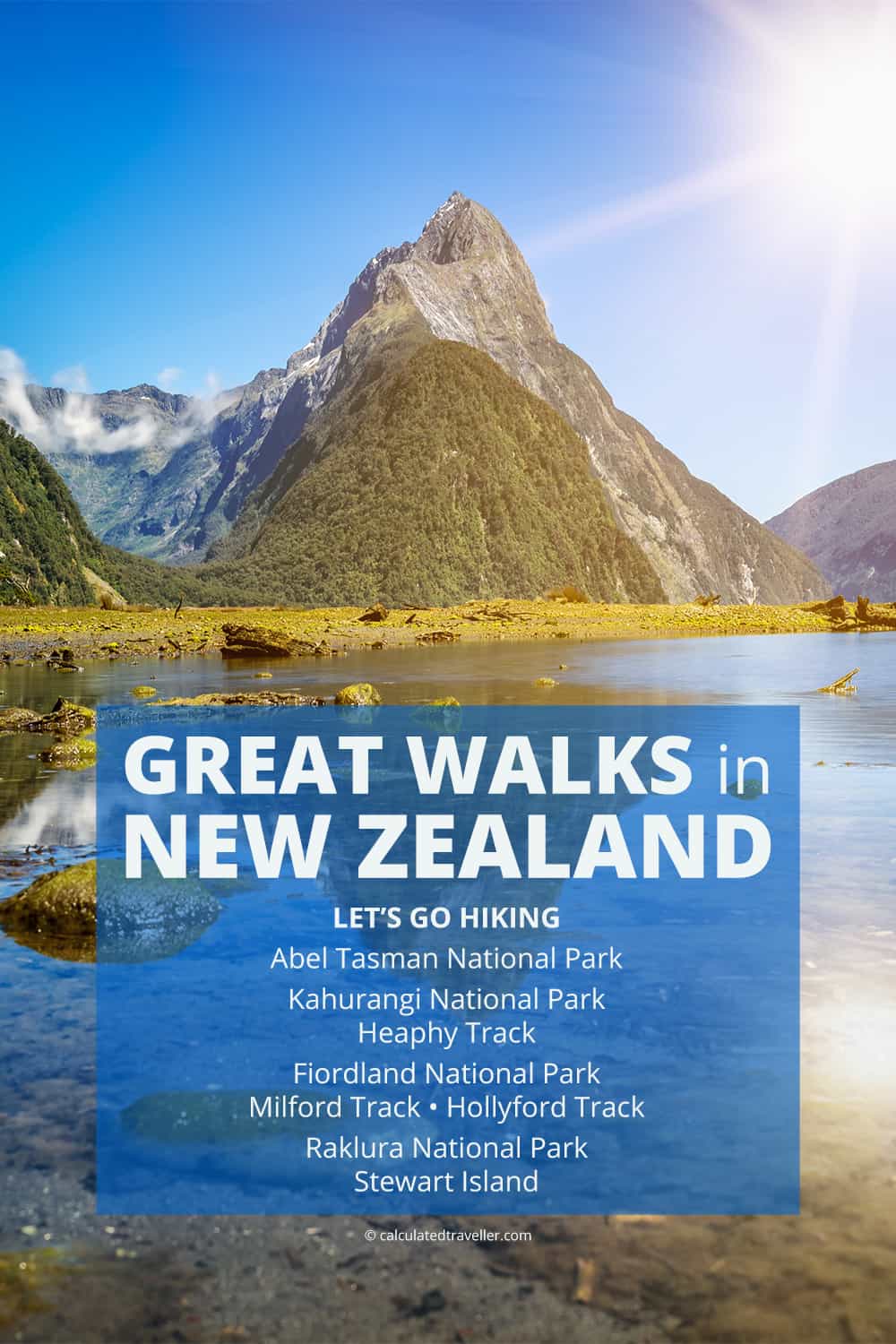 Best Time to Go Hiking in New Zealand
The best time to visit New Zealand would probably be the pleasant days between December and March. Hiking season officially starts in late October and extends through to April when the weather's usually warm and dry.
The trails can be busy at this time of year. But they are well kept. There are affordable huts you can book along the way. And there are no nasty critters to worry about in New Zealand. Blisters and rain are about as evil as it gets in this part of the world.
Best Day Hikes in New Zealand
New Zealand's most famous multi-day hikes are known as the Great Walks. They're open to the public and extend from Lake Waikaremoana Track in the Hawke's Bay region to the southern-most trail, Rakiura Track. You'll find Rakiura Track on a small, remote island called Stewart Island off the South Island's southern tip. The Great Walks typically take between three to four days to hike and range in grade from easy to intermediate.
If you're Down Under this summer, here are five great walks in New Zealand you might want to try.
Abel Tasman National Park
This one's for beach lovers, so definitely take your togs (swimsuit), as well as your hiking boots. I walked this 51-kilometre track one summer in my late teens with my bestie and grandad. It was a sun-baked treat. If you're lucky, you'll be able to view the various birds lodged by the park such as penguins, terns, gulls and herons.
The grade is easy to intermediate. It's set in the stunning Abel Tasman National Park in one of the country's sunniest regions about 40 minutes drive from Nelson airport. Named after Abel Tasman, the first European explorer to reach New Zealand in 1642, the park takes three to five days and is accessible by boat, which means you can do as little or as much of the trail on foot as you want. You can do other sections by boat or kayak, or you can bypass them entirely by organising a shuttle or water taxi to pick you up and drop you off wherever suits.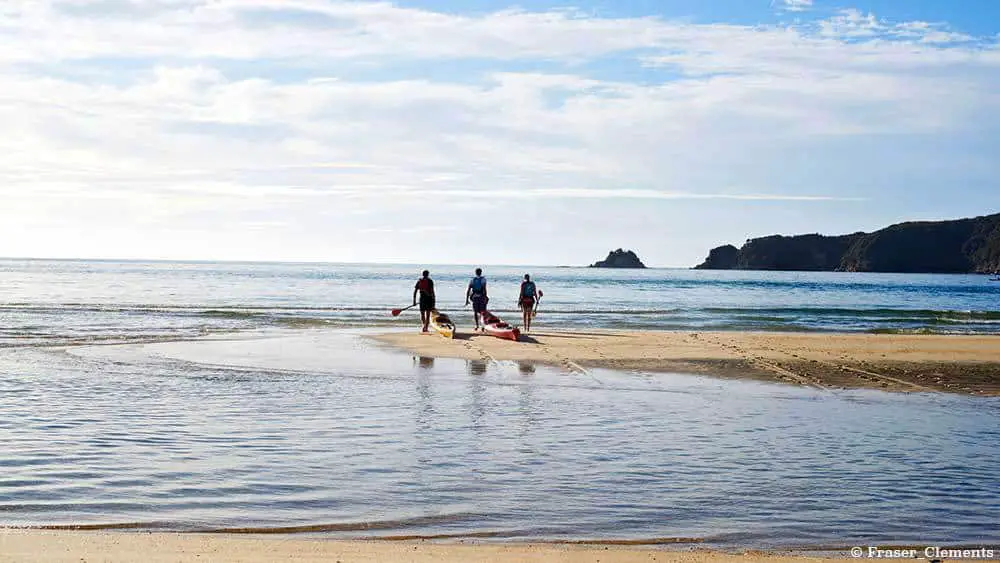 Stay: Camp, stay in reasonably-priced government huts (called 'DOC huts') or kip down in private, lodge accommodation.
Pro Travel Tip: Spend a night camping at Onetahuti Beach. It's one of the best beaches on the track – and there are glow worm caves and a freshwater pool nearby. The location of the campground means you'll wake up to a gorgeous sunrise and beachfront views.
Heaphy Track, Kahurangi National Park
At nearly 80 kilometres, this one's the most extended hike I've ever done. But it's worth every weary step. Set in a remote northwestern pocket of the South Island once used by Māori to transport greenstone, the Heaphy is a diverse track with every 20 kilometres providing a noticeably different experience. You walk through Nikau rainforest, tussock grassland, rugged mountains, lowland forest, and wild surf beaches in what is classified as one of New Zealand's nine Great Walks by the Department of Conservation. We saw cheeky bushland weka, one of New Zealand's many flightless birds, flowering tiny alpine orchids called Nikau. We also saw the palm-sized shells of New Zealand's only carnivorous snail, Powelliphanta. The nocturnal snail is said to suck up earthworms through its mouth like strings of spaghetti!
Stay: Camp in tents or stay in DOC huts along the track. If you're keen on a hut, you'll need to book your bunk bed ahead of time. Bookings are easily made online, by phone or by dropping into a DOC office.
Pro Travel Tip: Most people do the Heaphy Track in four days, which doesn't sound too bad. And it isn't. But do think about the state of your boots before heading off. Please make sure they're in good nick. Boots fell apart, were discarded for jandals and underwent serious repair during our four days on the trail.
Extra Tip: Be sure to stop in at Karamea Hotel at hike's end for a well-earned beer and a yarn with some fantastic, world-weary locals.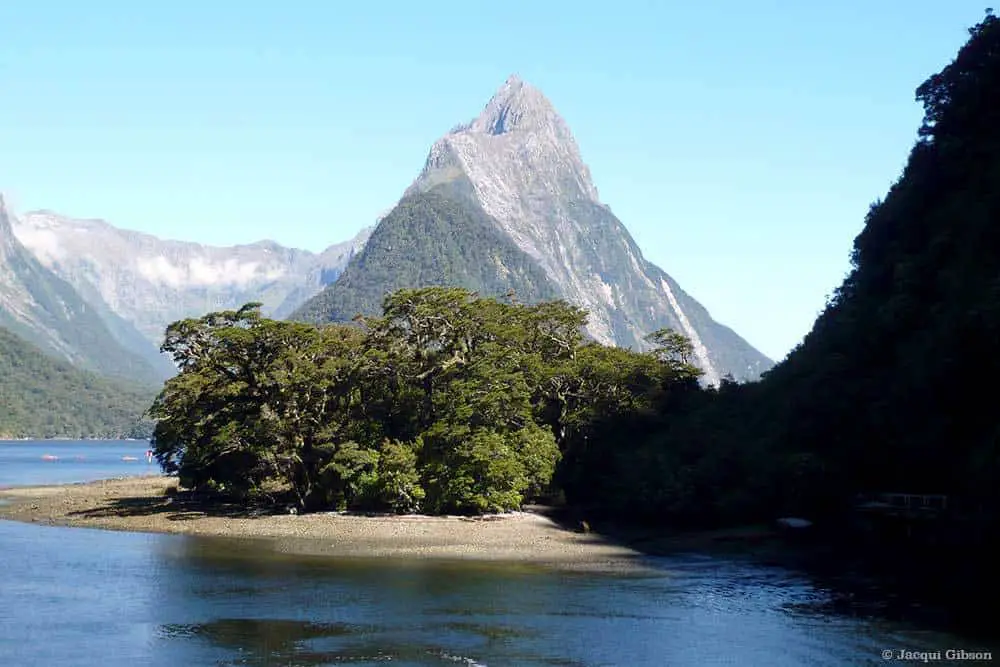 Milford Track, Fiordland National Park
The Milford Track is New Zealand's most famous walk, and it's easy to see why. Firstly, you can start and finish the trail from the picturesque alpine resort town of Queenstown. The perfect base to gear-up before you leave and the ideal place to recover if fine dining and spa pampering is what you need. Aside from that, the trail itself offers plenty of jaw-dropping scenery. You'll ferry across Lake Te Anau and hike over suspension bridges, boardwalks, and a mountain pass. The New Zealand Department of Conservation also maintains three huts: Mintaro Hut, Dumpling Hut and Clinton Hut. You'll see lakes and mountains, and you'll enjoy – as we did in late December one year – endless blue skies, as well as torrential rain. The Milford is 53 kilometres of wow.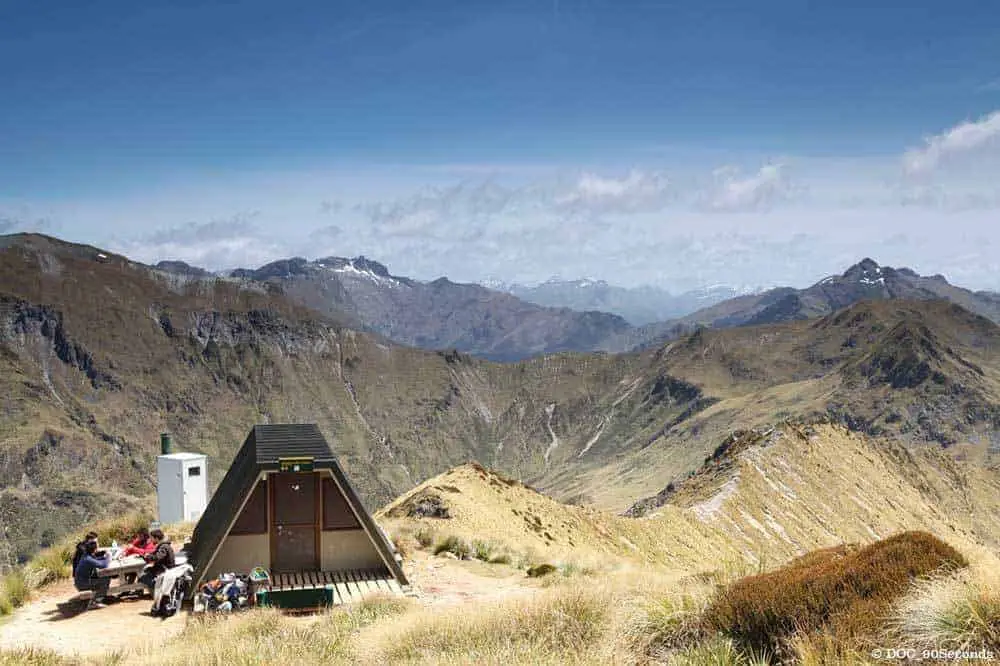 Stay: There's no camping permitted on the Milford. But you can stay in DOC huts or private lodges.
Pro Travel Tip: Pack gear for all seasons. Even if your raincoat never comes out at any other time, you'll be pleased to have it on day three as you approach the foot of Sutherland Falls, the tallest waterfall in New Zealand. Taking photos (without our coats), we got soaked from its thunderous freshwater spray.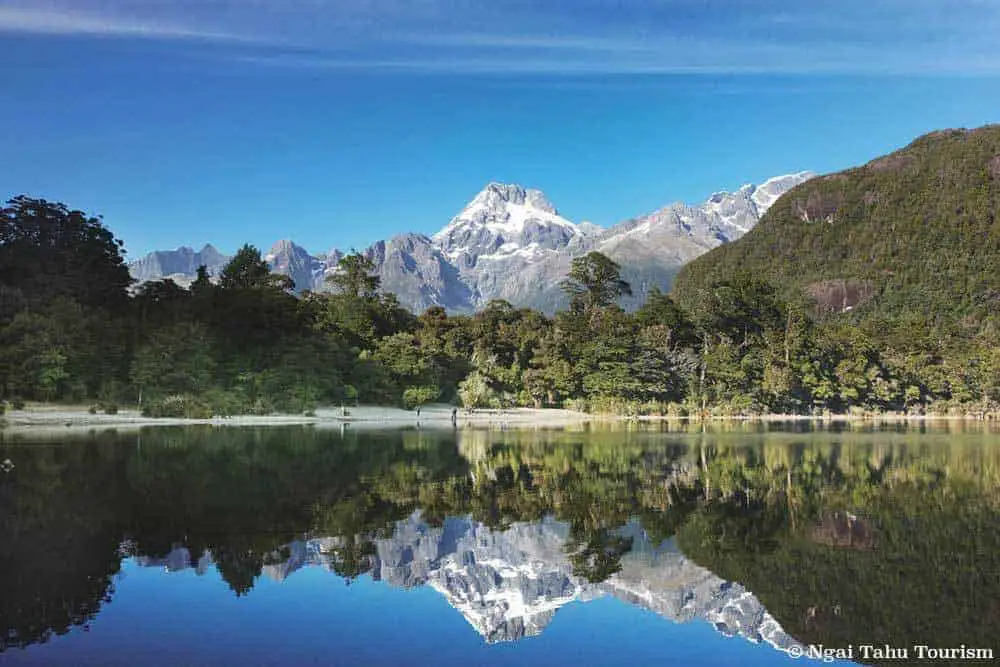 Hollyford Track, Fiordland National Park
There are two ways to hike the Hollyford Track. For the adventurous, it's a week-long advanced trail of around 56 kilometres. For those of us who like a warm lodge, delicious feast, and some of the country's best wines at the end of each adventurous day, it's a three-day guided walk with Ngāi Tahu Tourism. A few years ago, I walked the Hollyford hosted by Ngāi Tahu. My fellow walkers and I hiked the valley on foot, crossed rivers by jet boat and departed the track by helicopter. We saw rare Fiordland crested penguins, fur seals and remnants of the last Māori tribe to live in the area. This hike is enough to convert you to luxury guided walks for life.
Stay: Depending on which option you take; you can stay in DOC cabins or private lodges run by Ngāi Tahu Tourism.
Pro Travel Tip: Keep your camera charged and handy on the very last day if you're taking the guided walk. The helicopter ride into Milford Sound through jagged mountain peaks is incredible and well worth documenting.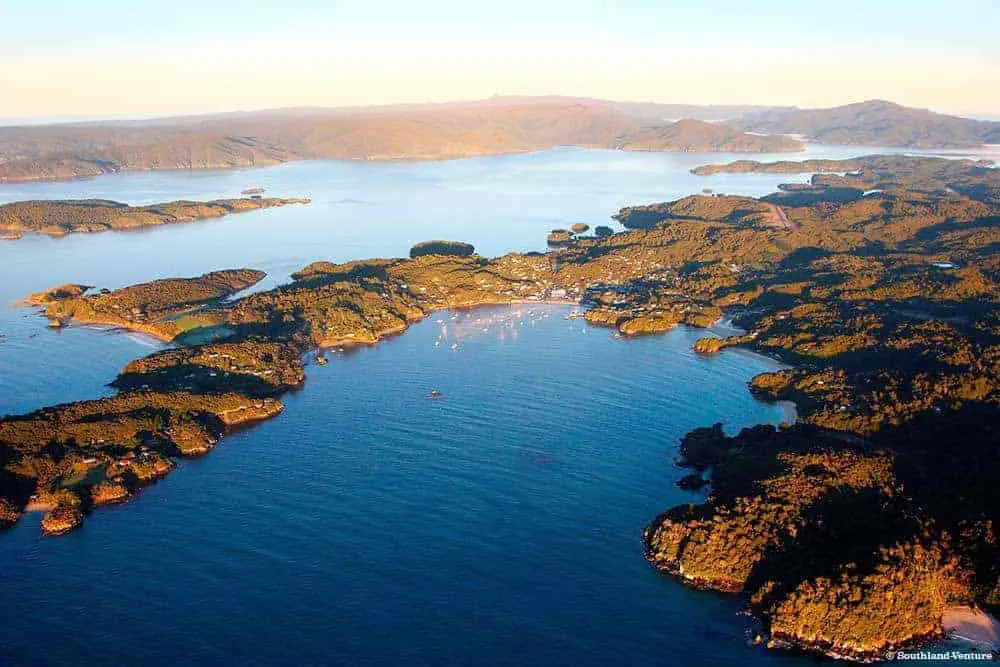 Stewart Island, Rakiura National Park
Stewart Island's three-day Rakiura Track is the southern-most walk of New Zealand's main trails. The primaeval podocarp forest and the absence of other people are enough to make you feel you've gone a hundred years back in time. An easy 36-kilometre hike, Rakiura is home to a large range of native birdlife. The summer my husband and I did just one day of the track, we saw little robins, bolshy kaka and cheeky weka. But it took a night hike later that same Stewart Island trip to finally see wild brown kiwi foraging on the beach. A stunning walk in a stunningly remote and pristine part of the world.
Stay: Camping and DOC huts are your main options on the Rakiura Track.
Pro Travel Tip: Learn the call of the nocturnal brown kiwi, so you know where to look if you hear it. Seeing a rare kiwi in the wild is a genuine and exciting possibility on Stewart Island.
Free maps, checklists and online hut bookings
New Zealand's Department of Conservation (DOC) offers trail walkers a wide range of free information from trail maps to a checklist of what to take in your backpack for the hike. You can also visit the Department's website to book DOC huts.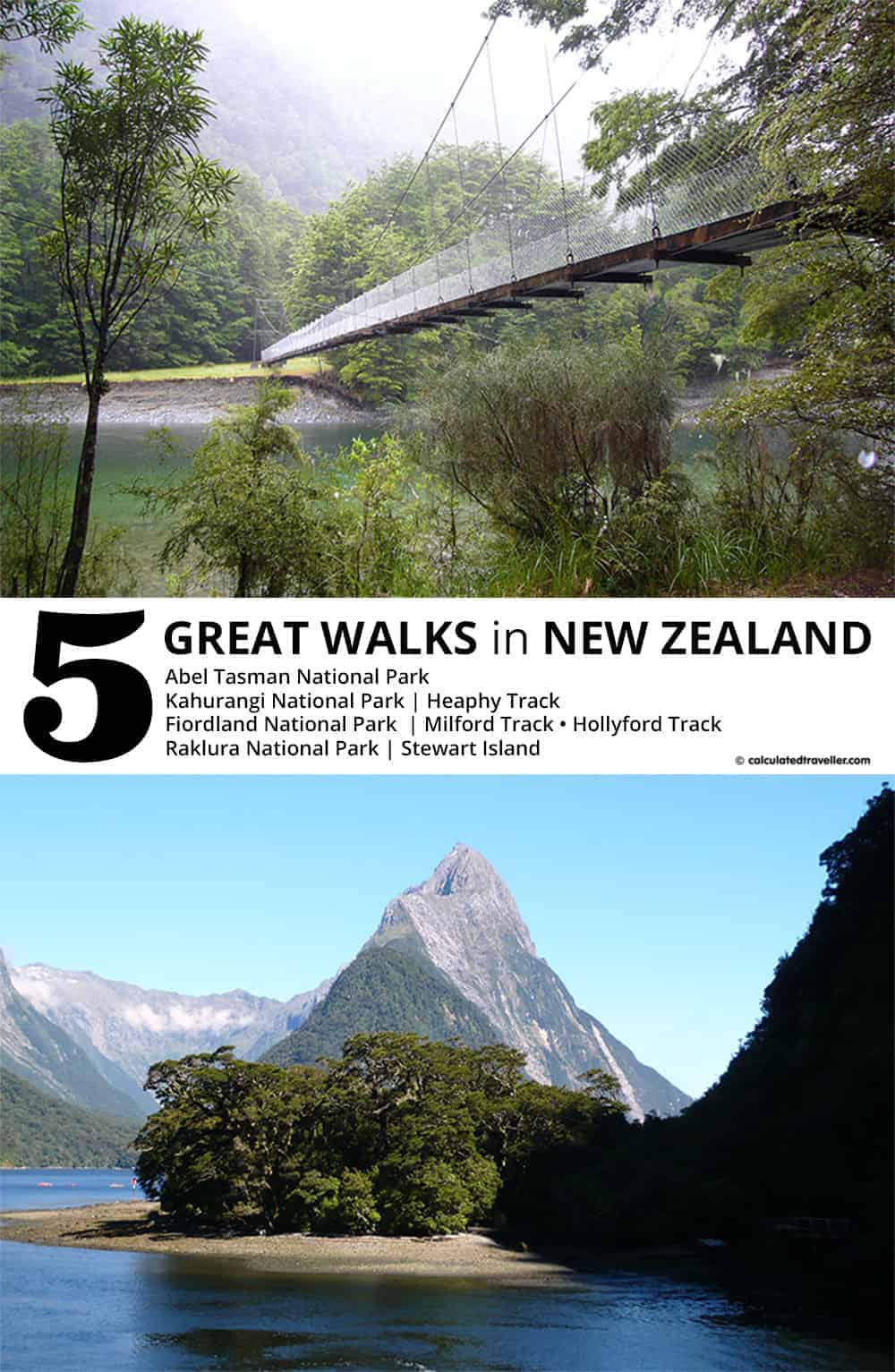 Have you completed any of these great walks in New Zealand?
Related articles on Calculated Traveller:
– 15 Recommended Things to Do in New Zealand
– Icebreaker Merino Wool — A Hot Weather Review
Prefer to book a tour?