Seattle…
San Francisco…
Maine…
Boston…
Buffalo??
The phrase "…had the best seafood in Buffalo NY…" is not something you read every day, do you?
But, I gotta tell you – I said just that!
Located near Elmwood Village is the very popular Hutch's Restaurant. When we arrived at 6 pm on a weekday evening, the patio was already full, and parking was a bit difficult to locate. Luckily we had reservations and were promptly seated in one of the two interior dining rooms.
The atmosphere is lovely; candle lit and very pleasant was what I immediately thought as I looked around at all the other smartly dressed people who were seated next to us. Hutch's would be the perfect place for a romantic dinner for two.
We came specifically for the seafood but don't think that seafood is the only thing available. Not at all, the entire menu is extensive and includes beef, lamb, chicken and veal along with crab, lobster, fish, and scallops. Hutch's has much to offer, and it would have been difficult to decide if not for the knowledgeable service staff who knew the menu inside and out.
What I ate at Hutch's Restaurant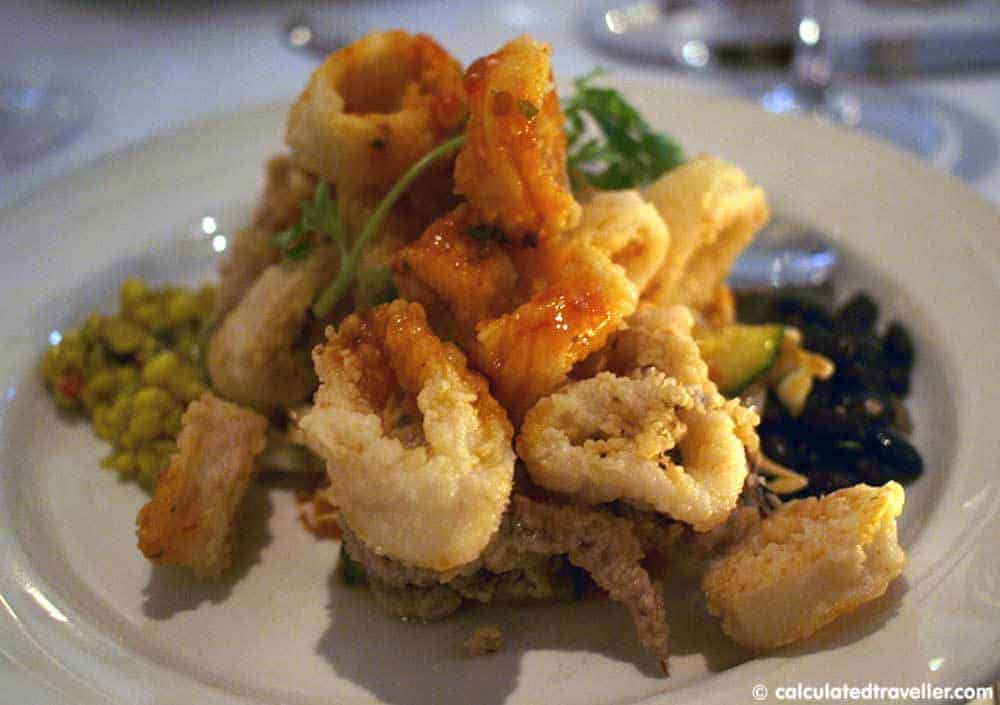 Thai High Calamari
Fried calamari in a spicy red pepper vinaigrette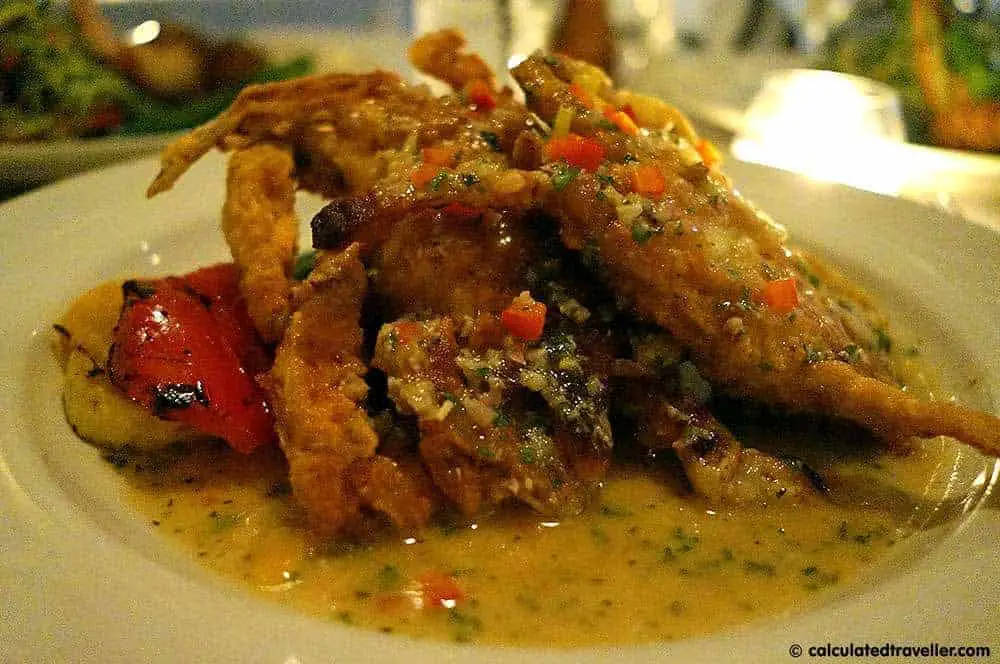 Sautéed Jumbo Soft Shell Crabs in white wine, lemon, parsley, garlic and butter
soft shell crab was perfectly cooked
crunchy shell exterior with a soft, succulent meaty interior
the sauce perfectly accompanied the crab and was rich and lemony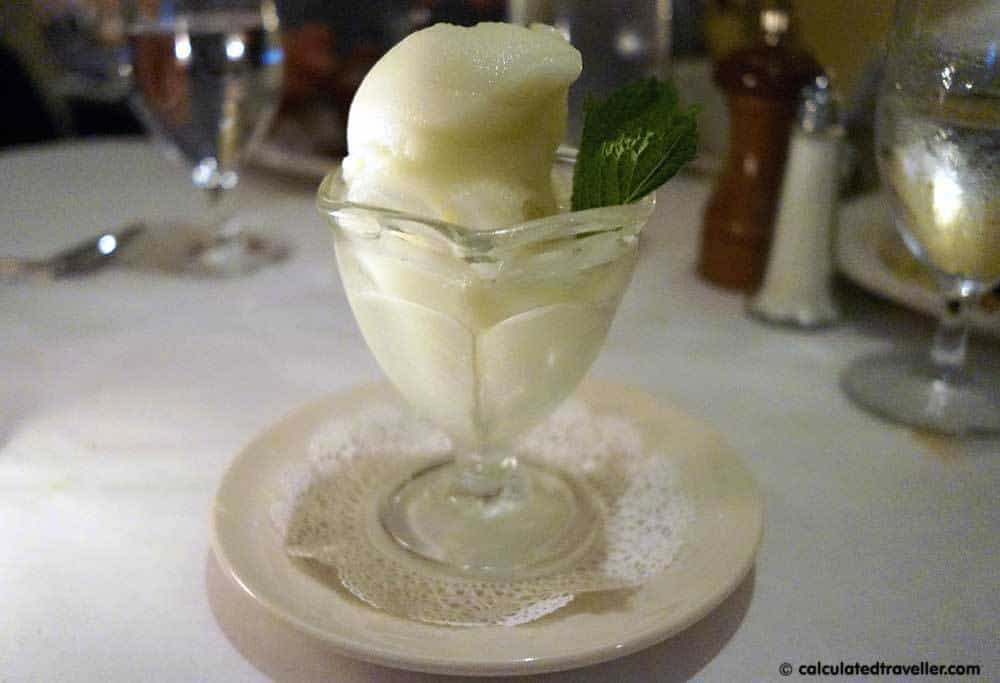 House Made Mojito Sorbet
light and refreshing
palate cleansing
perfect after a rich meal such that I had
Head Chef Mark Hutchinson
Pastry Chef is Debbie Romaneo
Service staff was excellent and very knowledgeable which is essential in a restaurant such as this with such an extensive menu. I was thoroughly happy with my entire experience and let me tell you – my belly was happy too!
Hutch's Restaurant
1375 Delaware Ave. Buffalo, NY
(716) 885-0074
– Open Nightly for Dinner at 5pm
Parking is behind the restaurant or at (what was) a gas station on the corner
The next time you are looking for a restaurant that serves seafood in Buffalo NY. Visit the Elmwood Village area and Hutch's Restaurant; you're sure to leave with a happy belly and a smile on your face!
---
While you are in Elmwood Village
There are some charming shops and street art throughout the village to check out but for the foodies out there here are a few must visits.
D'Avolio
D'Avolio at 814 Elmwood Avenue is the place to go for all things olive oil, vinegar, gourmet foods and spices. They also have tastings in the store, and you can build your own box of samplers. There are 6 locations in Buffalo, and the one in the village of Williamsville has a great kitchen/restaurant for eat in or take out.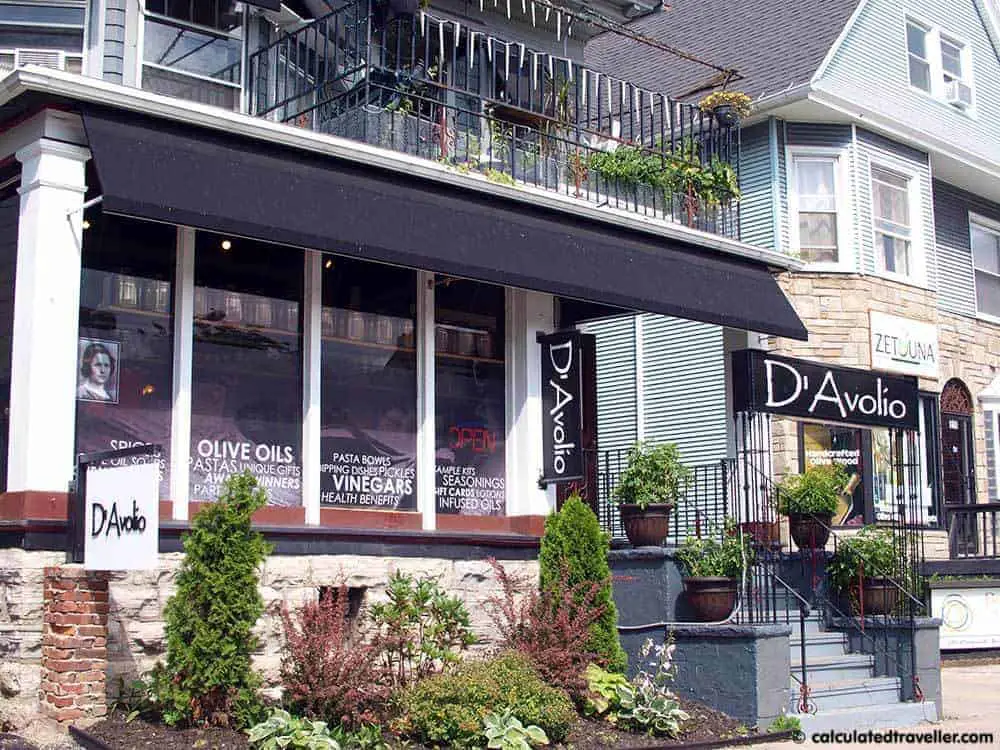 Ashkers Juice Bar
Another great food place is Ashkers Juice Bar, Bistro and Gallery located at 1002 Elmwood Ave. We stopped here for lunch after a day of shopping and had a delicious and very healthy meal!
Soft Chicken taco with peach salsa and a chickpea salad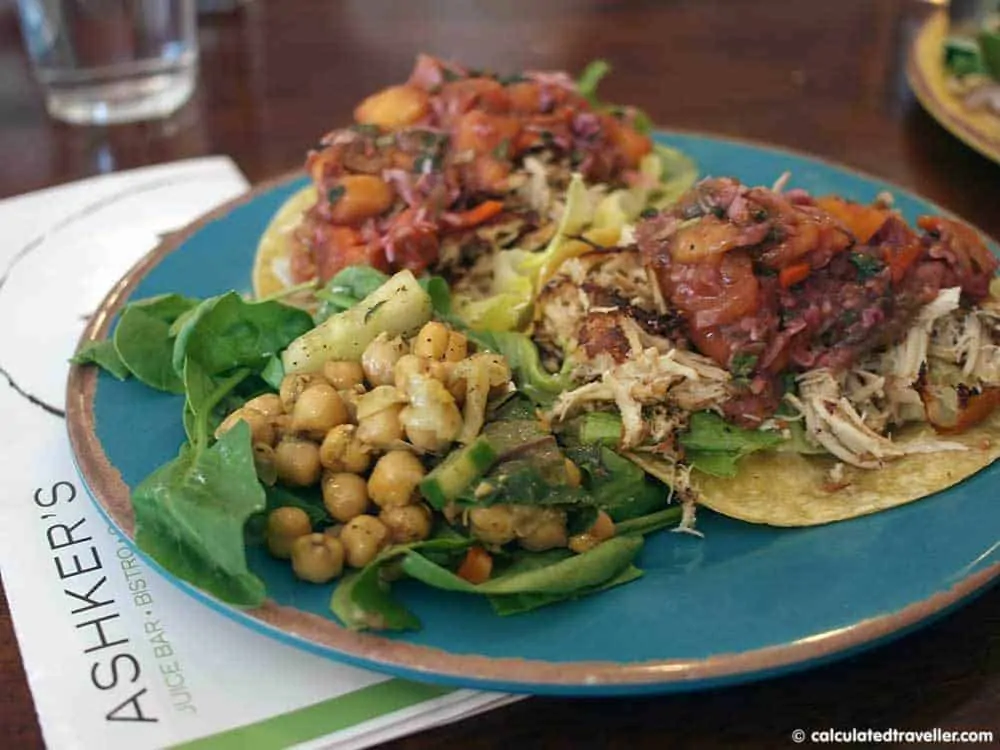 Turkey breast salad with apples and goat cheese

Travel assistance provided by Visit Buffalo Niagara. As always, all my opinions are entirely my own.
While in the Buffalo area, read:
– Courtyard Marriott Buffalo Canalside Hotel Review
– Buffalo, NY: Frank Lloyd Wright's Darwin Martin House
– Buffalo NY Boys Trip Adventure Plan