This article may contain affiliate links. This means that clicking on or purchasing products we recommend through a link may help us earn a small commission, which helps keep this site running. For more information read our disclaimer. Thank you for your support!
Every summer evening at dusk the bats of Austin Texas leave their nest under the Congress Avenue Bridge to feed.
A lot of planning and preparation goes into any trip that I plan (hence the calculated in Calculated Traveller). I usually seek out a few sources when doing my prep work — the tourist board website, travel blogs, and friends and family.
Upon planning a road trip through Texas recently, all my sources exclaimed the need for me to see the bats of Austin Texas.
But what all my sources didn't explain is where, when, how and why I HAD to see the bats. I just knew that I had to see them.
Here's what I discovered.
Bats of Austin Texas — The best tourist attraction that wasn't planned
Building a nest for bats was not part of the project when the City of Austin reconstructed the Congress Street Bridge in 1980. It was an accident that the design's cement expansion gaps under the bridge created the ideal environment for bat colonies. As a result of this discovery, Texas State is now using this same bridge building technique throughout the entire state to encourage bat roosts.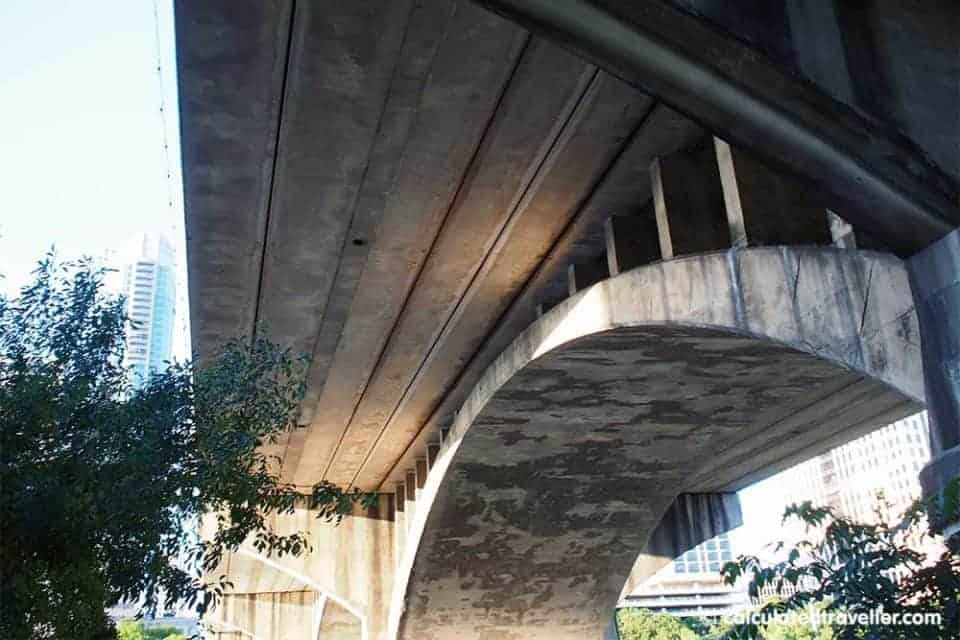 Bats help eat crop-destroying insects and are important mammals to the ecosystem.
Where to see the Bats of Austin Texas
There are three spots to see the bats, in my opinion, choosing which place to go to depends on how brave the bat viewer is. But, no matter where you choose to stand, you have to get their early…
Here's a photo late afternoon as people were just starting to come out for the night.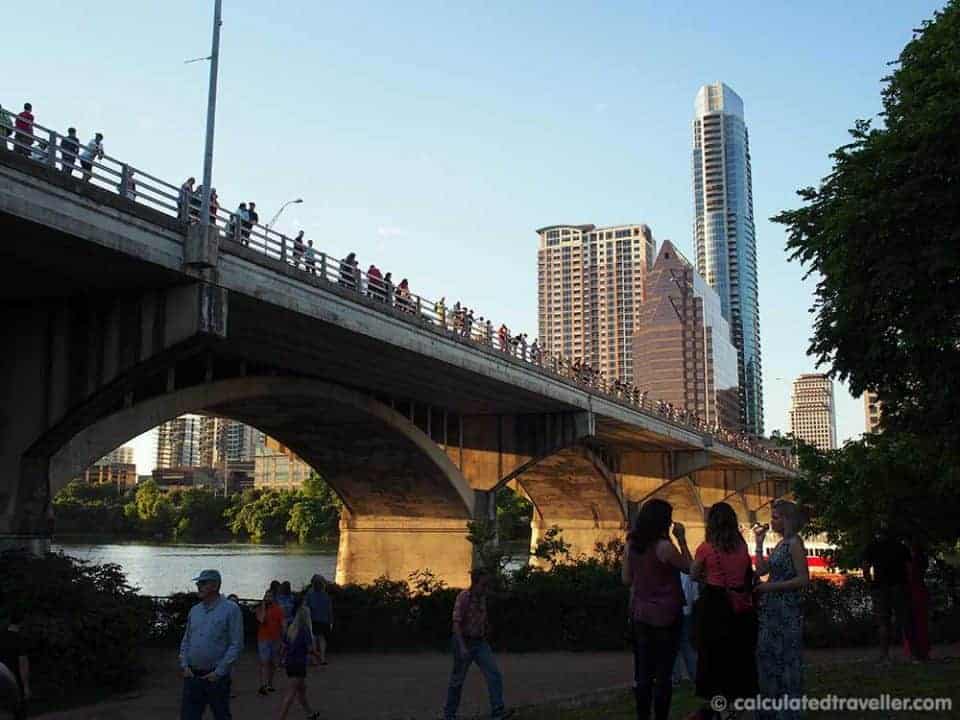 1. On top of the bridge
To view the bats from on top of the Congress Avenue Bridge, just stand on the sidewalk and wait.
Cost: Free
You may not want to do this option if you have children with you. They don't close down the street at all so there will be cars driving by as you wait on the sidewalk.
You will likely have to stand the entire time you are waiting on the sidewalk so that you don't block the walkway for pedestrians.
There is no shade.
I had read that when the bats fly out that there have been instances when bat guano hits people or that the bats fly at you. I'm not sure if this is true or not…so, if you've done this before do contact me as I'd love to know if it's true!
2. On the water, under the bridge
There are numerous operators along the south side of Lady Bird Lake who offer bat viewing boat tours as well as kayak/SUP rentals by the hour. (Incidentally, we found it funny that the kayak rentals went for about $15/hour during the day and then jumped to over $20 later on in the evening.)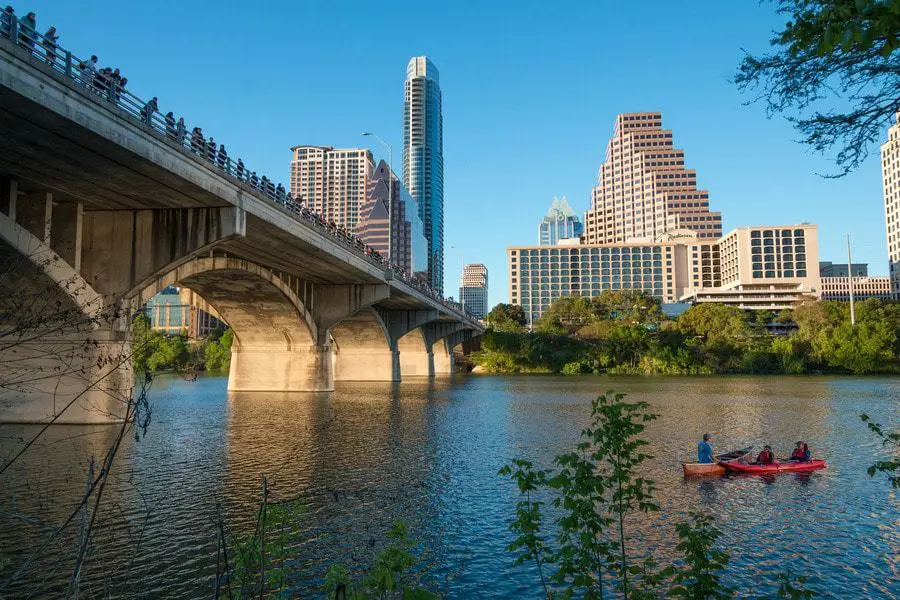 Being on the water and under the bridge is the more adventurous way to see the bats, and not for those who fear the possibility of getting hit by Bat guano as they fly over your head.
Cost: starts at $15/hour
3. To the South-east side of the bridge
The southeastern side of the bridge was our vantage point of choice as it is free of traffic and off to the side on a grassy hill with some trees for shade. We brought a blanket, a small cooler with snacks and drinks, and enjoyed our time lounging until it was bat-viewing time.
Another advantage to this viewing location was that there was a member of the bat conservatory available to answer questions and with a small display of photos and literature.
Cost: Free
When to see the Bats
Bats are nocturnal creatures, sleeping during the day and feeding during the night.
Bats don't wear watches (wink), and although they take flight at dusk, the timing isn't entirely accurate. There is a bat hotline that you can call where they will give you an estimate of time as a guideline.
I do recommend that you get to your location 30 minutes to 1 hour early so that you can find a good spot. It does get very busy and draws a large crowd.
I also noticed that the bats didn't exit their nest all at once. They seemed to start at the centre of the bridge and then expand out – the entire mass exodus extending over 15 minutes.
Where to park your car
We parked our car at Butler Park and spent the day; there is a short trail along the Colorado River and its a quick walk over to the bridge. But you can also park over at the Austin American-Statesman for a fee.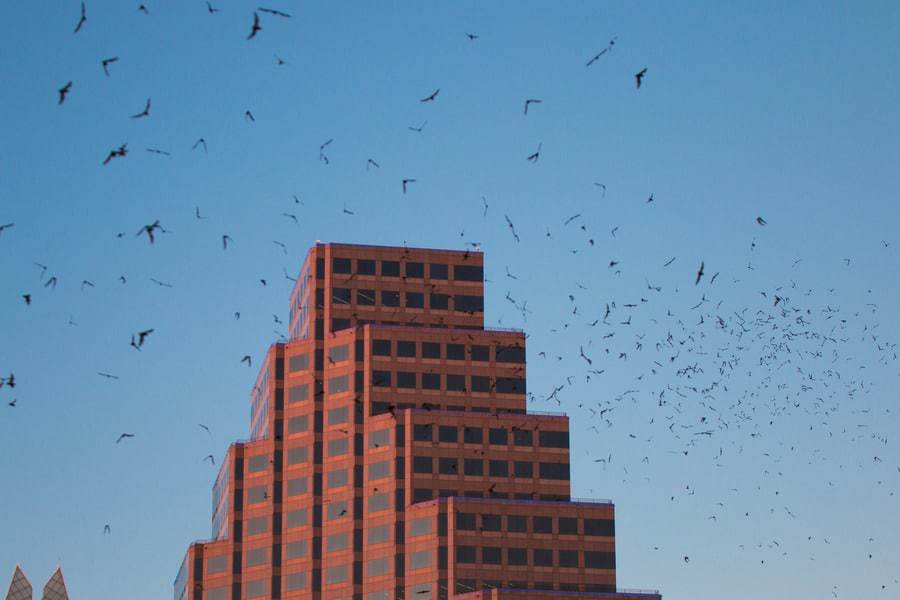 Was it worth the time spent?
I think that planning this adventure to see the bats of Austin, even though the wait time was four times longer than the actual show time it was worth the wait. I learned a lot about bats in general through my research and through talking with the member of the Bat Conservatory. Also, anytime you can spend time outside in nature AND learn something in the process is a good thing in my books.
Travelling with kids? Check out this article over on Travel with Bender who was gracious enough to share a couple of their bat photos 5 Things to Do in Austin with Kids (oh and seeing the bats is one of them of course).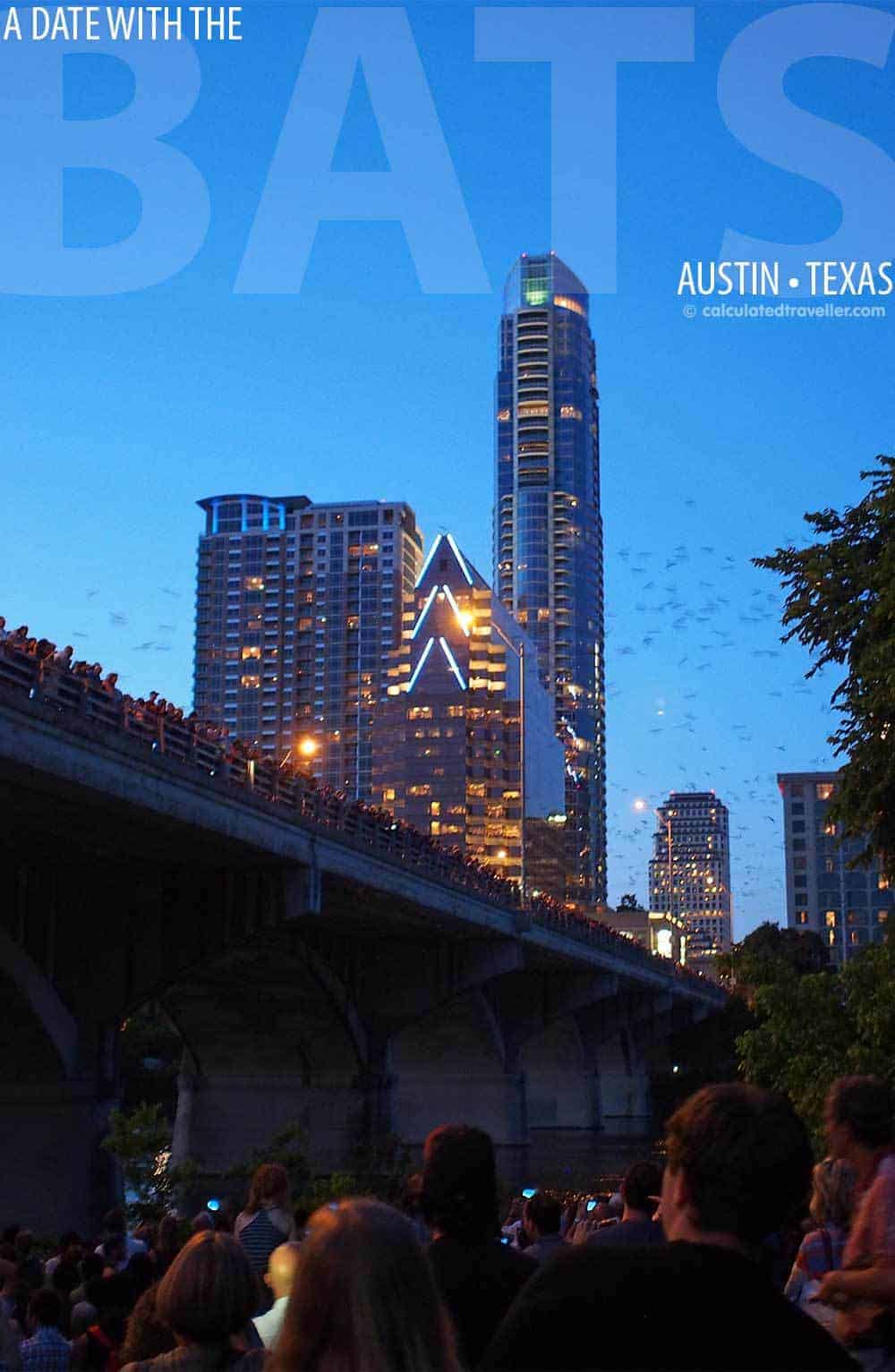 For more information check out the Bat Conservation International website.

For good eats close by:
The Truth about Sandy's Burgers Austin Texas
Sweet Smoky Goodness at Iron Works BBQ Austin Texas
Have you gone to see the bats of Congress Street Bridge in Austin Texas? What about other bat bridge locations in Texas?