The words Texas and barbeque go hand in hand (or perhaps hand to mouth), but it's tough to figure out which restaurant is worthy of the calories and the sticky, saucy fingers when there are so many barbeque joints to be found in one large state.
Asking locals for advice at the gas station, hotel front desk and random store proved difficult as we received different responses.
Sometimes you have to take your chance, roll the dice and hope for the best.
We did just that in Austin Texas.
Rolling the dice on our barbeque quest
We found the location of the hotel we were staying in on Google maps and clicked on the "find nearby" button. Upon seeing the results, we then Googled for reviews and based on the feedback from other barbeque lovers we ended up at Iron Works BBQ, which was a short walk away from our hotel.
At one point as we were walking along the street I thought we had taken a wrong turn; hubby, of course, claims that he knew our precise location the entire time. But we stayed the course, and before long we could smell the "smoke" — that sweet aroma of goodness that screams barbecue is near — so we just followed our nose until we arrived at our destination.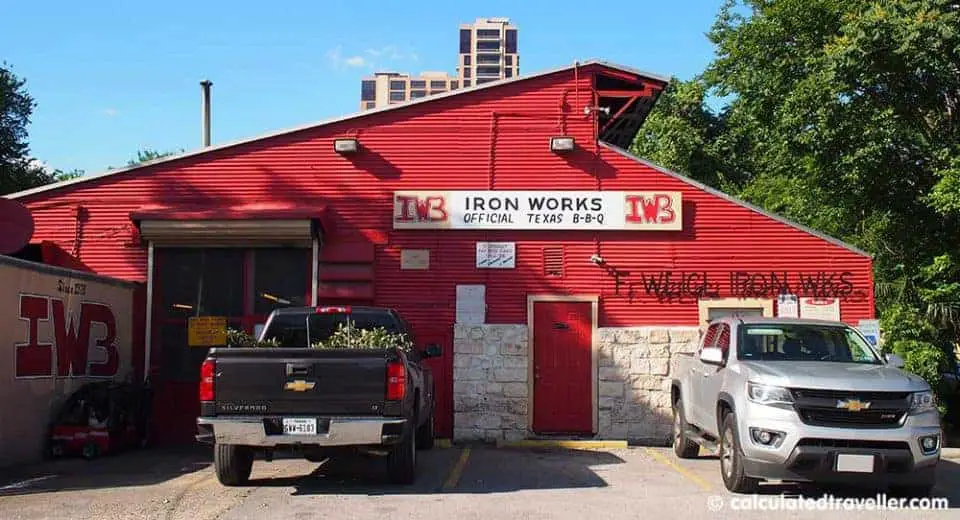 At first seeing the building on the corner of the street I was still a little sceptical — I mean it doesn't look like a barbeque smoke house now, does it? It looks more like a mechanics garage, or iron works foundry! (hint)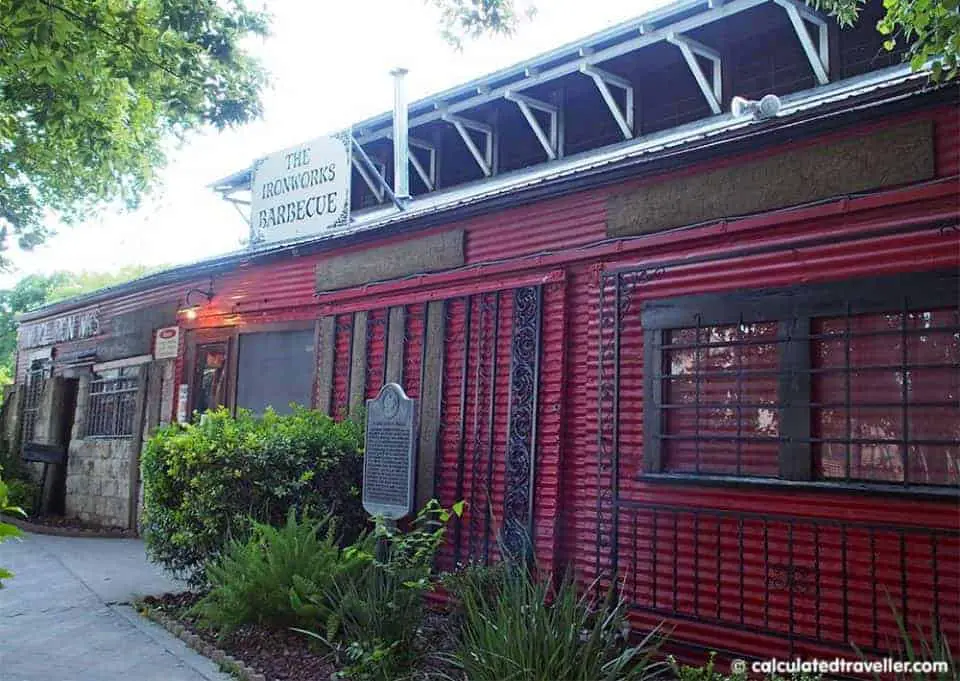 According to the Texas Historical Commission marker outside, the tin building was originally the location of the F. Weigl Iron Works Company from 1935-1977.
The building was converted to the current BBQ Smokehouse in 1978, taking the name "Iron Works" to honour the history and legacy of the building. Iron Works BBQ is a family-run business and has been operating in this location for the last 38 years.
Once inside the restaurant, the atmosphere is fantastic. It's as if you've been transported to an entirely new barbeque dimension once you cross the threshold of the doorway.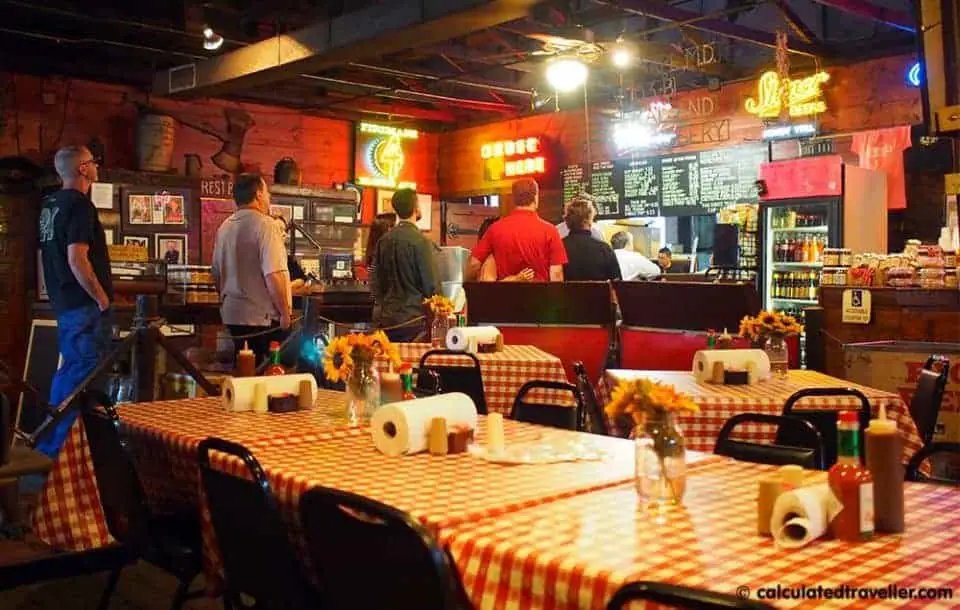 It's all very casual and relaxed with jars of pickled eggs, red cafeteria trays, paper plates and plastic cutlery, chalkboard menus, red checkered tablecloths, rustic wooden booths, rolls of paper towel to wipe your saucy fingers onto and the aroma of sweet, sweet, smoky goodness enveloping the room.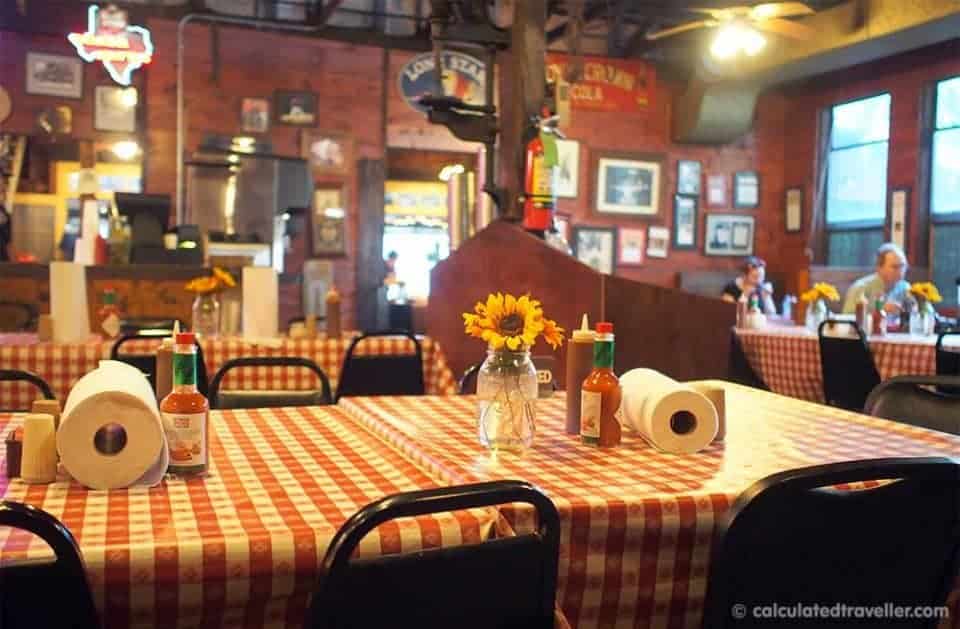 This photo is what I imagine barbeque heaven to resemble.
What we ate at Iron Works BBQ
My general rule, whenever we go to a barbeque restaurant, is for Hubby and I to both choose sampler platters but with different choices from the menu to maximise the number of items we can taste test.
Unfortunately, Iron Works only has one sample plate on the menu! It includes sliced beef brisket, smoked sausage, and one beef rib for $16.95.
(All plates include two side dishes, pickles, bread and barbeque sauce)
Honestly, not a big deal because I would have chosen those same items! I chose the cole slaw, and potato salad as my side dishes and I'm not going to lie, I was salivating in anticipation as the server was preparing my meal.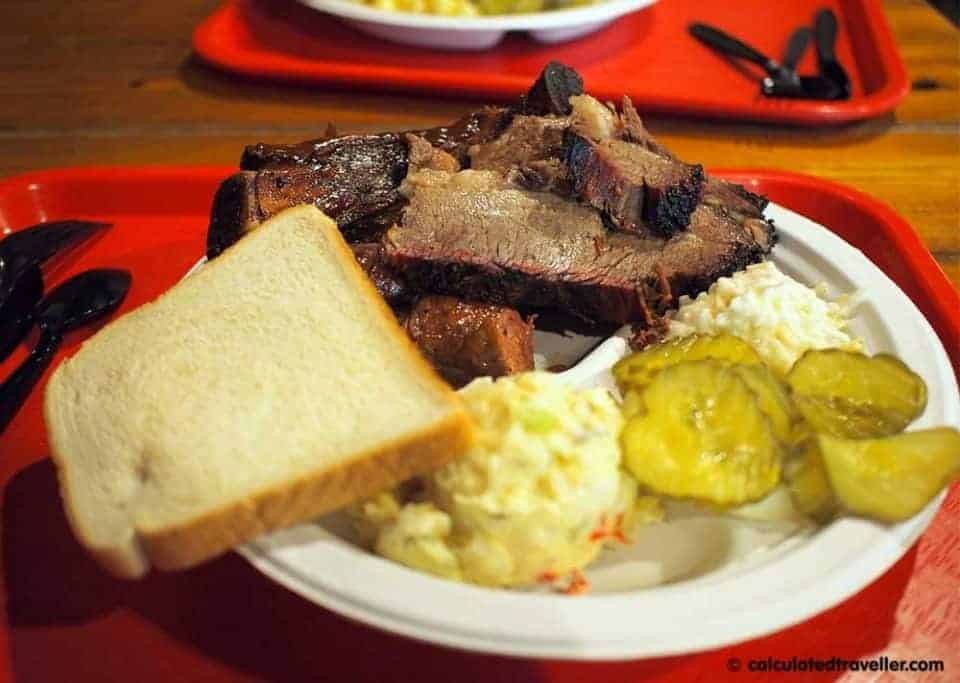 Hubby ended up winging it (literally) and ordered the chicken with potato salad and macaroni and cheese as side dishes for $9.95.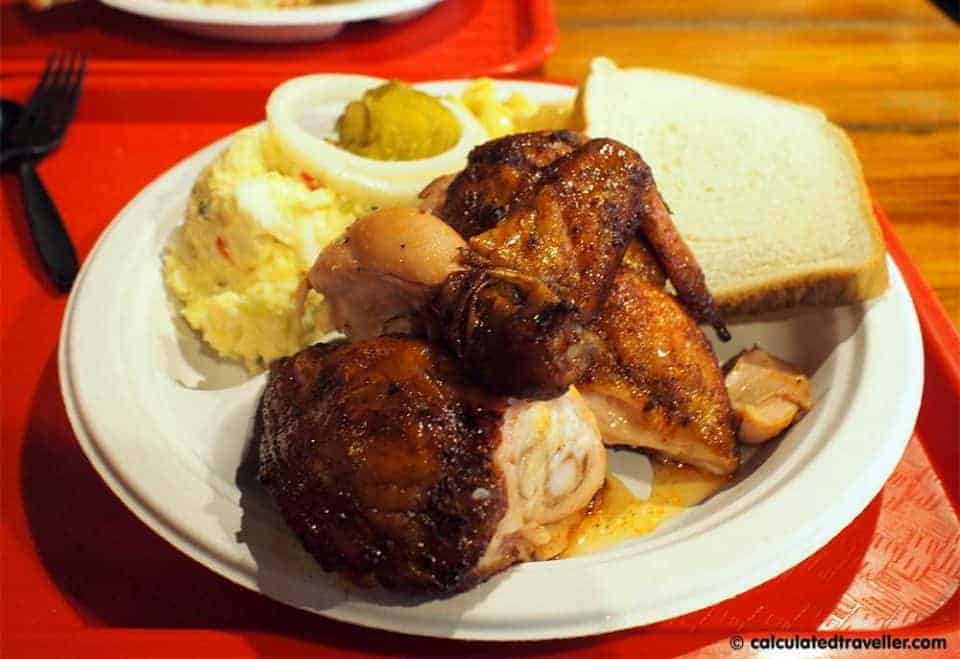 At Iron Works BBQ, we rolled the dice and WON
Cha Ching!
I'm not a gambler because I think that expression applies more to slots than dice, but I hope you understand my meaning!
The food was excellent.
the beef rib was amazing — tender, fall off the bone good
the beef brisket was unbelievable, a little lean / a little fat, great bark and smoke ring, melt in your mouth good — the best I've ever had
the sausage had just a bit of a spicy kick to it
the chicken was juicy and not dry at all with just the right amount of smokiness to it
the sides were yummy too, but in reality, I'm here for the barbeque!
Sometimes you need sauce, and sometimes you don't. My barbeque didn't need any sauce; it was that good.
The food was so good that while we were eating it, Hubby was planning on buying a take out sample plate so that we could eat it for lunch the next day. He ultimately didn't do it because our dinner portion was so big that we had leftovers, but the glutton in me wishes that he had gone ahead with his plan. I wanted more.
It was after we left the restaurant to walk back to our hotel that I looked back at Iron Works BBQ and noticed the backyard patio peaking through the trees. All that time we were inside the restaurant; I was concentrating so much on the barbeque that I neglected to notice that they even had a patio!
I guess that means I need to make a return trip to have the FULL Iron Works BBQ experience. LOL!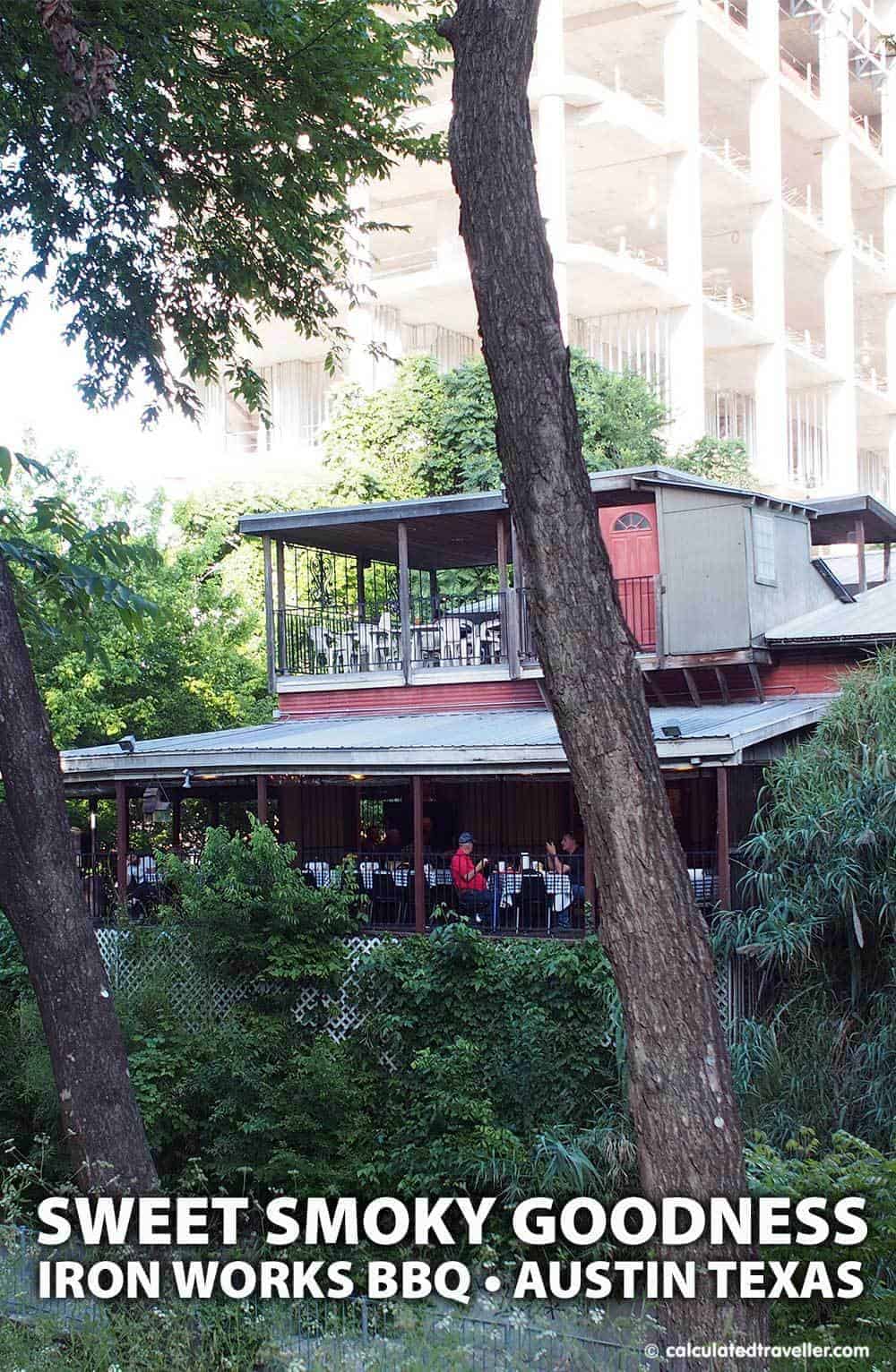 Iron Works BBQ
100 Red River, Austin, Texas
Mon-Sat 11am – 9pm
Read other reviews of Iron Works BBQ on Trip Advisor.
For more Austin Texas adventures read:
The Truth about Sandy's Burgers Austin Texas
A Daring Date with the Bats of Austin Texas