Located a mere 2 miles from Washington Dulles International Airport, the Crowne Plaza Dulles Airport Hotel in Herndon, Virginia is a great stay for business or pleasure.
Renovated in Spring 2016, the Crown Plaza Dulles Airport Hotel is beautiful, affordable and comfortable.
Decorated in neutral shades of grey and blue I was impressed the moment I entered the gorgeous hotel lobby. Spacious and airy with comfortable lounge seating area and computers. Also at the entrance is a Starbucks Café and Houlihan's Restaurant Bar offers a breakfast buffet.
Check in was a bit of an issue, however.
I was pre-assigned a room before my arrival, but when checked in, I was told that someone gave my room to someone else. Front desk staff assigned me another room, but when I entered it with my room key card, the room was in use (good thing I didn't interrupt anyone in the shower). Staff gave me a third suite, and it was vacant – three times was the charm! Everything was handled very professionally with zero trouble other than the multiple trips up and down the elevator, and the staff was very apologetic and instantly offered me coupons for free appetisers and drinks in the bar without me asking.
I stayed in Room 587, a "Club Level King Suite".
Crowne Plaza Dulles Airport Hotel – Room 587
I often find hotel rooms to be very dark – this one had lots of lights available.
Lots of USB plugs to charge your devices.
Lots of storage space.
Bar fridge, standard coffee maker.
Iron, ironing board
Adjustable telescopic rain shower head – with incredibly strong water pressure.
Premium Temple Spa toiletries.
Large full length mirror.
Telescopic make-up mirror.
Towel hooks in the bathroom. (Trust me, this is a rarity!)
Complimentary 24 hour Airport Shuttle.
Complimentary shuttle to nearby attractions.
Complimentary parking.
Walking distance to restaurants and shopping at Worldgate Centre / 4 miles from Reston Town Centre.
Complimentary WiFi with strong, fast connection.
All was not perfect:
No nightlight/dimmer light, safe or microwave.
Starbucks closes at 7:30PM.
Breakfast buffet was not very good – a disappointment.
Sweet Dreams and Scents
Sometimes it's the little things that mean a lot. Sitting on top of my bed was this little package that said, "Sleep tight, open for a better night's sleep".
Inside the package was a care package of Temple Spa aromatherapy resting cream, foot and leg balm and linen/room spray. I think this was a sweet welcoming treat and honestly, the first time that I've ever seen something like this at any hotel that I've stayed. I used all three items that evening and found the scents to be subtle, soothing, and relaxing!
There are a relatively large fitness centre and indoor pool on site. I was surprised that there was a lifeguard on duty at the pool the day I walked in – another rarity for a hotel.
The location of the hotel is not perfect for touring the DC Capital region without a car although the hotel provides shuttle service to the closest metro station (Reston) and area attractions it's an approximately 40-minute train ride to Downtown DC.
Proximity to the freeway though puts this hotel in a great location for driving around the Virginia area and in my opinion, if you wish to go into Downtown DC, it's far easier to drive your car and park at the metro station versus being tied to a hotel shuttle schedule.
The Crowne Plaza Dulles Airport Hotel also has "Park, Stay & Go" packages available.
Where this hotel excels is in the room rate — it's a great value for the money at $119/night — given the size, complimentary perks and comforts of the room and amenities.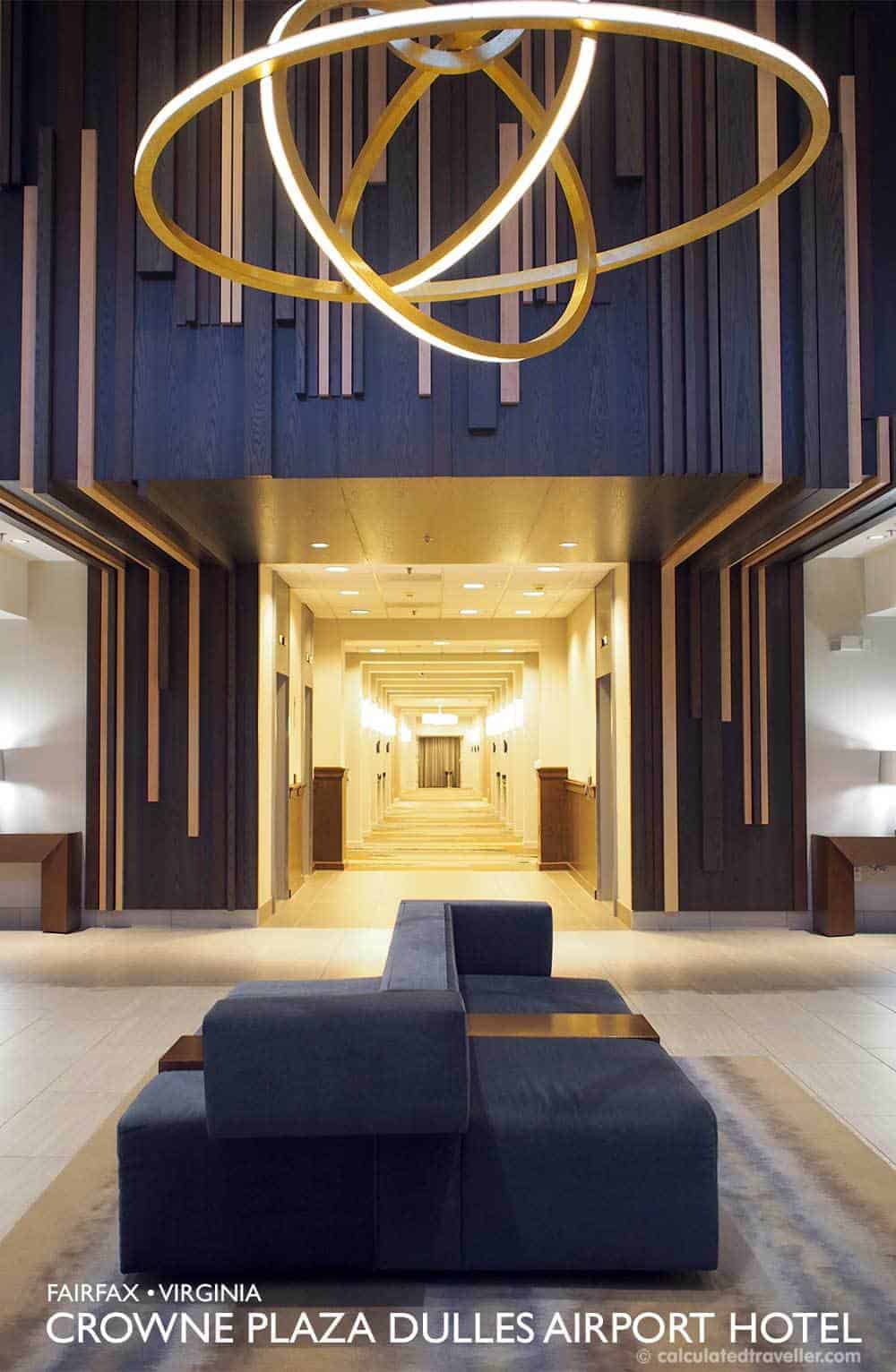 Crowne Plaza Dulles Airport Hotel
2200 Centreville Rd, Herndon, VA 20170
Read other reviews of the Crowne Plaza Dulles Airport Hotel on Trip Advisor.
For adventures close by check out:
– Brunch, Bikes, and Brews at Caboose Brewing Co. Vienna Virginia
– Where to Stay, and What to See in Washington D.C.
– Hop-on Hop-off Bus Tour in Washington, DC is the Perfect Way to Visit!
Travel Assistance provided by Visit Fairfax and Visit Virginia. All opinions are entirely my own.