An excellent way to explore nature within any city is to rent a bike and hit the trails. It allows you to be like the locals, enjoy the environment on a personal level and gets you away from the concrete and glass of the urban city centre.
On trips to Virginia Beach, Fairfax Virginia, and Washington DC we explored and toured on two wheels and had a great time doing it!
Virginia Beach Bike Rental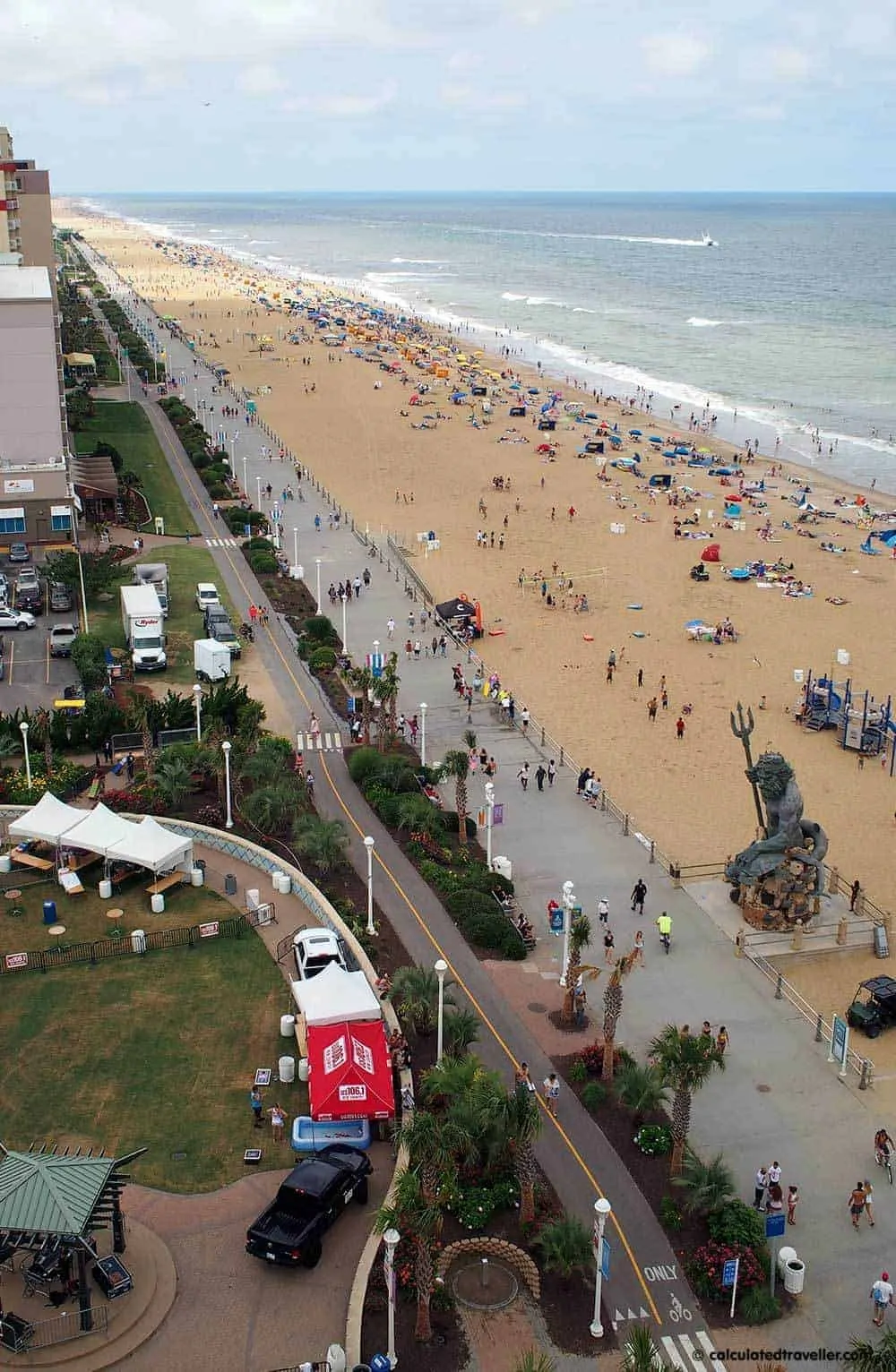 Riding along the shores of Virginia Beach is great fun with the wind in your hair and the sun shining high up above. Virginia Beach does it right with a designated bike path next to the pedestrian boardwalk. Be careful though because if it's a beautiful day, there is going to be a lot of traffic. I'm a beginner cyclist, and I found this to be a bit of a challenge, as I had to dodge more experienced cyclists, people on rollerblades, and inattentive/distracted pedestrians.
The good thing about riding along the beach is that there are lots of places to take a break with park benches, scenic views, food, and drink along the route. My favourite spot is the massive King Neptune Statue at 31st Street.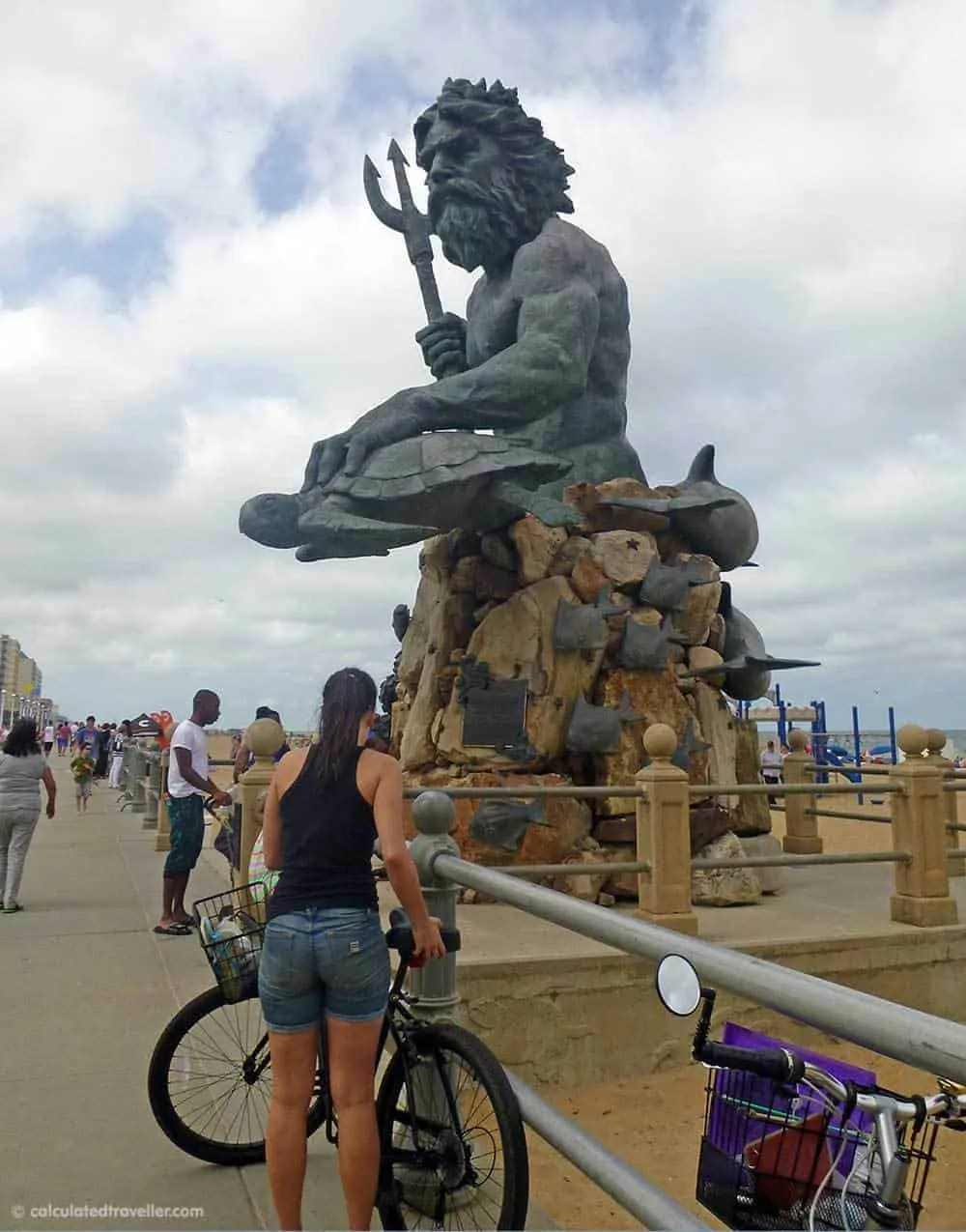 There are multiple bike rental companies in the Virginia Beach boardwalk area with single, tandem, and surrey styles available.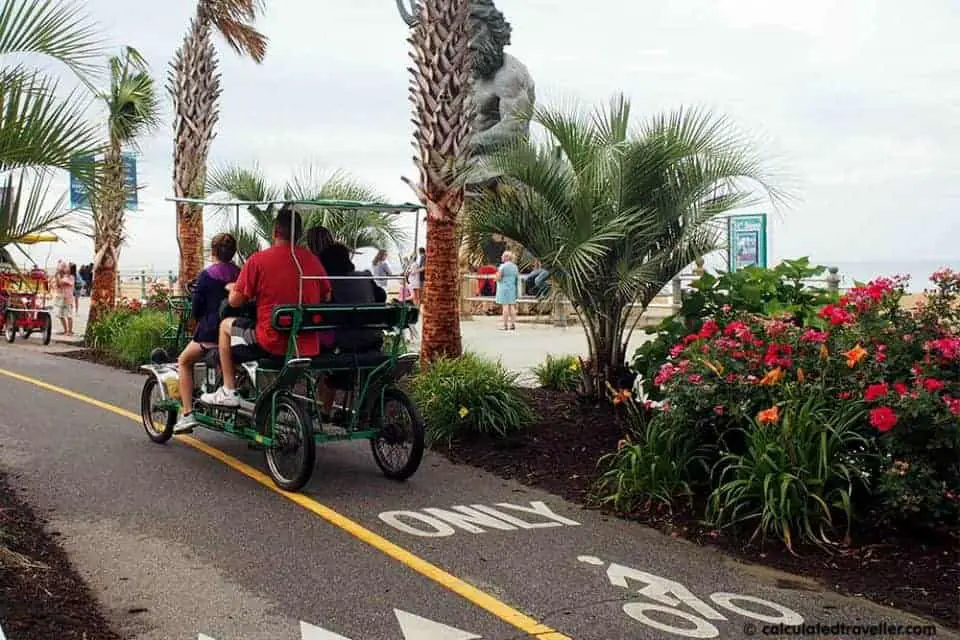 For bike trail information visit Virginia Beach government website.
The Bike Lane in Reston Virginia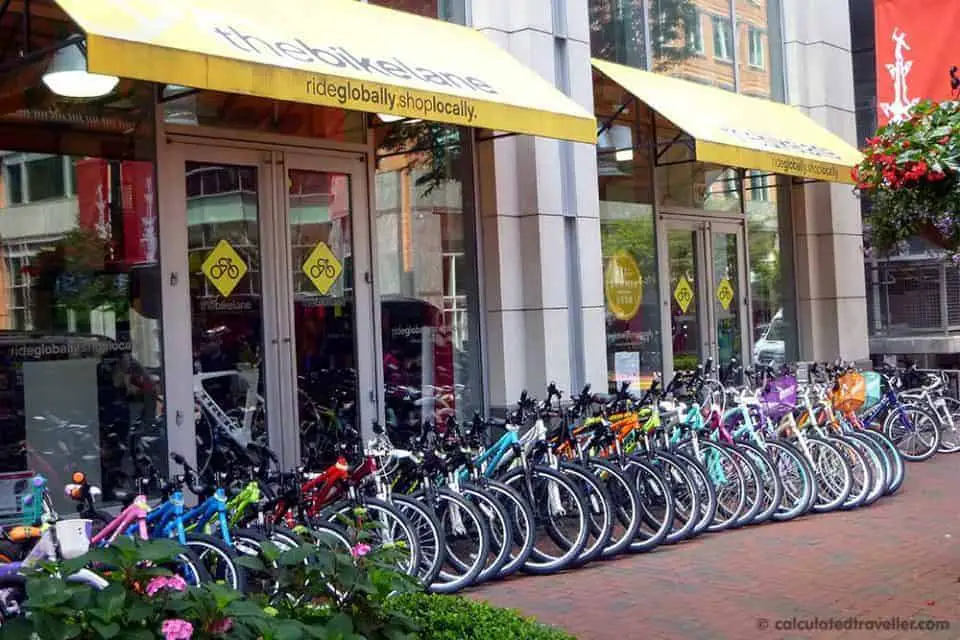 A great spot to rent in Reston Virginia is The Bike Lane. With everything you would need conveniently located in one location. I found them to be very professional and detailed when it comes to choosing the correct size and style of the bicycle and helmet for your needs. Another great thing about this bike rental spot is that it is right next to one of the access points on the Washington & Old Dominion Railroad Regional Park (W&OD) trail. A paved path, the W&OD trail is part of the USA Rails-to-Trails conservancy program where they transform unused rail corridors and convert them into vibrant public places.
Another great thing about The Bike Lane in Reston Virginia is that it is 7 miles to Caboose Brewery (wink). Read the article, Brunch, Bikes, and Brews at Caboose Brewing Co. Vienna Virginia
Capital Bike Share in Washington DC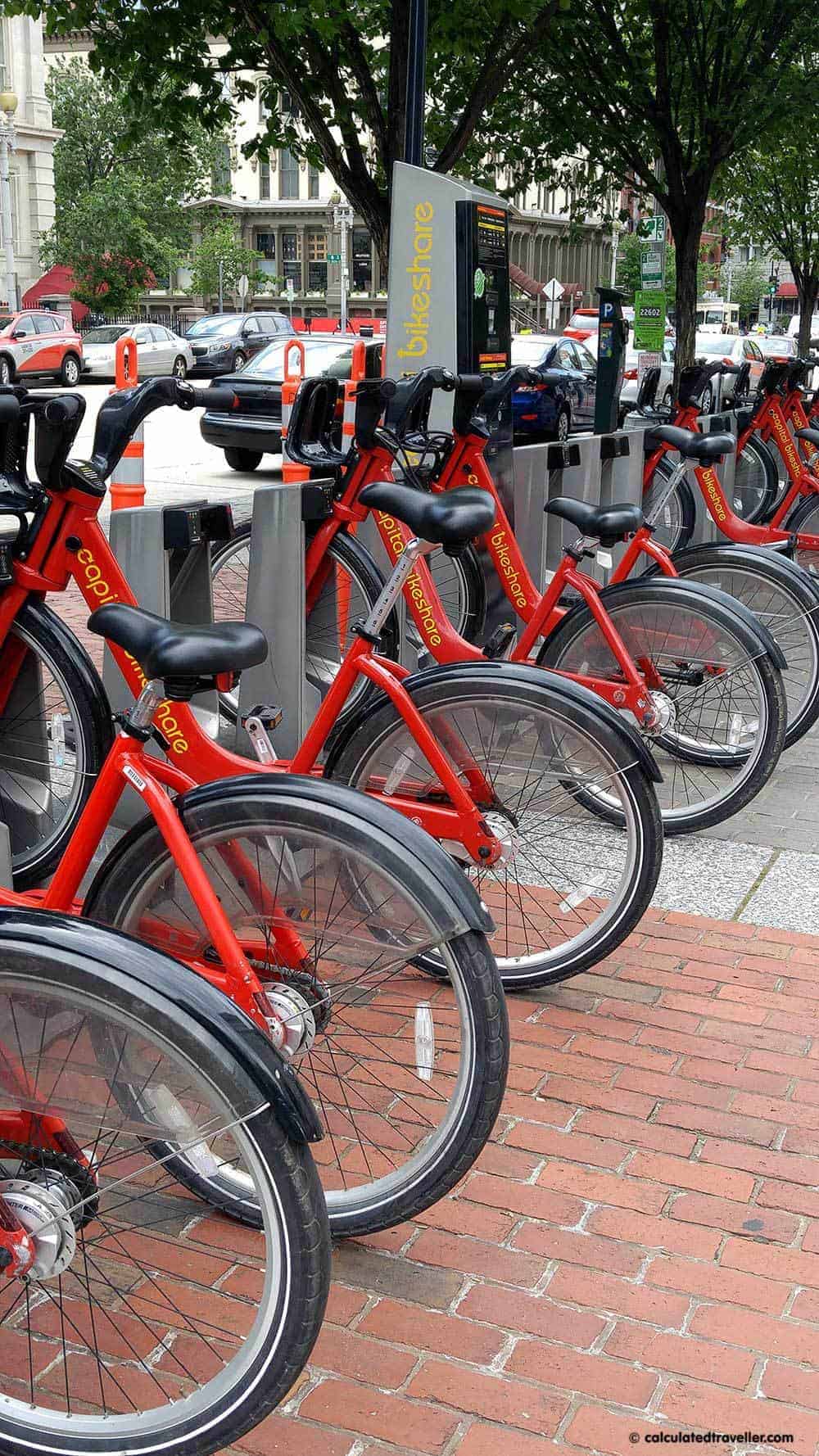 Husband Ray took advantage of the local Capital Bike Share in Washington DC and loved it. For rides under 30-minutes in duration, rates are very reasonable at one single trip for $2 and a 24-hour pass for $8. Ray was able to tour the city on his own without worrying about metro stations and tour buses. They also have an app called Spotcycle App that shows real-time bike availability at each of the 440 stations located throughout the city.
Many large cities throughout the world have bike rentals that you can rent by the hour. Companies such as Bixi Bike in Canada come to mind.
Questions to ask before you rent a bike
Are helmets provided with the cost of the rental or are they an extra fee?
Insurance liability? Check the coverage.
Sizes of bikes available? Do they have one that fits you?
Style of bike available? Do they have tandem, mountain or cruiser bikes?
Rental period available? Day rate/hourly/weekly.
Do they provide maps to near by bike trails?
Is a lock provided?
How much experience do you have biking? Novices may want to stick to bike trails versus riding on the streets.
Do they have bike seats for toddlers available?
Tips for your bike rental
Test drive the bike to ensure you are comfortable with the size, and style of the bicycle and that everything is working properly before you leave the rental area.
Be aware and follow proper safety and rules of the road.
In case of emergency pack a mini first aid kit.
Bring water, snacks, sunscreen, hat, and sunglasses.
Ride hands-free. Wear a backpack to hold all of the above.
Have you rented a bike while travelling? Share your experience and tips in the comments below.
Additional reading:
– Great Allegheny Passage and Sustainable Tourism
Travel assistance provided by Visit Fairfax, Visit Virginia Beach, and Virginia Tourism which didn't review or approve this story.