Anguilla, British Caribbean, is part of the Leewards Islands, the group of islands in the northern part of the Lesser Antilles. It is located nine miles north of St. Martin and one hundred and fifty miles east of the island of Puerto Rico, which are also the closest islands that have direct connections to Anguilla.
Anguilla is one of the least visited Caribbean islands, but it doesn't mean there's nothing to do here, or it isn't pretty. On the contrary, as you'll see below, there are a multitude of things to do while in Anguilla!
What makes it one of the off-the-beaten places in the region is that it caters more to discerning travellers.
It's no surprise to hear that Anguilla is a popular getaway for celebrities who want a quiet alternative to St. Barts and St. Lucia.
Wondering what to do in Anguilla? Keep reading…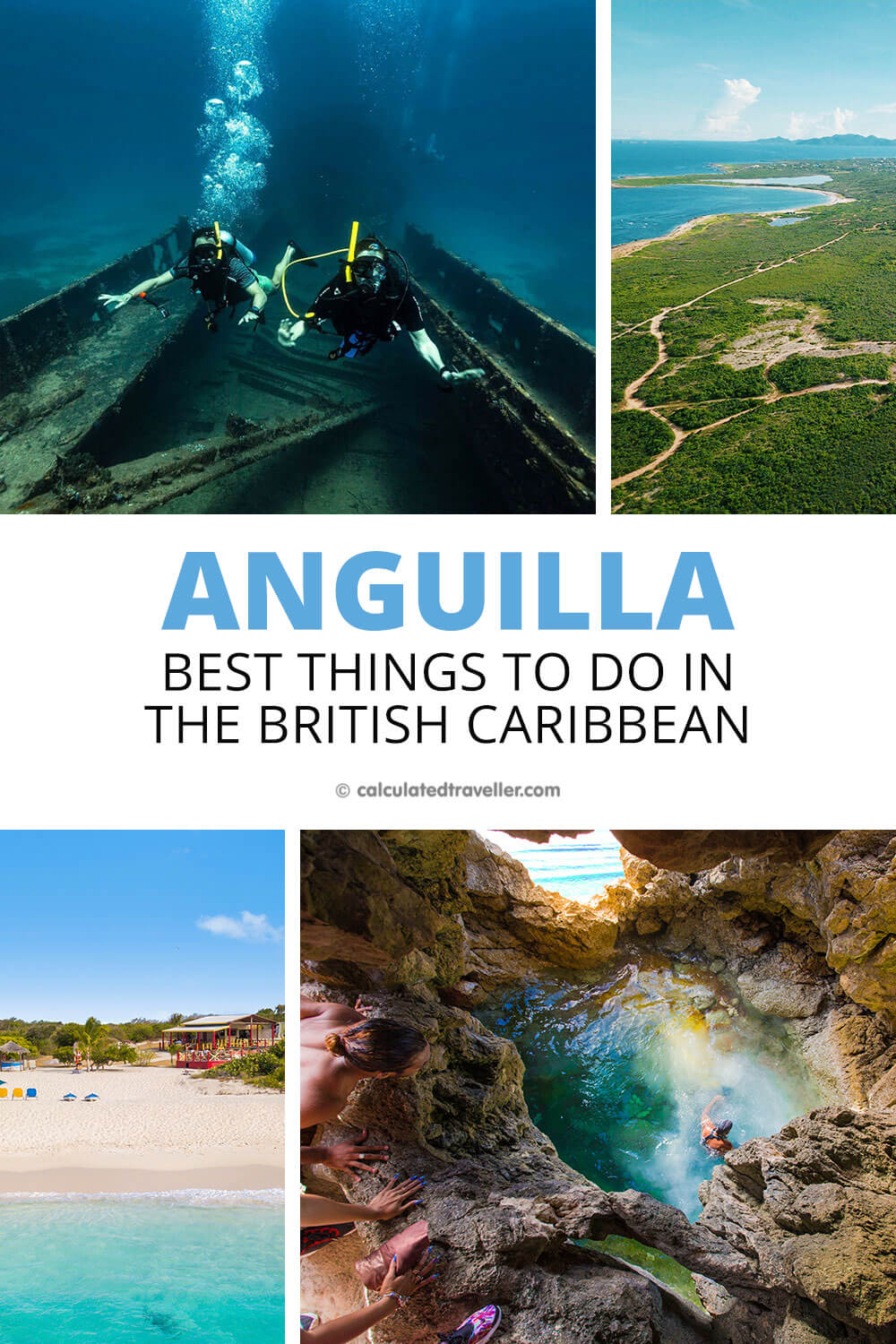 To follow is our list of the best things to do in Anguilla.
Enjoy the white sand beaches of the sandy island of Anguilla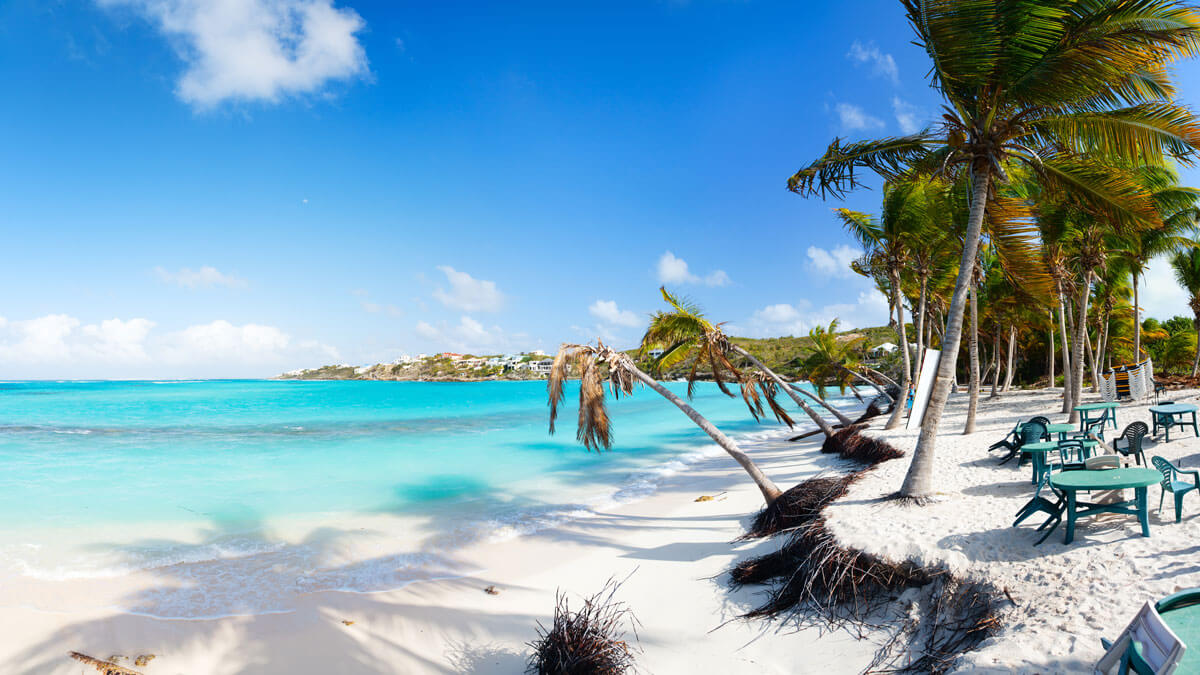 There's nothing more quintessential experience in the Caribbean than enjoying its sun-soaked beaches. Despite being a relatively small island, Anguilla has 33 public beaches for visitors to enjoy. That's 33 times more fun which makes the beach one of the best things to do in Anguilla!
Relax in these palm-dotted white-sand shores, enjoy the turquoise water and appreciate the tranquil life in Anguilla.
Among the top, sandy beaches in Anguilla are Shoal Bay East, Meads Bay, Sandy Ground Village, Rendezvous Bay, and Maundays Bay Beach.
If you love to snorkel, Shoal Bay and Maundays Beach are good choices. Alternatively, if you are looking to relax at the beach, Rendezvous and Meads Bay are great choices. And if you are looking for a little Anguilla nightlife on the island after a full day of swimming in Anguilla's blue waters, then head to Sandy Ground Village. This fish hooked-shaped bay is a popular nightlife spot, and it's also the main port for the yachts here. 
PRO TRAVEL TIPS: Don't forget your beach hat, sunscreen, cold beverage, and a beach towel!
Enjoy reggae music and a rum punch at Dune Preserve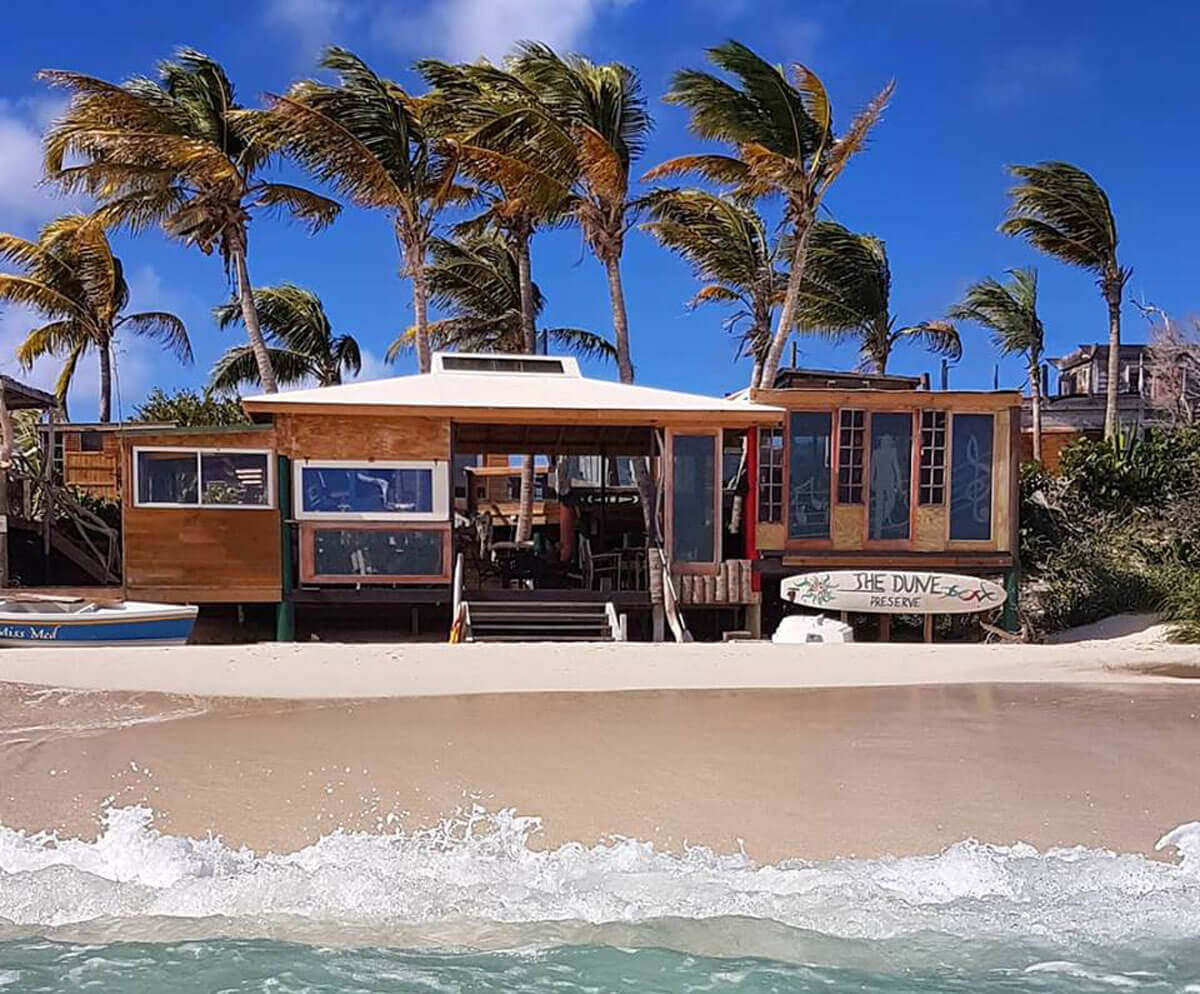 Bankie Banx is a popular reggae artist in Anguilla. He is often called the Anguillan Bob Dylan and became famous in the Caribbean and became relatively popular in Europe and the US in the 80s. He gained quite the following from the US, and he was a regular in the East Coast music scene. He also made some international television appearances, including a recurring role in the American sitcom Key West and a guest performer in The Bachelor.
Dune Preserve is the beach bar he built, and this bar is considered the number one beach bar in the world by CNN. This beach bar also hosts the annual Moonsplash Festival, where famous musicians such as Bon Jovi and John Meyer also played. No one goes to Anguilla and does not enjoy a night out in Dune Preserve.
This laid-back bar is located in Rendezvous Bay, and it has a fantastic view of the neighbouring island of St. Martin and the Caribbean Sea. Adorned with trinkets from all over the world, driftwoods, wood planks and shells, this beach bar is a funky and cool place to enjoy drinks with friends – old and new. 
Aside from drinks and the fantastic live music, the Dune Preserve also serves fabulous food, and it's one of the most recommended restaurants on the island as well.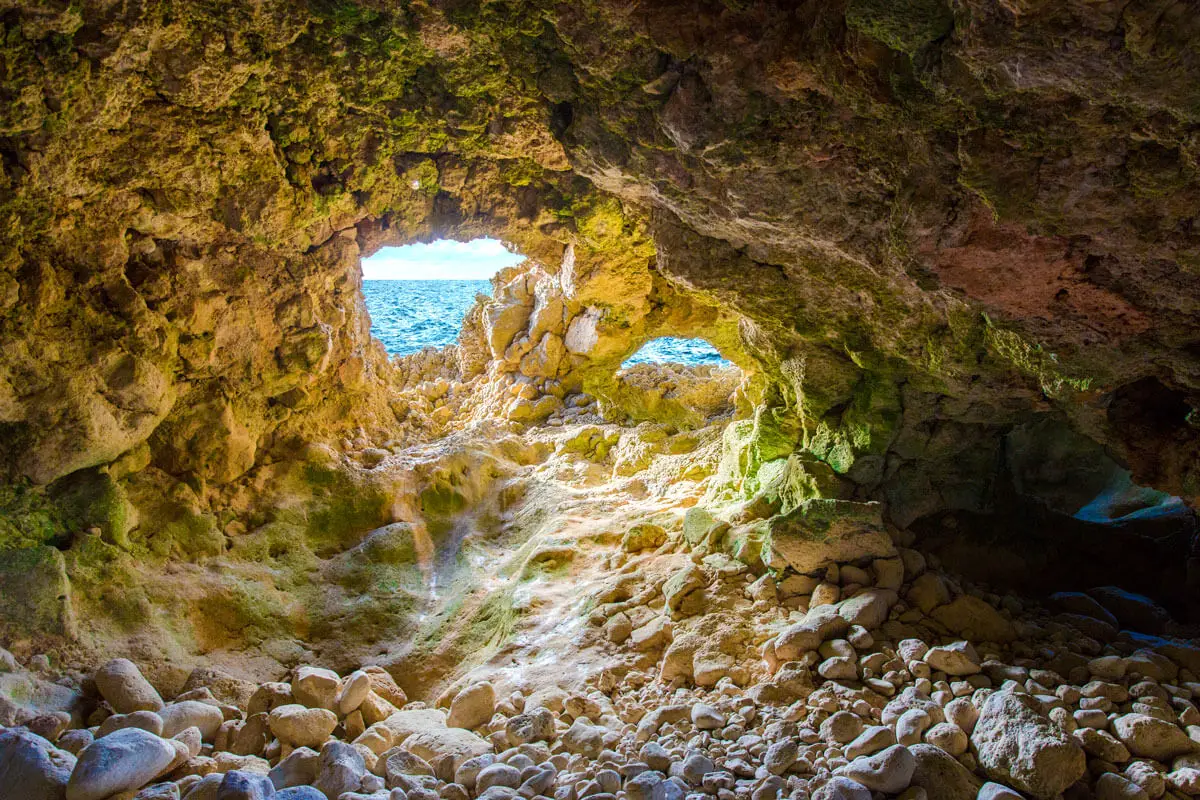 Explore the Fountain Cavern National Park – one of the top Anguilla tourist attractions
The Fountain Cavern National Park is known as the oldest ceremonial cave site in the Caribbean and, not surprisingly, is Anguilla's top archaeological site. Located near Shoal Bay, Amerindians used this dome-shaped underground cave as a worship place based on the number of petroglyphs on the rocks, which also surrounds the two freshwater pools inside. One of the most significant details of The Fountain (as it's known to locals) is the 16-foot tall stalagmite carved to represent the deity Jocahu (or Yucahu) – the supreme being of Taino Indians.
Anguilla has multiple cave systems available for you to explore such as Goat Cave.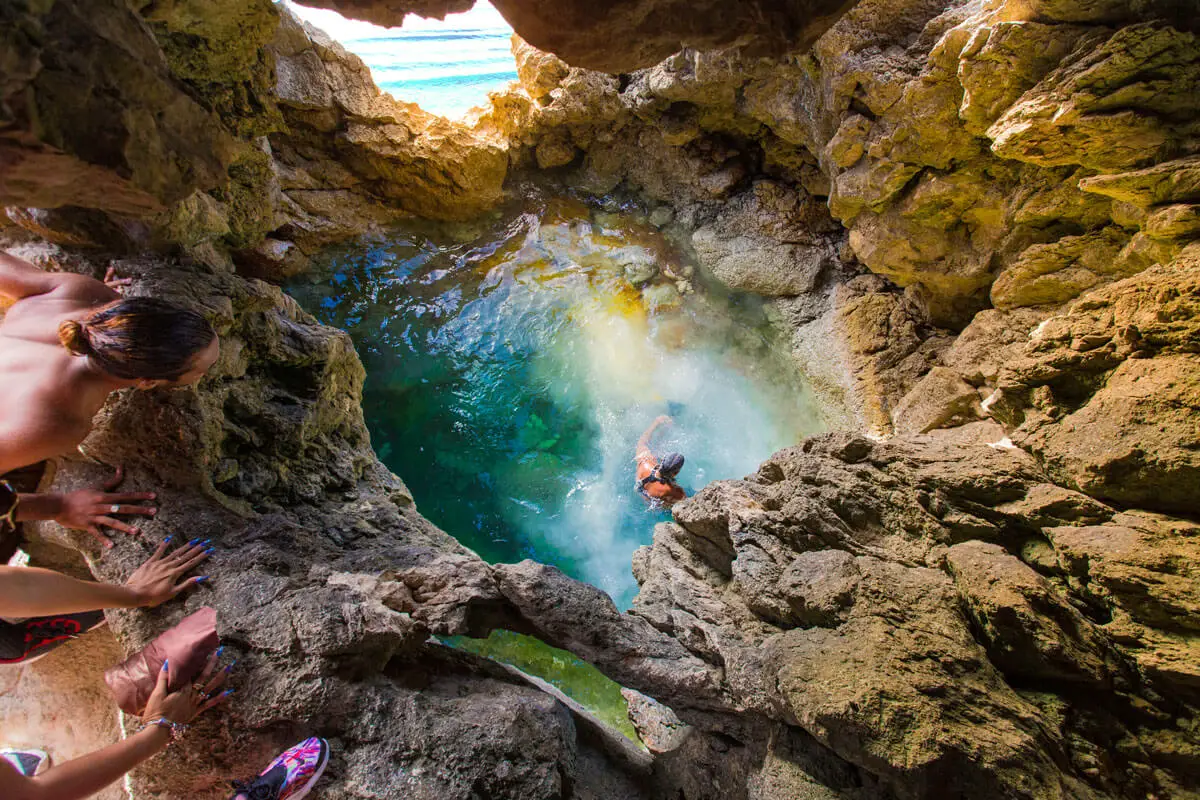 Enjoy a day trip at Prickly Pear Cays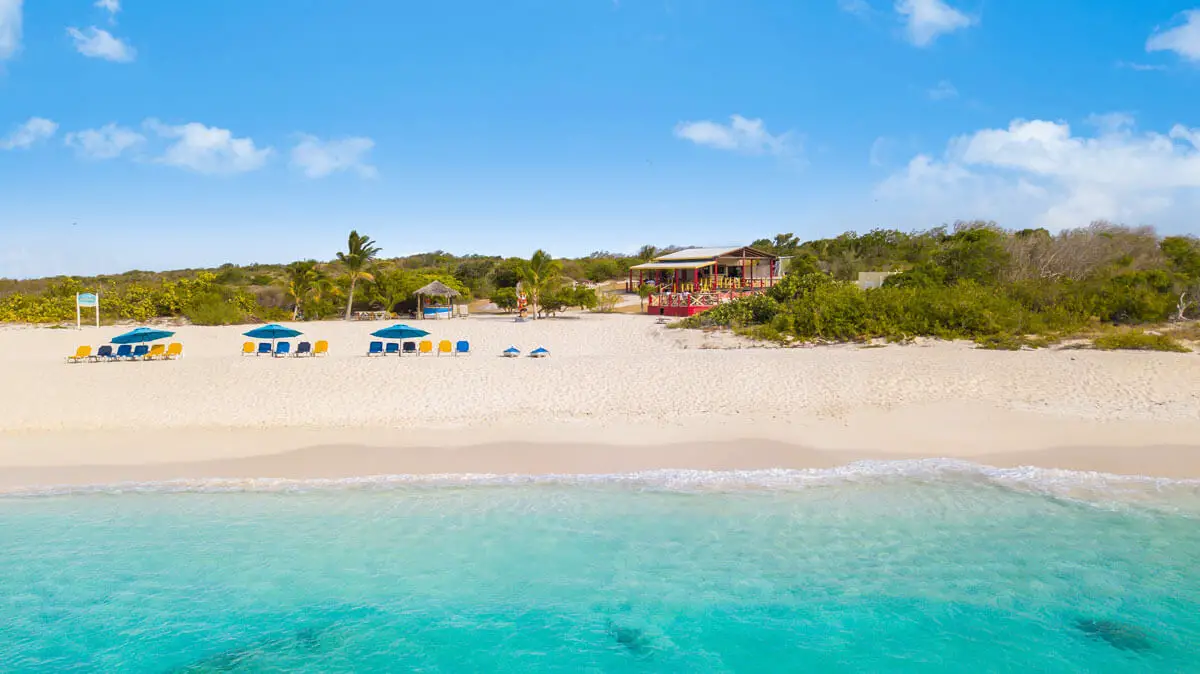 Prickly Pear Cays is a beautiful but small inhabited pair of islands off the coast of Anguilla, almost 6 miles from Road Bay.
Separated by a narrow channel, Prickly Pear Cays is divided into East and West.
The cays is also a popular diving and snorkelling area and a popular spot for bird watching. The water surrounding the island is protected as part of Anguilla's Marine Park, and endangered species from Hawksbill to green turtles can be found here. Anguilla's National Trust also relocated some Lesser Antillean Iguanas to help protect its dwindling population; hence don't be surprised if you see Iguanas hanging out on the beach with you here.
There's no one living on these islands, and the staff of the two restaurants come here every day to serve the tourists from the mainland or the neighbouring island of St. Martin.
Prickly Pear Cays is where your Caribbean dreams are made of – palm-dotted, powdery white sand beach and the bluest of Caribbean waters without the horde of tourists. If you want to get away from the crowd, a trip to Prickly Pear Cays is a must.
Learn history in Anguilla's only museum the Heritage Collection Museum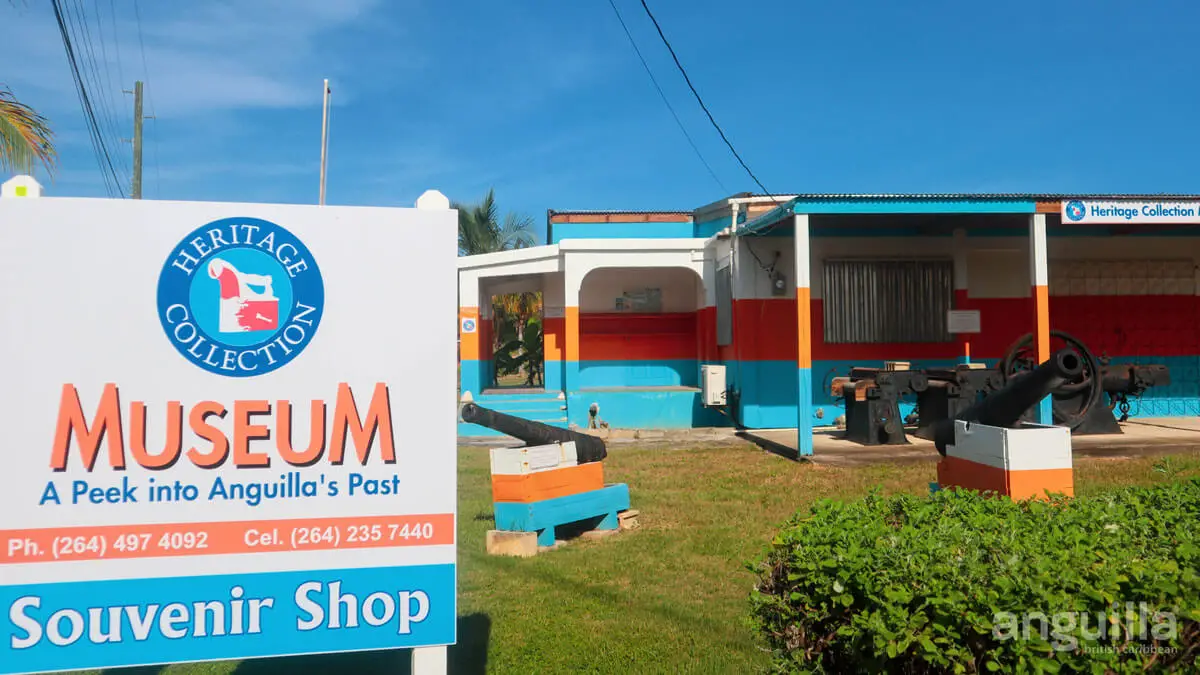 The island of Anguilla only has one museum, but history buffs need not worry because it is packed full of interesting tidbits about the island. Here, you can learn about the history of Anguilla, its geology, the history of the Arawak people, the sugar industry, and the history of slavery on the island in the Heritage Collection Museum.
The history of the Arawak people and how the sugar industry in Anguilla contributed to slavery is most interesting.
The Arawaks (or Taino) played a significant role in the Caribbean's agriculture. A peaceful farming tribe, Taino history dates back to prehistoric times, and subsequently, they played a pivotal role in the sugar industry of Anguilla.
As the sugar industry grew, slavery got worse, with more and more sugar plantation owners bringing slaves from African countries to help in the plantation.
Visit one of the last surviving plantation homes on the island of Anguilla
Built by sugar planter Will Blake in 1787, Wallblake House is the oldest structure on the island and is one of the last fully intact plantation homes in the Caribbean.
This heritage plantation house will give you a glimpse of life in Anguilla in the 1700s. Tour fully restored slave quarters, stables, and kitchen. The house also showcases Anguilla's history through various exhibits. Wallblake House is open to the public, but you must book tours in advance.
Try wreck diving in Anguilla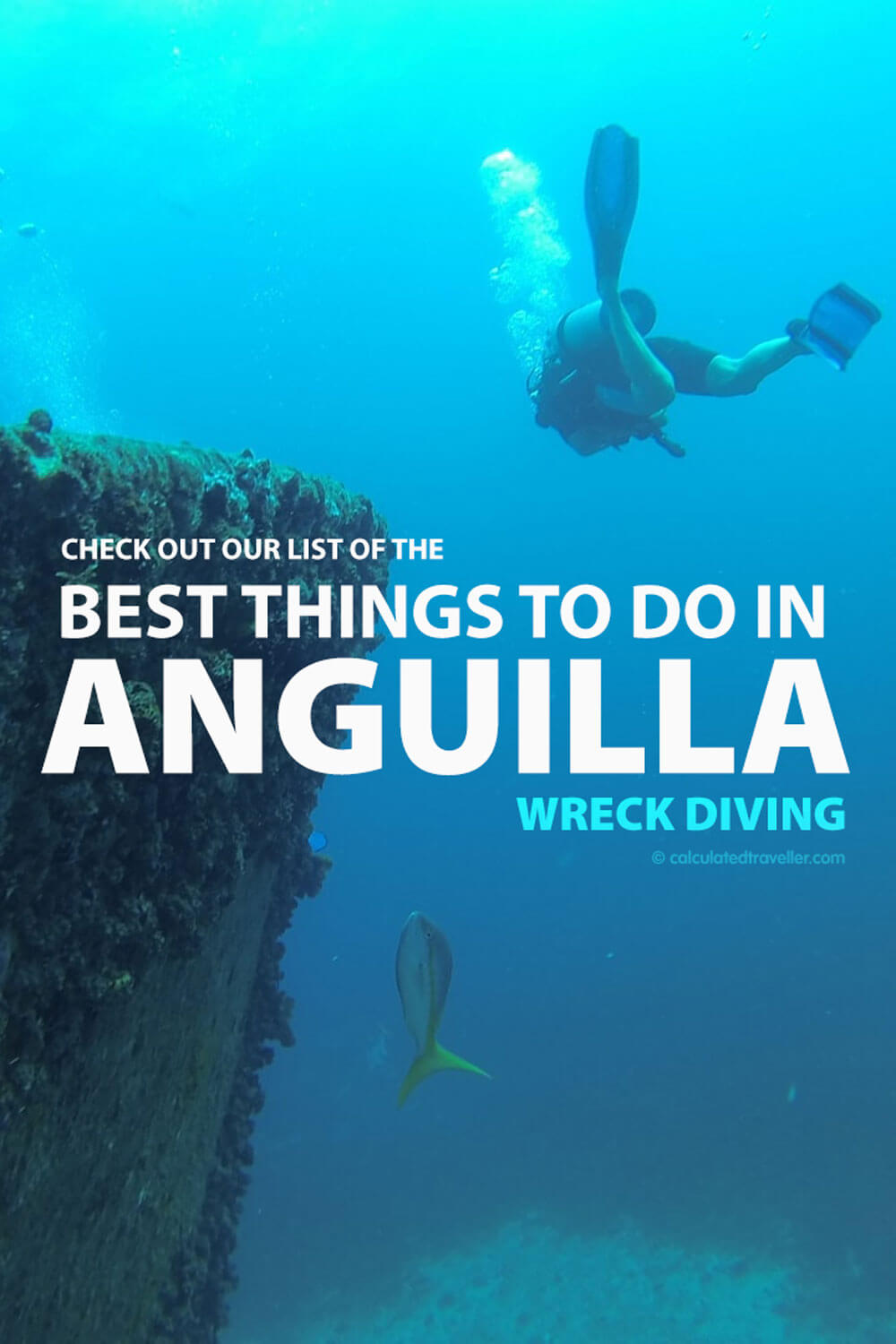 Anguilla is a popular diving destination due to the seven marine parks and intentionally sunken ships, thriving with a multitude of marine life and artificial reefs. If you are a professional diver or aspire to be one, then Anguilla is an underwater paradise waiting for you to explore.
If wreck diving is what you fancy, there are lots of choices in Anguilla. Among the popular wreck diving spots in the area are Sarah's wreck, a sunken ship, and the largest shipwreck in Anguilla at 232 feet long. Unlike the other ships that were sunk intentionally, this ship was a victim of a hurricane in 1984. Meppel and Oosterdiep are also good alternatives. Meppel played a significant role in the battle of Dunkirk in World War II before it sank. In comparison, Oosterdiep was intentionally sunk by the Anguilla government when it drifted ashore.
Explore Windward Point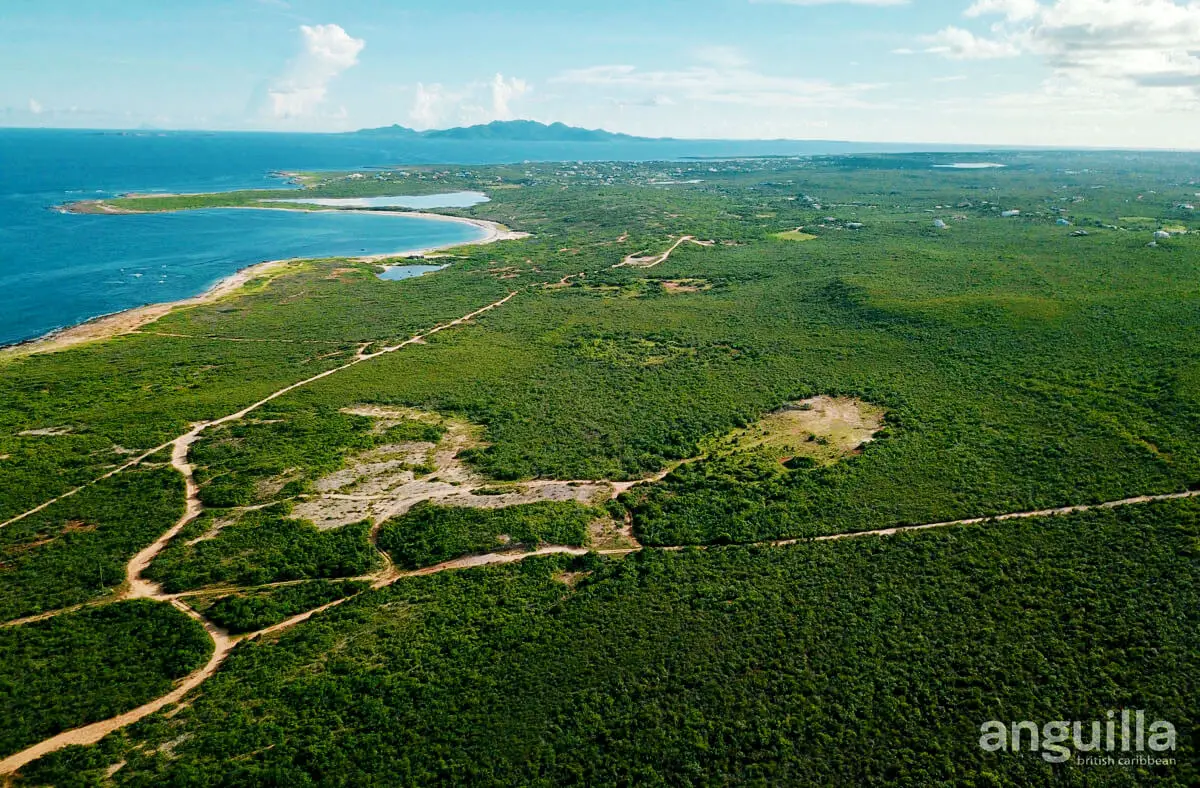 Located in the Eastern tip of Anguilla, Windward Point is a rugged and underdeveloped part of the island.
This area is popular for travellers searching for some nature, and hiking is one of the popular activities. You will also find interesting flora here, such as the Melocactus plant (type of cactus), so be careful when you hike around this area.
This area doesn't have amenities for tourists, and there are no homes or facilities in this area, so consider this when planning a trip here.
Windward Point might be too remote for some, but if you're lucky, you might spot a Humpback whale or two in the area. Also, when you get to the hill's highest point, the 360- panoramic view will give you a nice overlook of Scrub island, St. Martin and St. Barths.
Eat at Blanchard's Beach Shack in Meads Bay
Blanchard's Restaurant and Beach Shack in Meads Bay is a popular lunch spot in Anguilla. Not only because it offers a great view of the ocean but also because of its reasonably priced food and excellent meals.
This beach shack offers a wide range of comfort food from burgers, chicken platters, tacos (highly recommended!) and wraps. The food and drinks cost can range from $7-15 and per person. Expect to pay between $10-20 for your meal. Open from 12 pm to 8 pm; you can also enjoy a sundowner here.
Where to stay in Anguilla
As per the latest Anguilla visa policy, everyone visiting the country should fill out an online application first. For more details on Anguilla visa visit Natvisa.
We hope you enjoyed reading our list of the best things to do in Anguilla, British Caribbean. Do you have anything to add to this list?
---
Guest Author: Christine Rogador is a full-time traveller, travel writer, and web publisher who manages several travel websites. She's been to over 50 countries and lived in 4 continents, including the Caribbean. Check out her adventures at Exploring Caribbean.
---
Special thanks to Anguilla Tourism Board for photographic assistance.