You're visiting Philipsburg, St. Maarten via cruise ship and you know all about the fact that there are two sides to the island — the French side and the Dutch side. You could do an island tour, but really, you just want to go to the beach and avoid the crowds and the spectacle of 85-year-old naked men at Orient Beach and the big roaring planes that fly directly over your head at Maho Beach.
Philipsburg, St. Maarten
Philipsburg is a small town with less than 1500 residents, although that number swells when a cruise ship docks and releases thousands of visitors into the streets of this narrow strip of land between Great Bay and the Great Salt Pond. Founded in 1763 by John Phillips, this town was catapulted to a major centre in international trade.
Great Bay Beach can be seen from the cruise ship and is a great beach to visit. It's right in downtown Philipsburg. There are watersports, chairs/umbrellas, bars, restaurants and shopping and is where we normally go to spend the day. The sand is beautiful, the water calm and shallow – suitable for families AND you can get there fast to take full advantage of the entire day.
One Day in Philipsburg St Maarten
– How to get to Great Bay Beach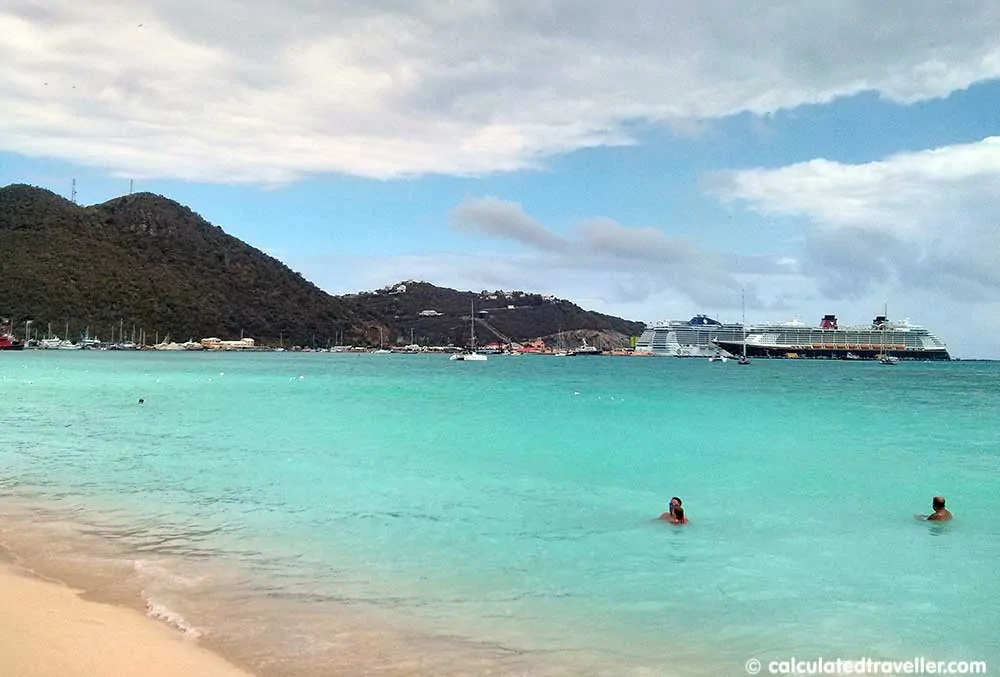 Option 1 – Water Taxi
After having breakfast on the ship, walk outside the pier area past the St Maarten sign on the right towards the walkway on the left that says "Water Taxi".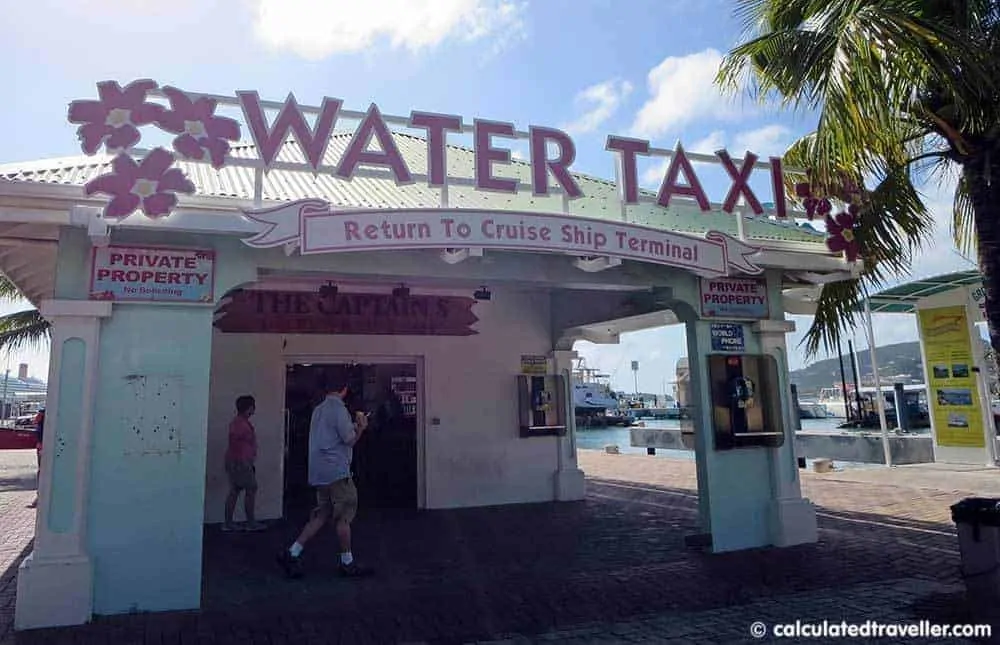 Approximate cost around $7/person.
You'll get a wristband to identify that you paid, and travel from the ship to town or to beach (multiple stops) as many times as you wish for the entire day.
Be aware of which water taxi you are getting on and confirm where it stops along the beach as this information can change.
Option 2 – Walk (about 20 minutes)
After having breakfast on the ship, walk outside the pier area past the St Maarten sign on the right and PAST the "Water Taxi" on the left towards the "Little Switzerland" Store. Turn right and walk towards the taxi stands but keep going through security and onto the main road.
Turn Left and keep walking
(Incidentally, if you wanted to take an island, dune buggy or jeep tour you can negotiate one here with one of the "freelance" operators)
Stay on this road and along your route, you will pass a boat repair area. A few signs pointing to the beach are attached to different poles and fences but they are a bit small so keep your eyes out for them.
You'll soon come to a large parking lot that you can take a short-cut through, and you will enter an area with shops and restaurants. You're almost there. (This compound of shops is one of the stops for the Water Taxi)
Keep heading left and you'll soon be at the beach. The very same beach that you would be if you had taken the water taxi.
Find a seat and stay for a while – you have arrived at Great Bay Beach!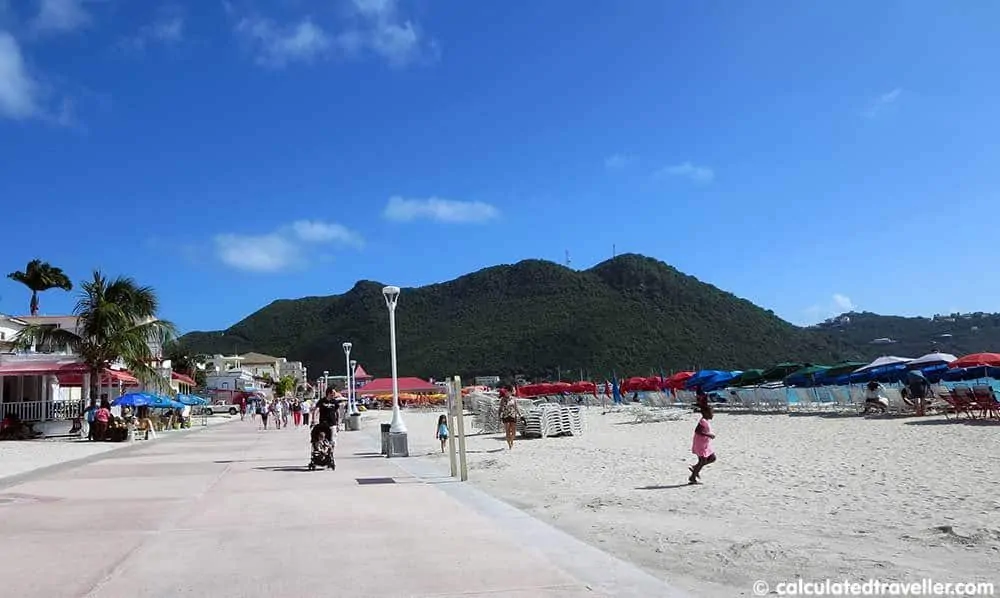 Once on Great Bay Beach and the boardwalk, you'll have ample opportunity to rent a chair and umbrella for the day.
There is stiff competition here for your patronage and prices do vary so shop around and negotiate for any rentals or souvenir purchases.
We've found the more expensive options for space on the beach is at the beginning of the boardwalk (opposite the Court House water taxi stop) $20 for two chairs, an umbrella, free wi-fi, showers, restrooms and a few drinks. If you continue further down towards the West end of the boardwalk where it's less busy and quieter, prices are lower at around $15. It all depends on how far you wish to walk and also how secluded you want your surroundings. If free drinks aren't already included in the price, negotiate for them and most importantly have US cash ready with exact change.
TIP: Exact change is important when you are negotiating a deal on anything whenever you travel. It really isn't nice to negotiate a reduced rate from $20 to $15 then hand the person a $20 and ask for change.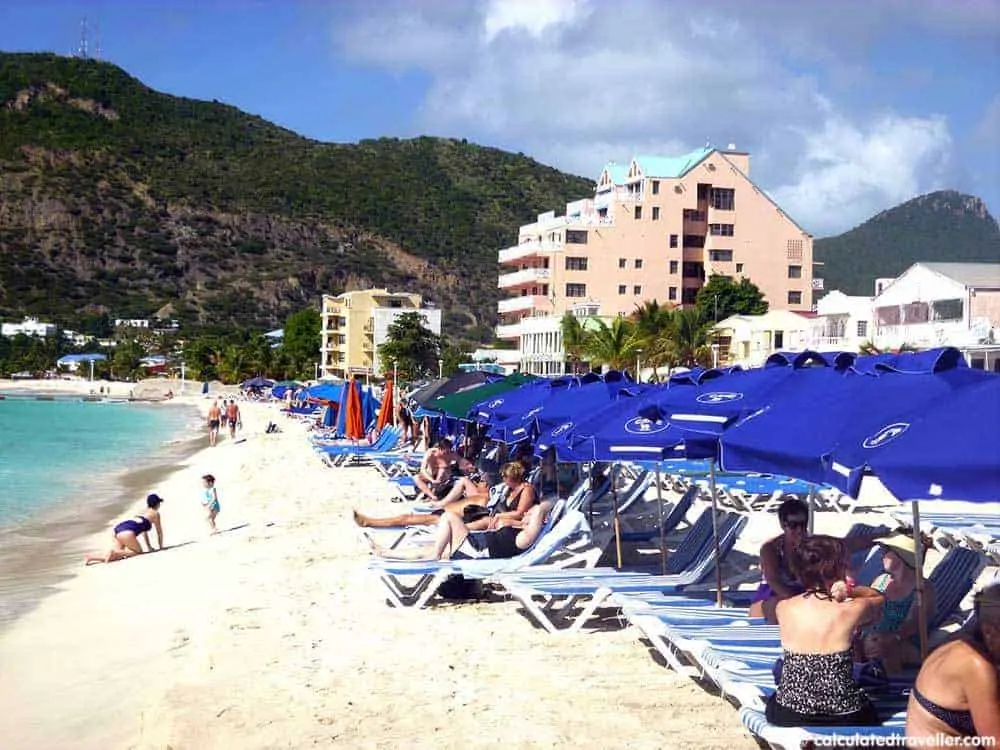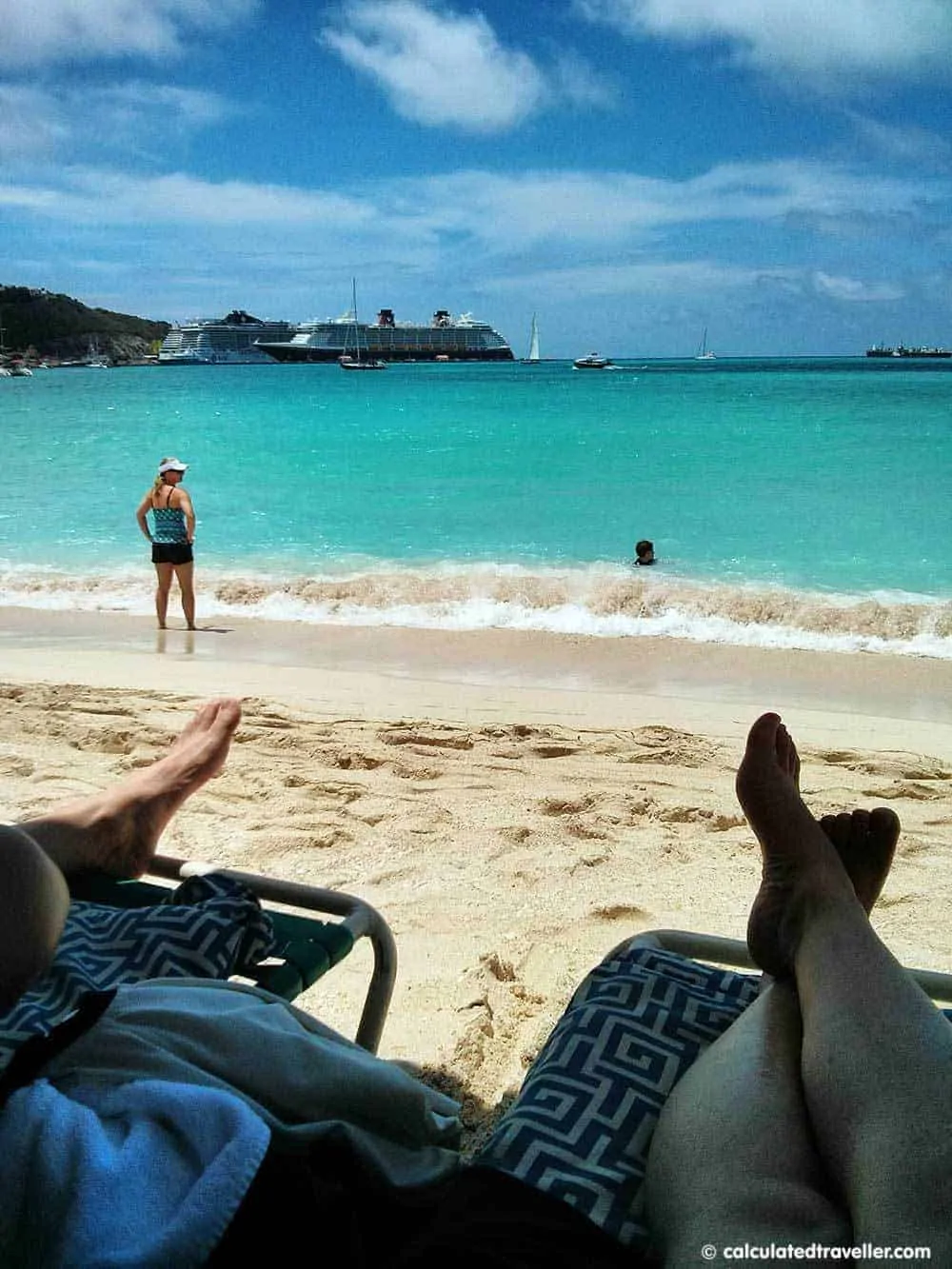 When we visited, our spot for the day was $15 for two chairs with cushions/umbrella, wi-fi, restrooms and two sodas. One bucket of 5 beers was $12.
Enough with the Sun and Surf. It's Time for Duty-Free Shopping in St Maarten!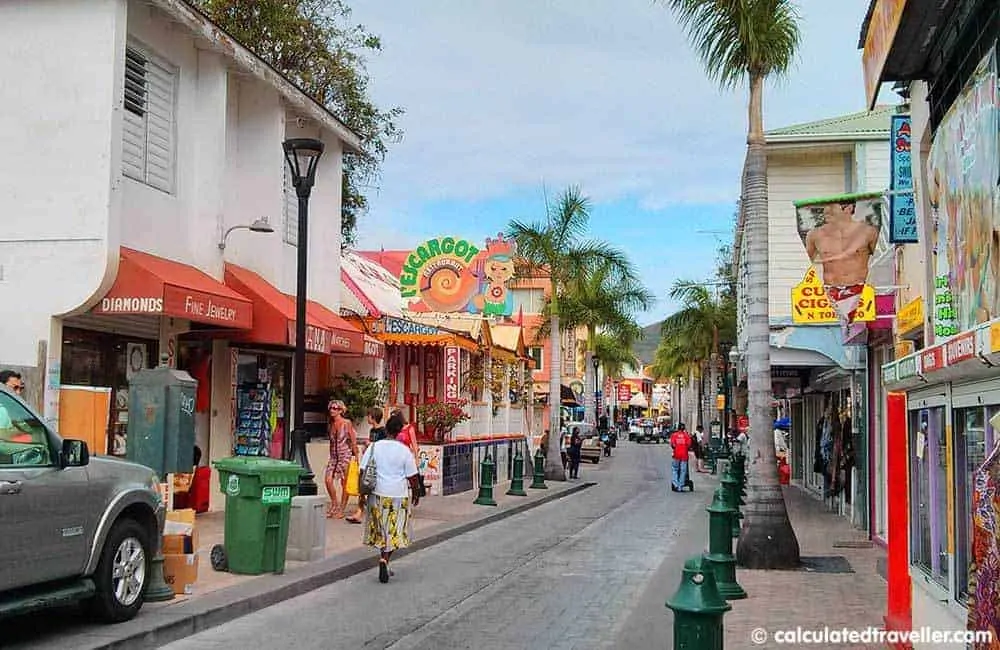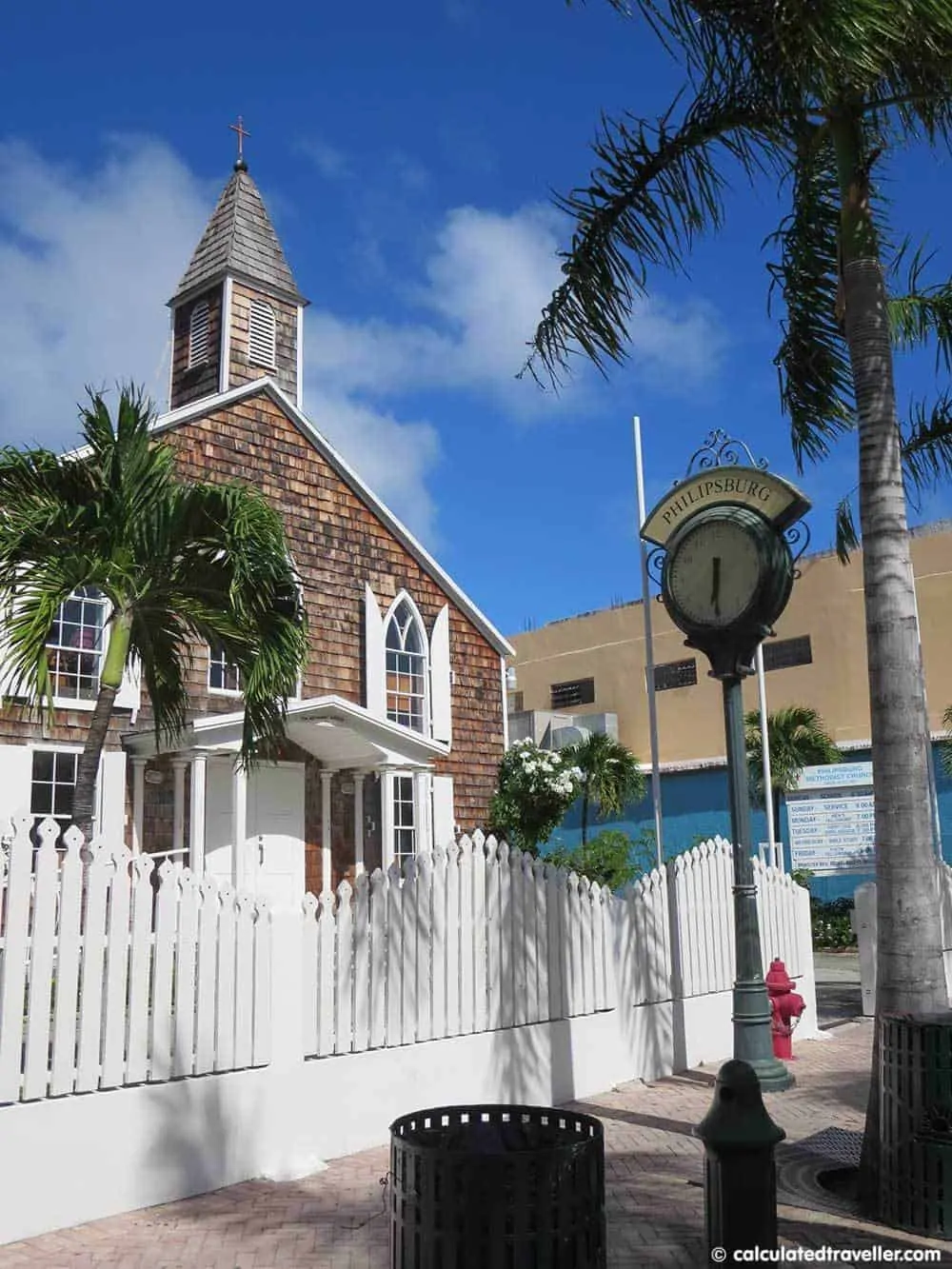 Accessed by walking through any of the gaps between the beachfront restaurants, Front Street is easily walkable from the beach. Jewellery, camera, clothes, linens and tourists goods are all available.
The best part is they are all duty-free, so be sure to bring some extra cash, your shopping list, and especially don't forget to bring your patience as it can get crowded when there is a cruise ship docked.  
On Front Street, you can pick up everything from fine china to liqueur, so take your time browsing everything Front Street has to offer. After you are finished you may want to try your luck at the east end at the Coliseum Princess Casino.
Front Street is not only a duty-free shopping mecca; it's also a great place to find traditional West Indian architecture and local history, from the beautiful pastel colours of the houses to the verandas that overlook the streets. Be sure to visit some iconic St. Maarten locations as well, like the Courthouse, which was built in 1793. This large white building is topped with a cupola and is one of the most iconic landmarks on Front Street.
Be sure to check out the Simartin Museum, which will give you a great history of the area from artefacts like actual cargo salvaged from a British ship. There are also two forts which once protected the city from invaders and threats from the sea. Walk by and check out Fort Amsterdam and Fort Willem.
There is also a MacDonald's in town and if you are a Star Wars fan – check out That Yoda Guy.
Star Wars fan you are? That Yoda Guy you must see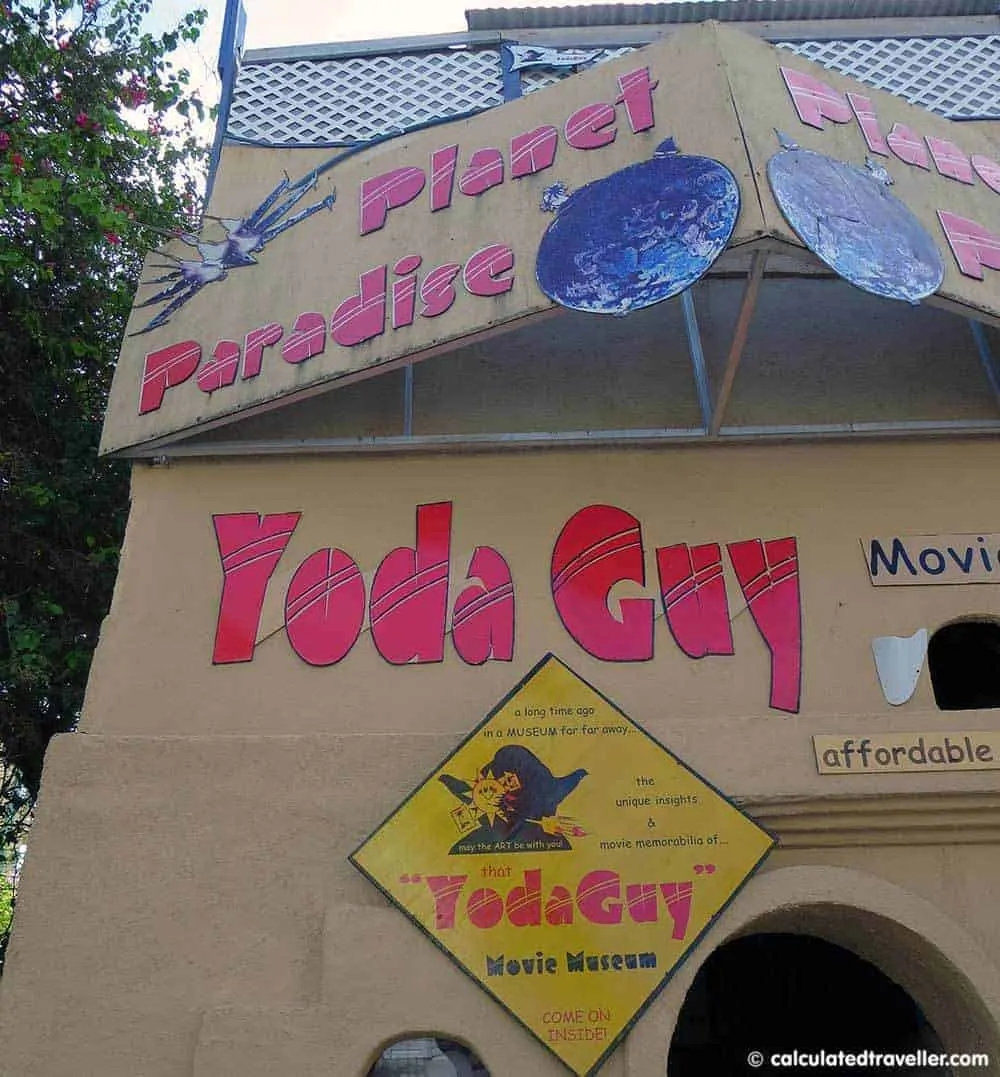 Located on Front Street is the 2-story shop/museum called "That Yoda Guy". Owned and operated by Nick Maley one of the artists involved in the creation of Yoda as well as other creatures in the original 1977 Star Wars movie.
Odd it is! But interesting we found it.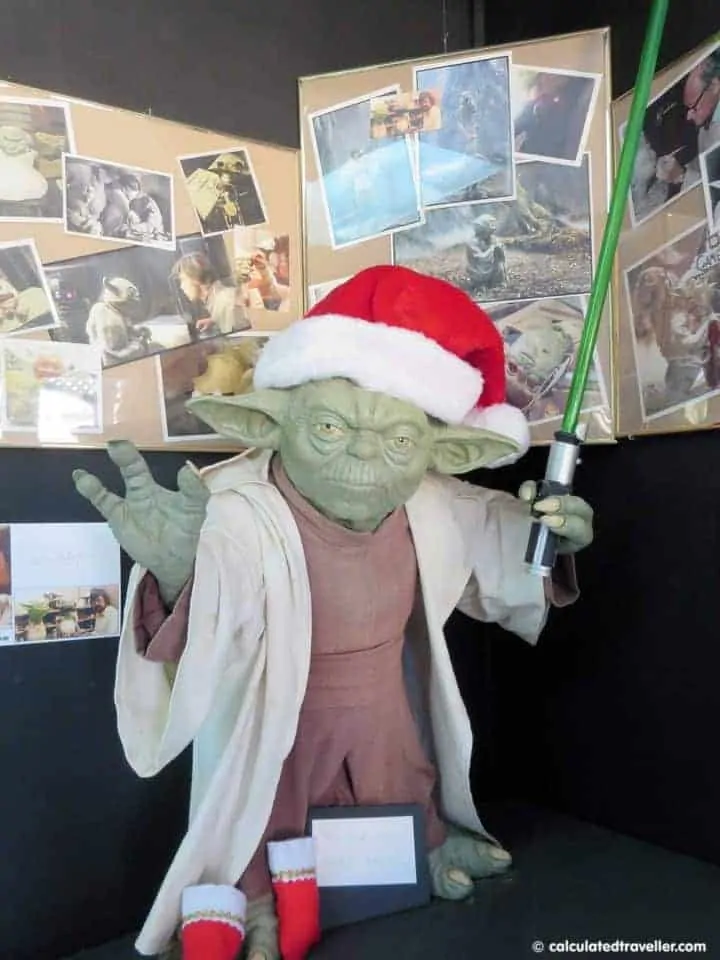 There is a free section upstairs with exhibits, memorabilia and autographed items for sale and a more extensive display ($) of memorabilia is accessed upstairs and continues through onto the lower level. It's more than just Star Wars there are also exhibits from other movies that Nick Maley has worked on as well as celebrity life casts.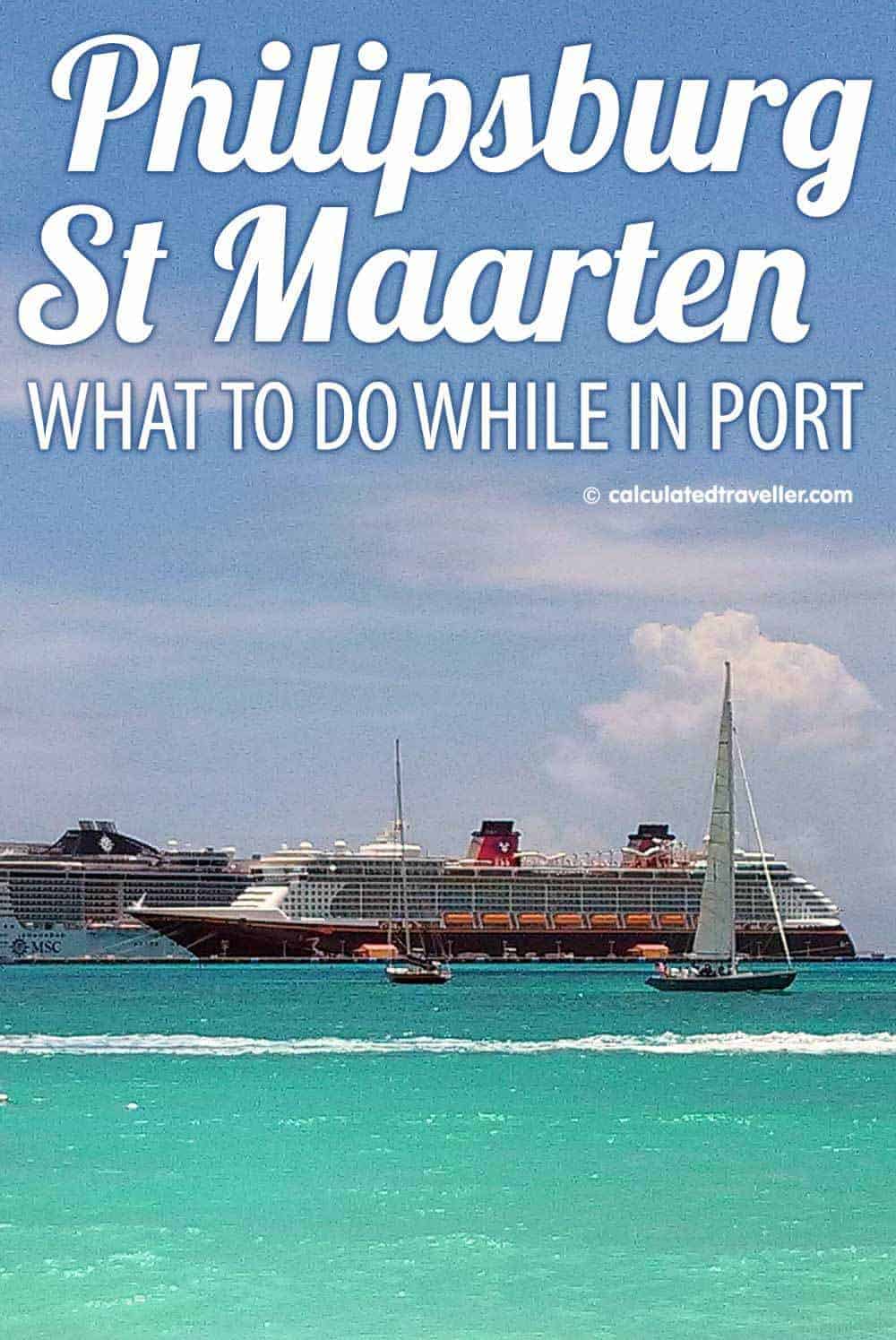 To get back to the ship just continue along Front Street and turn right and you will be back on the same road as the beach.
We hope you enjoyed your relaxing day at the beach in St Maarten!
Please check out our Caribbean archives for more itinerary suggestions for other ports on your cruise holiday.
What did you do the last time you were in St Maarten? Join in on the discussion below.
For other ports of call check out:
– A Cruise Guide to Mahogany Bay Roatan Honduras
– Our Favourite Beach Spot in Aruba – Malmok Beach
– One Day in San Juan Puerto Rico
– Avoid the Cruise Ship Crowds at Sapphire Beach, St Thomas USVI
– The Best Things To Do in Anguilla, British Caribbean