Eastern State Penitentiary in Philadelphia, Pennsylvania, is more than just an old prison. Since opening in 1829, it has not only housed some of the most famous prisoners, including Al Capone, within its walls during its 200-year history, but it was considered the most expensive prison ever built for its time. Referred to as the first true penitentiary, it became one of the most influential prisons and inspired many copies of the building worldwide. Covering a massive 11 acres in downtown Philadelphia, it was deemed to have the most up to date plumbing and electrical systems.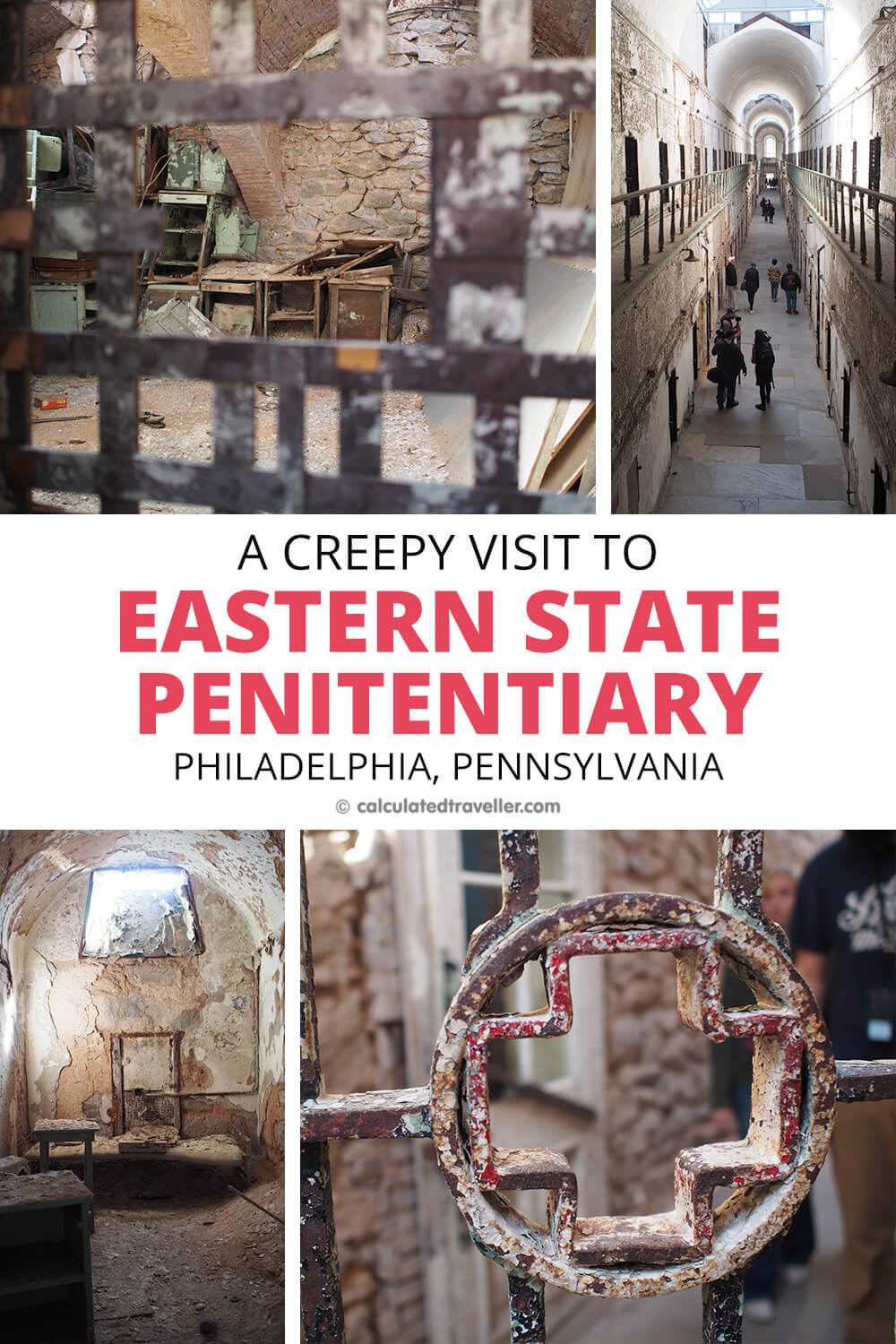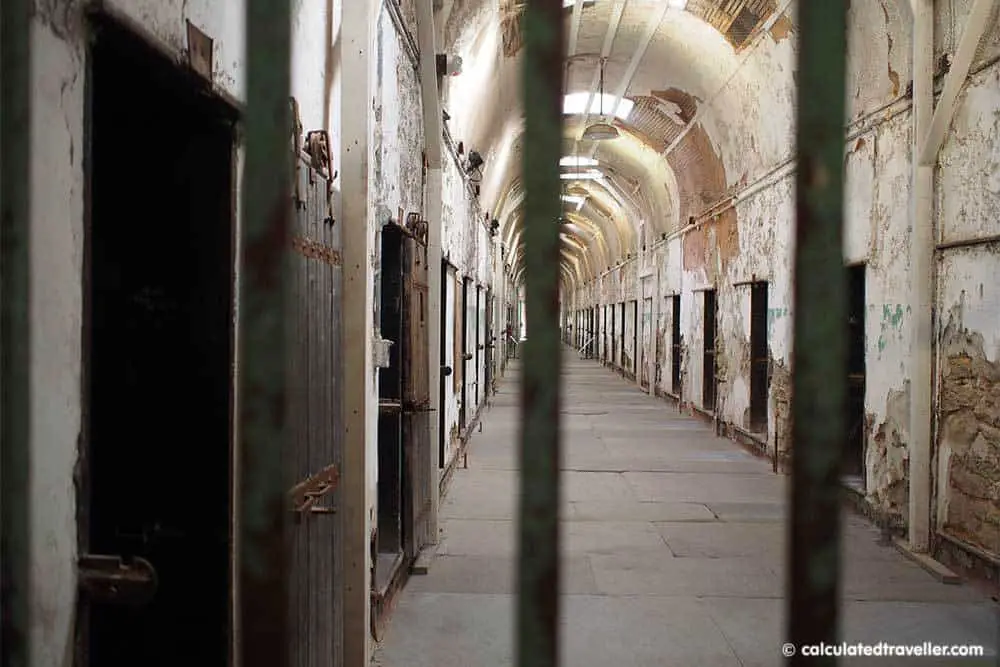 As the first penitentiary in America, it was built to be intimidating, resembling an old gothic castle from the outside and a cathedral from the inside. Each prisoner was locked in their cell in solitary confinement for 23 hours a day, unable to leave for food as their meals were delivered through a hole in the door. The idea being that quiet reflection and complete solitude in the church-like interior would make the prisoner think about what they've done and repent their criminal past — forming the new word, penitentiary. Each cell is made of simple concrete and paint with a single glass skylight on the ceiling — the "Eye of God" watching from up above.
Even the building's floor plan was designed to minimise social interaction between inmates; a wheel and spoke configuration, prisoners were permitted only two 30-minute exercise breaks per day on a rotating basis. What's more, whenever prisoners were allowed out, they were forced to wear masks to ensure anonymity and prevent interaction. So even when they were outside — they were still alone.
After years of being overcrowded and several prison riots, including the largest one in prison history, the State of Pennsylvania recommended closing the prison in 1970. Although used on occasion for emergencies, Eastern State Penitentiary officially and permanently closed during the 1980s.
Eastern State Penitentiary's Famous Inmates
Open for 142 years, the penitentiary has held thousands of inmates. Some of the most notable include:
Alphonse "Scarface" Capone – His cell seemed to be one of luxury, containing ornate rugs, furniture and paintings, as well as a radio.
William Francis Sutton, aka "Slick Willie" – A famous bank robber at the time (over 50 robberies!), he attempted to escape the prison but failed.
Leo Callahan – Callahan is the only prisoner in the penitentiary's history that managed to successfully escape and was never captured.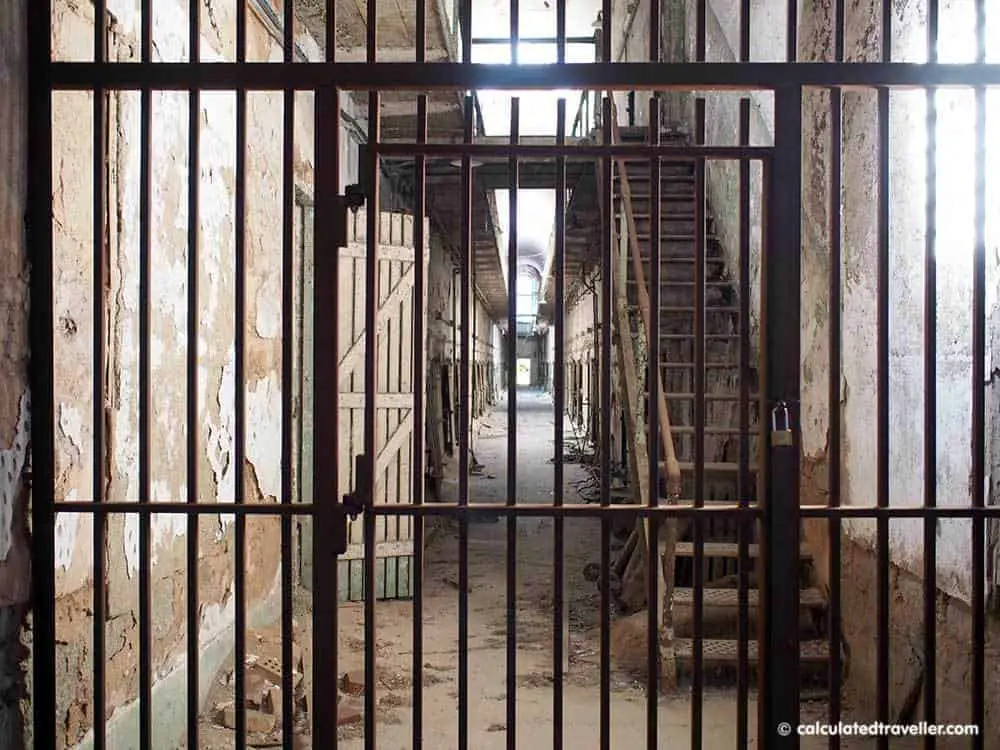 Eastern State Penitentiary Reborn as a Museum
A United States Historical Landmark, today the museum attracts thousands of visitors from around the world each year. Kept in a state of "preserved ruin", it's a fascinating (and unnerving) look inside a historic prison.
To walk through the abandoned halls of Eastern Penitentiary with their peeling paint and crumbling walls, it's spooky, scary, and I have to say one of the highlights of my visit to Philadelphia.
Read: Enjoying Philly with a Philadelphia Big Bus Tour — Eastern State Penitentiary is one of the stops on the tour.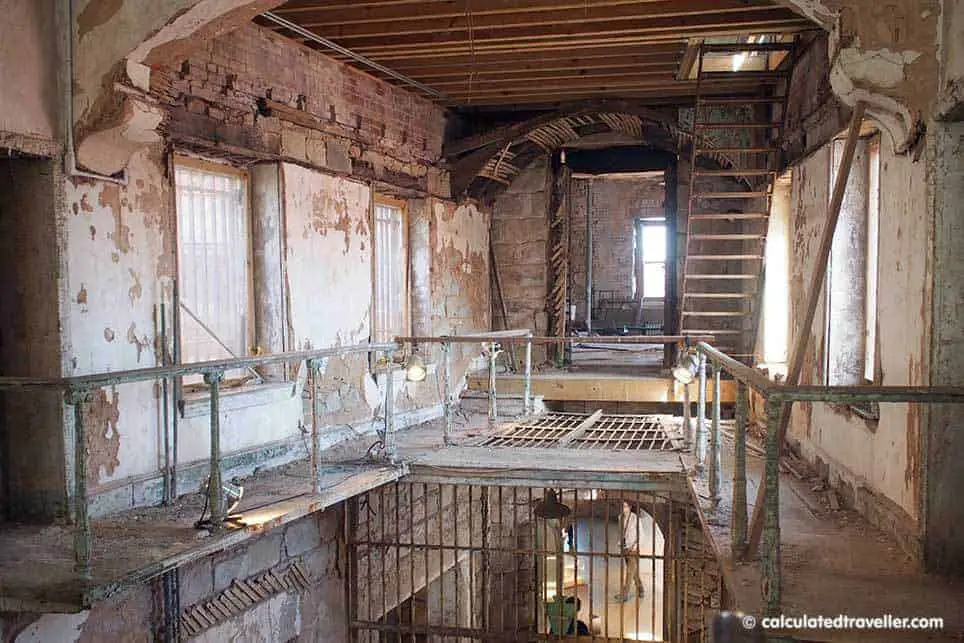 Is Eastern State Penitentiary haunted?
Though they never held any executions, there was a fair share of deaths at Eastern State Penitentiary, the causes ranging from insanity to tuberculosis. As a result, the penitentiary is regularly investigated for paranormal activity and has been featured on multiple paranormal TV shows. Truthfully, I don't want to find out if the prison is haunted or not. If you wish to perform your own investigation, you can rent the facility on select evenings between April and August, bring your equipment, and find out for yourself!
Around Halloween, Eastern State Penitentiary does get "haunted" from 7 PM to Midnight in late September to mid-November, when they hold their annual "Terror Behind the Walls" fundraiser event — dubbed a massive haunted house inside a real prison. The haunted house is one of the most well-known and top-rated scary attractions in the country, with over 200 performers needed across the prison.
Eastern State Penitentiary is also one of the filming locations for the Brad Pitt / Bruce Willis sci-fi movie, 12 Monkeys.
Eastern State Penitentiary Tours
Eastern State Penitentiary's day time tour includes an audio tour narrated by Steve Buscemi, titled "The Voices of Eastern State," acclaimed art installations, and history and award-winning exhibits, such as The Big Graph. The tour lasts around 35 minutes, but after, you can wander open areas and follow suggested routes for as long as you like. The penitentiary also offers a Hands-On History experience, where visitors are handed the keys and can interact with the cell blocks in different activities.*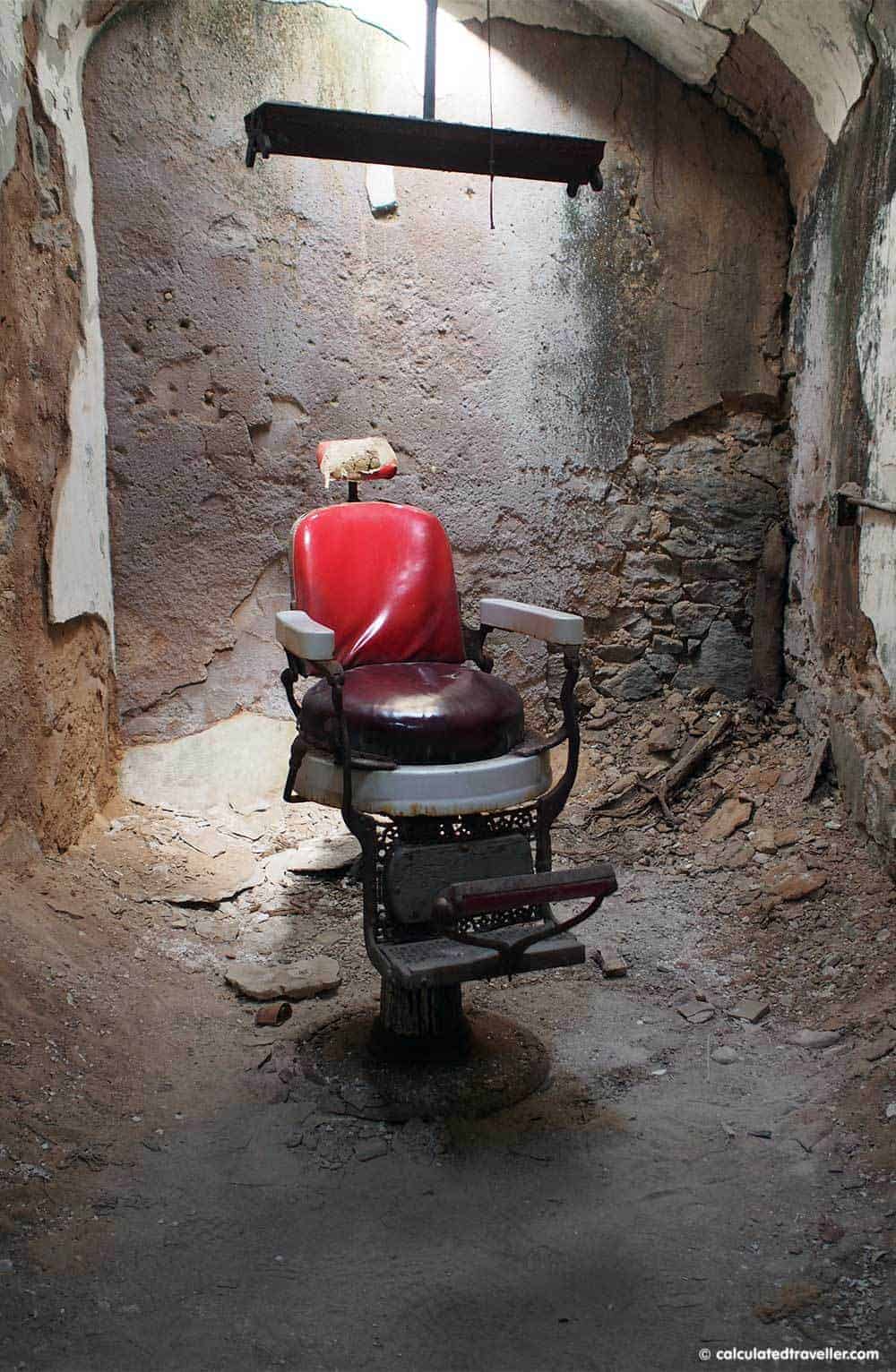 Though there aren't any labelled Eastern State Penitentiary ghost tours, they offer more tours after dark, named Night Tours: Summer Twilight. The tour runs from early May to early September and includes everything offered in the daytime tours along with additions like:
Hands-on activities about criminal justice reform in the prison's history
The Fair Chance Beer Garden (where you can have a drink to relax)
Andrea Walls' new digital art installation
*Note, this is temporarily unavailable due to certain COVID-19 restrictions.
How to visit the first penitentiary in the USA
Eastern State Penitentiary is located at 20207 Fairmount Avenue in Philadelphia (the Philadelphia Museum of Art is also only five blocks away). Tickets must be bought online before visiting, and they offer discounted rates for children, seniors, students, and groups with 15+ people. If driving, there is a neighbouring parking lot near the penitentiary with varying costs and parallel parking along the border of the prison. There are also public transportation options, such as the Big Bus and Philadelphia Trolley Works, Phlash, or bus service on specific SEPTA routes.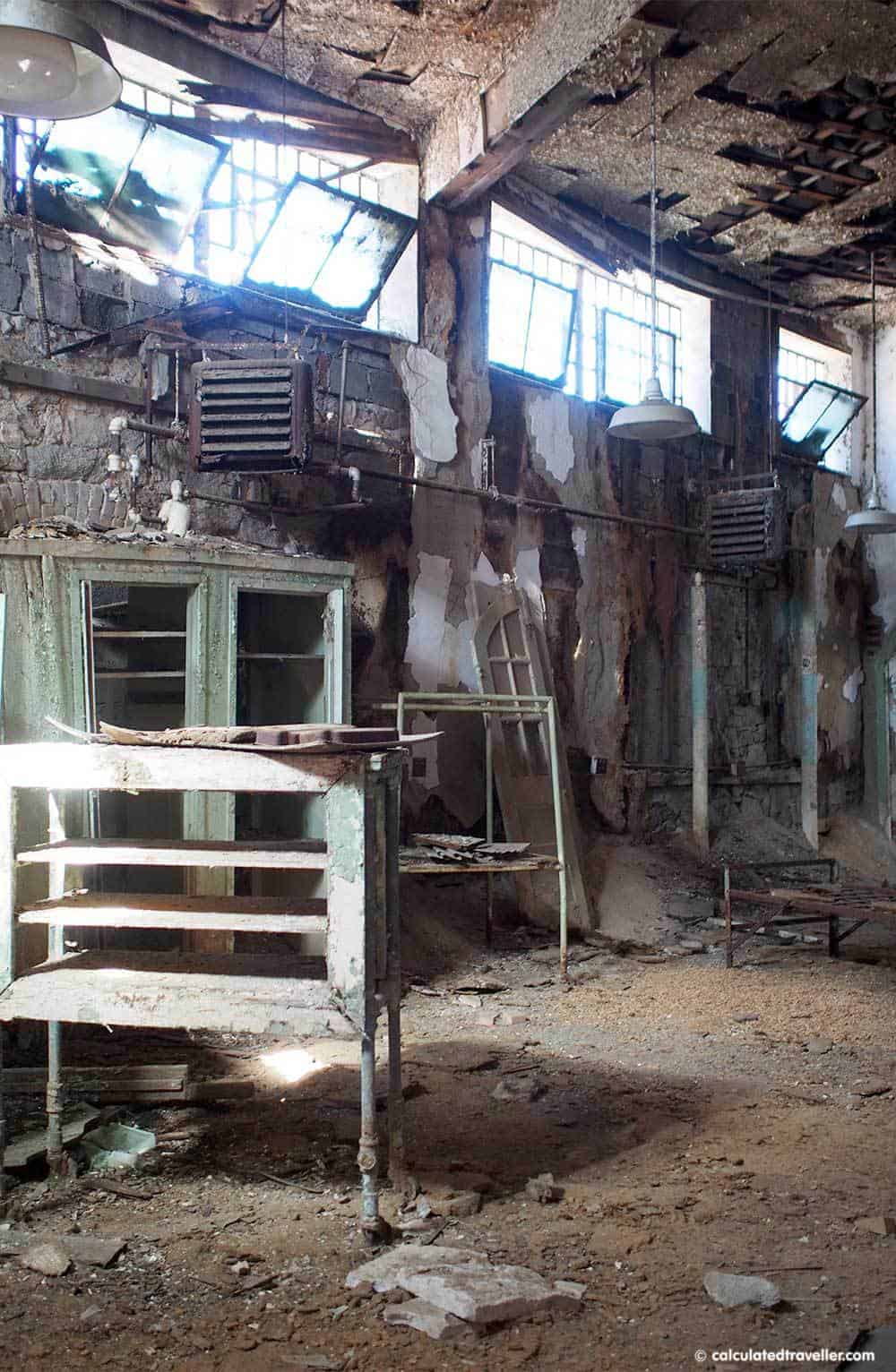 Tips for touring the Penitentiary
Flat, closed-toe shoes are recommended.
Dress appropriately; the building doesn't have climate control.
Watch your footing and stay within the public areas.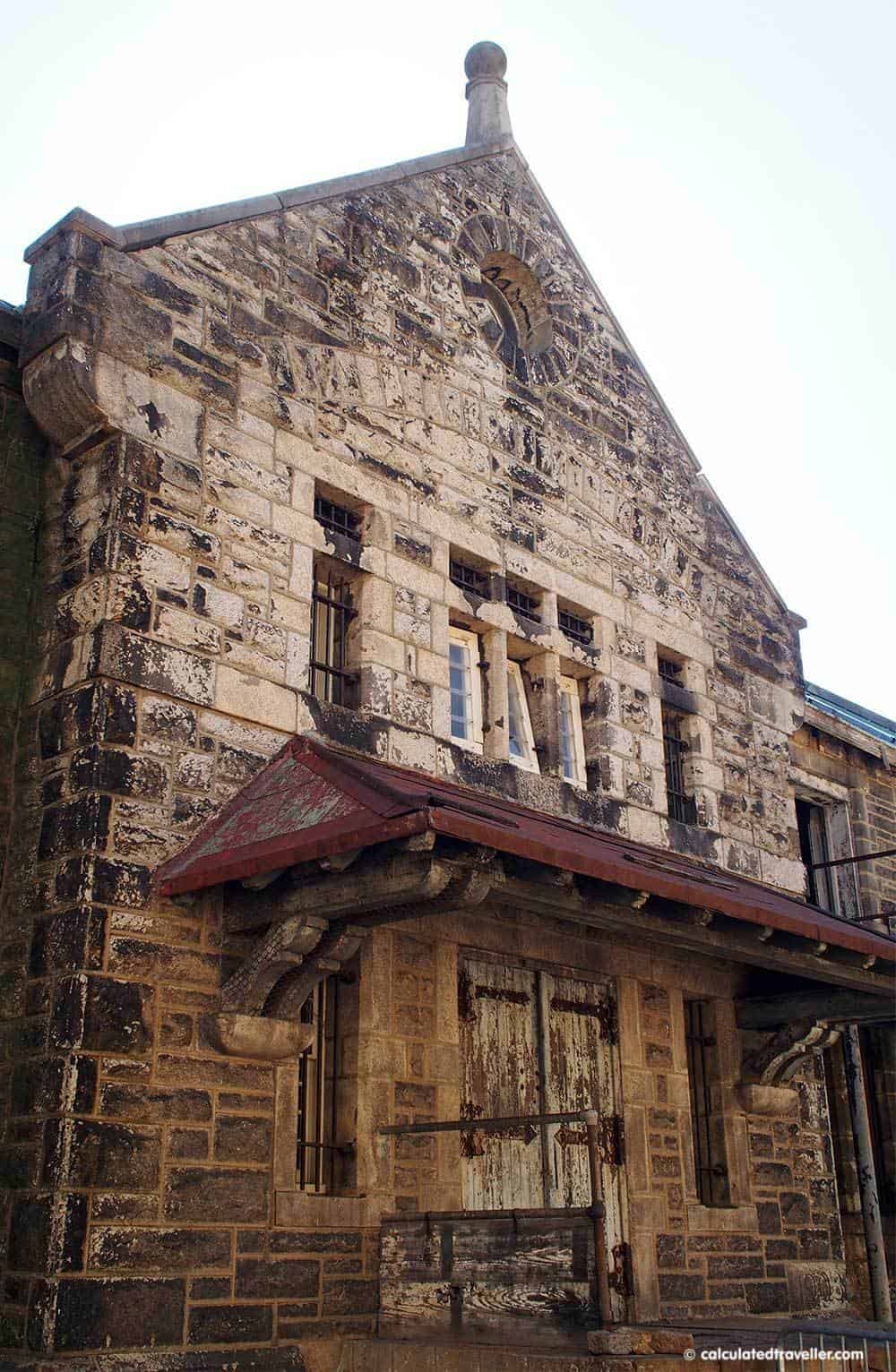 Eastern State Penitentiary
2027 Fairmount Avenue, Philadelphia, Pennsylvania
https://www.easternstate.org 
So, do you dare a visit to the Eastern State Penitentiary?
Looking for some more hauntings? Check out:
– 5 Things You'll Learn About New Orleans on A Ghost Tour
– A One Day Key West Florida No Holds Barred Adventure!