I haven't travelled much within Ontario, having been born and raised here. Isn't that alway the way with travellers though? We search for foreign languages, tastes, smells and comforts but I for one, never think of exploring my own country let alone province – unless it's to visit with family.
I'm not related to anyone at The Briars Resort and Spa, but somehow that's what the resort felt like to me – like visiting a favourite Aunt's home in the country.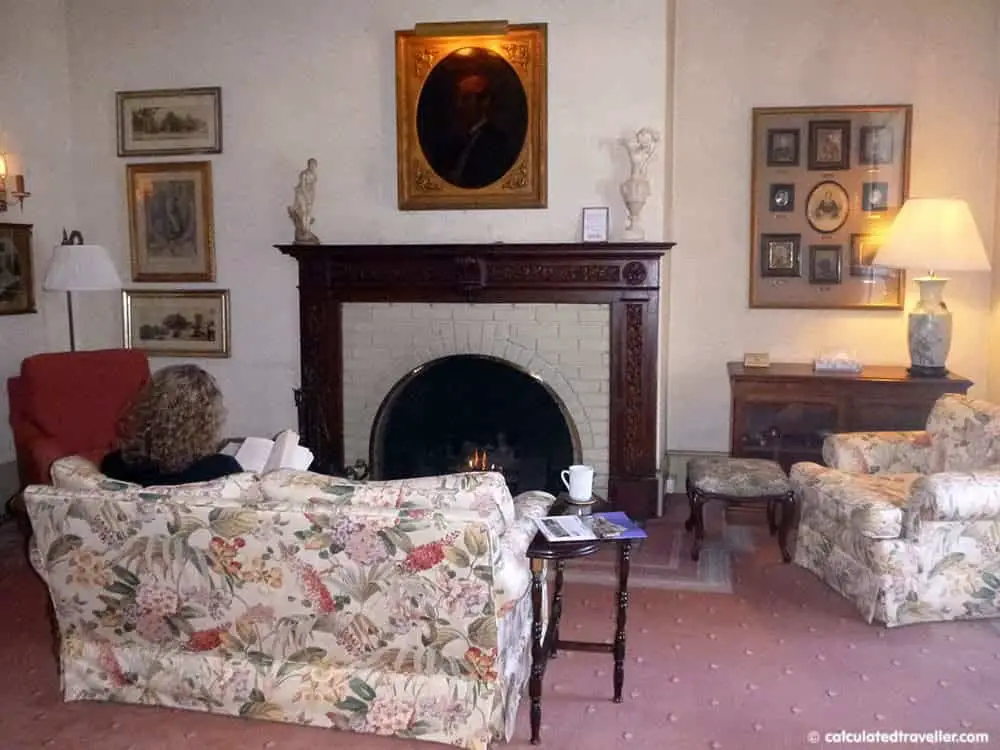 Located an easy few hours drive north of Toronto on Lake Simcoe Jackson's Point; The Briars is homey, comfortable, welcoming and unpretentious. It doesn't matter how you dress, what you do or even how luxurious the linen is. It's the perfect place to get away from it all with friends and family and just be yourself. To curl up by the fire or steal away to a private little nook and read a book with a cup of tea or just waste the day away putting together a jigsaw puzzle in the front room.
Our Cottage Home for the Weekend
I had the opportunity to stay in one of their cute cottages, the "Chip Shot" overlooking Lake Simcoe with 3 other travel writer friends.
Our cottage had a lovely living room area, 2 bedrooms (with 2 beds in each room), 2 full baths, a small kitchen area with bar fridge, sink, microwave, dishes and free wi-fi. We had all the comforts of home that we could ask for including a killer view from our back porch. Each time I looked out onto the back deck I would think how beautiful it would be to return in the summer so that we could actually sit outside and enjoy it. I'm told that you can kayak right off of the beach in front of your cottage!
We spent our evenings in the living room laughing, (shhh) drinking, staying up late and just enjoying each others company – late nights with girl talk in front of the wood burning fire – a perfect girls weekend retreat.
The great thing about staying in the cottages is that you have the maximum of quiet and privacy and even though you aren't at the main resort you don't need to drive your car back and forth or worry about cooking any meals. Shuttle service is quick, easy and very friendly courtesy of John and Dan of Guest Services. Dining plans are available in most of their packages.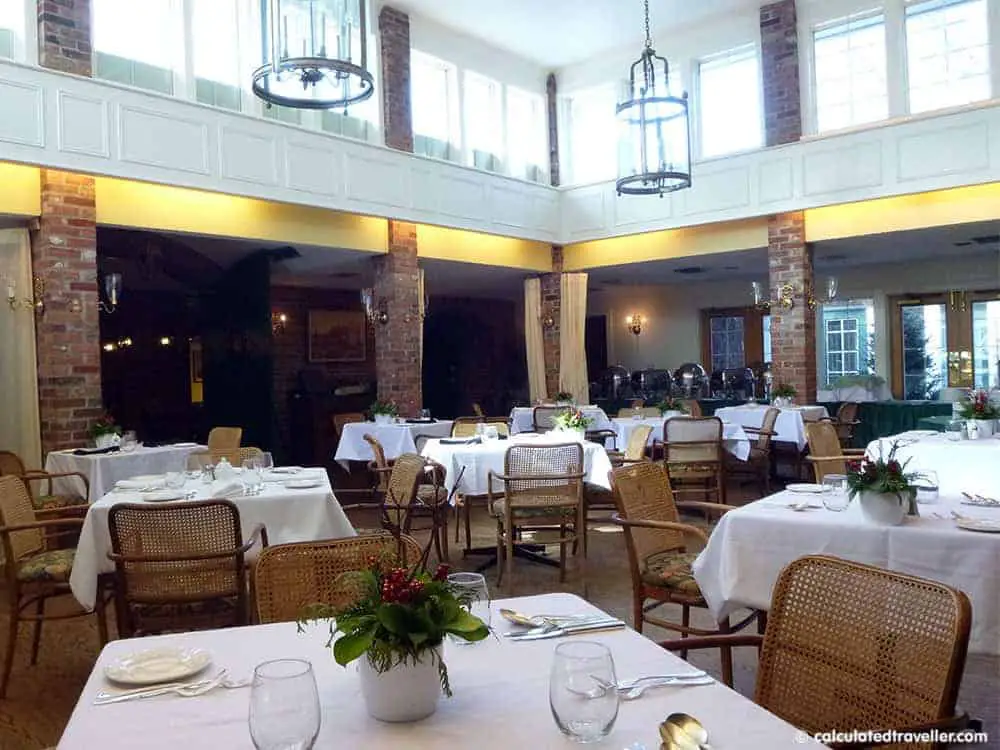 The Briars Resort and Spa is Historic
Dating back to 1819, it was originally the home of the Bourchier family until 1898 when Dr. Frank Sibbald and his niece Bessie took over the property. Today the estate belongs to their descendants, John and Barbara Sibbald and Family who live in the Gate House.
History is everywhere at the Briars Resort – it's in the architecture, in the decor, in the fields, in the trees and in the stories…Attend the "History Room" tour and you will hear the stories from Mrs Sibbald herself as well as see the many antiques on display including the journal of Dr. Frank Sibbald. Wander through the many halls of the main house, go up and down the stairs and explore…It's like a maze where everywhere you look there is a piece of family history. You are in the Sibbald family home after all.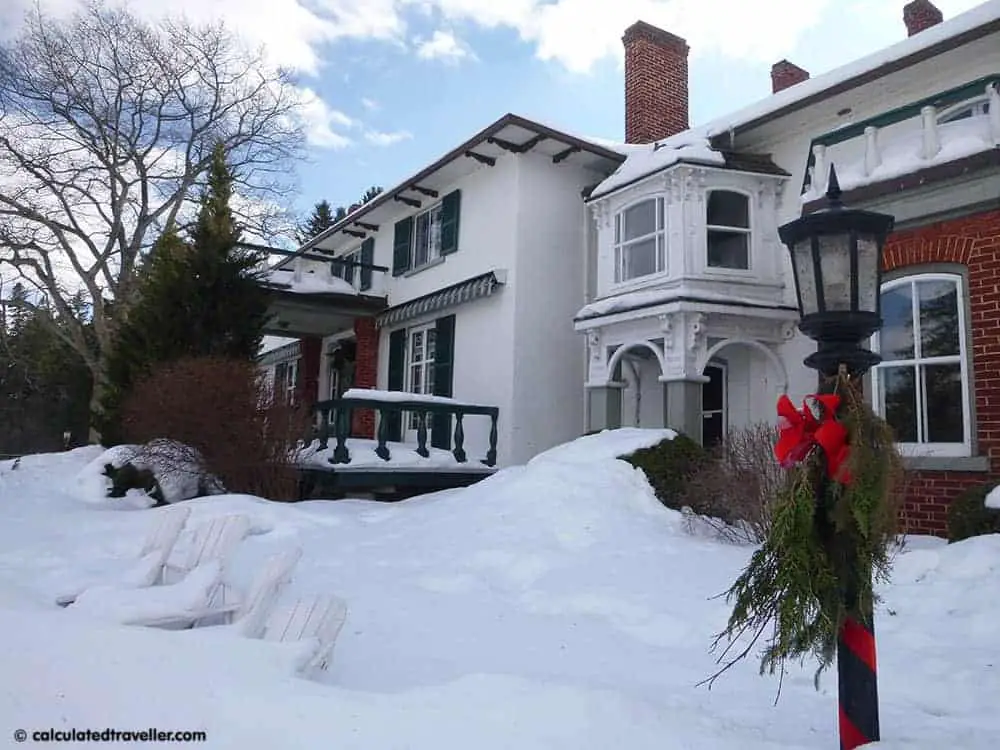 Activities Galore and all Included
Ski-fari, Yoga, Zumba, Horse-drawn Sleigh Rides, Photography walkabout all are free of charge and I wanted to do them all but I had to choose wisely. I highly recommend both the sleigh ride and the photography walk – Brian, is a photographer and an artist and will guide you along the trails and woods that surround the property and show you where, and how to get that perfect photo.
In my opinion The Briars should not be thought of as an upscale, luxury spa resort – so don't go there thinking that's what it is. It's a very beautiful, comfortable, historic estate with modern spa facilities. There are issues but they are very minor such as a chip in the bathroom sink but as long as you arrive with the proper frame of mind you'll love the warm welcoming staff and beautiful peaceful surroundings.
Go there looking to relax, unwind and get cozy – I'll meet you by the fire.
The Brairs Resort and Spa
55 Hedge Road R.R. 1, Jackson's Point, ON,
N.A Toll Free: 1-800-465-2376 | Tel: 905-722-3271
Note: I was a guest of The Briars Resort and Spa and Central Counties Tourism. The opinions expressed, positive and/or negative, are entirely that of the author and are not a reflection of the compensation received.
Read about our ice fishing adventure on Lake Simcoe:
– 4 Girls Go Ice Fishing for the First Time: The Confession