My dreams leading up to my first ever ice fishing adventure on Lake Simcoe, Ontario consisted of four girlfriends enjoying a fabulous morning laughing it up all warm and cosy inside a heated hut catching buckets-upon-buckets of fish. At the end of the morning, we would then return triumphant back to the resort and enjoy our fish feast in the dining room. All cooked by the Master Chef of The Briars Resort and Spa.
I imagined the fish — large, plump, and delicious — and the Chef marvelling in awe at our skills as outdoorsmen.
I even researched online and personally asked REAL fishermen the best way to remove the hook out of the fish without hurting it so we could catch and release.
Ahh…. I can dream can't I?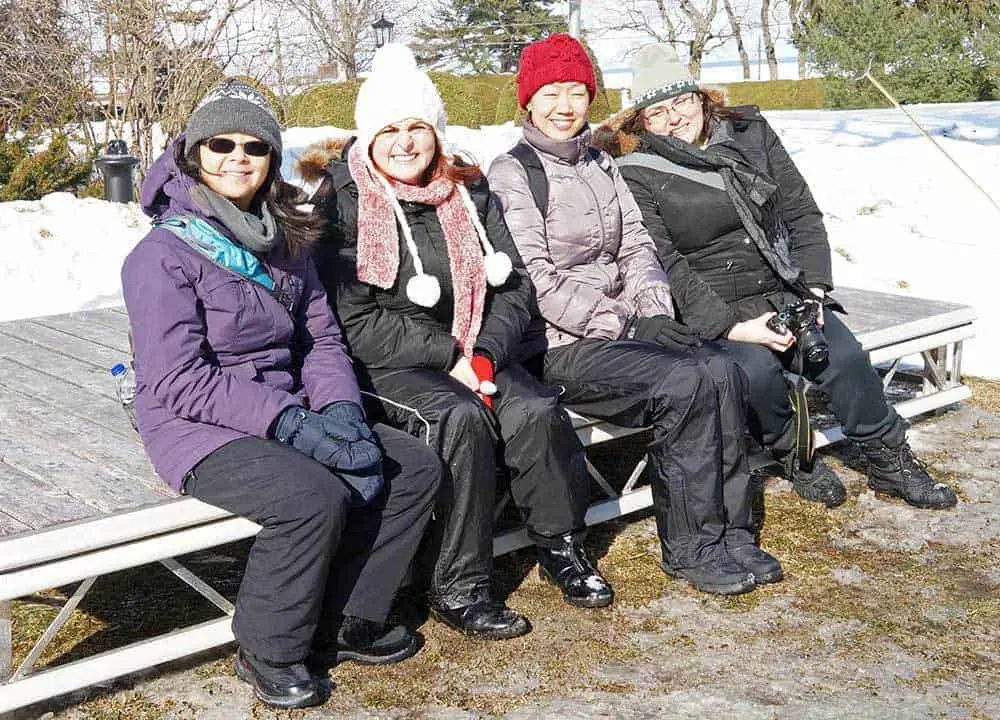 The four girls in this non-girlie girls trip included myself, Sharon of Dream Travel Magazine, Helen of Not Without My Passport, and Vanessa of TurnipSeed Travel and our time although fun did not include any fish. Each one of us novices to winter outdoor adventures and fishing in general.
We were all such newbies to ice fishing that in Vanessa's account of our day she calls this little "misadventure" a "Tale from the Anti-Adventurist!"
This is a real story. The names were not disguised to protect the innocent!
The Ice Fishing Reality….
The day started out fabulously. We awoke to the view of a beautiful sunrise over Lake Simcoe from our cosy cottage at The Briars, and we ate a filling buffet breakfast in the dining room of the resort. With our brown bagged lunch of a sandwich, veggie sticks, fruit, water and dessert (as well as some vodka coolers) in hand our happy group of 4 set out to the dock to await our ride to our hut.
Out over the horizon, a Bombardier was approaching across the ice. We all started to get excited as our adventure was about to begin. Our host Scott of Bonnie Boats had arrived in one awesome looking ride.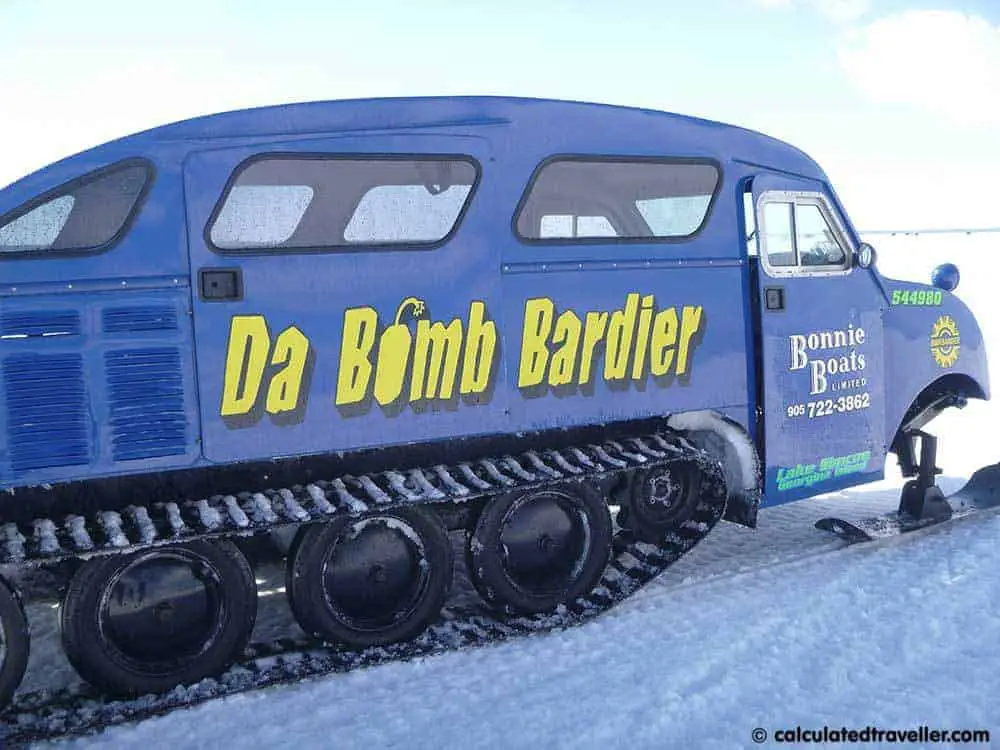 "Just step off the dock onto the frozen lake and get in the Bombardier. Be careful that you don't slip on the ice" — Easier said than done.
Sharon — always the brave — took the first step off the dock and her foot goes right through the ice! Luckily it was less than a foot deep, but it was enough to get her boot, sock and foot completely wet. (Apparently, thin ice is common near the water's edge). We all very gingerly and hesitantly followed step by step avoiding the area of thin ice.
Our very own hut for four
With a plastic bag between Sharon's dry foot and her cold, wet sock and boot. We were dropped off at our ice hut complete with all our fishing gear and a bucket of bait.
Scott gave us a quick lesson on how to use our fishing lines and off he went with a wave of good luck and a promise to return at the end of the day.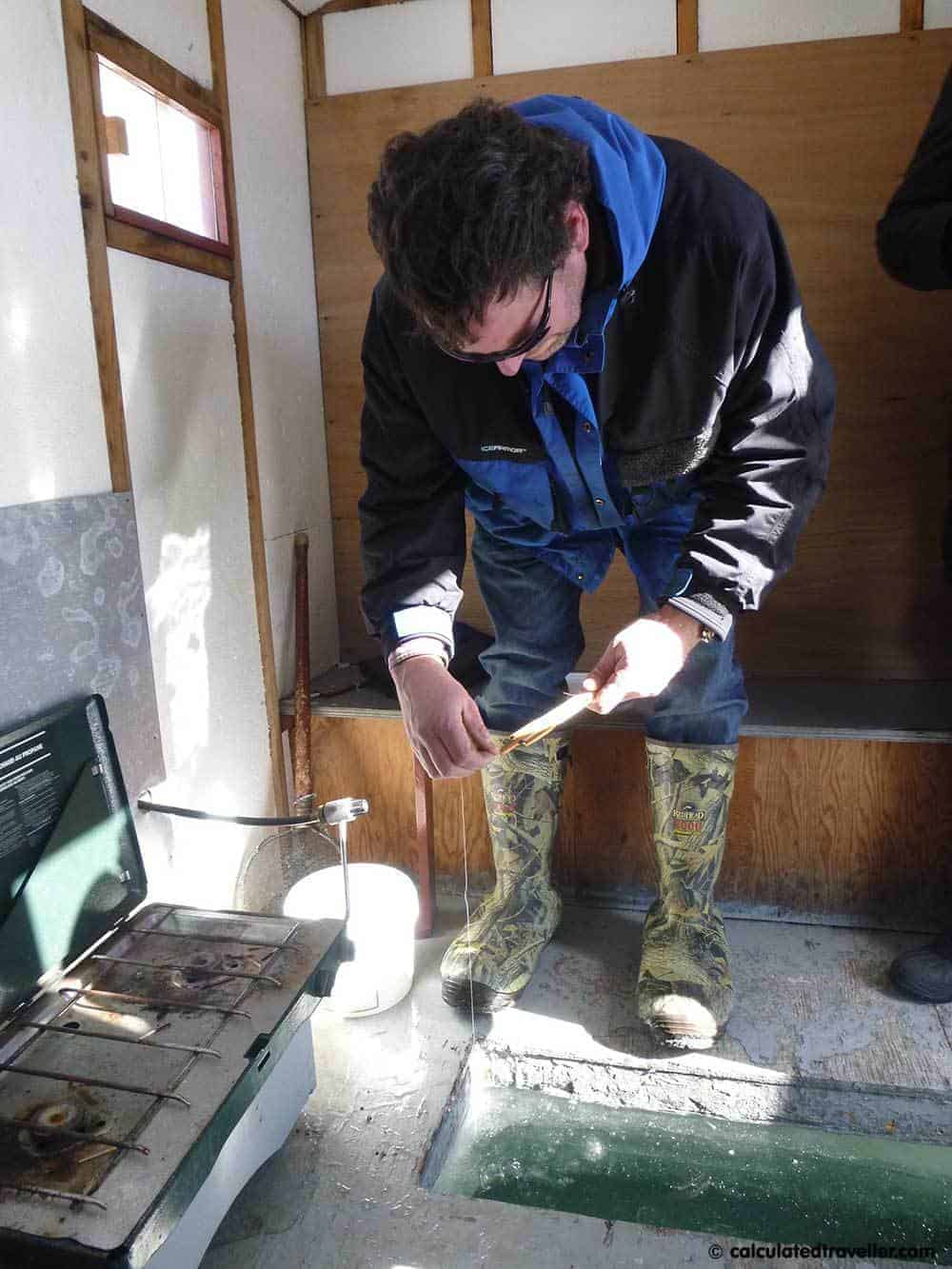 Here's the thing about being inside the hut:
It's cramped
The heat is by way of a camp stove
There is a huge rectangular hole in the floor that you could easily fall into if you aren't careful
No one wanted to bait the hooks with the little minnows (even while wearing the dishwashing gloves I packed)
Even though we were drinking and laughing and were out there for about 4 hours no one would dare go into the "outhouse" so we all just "held" it in
Just call me Mary the Impaler
The poor little minnows squirmed and wriggled in my dish-gloved hands as I had to impale them (3 hooks to each rod x 4 girls = 12 squirming minnows) onto the hook and with each and every one of them I squealed and repeated over and over "I'm sorry, I'm sorry, I'm so sorry…"
Slightly traumatised, all the hooks were baited, and we waited as we stared into the hole…
… and stared into the hole.
Drank a bit (Good thing we brought alcohol with us!)
Sharon tried to dry her sock and boot by the stove.
We waited and stared into the hole.
Drank some more.
… and stared into the hole some more.
Tried to Google "how to identify the first signs of frostbite" only to discover that there was no signal out on the ice.
We waited and stared into the hole.
Ate our lunch.
And waited and stared.
We aren't sure if it's because we were making too much noise laughing and talking and trying to keep Sharon's mind off of the fact that she could no longer feel her toes but for hours not a single fish swam by that darn hole!
Except for one poor lonely fish.
Vanessa emerges triumphant
After we had all but given up hope to a fish feast, one (unfortunate) fish swam by and was firmly on Vanessa's hook.
A fish, a real fish! We screamed in delight!
We all sprang into action.
Vanessa had the fish on her hook
Helen had her camera at the ready
Sharon had the net
And I had my trusty dishwashing gloves
Yep – I had the gloves so I now had the job of getting the hook out of the fish.
The fish was small – a baby – only 6 inches long! We had to release it back to the wild before it dies!
A simple task for an outdoorsman but not so for these four girls from the city.
It's squirming and flapping and slimy and just plain trying to get free yet with all the squirming it's actually getting tangled up further in the line and the net.
Again, I apologised to the unfortunate fish over and over as I was further traumatised because not only did it take what felt like forever to remove the hook but also by the time I had the hook out of the fish's mouth, it was no longer moving…sigh…I killed it… We couldn't release it back to the lake, so we decided to bring it back to the chef – just in case.
As our day came to an end, Scott once again picked us up with the Bombardier and after taking photos with our PROP FISH caught by real outdoorsmen. We returned to the dock at the Briars.
With our little fish in the brown paper bag that our lunch came in, the four of us girls walked back to the Briars and presented our catch. Bob, our host at the Briar's, just looked at us and with as much tact and kindness as he could muster told us that the poor fish that gave his life up for us wasn't even big enough for a sashimi appetiser.
Sigh…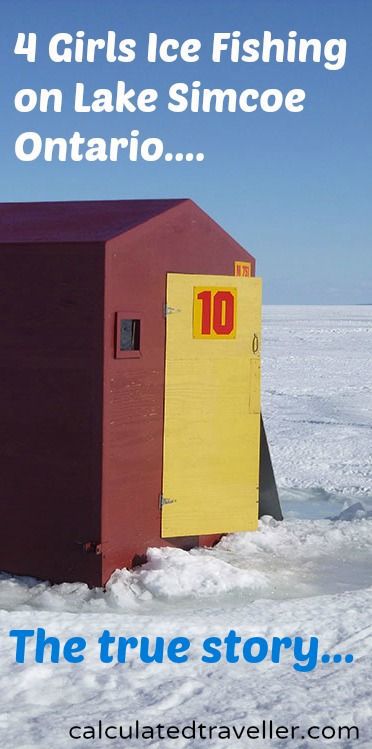 Will I go ice fishing again?
Absolutely! The fish were biting – they just weren't biting for these girls!! But all in all it was a fun day inside the hut with my girlfriends as we laughed, talked and bonded but the next time I'll bring a deck of cards, an extra pair of socks and a real fisher "person".
Oh and if you're wondering, the feeling in Sharon's toes started to come back around 4 pm… so all is well with her little piggies.
Travel assistance was provided by Central Counties Tourism. All opinions are entirely my own.
For more winter activities, read:
Running with the Huskies of Winterdance Dogsled Tours
Snowshoeing Lessons Learned at Minden Wild Water Preserve