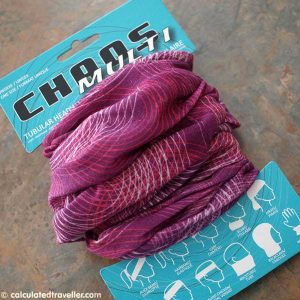 A scarf is such an easy multi-purpose accessory to have when it comes to dressing up a travel wardrobe. The problem I find is that sometimes the 2 tail ends of the scarf get in my way if I'm doing something really active!
Enter Chaos Multi Tubular Headwear.
I first discovered it while shopping in the hat department of my local sporting goods store. It was the packaging and the illustrations that caught my eye, so I figured I would give one a try. Now, I don't travel without it.
Yes, granted it's just a tube – but it's a very smart stretchy tube! I kind of think of it as a turtleneck without the turtle. I've become a real fan of the tube, and I plan to buy a few other colours and patterns in the future to add to my collection.

Multi Tubular Headwear Examples of Use
You're in Jordan touring the ruins of an ancient city. Soak your Chaos Multi Tubular Headwear in some cool water and put it on as a headband or as a scarf. As the water evaporates, it will cool you down.
You're in Bangkok, and you are about to go on a tuk-tuk ride to Khao San Road. Wear the Chaos Multi as a mask to avoid breathing in the exhaust and pollution of the city.
You're about to rent a motorcycle in Cozumel, and you aren't quite sure about the cleanliness of the rental helmet they've provided. Wear the Chaos Multi Tubular "pirate style" as a barrier between you and the helmet and have some piece of mind.
You've met a Prince with red hair and freckles in a London coffee shop, and he's invited you to dinner, but all you packed were plain t-shirts. Wear the Chaos Multi as a plain neck scarf or as a wristband to "dress it up".
The packaging shows 11 ways that you can wear it but sometimes – desperation creates innovation, and in a pinch, I've had to come up with a few more uses for the scarf.
I was on a flight and I wanted to take a nap but I was wedged into the window seat of the plane, and my eye mask wasn't within reach. Voila, I pulled the scarf down over my eyes and my ears, and I had an instant eye mask and earplugs. Not perfect but it did the trick.
I've also used it in a pinch as a face cloth or as a napkin.
Chaos Multi Tubular Headwear Pros
Perfect for hot or cold climates
Packs small
Easy care
Breathable
100% polyester knit
Dries quickly
Really soft against your skin
Unisex (depending on the colour)
Chaos Multi Tubular Headwear Cons
Wish it had a bit more stretch. Either that or my head is slightly bigger than the norm. So, I'm not able to wear it comfortably in all 11 configurations that they've illustrated.
Some of the patterns aren't my cup of tea. I know that everyone has different tastes but I prefer more subtle patterns.
Rumour has it that the fabric pills a lot over many washings. I haven't had that happen as of yet
Have you tried the Chaos Multi Tubular Headwear? What about similar products of this nature?