The Country Inn and Suites by Radisson is close to everything that Amarillo Texas has to offer. Just off of I-40 West near downtown Amarillo and Route 66, there are many attractions nearby to visit during your stay. Getting to the hotel is convenient from the Rick Husband International Airport.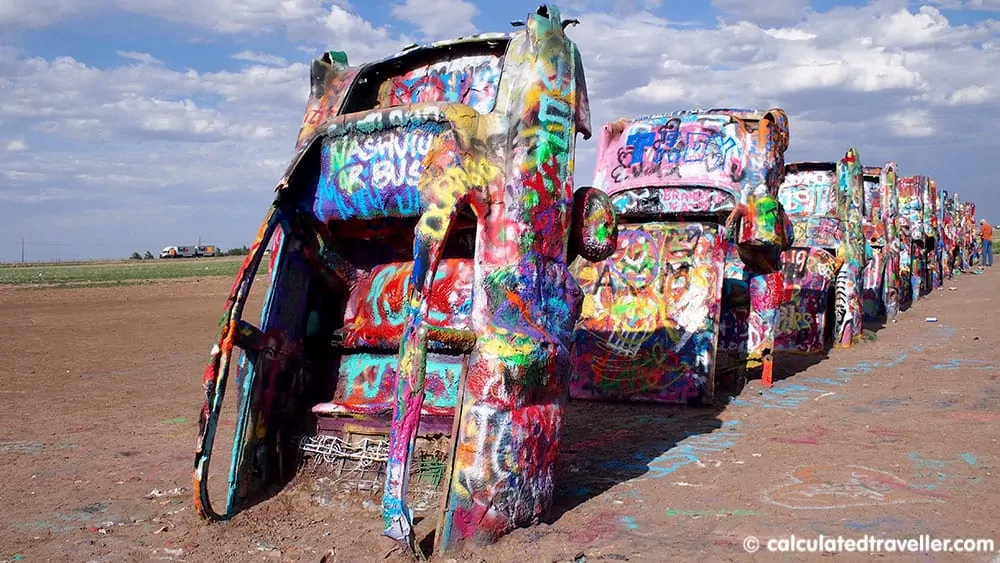 On a recent visit to Amarillo, we had a delightful stay at the Country Inn & Suites while we toured the city for three days. We painted cars at the iconic Cadillac Ranch ( a quick 10-minute drive away), rode horses along the ridge of Palo Duro Canyon State Park, strolled through the Amarillo Botanical Gardens and the Don Harrington Discovery Center, and enjoyed some fabulous Tex Mex cuisine. Then we reminisced at the Jack Sisemore Traveland RV Museum, and Bill's Backyard Classics Car and of course ended our adventure as we chowed down at The Big Texan Steak Ranch and Brew all the while using the Country Inn & Suites as our home base.
For a budget-friendly option, I also highly recommend checking out this cozy hotel at OYOrooms.
For local tours in Amarillo, click here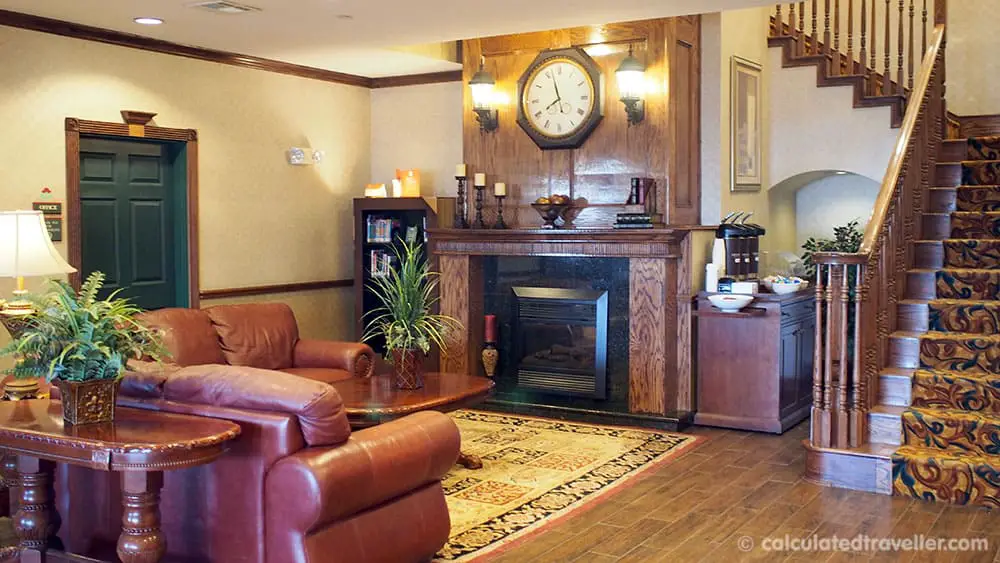 With down-home Texas charm, entering into the lobby, you feel welcomed with refreshing flavoured water, coffee, tea and fresh-baked cookies. In the morning expect to find fresh fruit and granola bars here in case you need to skip the complimentary breakfast buffet.
A traditional decor, the hotel is decorated with oak floors, trim, natural wood furniture, and country charm.
Our Room at the Country Inn & Suites by Radisson Amarillo Texas
At 549 sq feet, our suite included a king-size bed, desk area, sitting area with sofa bed, as well as a bar fridge, microwave, coffee/tea maker, ironing board, and a full shower with tub. (Lately, I've grown to love having a bathtub in my hotel room especially when I'm doing a lot of adventuring.)
TIP: Pack Epsom salts for your bath to help ease tired muscles post-hike or in my case post horseback ride!
We found our suite to be comfortable and quiet even though our room backed onto a major road.
A few things that were lacking was that we did not have an in-room safe and the air conditioner was noisy. Also, back to my usual pet peeve about hotels is the lack of towel hooks in the room to hang your towel to dry.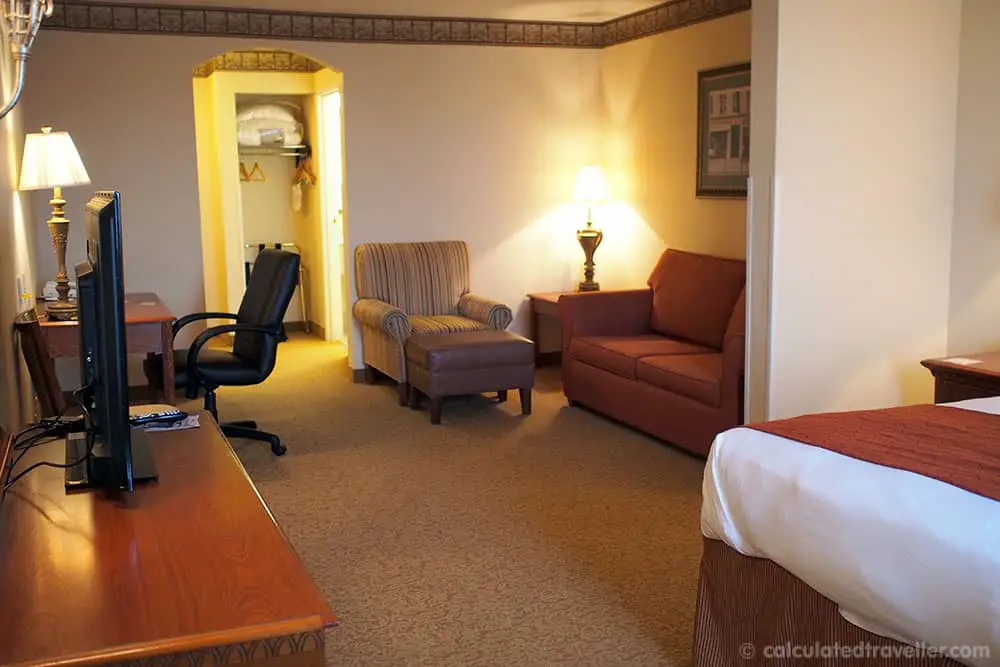 Breakfast of (Rodeo) Champions at Country Inn & Suites Amarillo
Where the hotel excels is in the complimentary extras. As mentioned, the complimentary refreshments in the lobby 24/7 are fabulous and welcomed by the weary traveller as is the fast high-speed internet, free parking, free weekday newspapers, and most of all the breakfast.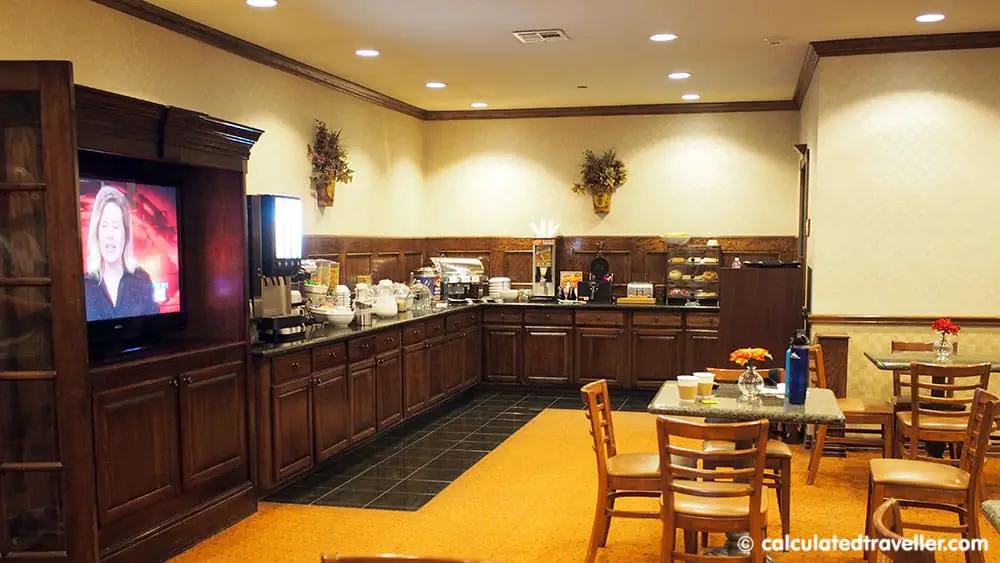 Breakfast was, in my opinion, the best thing about this hotel. I've honestly never seen a hotel of this level put on a spread as I've seen at the Country Inn & Suites in Amarillo.
Hot and cold cereals, fresh fruit as well as fruit cocktail, assorted juices, waffle station, pastries, bread, coffee, tea and all served with real plates and cutlery. That's right no plastic or styrofoam unless you specifically request it.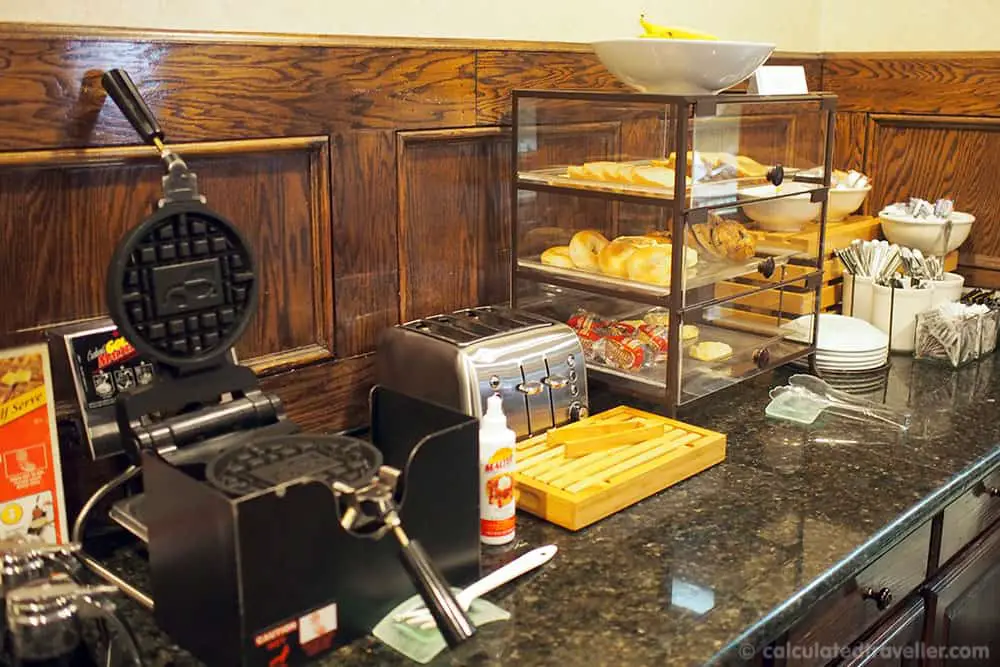 Hot selections changed daily — one day the usual scrambled eggs with sausage (but with shredded cheese and salsa at the ready), the next day was Mexican omelettes, and the next was scrambled eggs with chorizo and tortillas.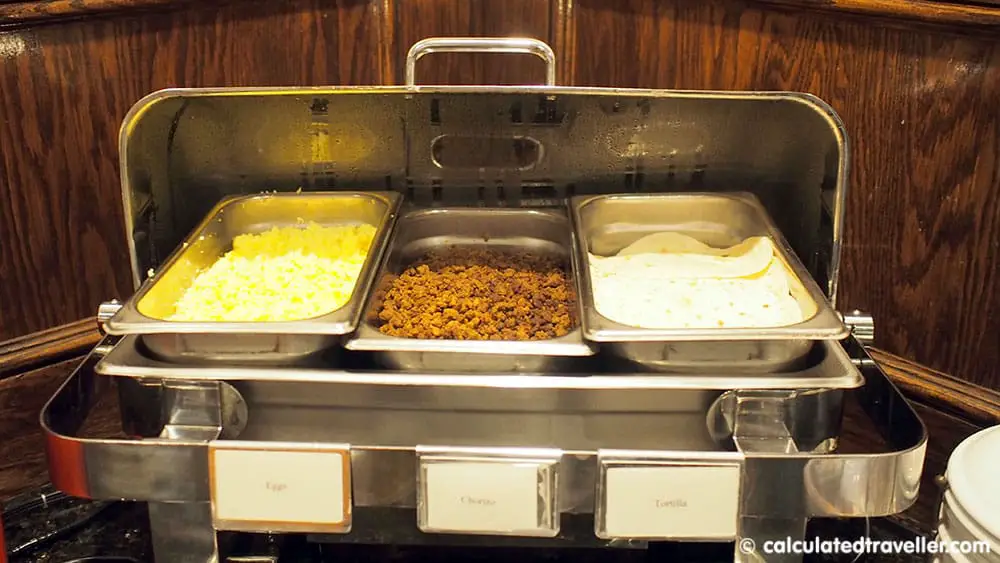 A good breakfast is an important way to start your day, and Country Inn & Suites sends you off on your adventure correctly. Having different daily hot selections is a welcome change for guests who are staying multiple days at the hotel.
Read our article Five Tips for Eating at the Hotel Breakfast Buffet
Additional hotel amenities include a small 24-hour fitness centre, an indoor pool with spa tub, 24-hour business centre, event facilities and meeting space and 24-hour Guest Laundry. Pet suites are available also.
I love that they have 10 pm to 7 am Quiet Hours so that everyone gets a good nights sleep.
The next time you are in Amarillo Texas, stay at the Country Inn & Suites; it's conveniently close to most of the major attractions and sights in the city, and the bountiful breakfast, 24/7 fresh-baked cookies and refreshments, and friendly staff will genuinely make you feel like you are part of the family.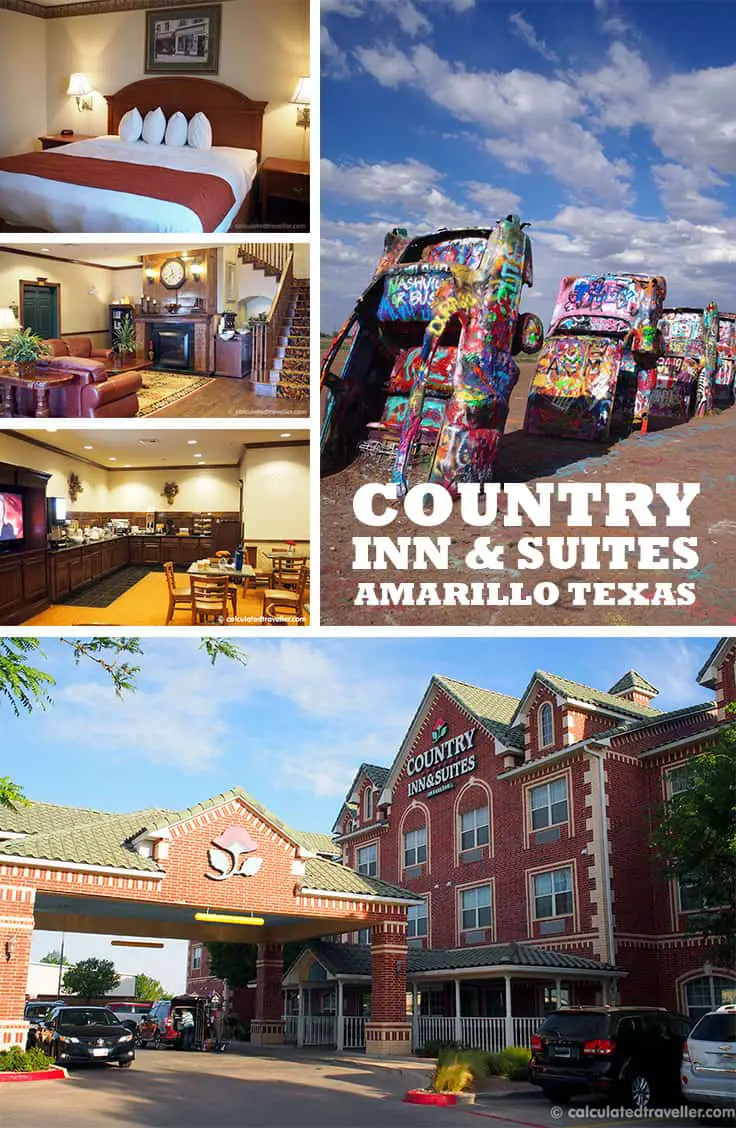 Country Inn & Suites Amarillo Texas
2000 Soncy Rd, Amarillo, Texas 79124
Read other reviews of The Country Inn and Suites by Radisson Amarillo Texas.
Read our other review articles on accommodations around the world.
Travel assistance was provided by Visit Amarillo. All opinions are entirely my own.
For more adventures in the area check out our Texas Article Archive.