Whether you are travelling for business or pleasure, if you are staying at a hotel, you are bound to encounter the breakfast buffet in the morning at the restaurant. Although we have stayed at some fantastic hotels with breakfast spreads filled to the brim with a gorgeous array of fresh fruits, gourmet food and pastries, we have also stayed at the chain hotels with the microwave sausage. We love a good buffet breakfast because it allows us to get to our day quickly, avoids the need to find a breakfast spot, and wait to be served and best of all it's cheap! Where else are you going to find a FREE breakfast?
Not all hotel breakfast buffets are designed to give you the best start to your day of exploring, but there are some ways that you can get a healthy and nutritious breakfast without having to put your coat on and go elsewhere.
We love using the complimentary breakfast bar to fuel up for our adventures and choosing hotels with free breakfast is one of our money saving strategies for staying on budget when we travel. When it comes to what to eat; it is possible to get a great, healthy start to your day if you are cautious about which foods you choose.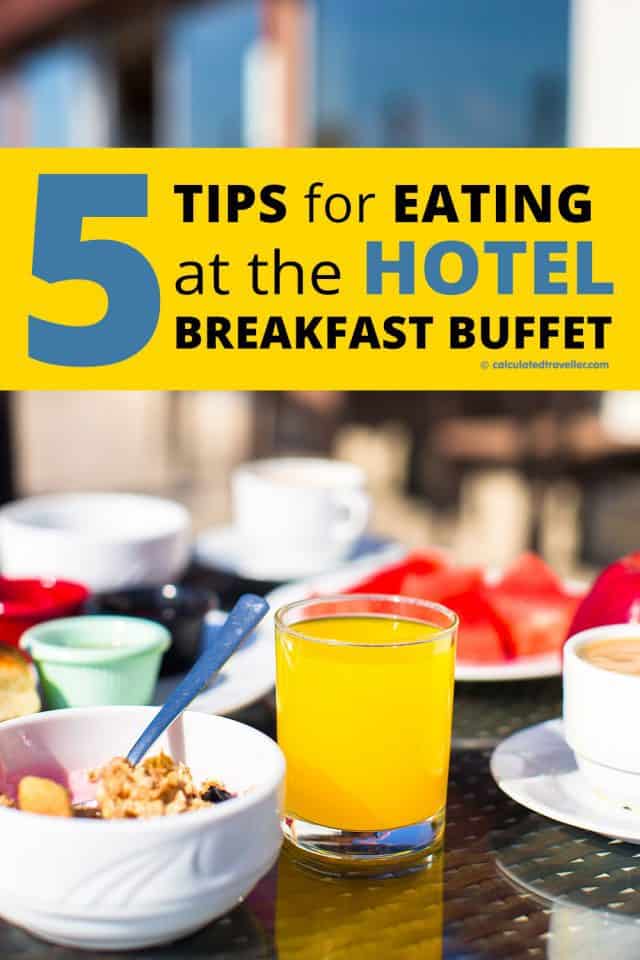 Our Five Tips for Eating Better at the Hotel Breakfast Buffet:
Tip 1. Limit your salt intake
You will thank us for this tip! Avoid (or limit) the sausage and bacon being served at buffets. They are filled with sodium and will make you incredibly thirsty. I don't know about you, but when you are exploring a new city or on a road trip, the last thing you want to do is drink a ton of water. It leads to unnecessary bathroom trips and sometimes finding one is near impossible! It also dehydrates you, and if you are travelling somewhere hot, this is key.
Tip 2. Avoid the sugary cereals
There is nothing worse than crashing from a sugar high on a long day of travelling, and that's what you are setting yourself up for with grabbing the Froot Loops! If you want to eat cereal for breakfast, try a healthier alternative such as Muesli, Cheerios or Shredded Wheat and make sure you pair it with protein like eggs to combat the dreaded sugar crash.
Tip 3. Hit the Omelet Bar!
If your hotel has an omelette station, this is your best bet. Eating an omelette rich in protein will get you off to the right start and will make you feel full for much longer. Many times after eating a big breakfast, you may not even feel hungry when lunch rolls around.
If there isn't an omelette bar at your hotel, look for eggs. Hardboiled eggs, or fried eggs in our opinion is best because even though those scrambled eggs look home made, but they may be powder.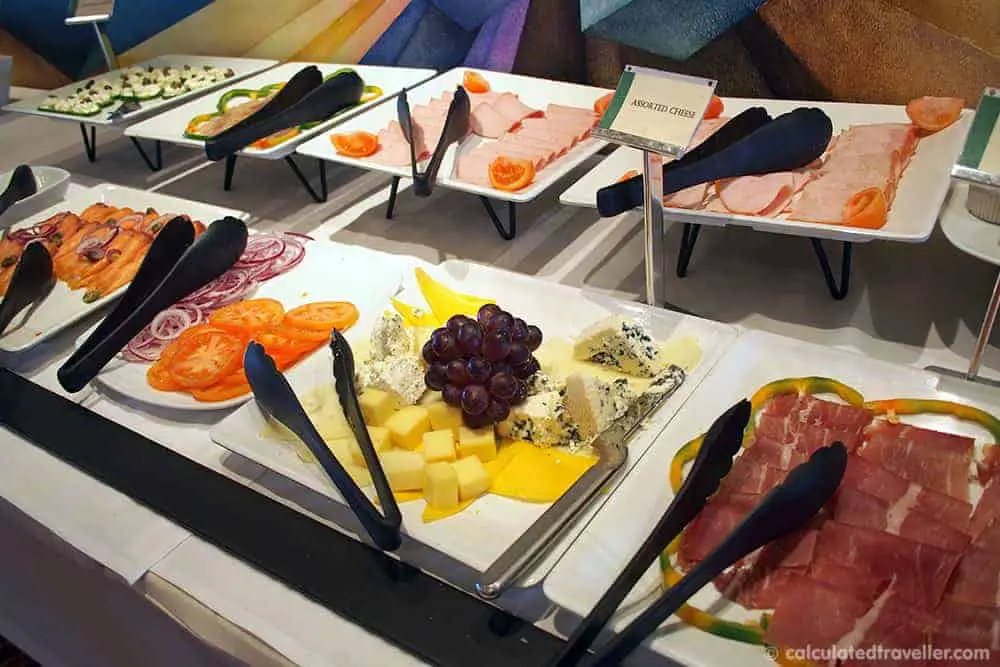 Tip 4. Eat Your Fruit First
When it comes to what to eat first at a breakfast buffet, we suggest that you start your meal with a large bowl of fruit. It's healthier than cereal, the fibre in the fruit will fill you up and, this may help you from overeating.
BONUS HOTEL BREAKFAST TIP: When it comes to breakfast buffet etiquette, we don't want to endorse taking food from a hotel but grabbing 1 small piece of fruit for the road in case you need a healthy snack later in the day is acceptable. Don't pack an entire meal!
Tip 5. Sit far away from the buffet in the hotel
If you don't want to overeat, studies show that the further you sit from the all-you-can-eat buffet, the better your chances for not overindulging. So sit as far away from the food table as you possibly can. There is no way you want to be overstuffed when you go for a hike or walk miles around a city.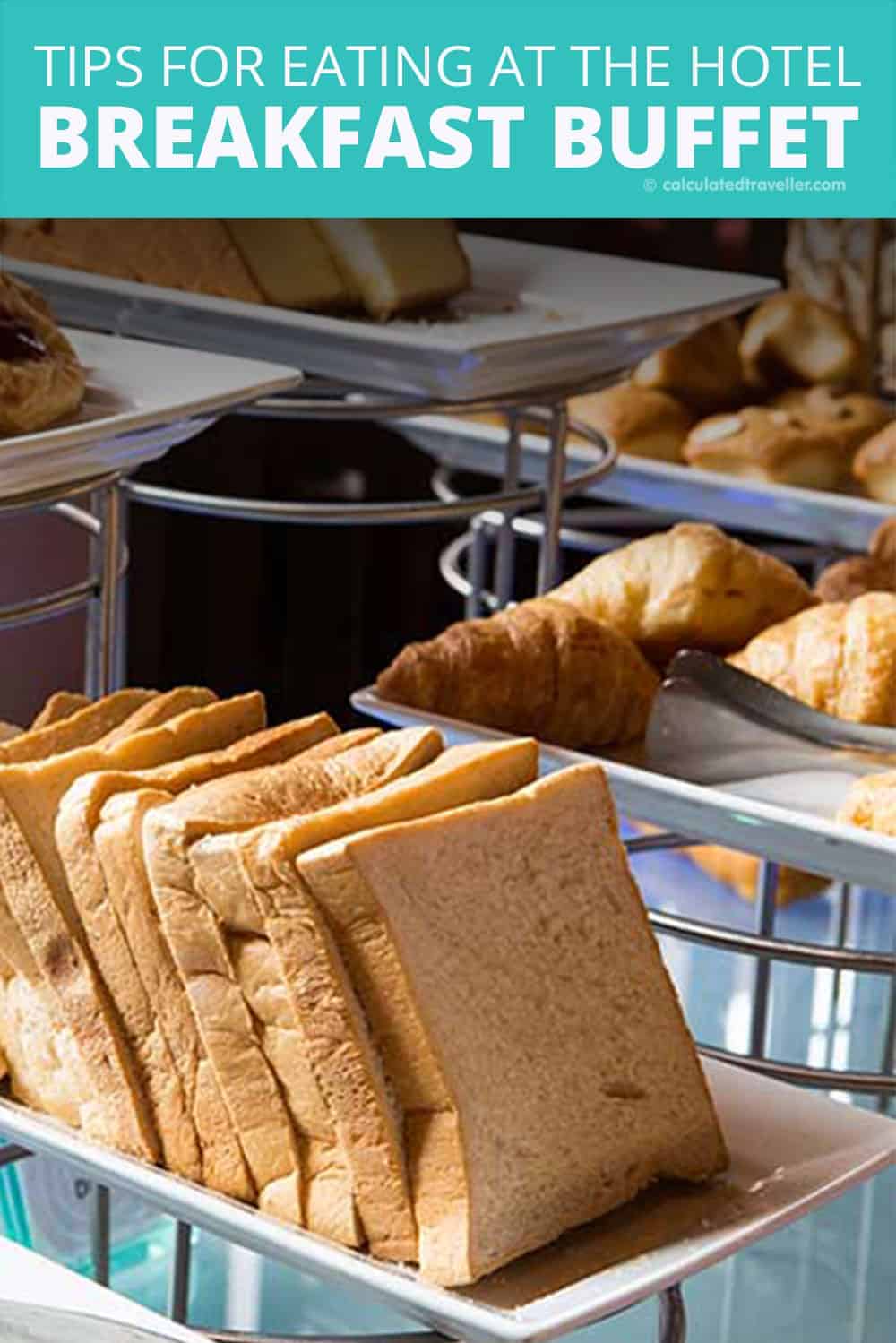 So, what should you eat at the breakfast buffet?
If you are at a five-star resort and their breakfast buffet looks like something out of your dreams, by all means, enjoy! But if you are staying at a chain hotel with a lacklustre buffet and just need a quick breakfast, these combinations are your best bet:
Peanut Butter toast with a bowl of fruit
Bowl of oatmeal and bowl of fruit
Eggs, Toast and a bowl of fruit
Create your own omelette and load up on Veggies (ask them for extra veggies for the side, too!)
Trying to eat healthy when travelling is challenging but not impossible. If you use these tips, you will get off to a healthy, delicious and cheap start to your day!
So, What did you eat for breakfast today?
 For further reading, check out these articles:
– Pack This! Eating and Drinking on the Road
– Pack this! 4 Natural Remedies for Travel Ailments
– Travel Supplies – 5 Items That Go From Kitchen Drawer to Suitcase
– Hydro Flask Review. Home-Life and Travel-Life Hydration