Dining out with friends at home doesn't always have to be the same old same old. Sometimes you need a little bit of an adventure and a splurge! As if we don't spend enough time in hotels when we are on press trips, a fellow travel writer friend and I decided to check out the new Dia Restaurant on the second floor of the Canopy by Hilton Yorkville Hotel in Toronto, Ontario.
Technically, the hotel is called Canopy by Hilton Yorkville, but being local to Toronto, I consider Yorkville to be between Yonge Street and Avenue Road. If you are taking public transportation, Dia Restaurant and the Canopy by Hilton are just around the corner from Sherbourne Subway Station on the North Side of Bloor.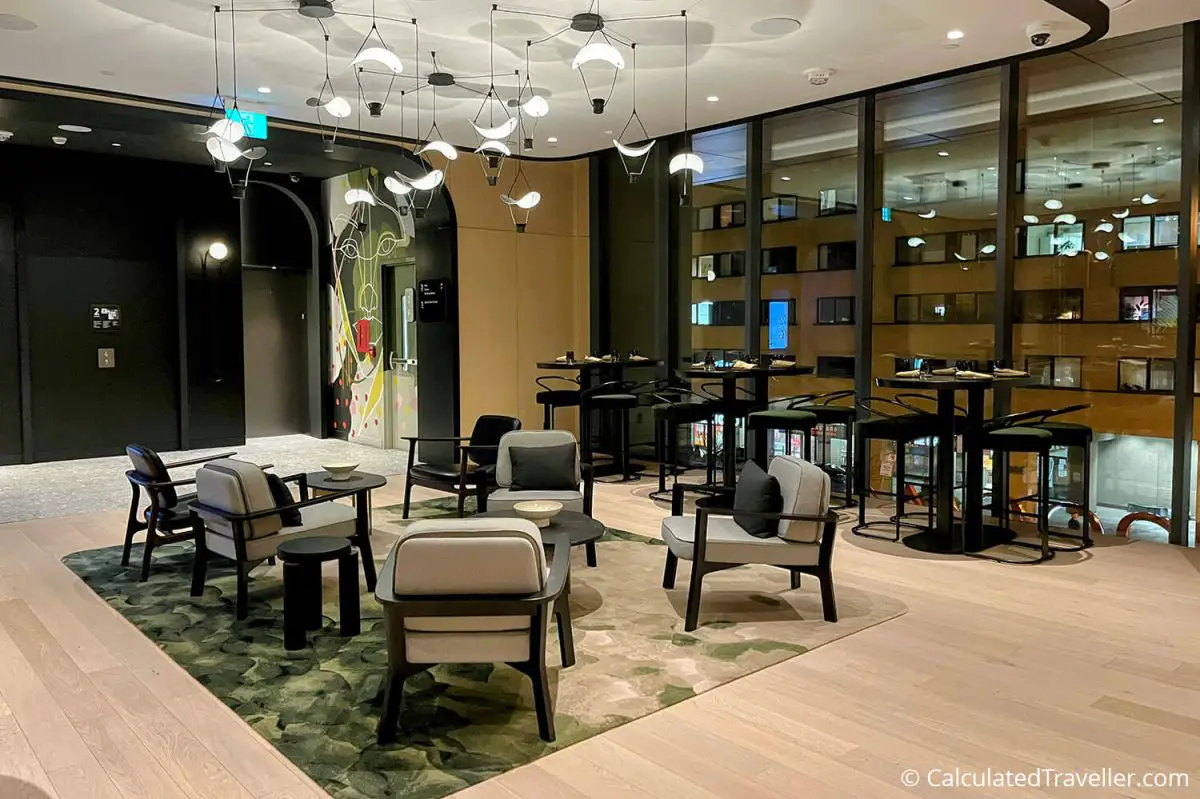 "Día Restaurant – A Dynamic Culinary Experience" 
The Canopy Toronto Yorkville has two dining choices on-site: Virtu Cafe & Provisions, an all-day café, and Día. Open for Breakfast daily from 7:00 am-11:00 am and Lunch and Dinner from 11:00 am-11:00 pm, Día describes itself as a friendly and lively gathering place. The restaurant offers a variety of seasonal dishes throughout the day, ranging from delicious cheeses to pan-roasted salmon and rich plates of pasta. In addition, the restaurant offers quite a few vegan options according to preference, as well as a separate children's menu. 
Día boasts a curated selection of wines, spirits, and fun cocktails. As the Canopy offers evening tastings, there is plenty of opportunity to taste Día's signature wine program.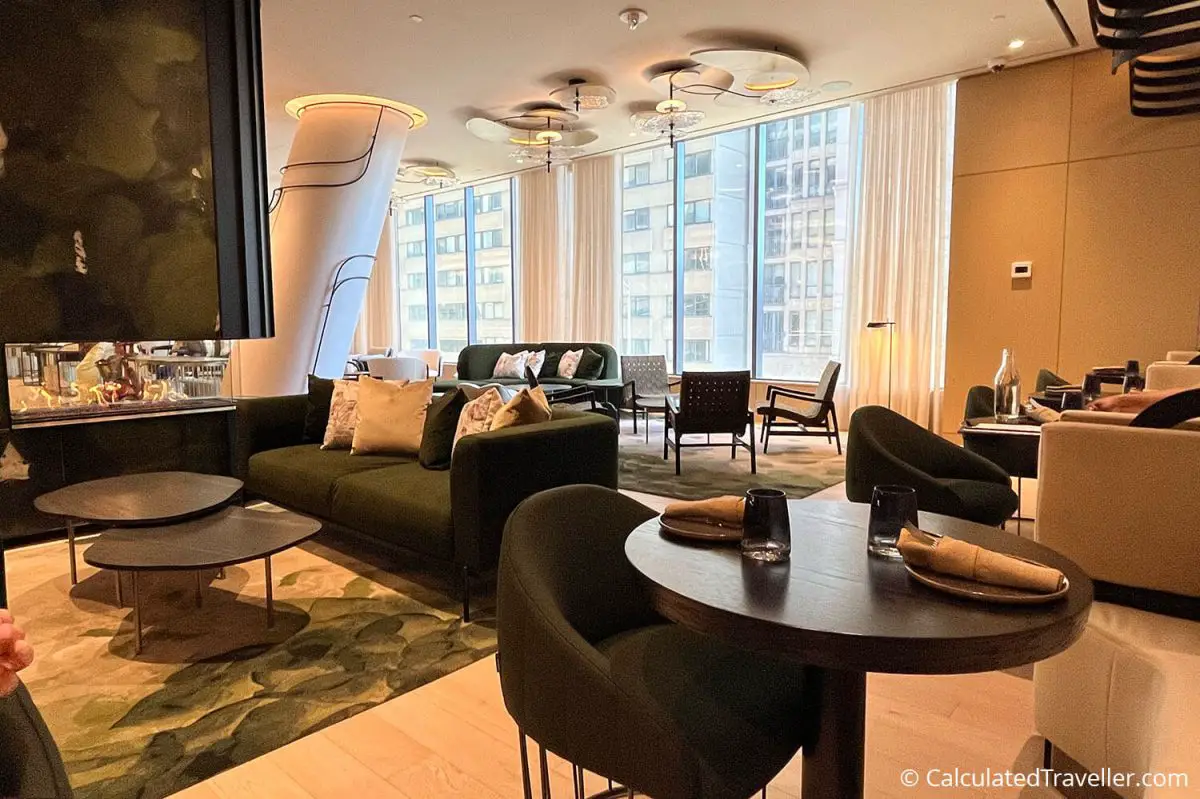 Justin Raponi acts as executive chef at Día but is also known as the lead culinary enthusiast. With experience working abroad and across Canada, Chef Raponi has had access to many rare and unique ingredients that still inspire and influence his dishes today. Though he has a specialized interest in Italian concepts, he also looks for inspiration in world cuisine, making his menu delicious and creative.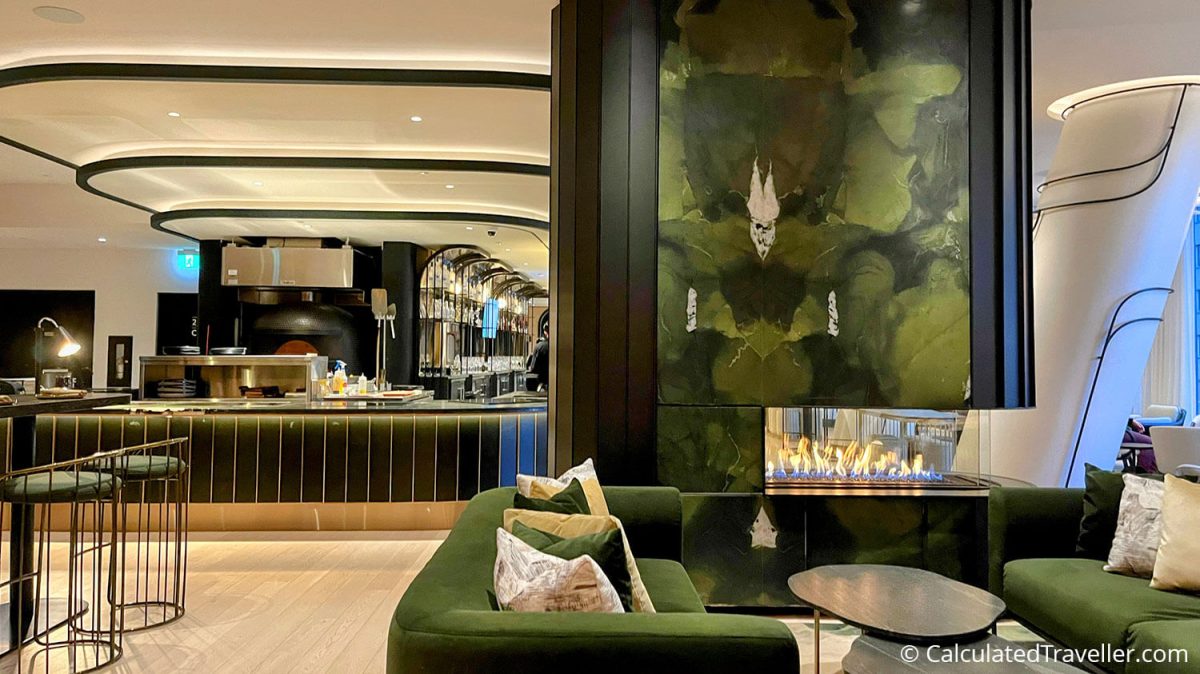 The Decor and Atmosphere at Dìa Restaurant
Canopy by Hilton Yorkville Hotel and Dìa Restaurant are designed by Alessandro Munge of Studio Munge. The restaurant and hotel are beyond gorgeous. Comfortable and chic, the perfect place to dine or to have a cocktail or coffee with floor-to-ceiling windows overlooking Bloor Street.
It's also a great little meeting space should you have guests in the city and are looking for good food.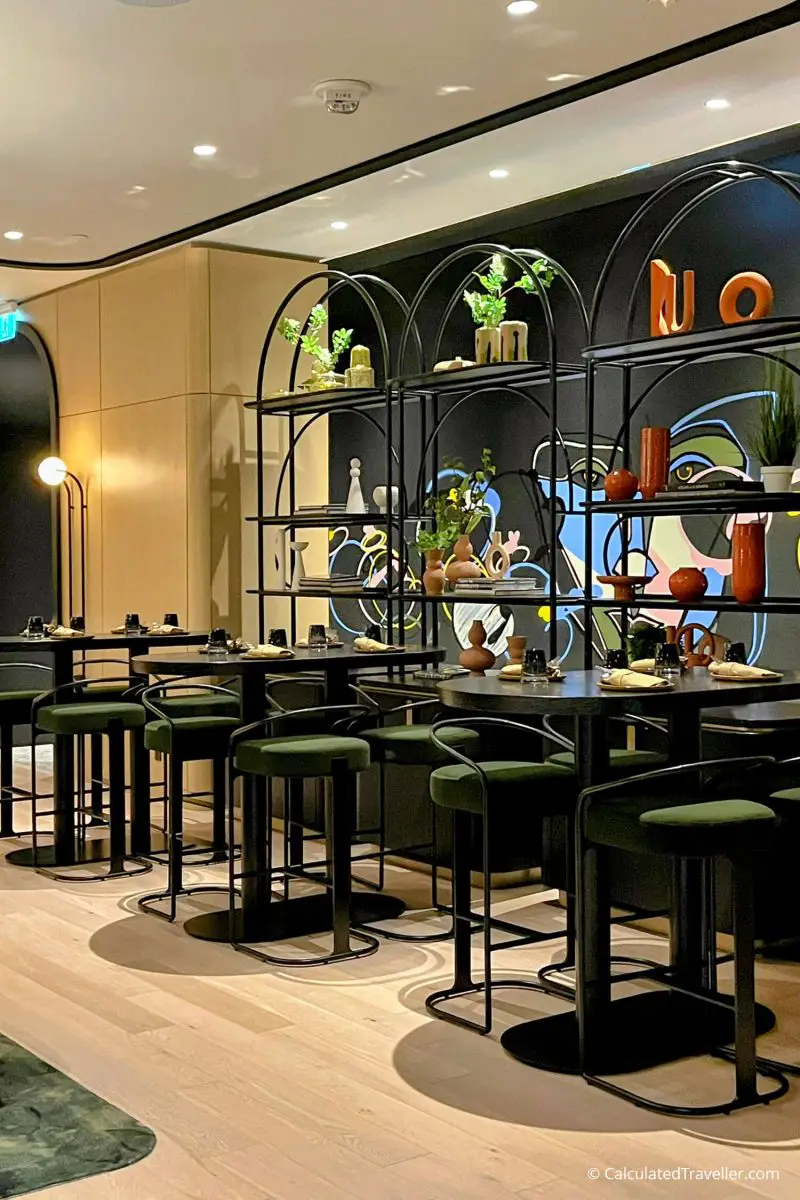 Seasonal Fare in a Contemporary and Spacious Setting
The menu is seasonal, so the selections will change regularly. In fact, when we asked to see the dessert menu, our waiter told us that a printed menu was not available since the desserts change weekly. No matter, we did not have room for dessert after our meal, so we planned a return visit to catch up over coffee and taste some of the sweet treats at Dìa.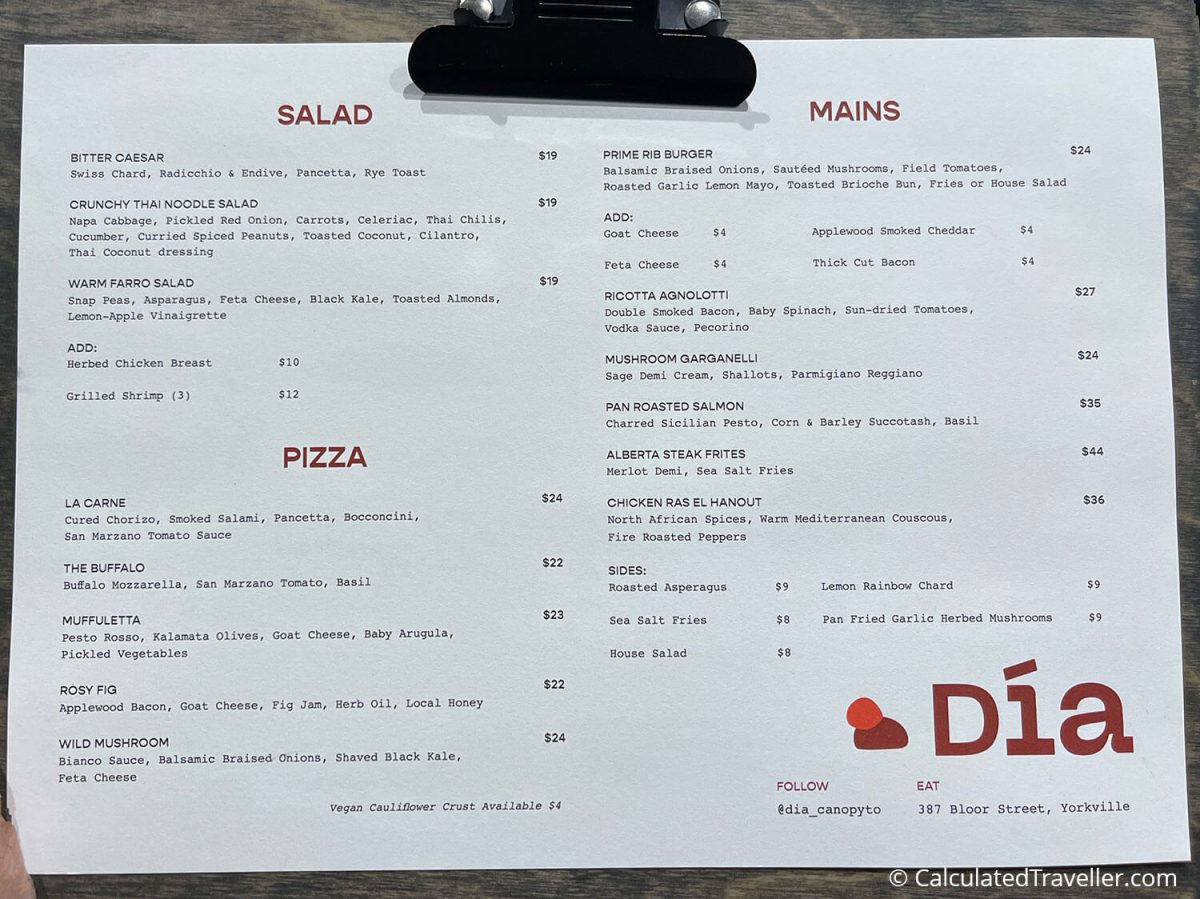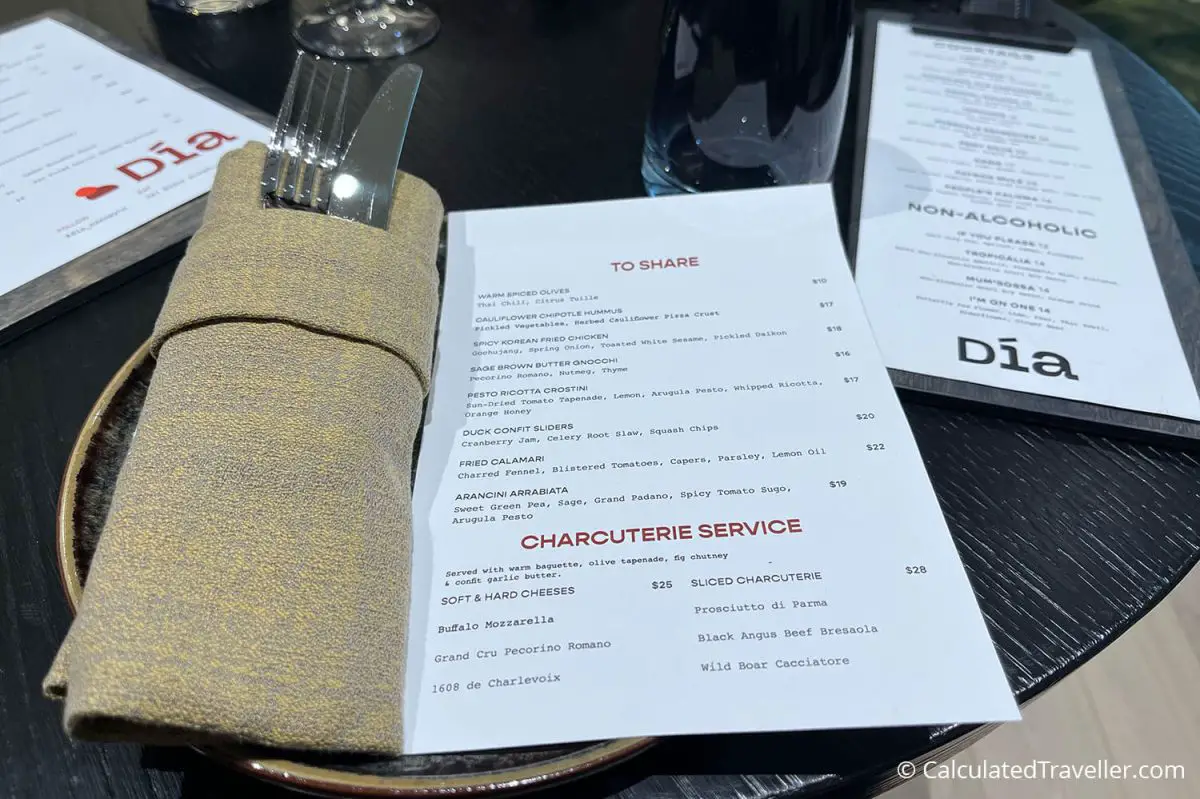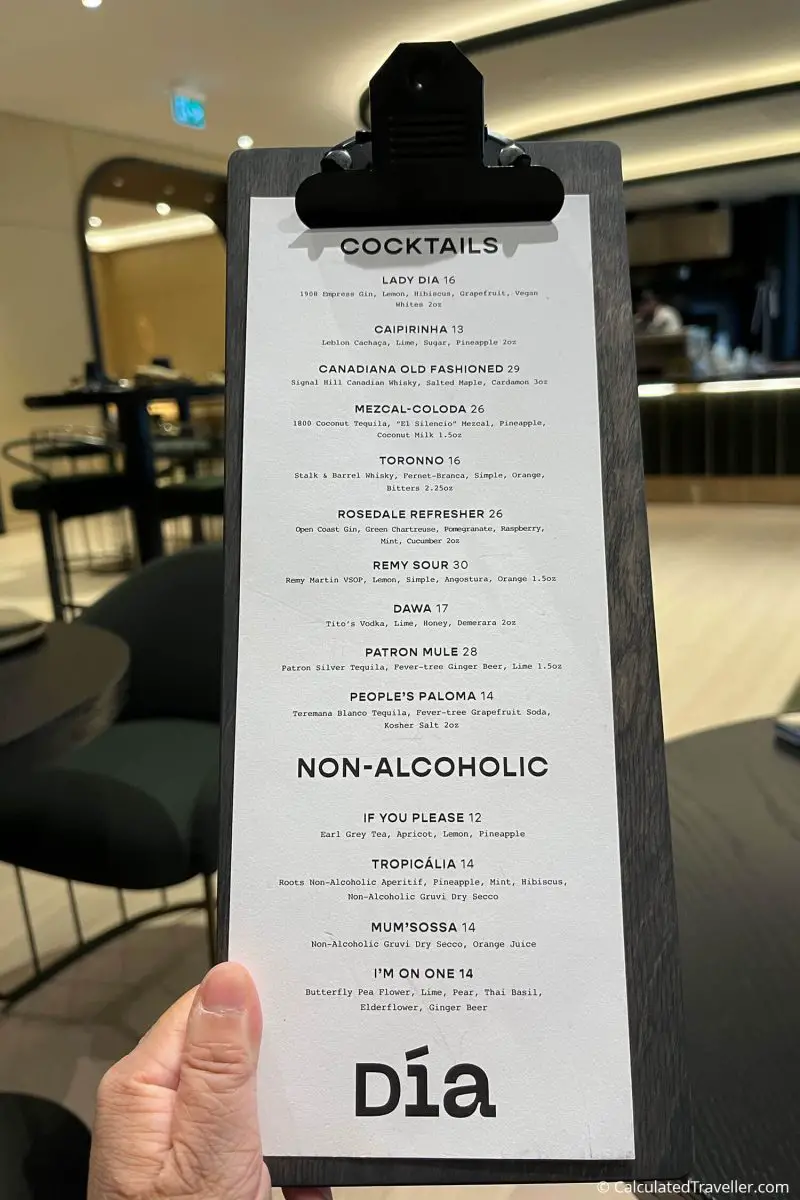 I quite appreciated the addition of non-alcoholic cocktails to their drink menu. Sure, you can omit alcohol from any drink, but it isn't exactly the same as a cocktail crafted specifically without alcohol.
I'M ON ONE – $14.00
Butterfly Pea Flower, Lime, Pear, Thai Basil, Elderflower, Ginger Beer
SAGE BROWN BUTTER GNOCCHI – $16.00
Pecorino romano, nutmeg, thyme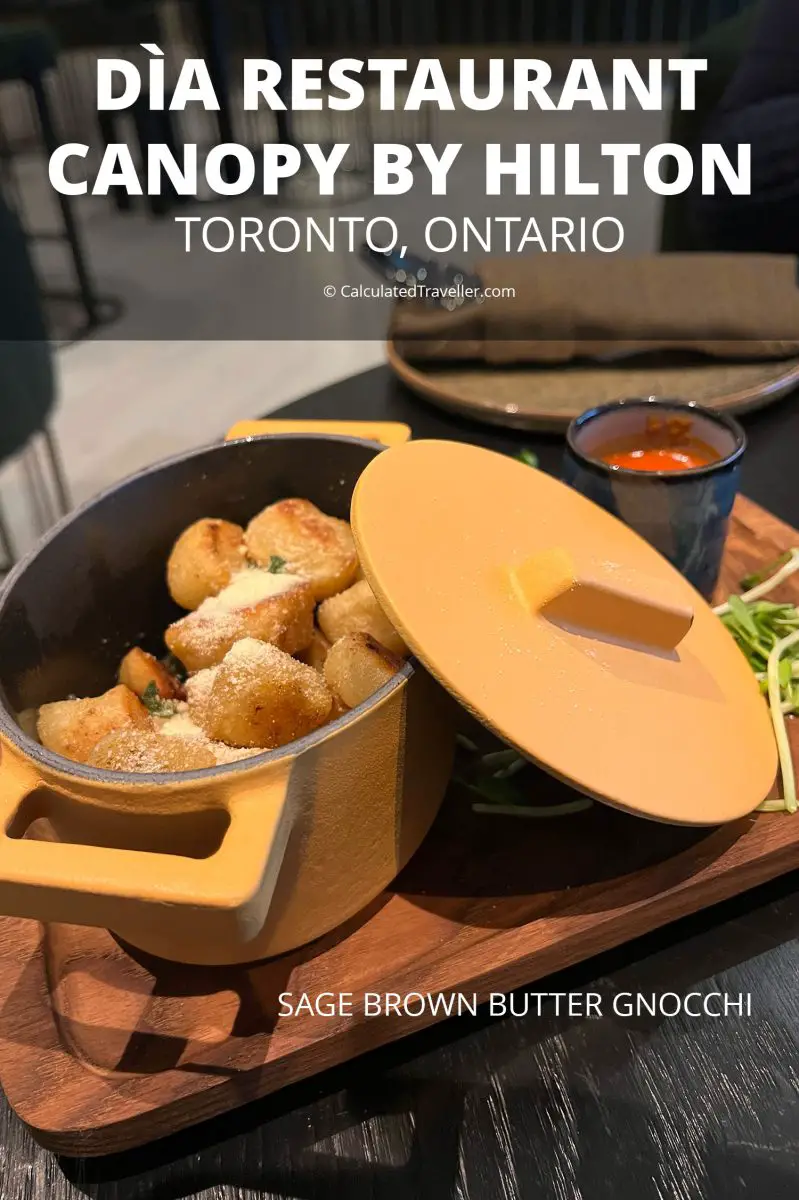 Located on the sharing menu, I found the gnocchi quite comforting, and honestly, I didn't want to share. Fluffy gnocchi but with a caramelized exterior. A tad bit oily.
PRIME RIB BURGER – $ 24.00
Balsamic braised onions, sautéed mushrooms, field tomatoes, roasted garlic lemon mayo, and toasted brioche bun, served with your choice of fries or house salad.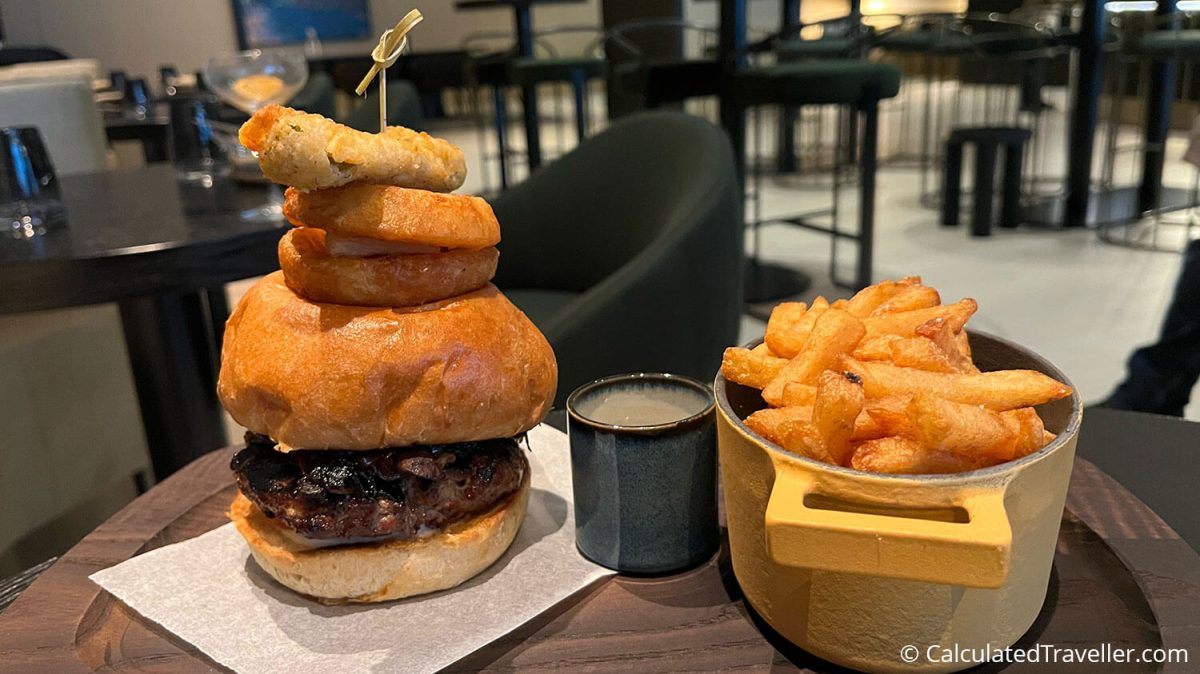 A little messy to share, but we cut this very tall burger in half. It was pretty satisfying and hit the spot.
HOUSE SALAD – $8.00
Fresh greens with a light oil and vinegar dressing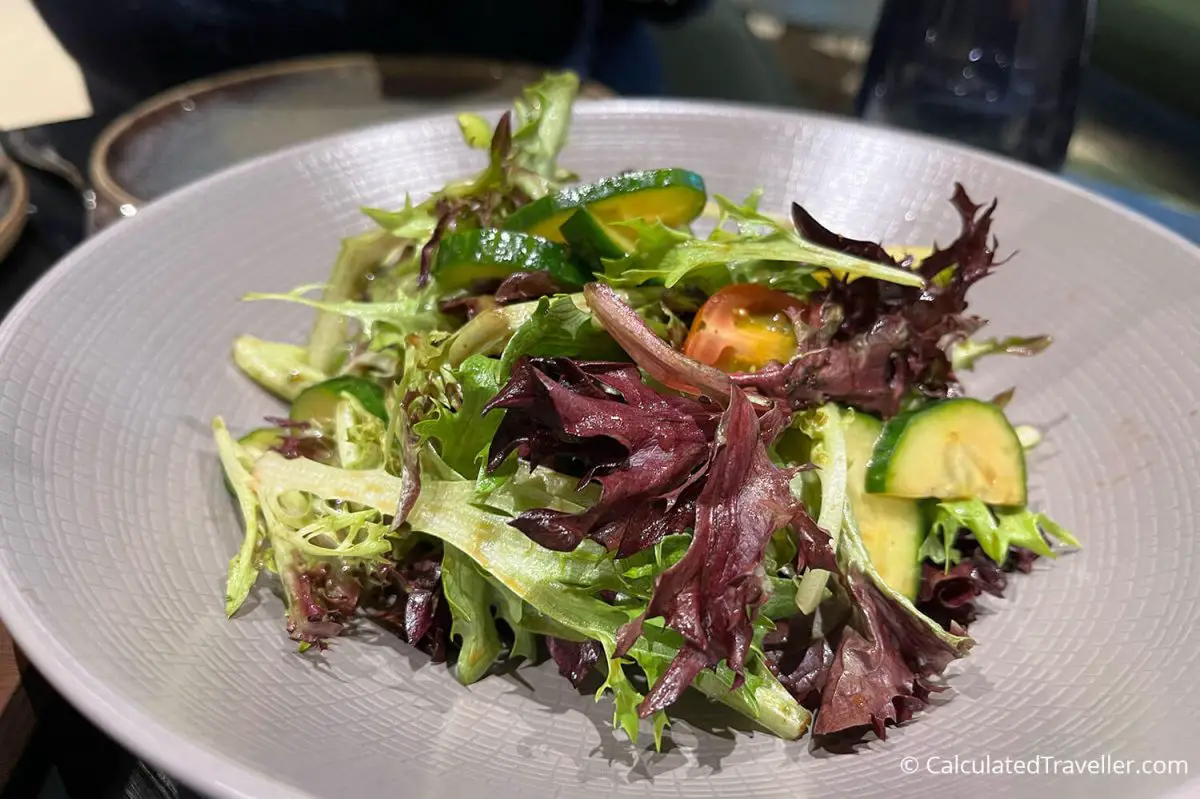 CHICKEN RAS EL HANOUT – $ 36.00
North African spices, warm Mediterranean couscous, fire-roasted peppers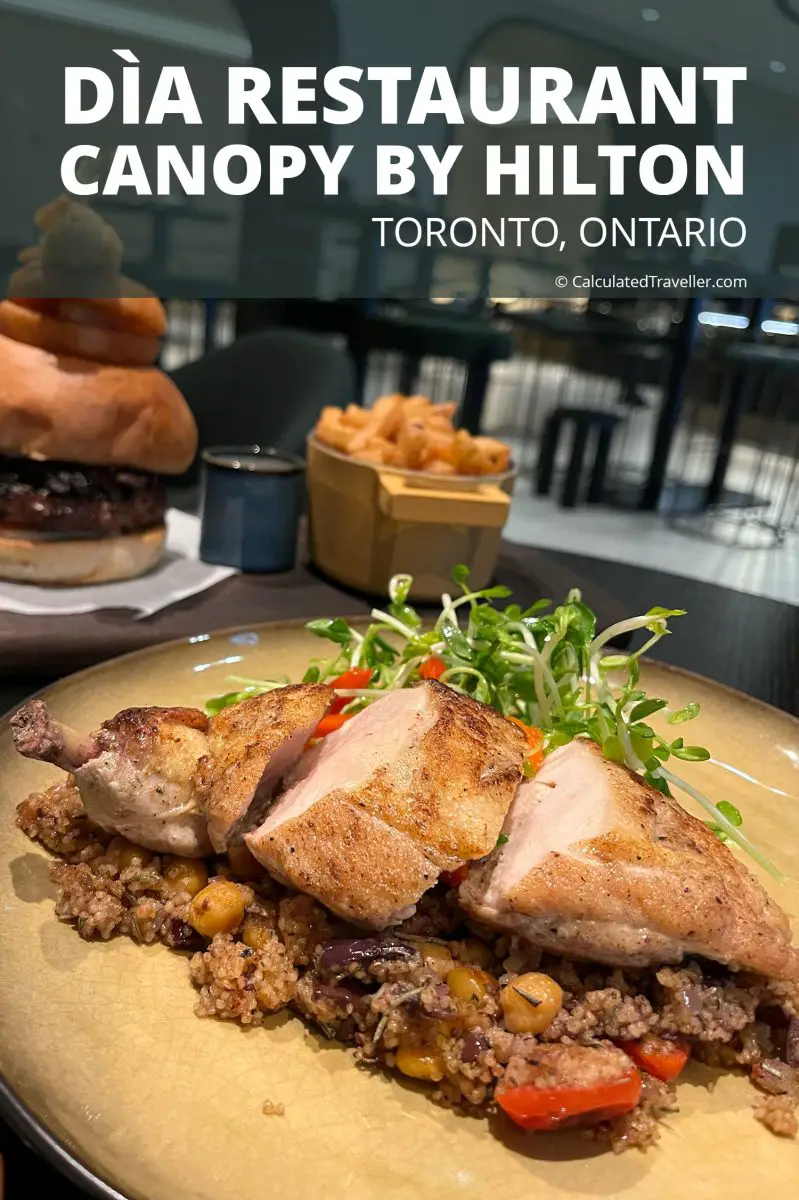 I enjoyed the couscous, but, having visited Morocco, I wished that the North African spices on the Chicken were more robust – still, a delicious, comforting dish.
---
Dìa Restaurant also offers seasonal events such as special Mother's Day menus, Sunday Brunch, and live music.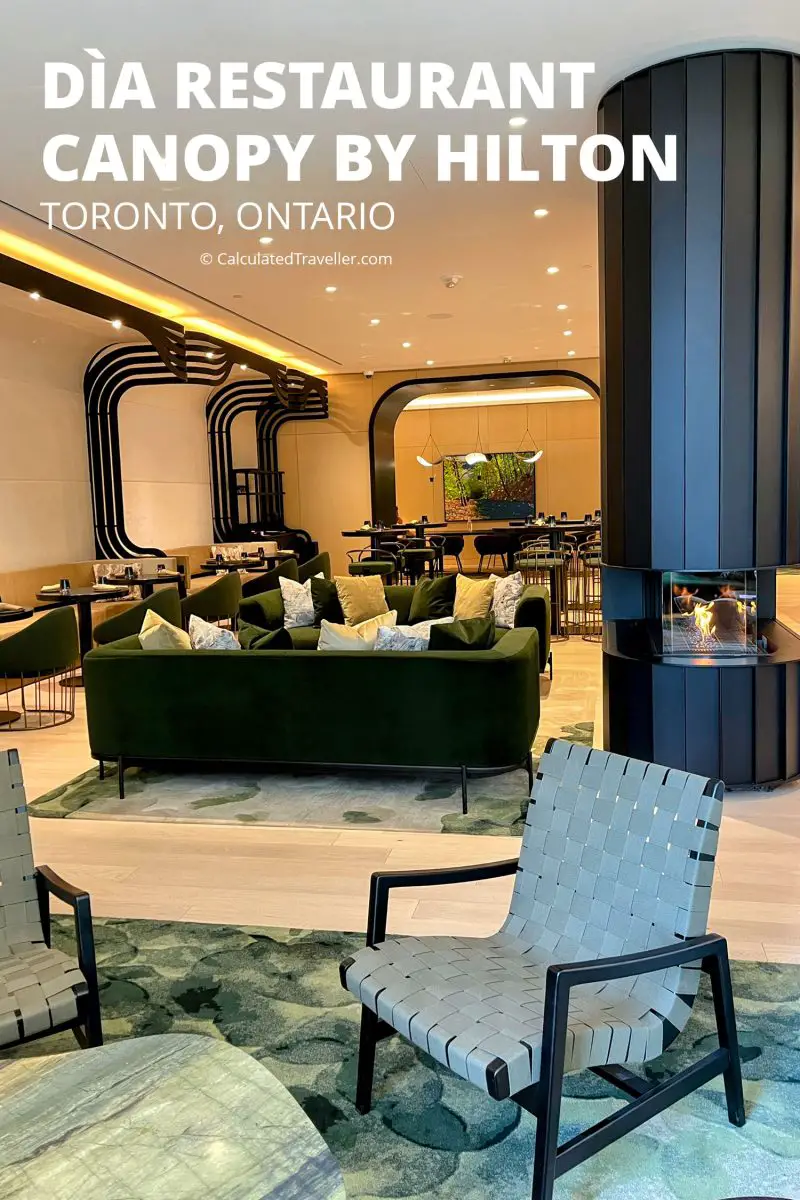 Dìa Restaurant
Located on the 2nd Floor of Canopy by Hilton Yorkville
387 Bloor Street East, Toronto, ON M4W 1H7