Whenever I fancy experiencing Japan without upsetting my bank account, I head over to this little park in my neighbourhood of Mississauga, Ontario, Canada called Kariya Park.
My wanderlust for Japan started after an hour and a half spent in Tokyo's Haneda Airport on a layover where all I saw were gift shops at the terminal. After that layover, Japan was added to my dream list of places to visit in the hopes of seeing a geisha, enjoying some kabuki, and devouring some authentic Japanese cuisine. That dream finally came true in the spring of 2017, and I can wholeheartedly tell you that it is one of the most fabulous places in Asia to visit.
But when the memory of Japan starts to fade and my wallet isn't flush with funds, or if the timing isn't right to travel – I make my way to Kariya Park.
Kariya Park Mississauga, Ontario Named after Japan's Kariya City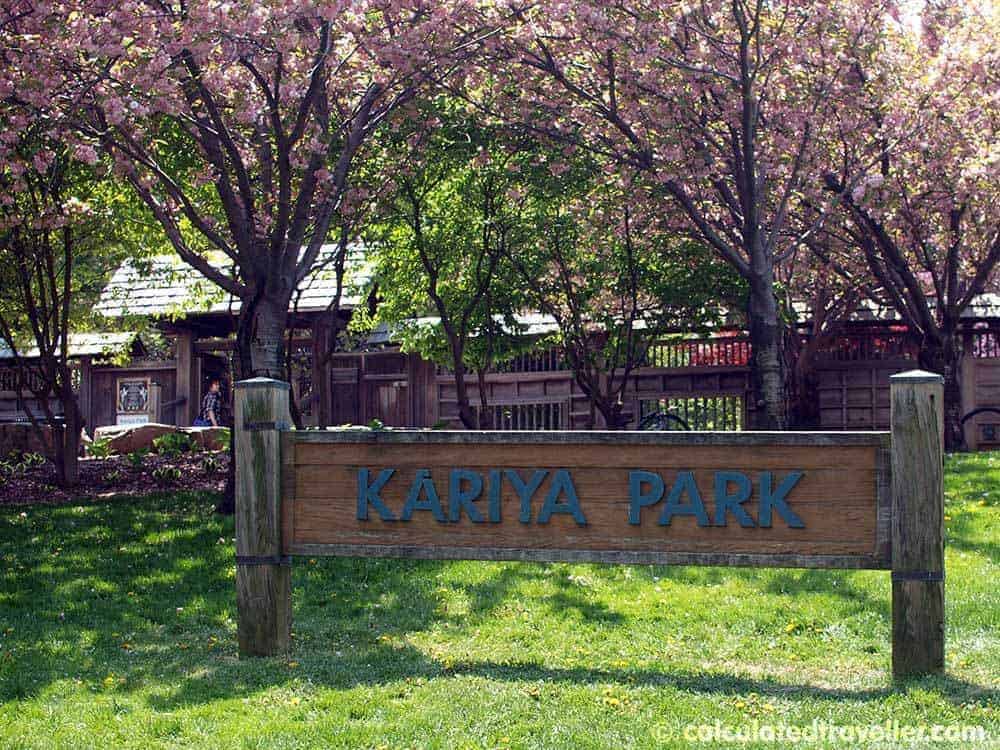 Named after Japan's Kariya City, Kariya Park is about a 30-minute drive from Toronto.
The park was named in honour of Mississauga's sister city and was officially inaugurated in 1992. Offering ineffable peace and tranquillity amongst the condominium towers and hustle of the city centre. All within a short walk from Square One Shopping Centre.
Bear in mind; there are lots of nearby parks in Mississauga:
– Jack Darling Memorial Park
– Rattray Marsh Conservation
– Lake Aquitaine Park
Sure, they are all lovely green spaces that offer shade and beautiful quiet surroundings, but Kariya Park gets my vote as being the most tranquil and unique of them all.
Ashamedly, I never knew this oasis of peace and harmony happened to be in existence until a few years ago after a conversation with a friend.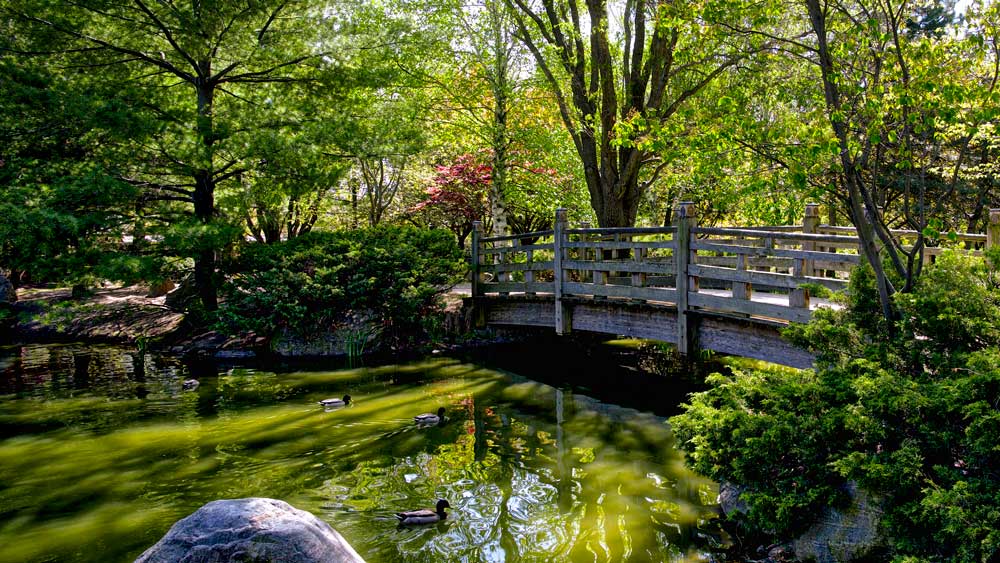 Husband Ray and I often indulge in a lovely wander through the Japanese gardens and go in search for the ducks, koi fish and turtles in the small pond. There is a serene pavilion area with a traditional bronze bell alongside a seating area and sand zen garden.
May is my favourite time to visit Kariya Park. Spring is when the 65 cherry blossom trees that fill the park are in full bloom, and the mama ducks are out with their new-born chicks. But be warned, this is also the busiest time of year to visit. People are everywhere in search of the perfect Instagram story.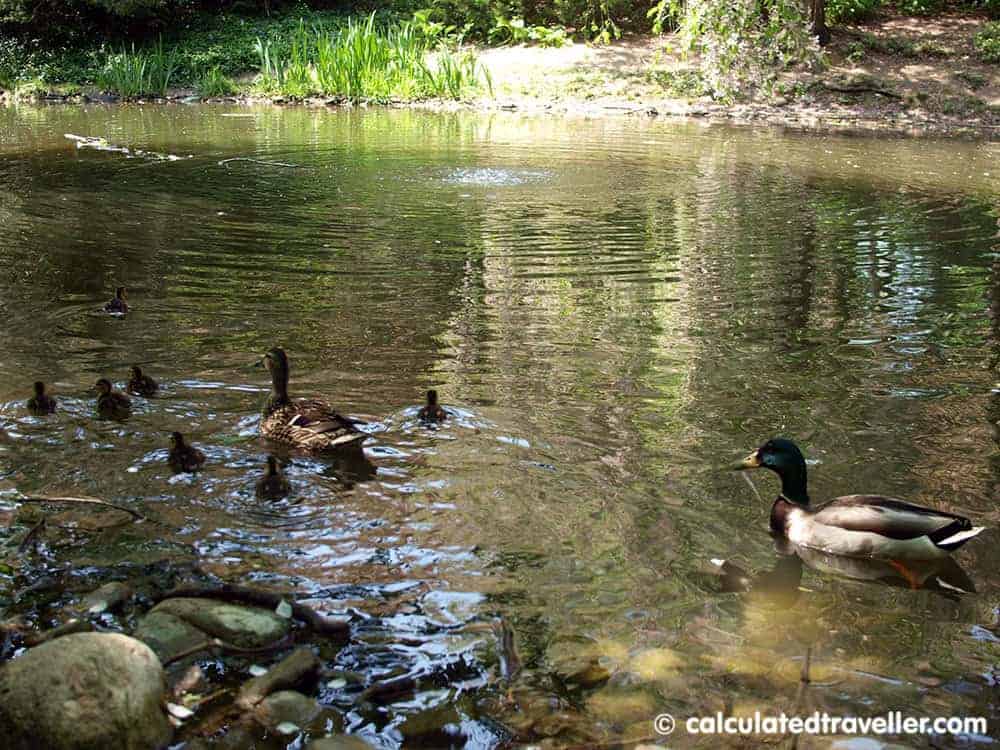 Pro Travel Tip: The trees only stay in bloom for about two weeks, so you must time your visit accordingly to see the cherry blossoms at their peak.
Another favourite time to visit is late October when the Autumn leaves of the Japanese maple trees are a burst of colourful yellow, orange, and red.
Our little journey to our version of Japan isn't complete until later when we go out for sushi and imagine ourselves as the little boy and girl depicted in the stone statue found on one of the pathways.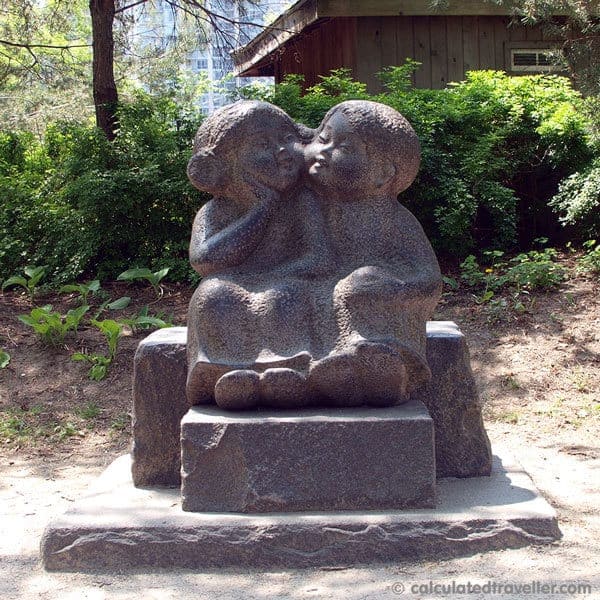 Here are a few Japanese restaurants nearby to make your journey to Japan complete:
Photos from our last visit to Kariya Park in Mississauga, Ontario: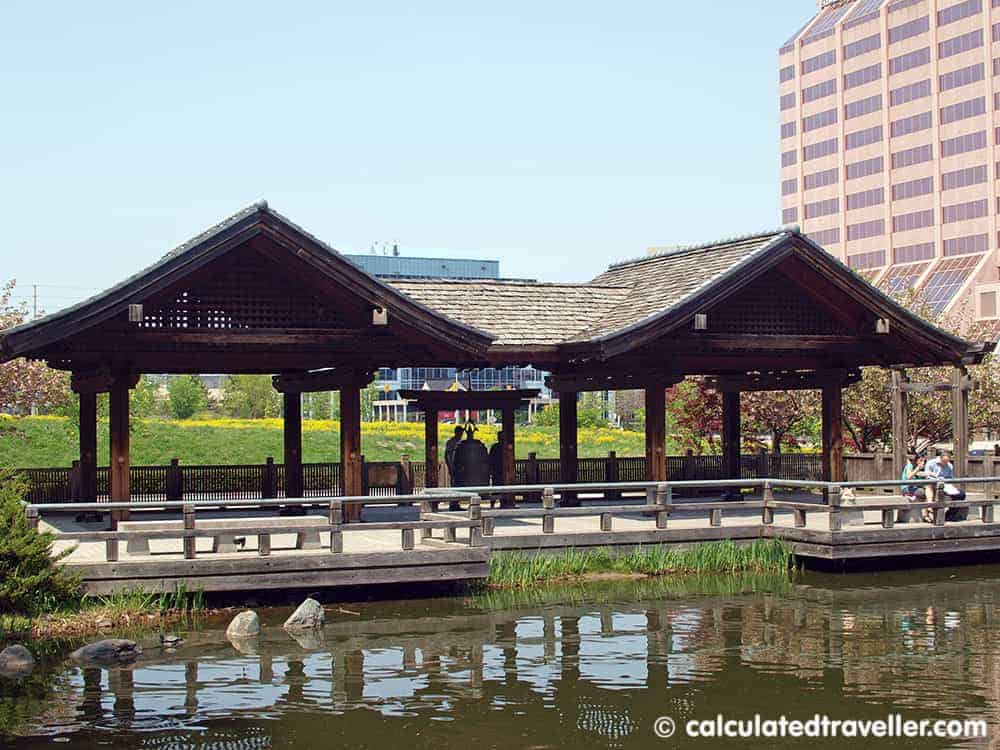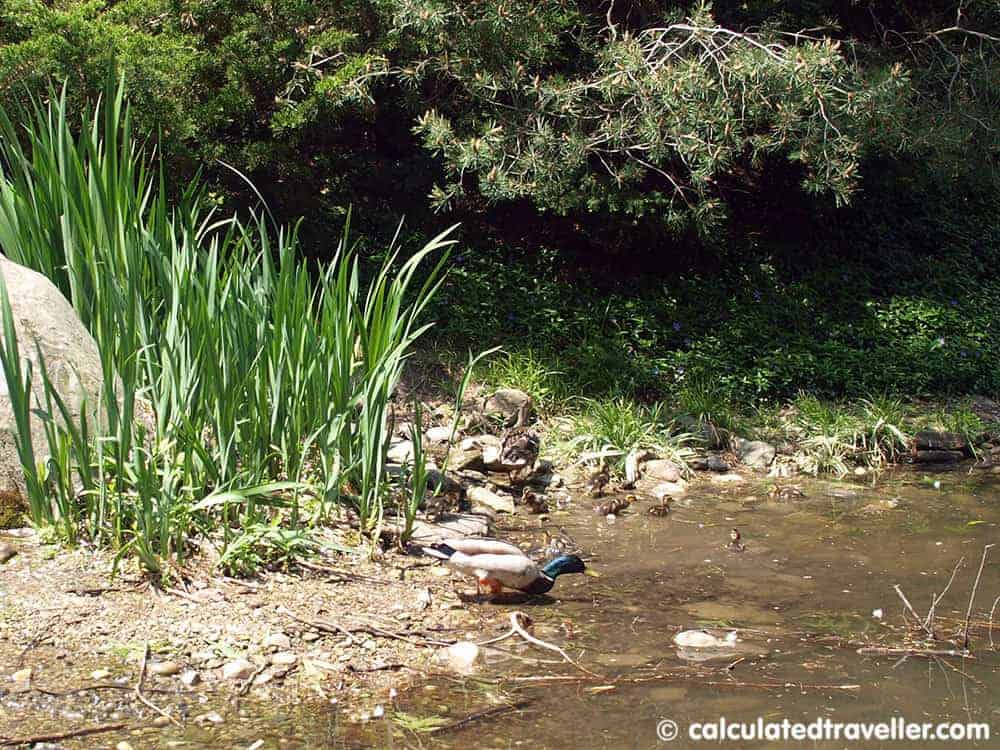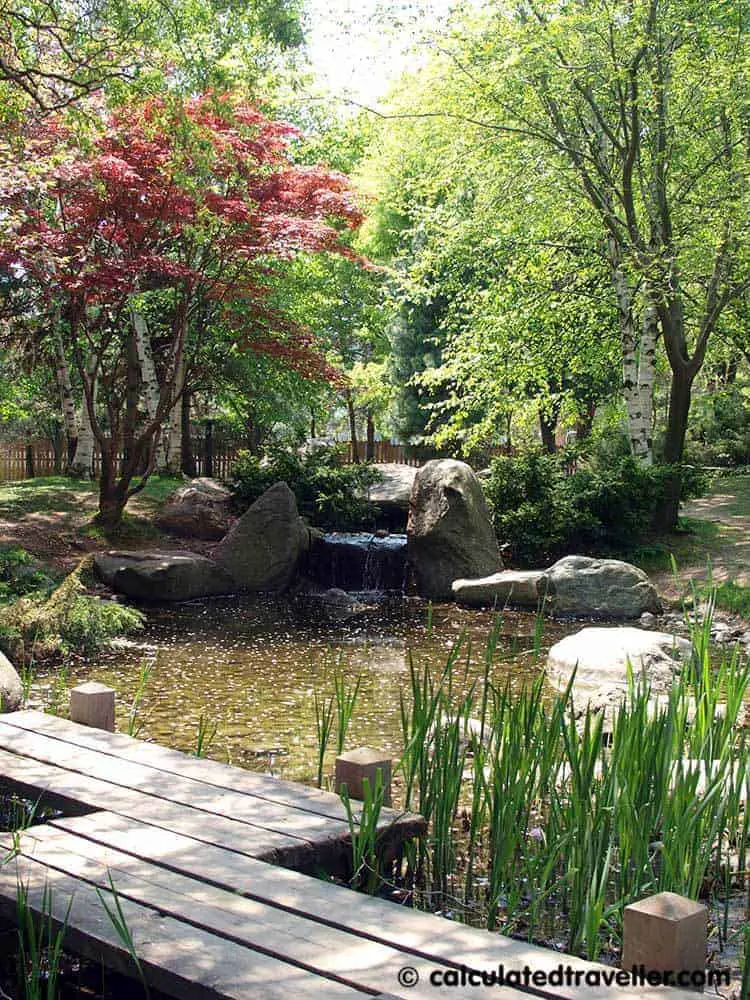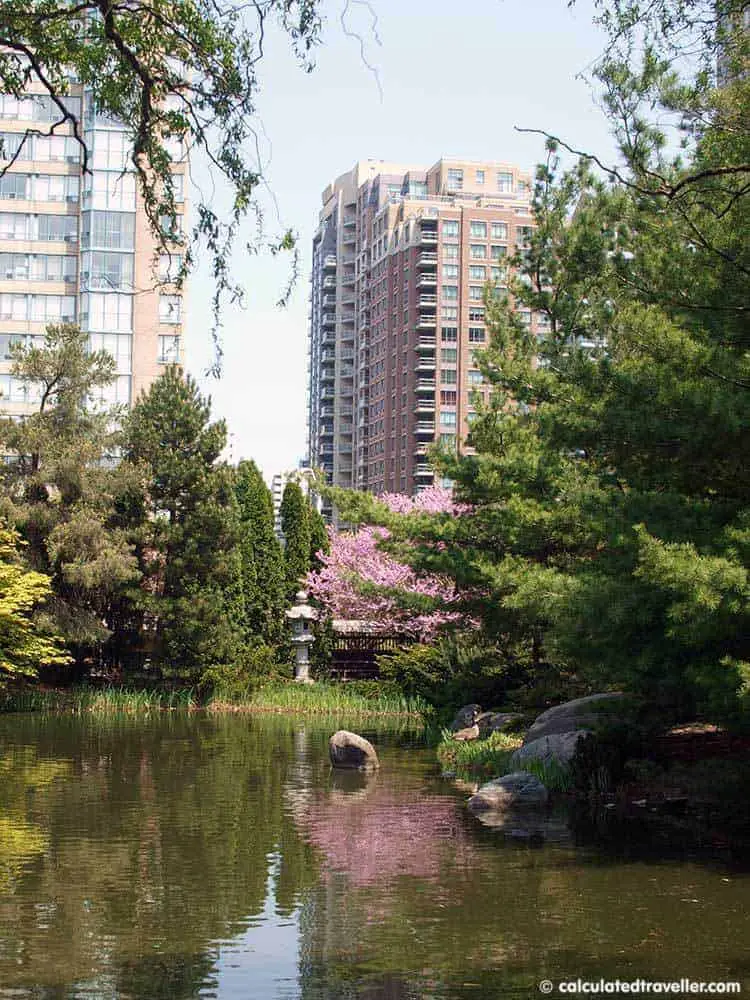 It just goes to show you that with a little spirit, you can travel somewhere in mind and soul with very little cash.
Get out there and let "Japan" soothe your soul!
Pro Travel Tips for visiting Kariya Park Japanese Gardens and Park
Kariya Park's official address is 3620 Kariya Drive, Mississauga, Ontario (South of Burnhamthorpe Road)
There is no official "Kariya Park Parking Lot". There is only street parking. So parking is a bit of a nightmare when it is jam-packed. Best to park at Square One Shopping Centre and walk over.
Hours of operation are 7 am to 9 pm, 7 days a week.
Winter access may be limited as there is no snow/ice removal.
There is no entry fee.
Kariya Park Covid-19 Restrictions:
As of early November 2020, Kariya Park is open every day to all visitors from 7 am to 9 pm despite the COVID-19 pandemic. However, all events have been cancelled until further notice. You can still escape to the peace and serenity present in the Japanese garden of Mississauga. And to be honest, that's all that matters to me.