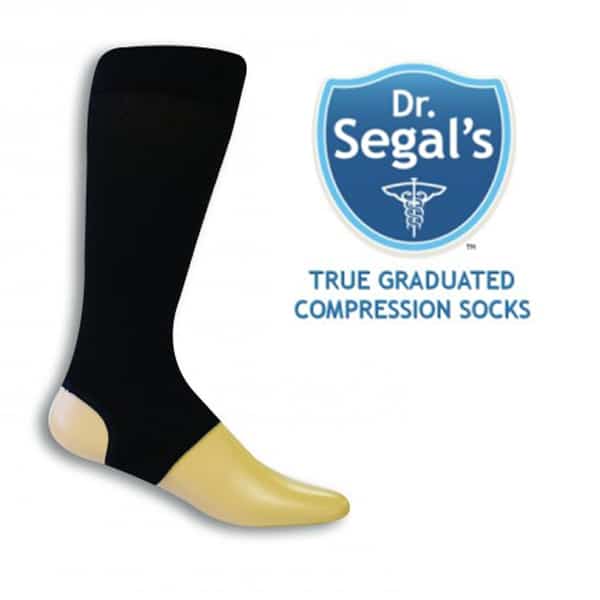 Dr. Segal's Compression Socks "compression never looked so stylish!"
I always wear my white compression socks when flying – that's a no-brainer for me.
But once I get to my destination I confess that I don't wear them all the time due to vanity, weather, wardrobe or when I'm participating in specific activities like going to the beach.
Unfortunately, after a long day, I suffer the consequences — leg pain, swelling, discomfort and general all-around grumpiness…
I have written about compression stockings before and found a good solution with pretty polka dot stockings and a version of footless leggings – but frankly I don't want to wear full stockings all the time no matter how pretty they are and the seams of the leggings are a bit unsightly and the fabric a bit too thick for the hot summer sun.
I'm forever on the hunt for a compression sock solution that I can wear in hot climates for when I want to wear sandals AND shorts. But, I don't want to be one of THOSE people wearing knee-high white socks with sandals and shorts!

I've found a partial solution to my problem and best of all they are Canadian like me!
Founded in 2012 in Vancouver, British Columbia by a Surgeon specialising in Vein Disease. With 20 years of experience treating patients, Dr. Segal's compression therapy products are "stylish and suitable for every day, travel, sport and life…"
Dr Segals Positive Benefits
Increase circulation for every day leg health
Reduce leg pain and fatigue
Reduce swelling in feet and ankles
Reduce varicose and spider veins
Reduce incidence of blood clots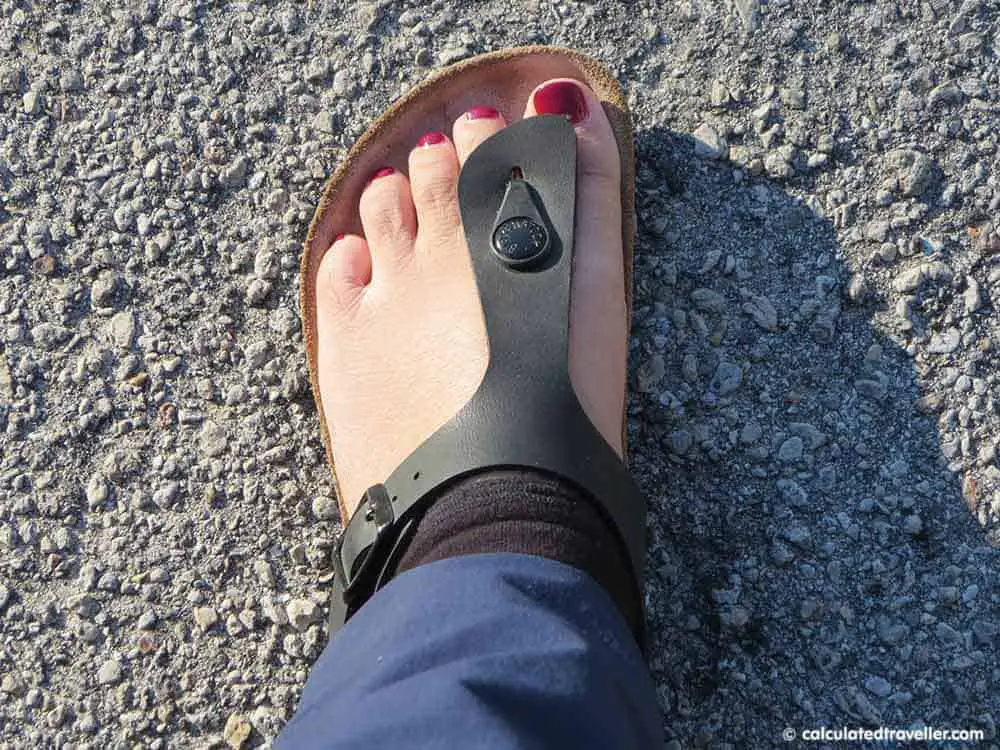 Dr Segal Compression Socks: Master of disguise if you choose wisely
I was sent a pair of Dr. Segal Stir-Up Socks for review purposes and I honestly love them. I finally have a solution that allows me to show off my pretty painted toes in my sandals and I'm still able to have compression socks on for leg health.
I do prefer to wear long pants with these but found that if I wore pants that were thin like my pants by Anatomie that I was still super comfortable in the hot Florida sun and that it didn't matter that I wasn't wearing shorts.
I found that depending on the style of sandals I wore; I could disguise the fact that I have compression socks on. For example, you can't see the stir-up part of the socks wrapping around my foot since the fabric blends with the leather band of my Birkenstock Gizeh sandals – smart eh?
I also found that the stir-up socks were perfect for the evening when I didn't want to wear full-footed stockings with my open-toed pumps and dress pants. The sides of my shoes and the length of my pants hid the foot band of the stirrup socks.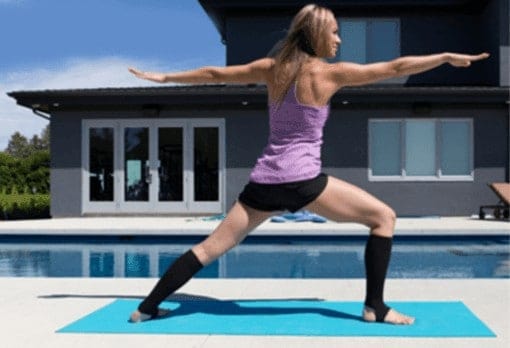 Another reason to wear Dr Segals socks is yoga…
If you are a fitness buff, wearing regular white compression socks are not an issue when you are wearing running shoes but what about yoga where you are normally barefooted? Here's your solution.
You still get "grip" on your yoga mat with bare feet, AND you also get correct graduated compression. (Darn, I no longer have an excuse for that yoga mat sitting in the corner of my room collecting dust.)
Dr Segal also produces sports socks, dress socks in funky leopard spots or giraffe patterned or in classic (and flashy) argyle patterns too. So technically, I could wear Dr Segal socks with shorts – just not shorts, socks and sandals! haha
Dr. Segal's Stir-Up Sock Pros
Fabric feels nice against your skin
Latex free
Anti-microbial properties
Soft, sock-like, not synthetic feeling
Great for wearing with sandals/open toed shoes in summer or hot climates
Great for wearing when doing yoga or when you need to be in bare feet
Available in multiple colours – black, blue, purple, red
Dr. Segal's Stir-Up Sock Cons
The band that goes around your feet may be uncomfortable depending on what shoes you are wearing because the strap portion goes over the arch of your foot
The colours available are very bright. I wish they had navy blue, brown etc.
I hope you found this Dr Segal's Compression Socks review helpful.
Do you wear graduated compression socks/stockings for travel and/or every day? Have you found a brand that you love?
 
I received the product for review purposes. As always, the opinions expressed in this post are entirely my own.