Staying healthy both while travelling and at home is top of mind especially post-2020, and travel wellness products are plentiful.
According to a BBC article, "'Wellness tourism' is a growing industry, supported by travellers actively seeking ways to enhance their well-being on the go. Now, major lifestyle brands want a piece of the pie."
I love pie as much as everyone else, but I don't typically write about lifestyle brands and products such as eye creams, facial serums and the like. Although I am a girlie girl who loves using various potions and lotions, I see these as very personal items. Each person has different skincare needs and budgets that they are willing to spend on their aesthetics. 
An example was on our last trip to Japan a few years ago. A friend filled her carry-on full of Japanese foods, snacks and sweet treats. Meanwhile, I filled my carry-on bag with boxes of Japanese face sheets!
I recently attended a press preview and was introduced to various lifestyle products that were too new and interesting not to share with our travel readers.
So, in breaking from the usual travel content about hotels, cities, and attractions, here are a few recently discovered travel wellness products that I'm packing in my carry-on on my next trip.
Travel Wellness Products to Pack in Your Carry-on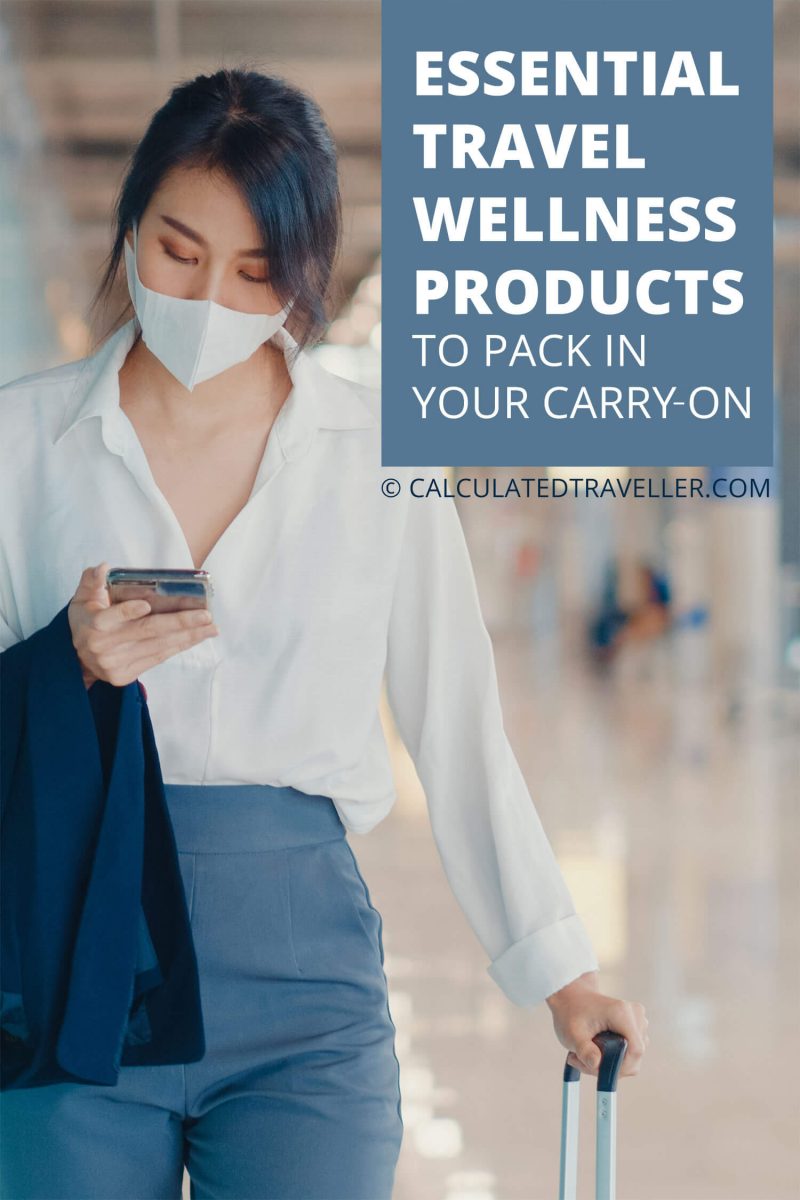 Check out these related articles: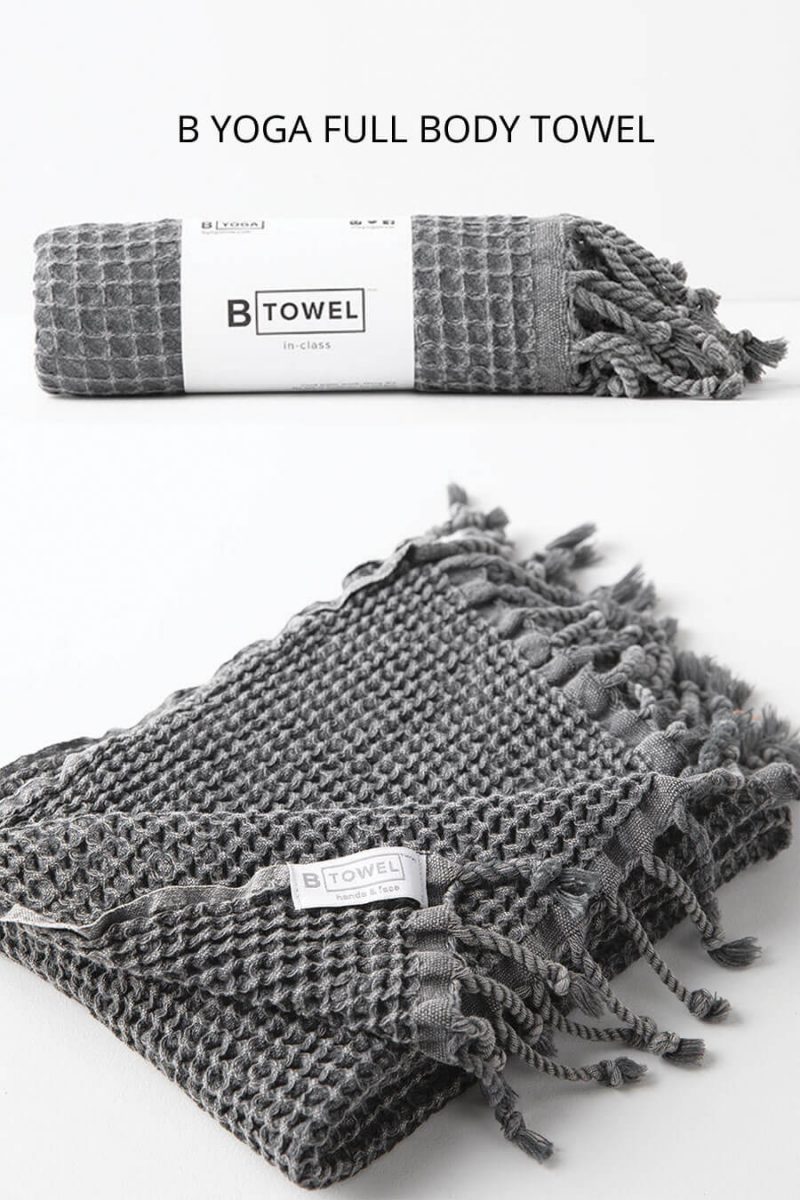 B Yoga Full Body Towel
B Yoga believes that anything is possible as long as there is mindfulness and movement, and they strive to empower everybody and every body. They care about both all the action and stillness in your day, so they want things to be both multifunctional and easy as possible for you. 
B Yoga's Full Body Towel was made to wrap yourself in after a challenging workout, refreshing shower, or to place over yourself during the savasana pose (maybe after that workout?). Additionally, though it's useful as a towel, it can easily be used as a blanket on the plane or as a picnic basket. Depending on your colour and style choice, it can even function as a shawl or wrap! Extremely durable, lightweight, and highly absorbent, it's able to roll up in a compact bundle, so it's easy to travel with from place to place. 
Colour and Styles: Beige Sultan, Black Sultan, Stone Stripe, Vintage Waffle
Made in Turkey
100% cotton
40" x 70" (Size may vary, depending on the chosen colour and washing)
When washing, make sure to:
Use cold water
Don't use any fabric softener or bleach
Machine dry
B Yoga also has plenty of other products, like the Silk Sleep Mask, the Release Roller, and the City Tote bag. However, they're probably most famous for their B Mats, grippy and eco-friendly, they are perfect for any yogi.
HALO Antioxidant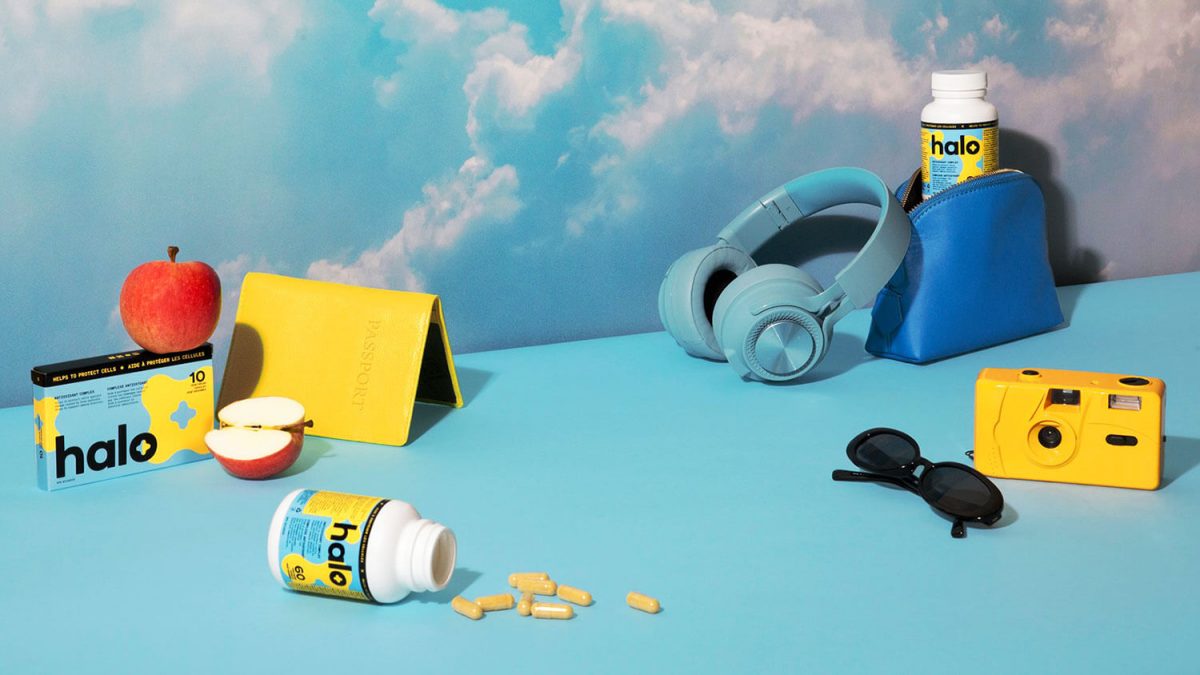 Halo, a nutraceutical company, sets out to fight the damage caused by exposure to radiation that's becoming more and more common. Whether you're going to the dentist for an X-ray or are a frequent flyer, radiation is a crucial tool. Nevertheless, it can be harmful as it causes an excess of free radicals to gather in the body, which, without protection, can create a higher risk for cellular damage. 
As a traveller and thus frequent flyer, this can be scary to hear. However, the Halo antioxidant formula claims to quench these free radicals to prevent the risk to cells altogether. All-natural ingredients that fit within the NHPD guidelines, the antioxidant can be taken every day or simply an hour before any radiation exposure.
Note: HALO is one of the newer travel wellness products on this list, so new, in fact, that it won't be launching in Canada until Fall 2021.
Other benefits include: 
Immunity support 
An increase in collagen production 
Improved energy metabolism
As countries begin to open up again and flying becomes more regular, Halo is something to check out!
Of course, before taking Halo, make sure to consult your health care practitioner to see if it's right for you. 
HAVNLife Chaga Immunity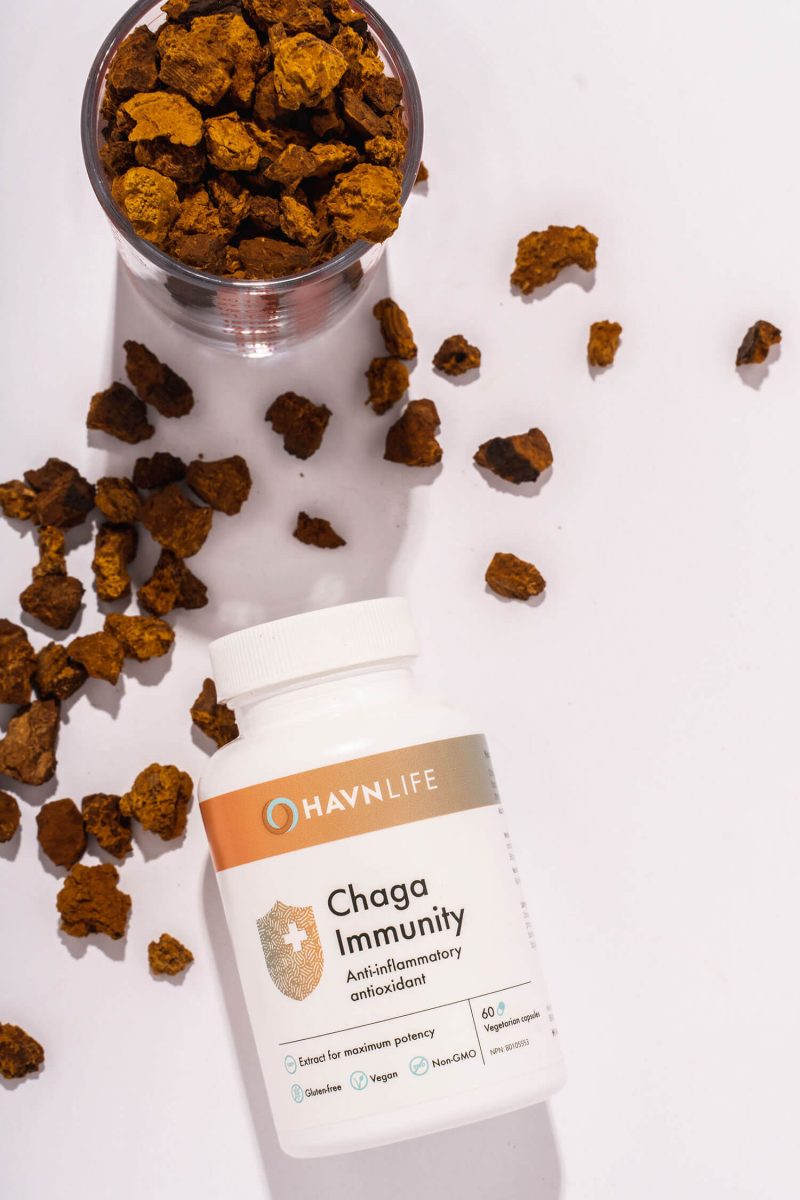 Travelling can be very stressful, and you need to keep yourself healthy and keep your immunity levels up, especially when you're travelling far away from home. HAVNLife wants to ensure that everyone can be their healthiest self and reach their full potential using their natural medicines.
Chaga Immunity functions as an anti-inflammatory antioxidant and also fights free radicals. Chaga, a mushroom, has been long studied and is the second-highest antioxidant-rich food in the world. It claims to fight and slow cancer growth, reduce the harmful cholesterol, LDL, and support the immune system.
More stats on Chaga Immunity:
Take one capsule daily (Adult dosage)
Vegan
Gluten-free
Non-GMO
Vegetarian capsules
HAVNLife also offers Reishi Recharge, offering zen and immune system support, Cordyceps Perform, an energy booster perfect for athletes (and adventure travellers), and more!
As with any of these travel wellness products, make sure to contact your health care practitioner to see if HAVNLife's Chaga Immunity is the right fit for you.
HAVNLife Products are also available on Amazon.ca
Check out the article: The Benefits of Amazon Prime when Travelling. Membership has Rewards
Kov Glacial Clay Cleansing Mask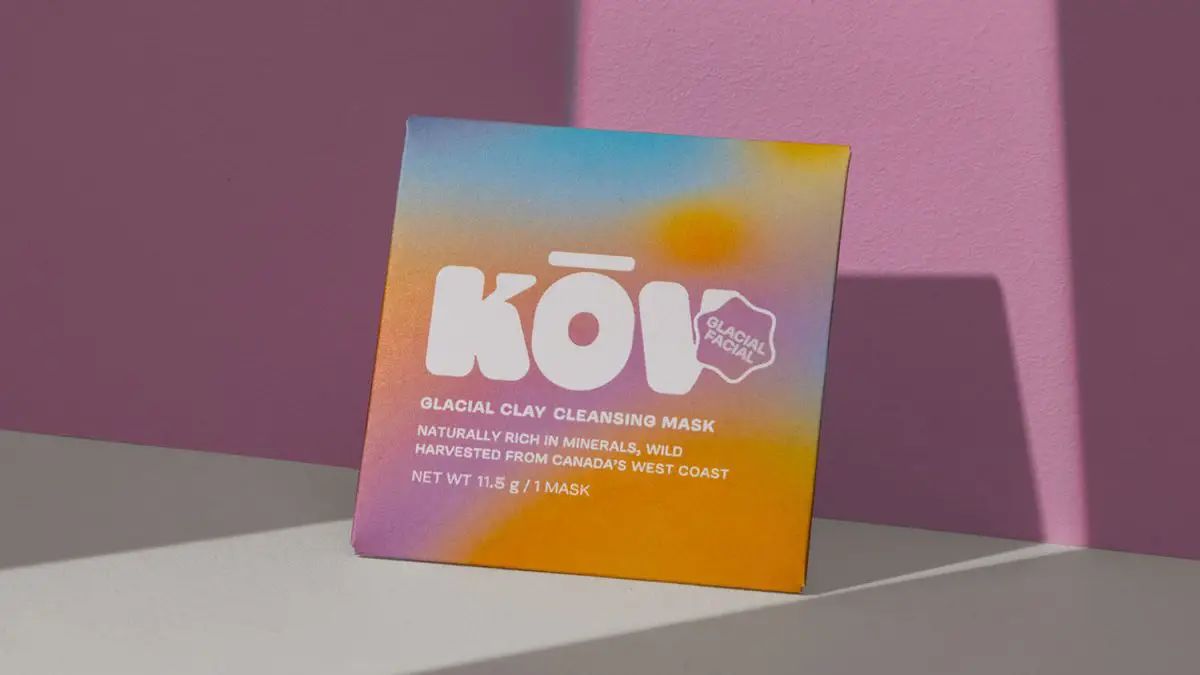 Kōv is all about nature, and they want to put the environment first when it comes to skincare, with 1% of their revenue going to marine conservation. Entirely natural, with no chemicals or preservatives, Kōv also packages without waste with reusable bottles and a refill program.
The Kōv Glacial Clay Cleansing Mask wants to ensure you have the most luminous skin. Therefore, it's deep-cleaning, skin tightening and hydrating, as well as containing calming and anti-inflammatory properties. Additionally, since you add your own water to make the mask, you can fly with them without worrying about liquids spilling. Their single travel sizes are both portable and affordable.
More about the mask:
Clinically proven to:

Lessen sebum and oil production by 95% 
increase collagen production by 70%

Made of 100% glacial oceanic clay from Canada
Inclusive to all skin types
Kōv also offers an Everywhere Wash and Moisturizing Lotion along with their Cleansing Mask.
Kaia Naturals Takesumi Detox Starter Kit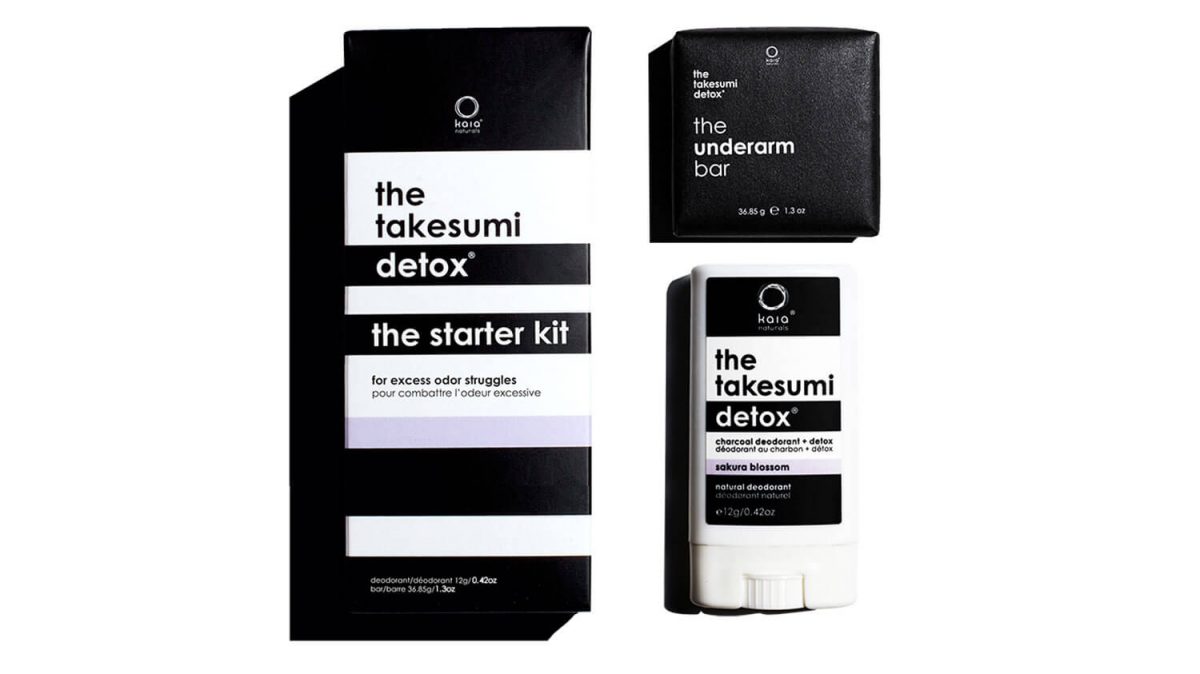 Kaia Naturals, a Canadian company, focuses on clean beauty. They offer complete transparency in their ingredients and are formulated according to strict EU standards and Health Canada regulations. They are also Credo Clean Beauty certified and cruelty-free.
The Takesumi Detox Starter Kit includes a mini underarm bar, which eliminates odour-causing bacteria, and a charcoal deodorant set that forms the barrier against sweat and odour. The two-step process creates extra-strength protection using activated charcoal, perfect for those wanting to try out natural deodorant. Though it's only a starter kit, the small size makes it ideal for travelling. 

Kaia Naturals also offers kits like the Takesumi Detox Starter Kit, Takesumi Bright Starter Kit, the Overnight Dry Shampoo, and many more.
Sade Baron Moi Multipurpose Beauty Balm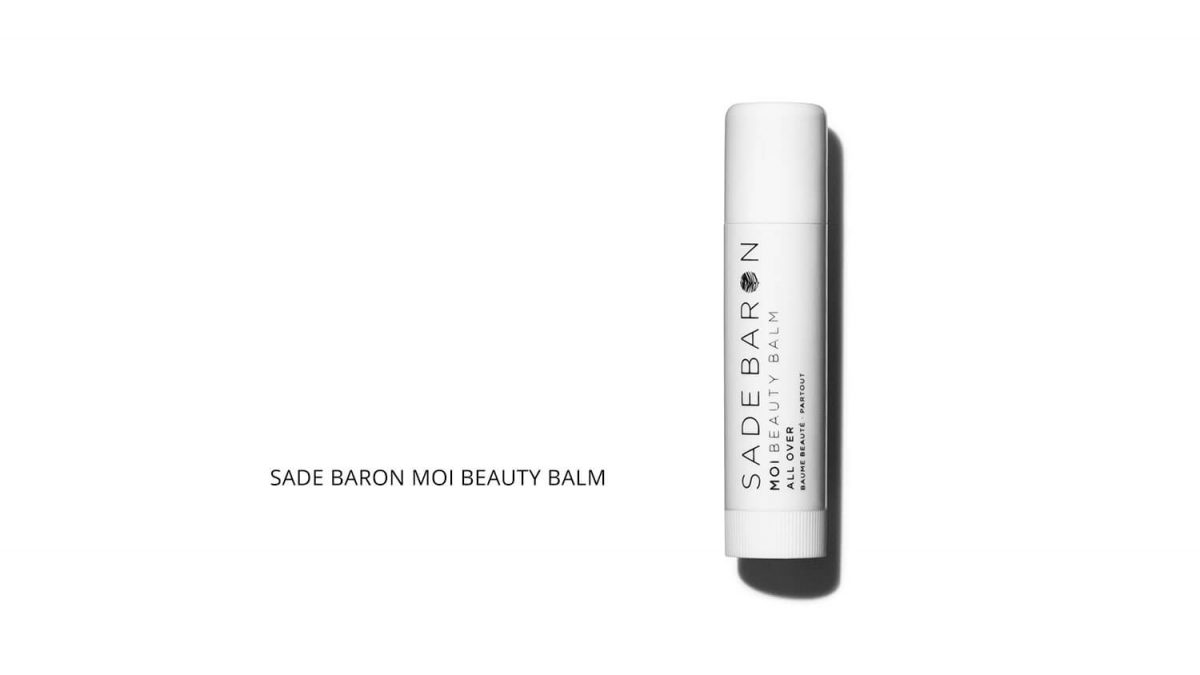 Sade Baron offers some of the best vegan body products that are great for both your skin and the planet. Each of their products aims to moisturize and repair your skin to look and feel its best.
The Moi Multipurpose Beauty Balm can be used anywhere on your body—yes, you heard that right! That means chapped lips, dry spots, fingertips, and any areas with eczema can all be moisturized with one product (and using only a little bit can go a long way). One of my best travel tips is to find products like this that you can use in multiple ways because they are essential for packing light. Not only that, but 98% of reviewers gave this product five stars, many claiming it's their go-to.
More about the Moi Multipurpose Beauty Balm:
15ml/0.5oz
Soft, non-greasy texture
Fragrance-Free
Key ingredients include Vitamin E, Rosehip, Cocoa Butter and more!
Other Sade Baron products include their La Rose French Pink Clay Bar Soap, Vulcano Activated Charcoal Body Wash, Anchor Citrus Blend Body Souffle, and many others.
Sade Baron Fresh Luxe Mist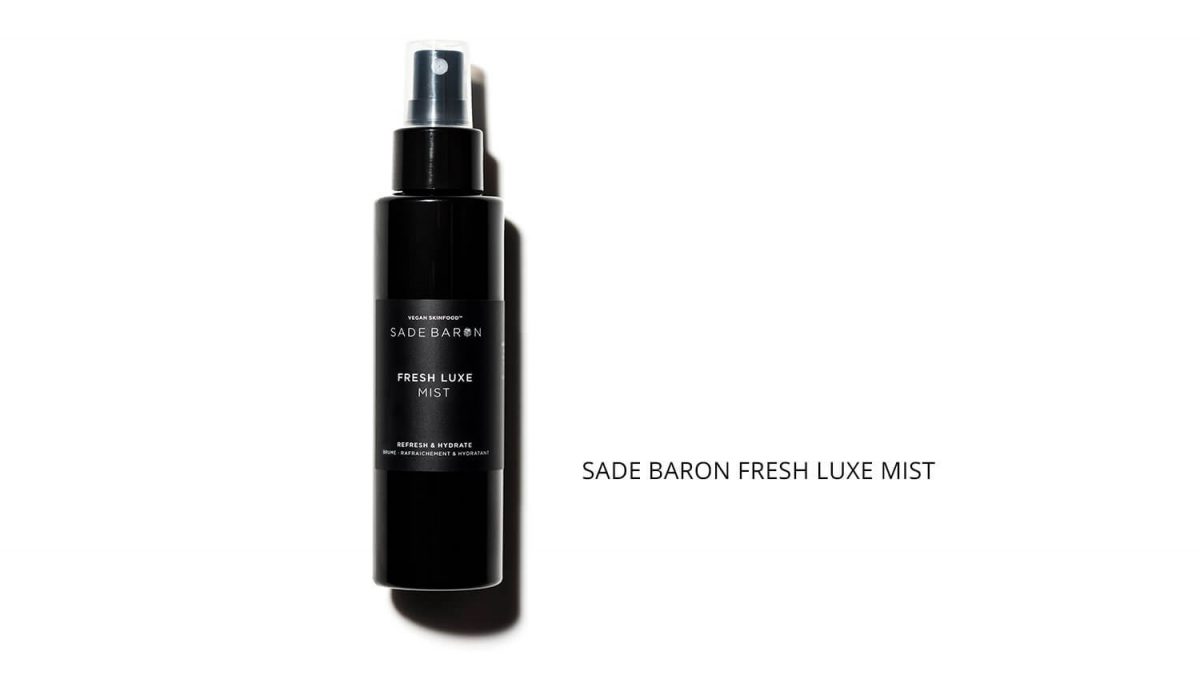 Sade Baron also offers the Fresh Luxe Mist to keep you refreshed and hydrated on long flights. Said to both revive skin and act as an anti-stressor, it calms and soothes your skin. The 30ml bottle is already sized for travel, but you can always decant from the larger 120ml bottle into a smaller, travel-size spray bottle. Or, if you're headed to the beach? You can keep it on ice or leave it in the mini-bar fridge in the hotel room for an extra cooling effect.
More about the Fresh Luxe Mist:
Lightweight
The scent is a citrus blend
Key ingredients include Aloe Vera Juice, Orange Blossom, Witch Hazel, and more!
92% of reviewers gave this product five stars, so it's also something worth checking out.
Halfmoon Mini Massage Balls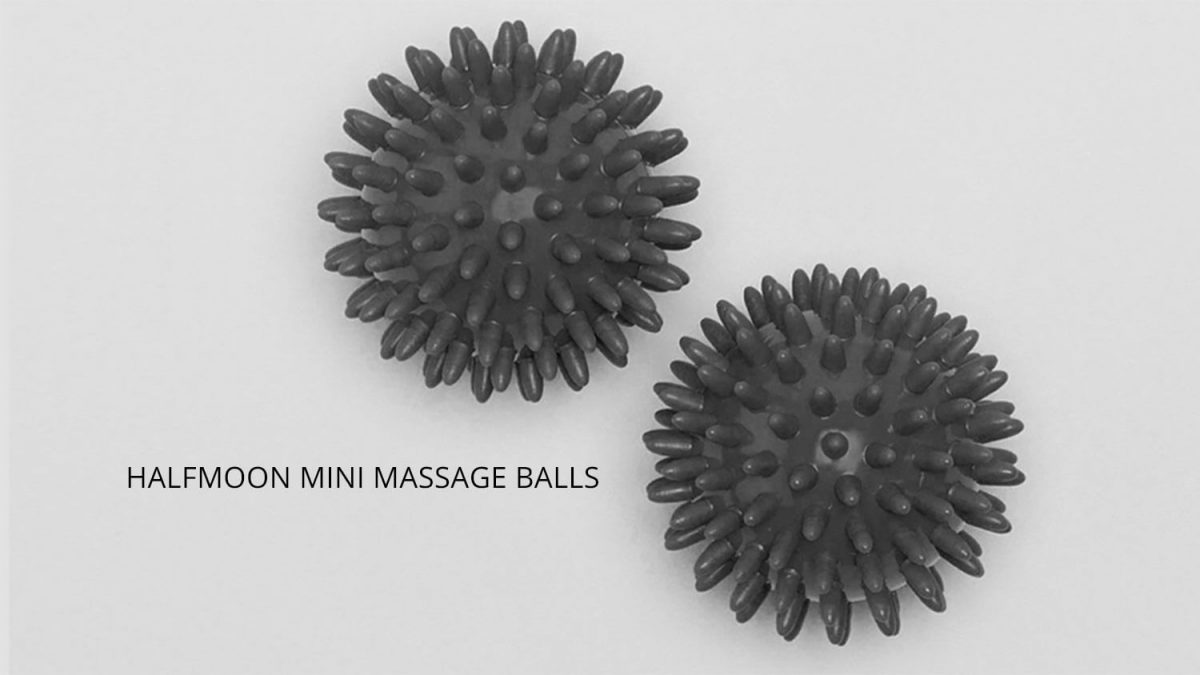 Halfmoon creates meditation and yoga products intended to comfort and assist you in mindfulness. Following the traditional yogic values, they also want to develop products for a wide variety of purposes.
The Halfmoon Mini Massage Balls are lightweight and are easy to travel within your bag.  If you're still tight for space, you only really need to pack one ball. Designed to target those little spots of tight and uncomfortable muscle, they also help improve circulation, providing much-needed relief. They're also great for after a long day of walking – an essential travel wellness product to keep handy if you have plantar fasciitis, as I do. You could even use it while in transit while seated on a plane/train/bus to relieve tension.
More about the Mini Massage Balls:
3 inches in diameter
Can use individually, or both at once
Made of 100% PVC
0.5lbs
Halfmoon also offers products like the Natural Cork Massage Balls, Foam Massage Roller, Organic Cotton Hot + Cold Therapy Pillow, and many more.
Province Apothecary Antiseptic Hand Cleanser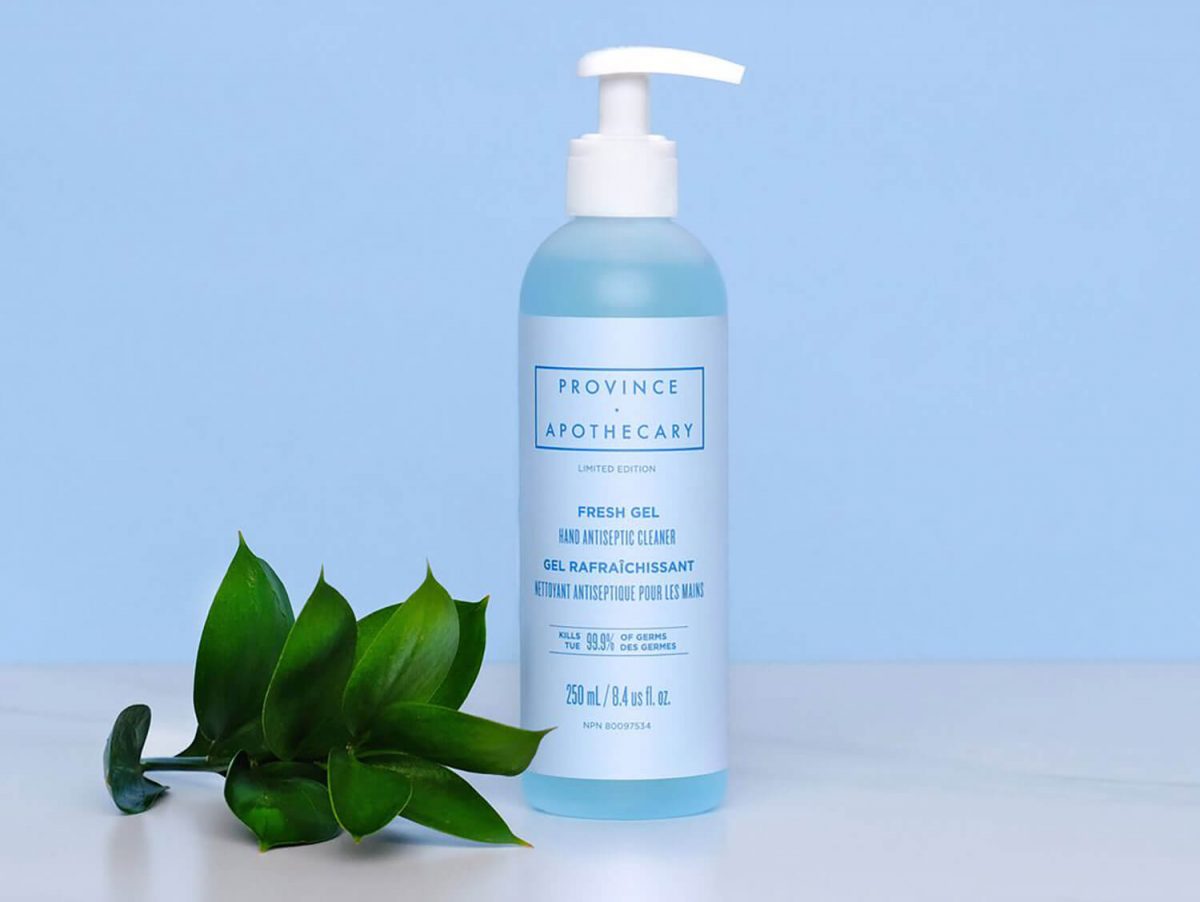 Province Apothecary is a green beauty company that provides products for those with even the most sensitive skin, ensuring nourished, balanced, and happy skin. The ingredients are sourced from all over Canada, and each year they donate to many different organizations to give back.
The Province Apothecary Antiseptic Hand Cleanser is made from ethyl alcohol and kills 99.9% of harmful bacteria and germs. It's perfect for travelling, especially during the Covid-19 pandemic, when keeping clean and safe is essential for healthy travel. Though the bottle isn't travel-size, you can decant some into a small travel-sized bottle when going on a trip.
More about the Antiseptic Hand Cleanser:
250ml/8.4 oz
FDA Approved
Key ingredients include 60% Ethyl Alcohol, Aloe Juice, Glycerin, and Eucalyptus Globulus Oil
Other products from Province Apothecary including the Calm Down Wellness Roll-On, Moisturizing Oil Cleanser + Make-Up Remover, Healing Eczema Balm, and many more!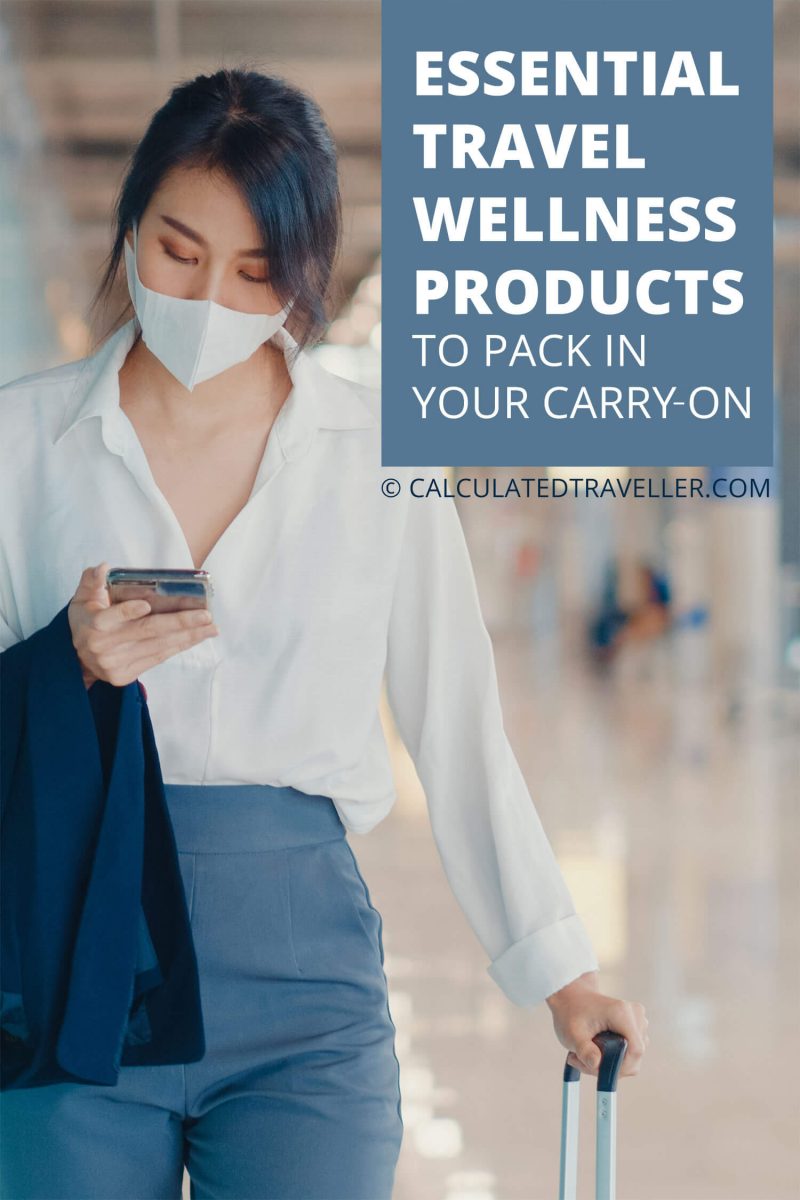 As the wellness travel industry continues to expand, these items are becoming travel essentials in my bag to ensure a relaxing wellness vacation.
Connect with me on social media and let me know what travel wellness products you pack in your carry-on!
Special thanks to Lucid Communications for providing product samples for this review. I did not receive financial compensation for this review. Calculated Traveller maintains full editorial control of all content published on this site.