A great view, convenient location and a comfortable environment in Clearwater Beach was on our holiday checklist, and we found just that at the Clearwater Beach Marriott Suites on Sand Key.
A Room and Hallway with a View
With all the hustle and bustle of getting our belongings out of our car and into the hotel, I failed to take notice of the exterior of the building…it wasn't until we exited the elevator on our floor that I realised that we were outside!
All the halls are exterior and being afraid of heights I was a bit spooked at first – we were really high up but the view as you can well imagine is gorgeous!
As the name states, all the rooms are suites at the Clearwater Beach Marriott Suites Sand Key and our King bay view room on the 7th floor was very comfortable. I love suites in general. Having a separate living area so that you can sit on the sofa to relax and watch TV versus having to sit on your bed – it's much more civilised and grown up so to speak and makes me feel like I'm in a home as opposed to a hotel.
Truth be told I did spend some time watching TV on the 37-inch HD flat-screen in the bedroom – specifically Food TV (I have a crush on Jamie Oliver) while hubby was quite happy to watch a sports program on a matching 37-inch HD flat-screen TV in the living area.
The media console on the desk in the bedroom was a bit confusing, really high-tech and a bit of technology overkill for this girl but hubby was impressed. I can see this being useful for business travellers who need to rehearse a presentation.
We found the location to be great and had no issues finding our way around Sand Key once we figured out how to navigate the fact that we were on a Key and had to drive off the key on to the "mainland". The location was central to nearby cities St. Petersburg and Dunedin and to local attractions such as the Clearwater Marine Aquarium and the Dali Museum.
There are shops and restaurants on site at the resort, but there is also a plaza right next to the hotel. We had a lovely dinner at Columbia 1905 and a very reasonably priced filling breakfast at Maggie Mae's in the plaza. If you didn't want to walk via the sidewalk on the main street and wanted a more scenic view, there is a boardwalk along the water's edge behind the hotel that provides access to Columbia 1905 and the plaza. We also ate at Caretta on the Gulf a short drive north.
Unfortunately, due to the rain and cold weather we didn't have an opportunity to enjoy the inviting pool and patio area but as you can see by the photos it would be beautiful and relaxing to spend the afternoon/evening there.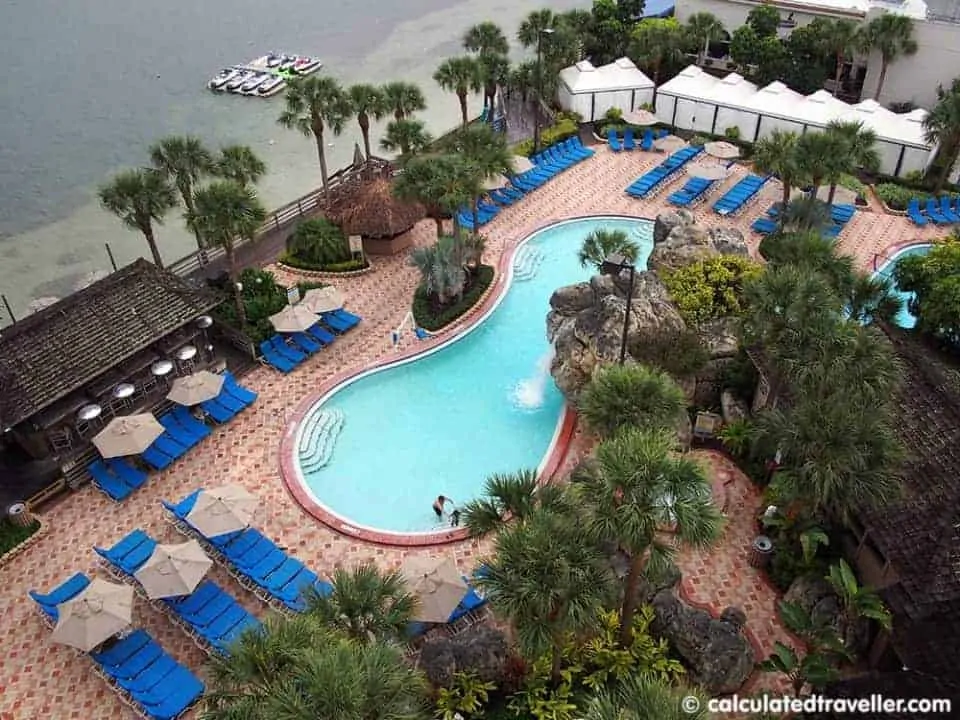 Pros
Location to the beach and walking distances to shops, restaurants
All units are suites with separate sleeping/living areas
Refrigerator, microwave, bar sink, coffee maker
Bedroom area has private balcony with seating and view of the bay
Living area has exterior view of street
Sofa bed
37-inch flat-screen TVs in both the bedroom and in the living room
Media technology panel
Luxurious bedding
Coffee shop serving Starbucks and Hertz Car Rental on site
Dining on site
Cons
Exterior corridors may not be ideal in bad weather or if you are scared of heights. It was raining when we were there, and the tile floor was quite slippery.
We found it to be noisy as you could hear the sound of wheeled luggage rolling along the tiles as people checked in and out.
No towel bars or hooks in the bathroom.
Air conditioning and the heating system was confusing, and it was hard to regulate the temperature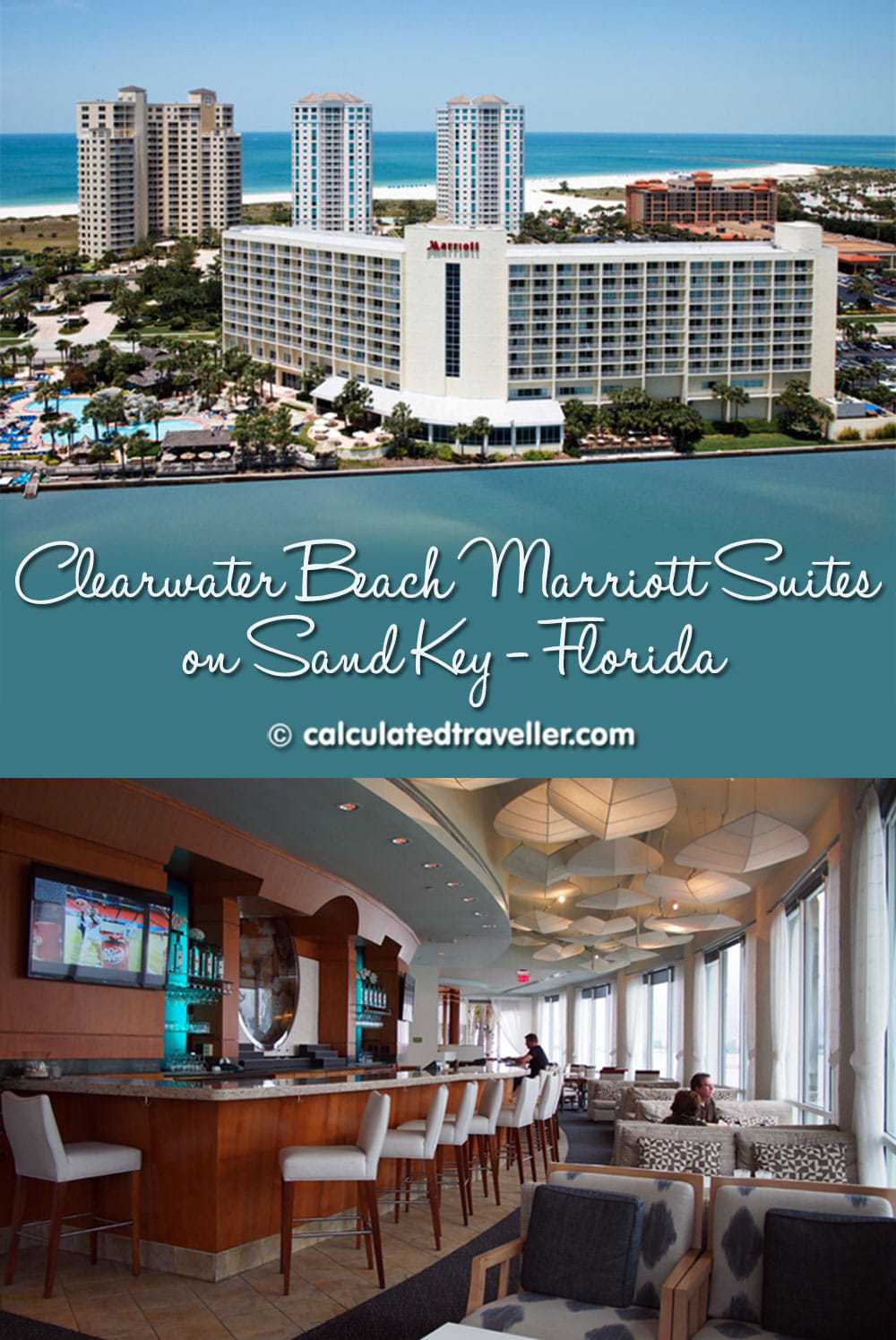 Clearwater Beach Marriott Suites on Sand Key
1201 Gulf Blvd. Clearwater FL 33767
Read more Clearwater Beach Marriott reviews on TripAdvisor.
Travel assistance provided by Visit St. Petersburg Clearwater. As always, the opinions expressed in this post are my own.
Looking for tours in the area? Check out: