Just because you put the word "famous" in front of your name doesn't necessarily make it true. But in the case of Famous Dave's Barbecue – it's the truth.
With 200+ restaurants in the USA (1 in Winnipeg Canada) and 700+ awards for barbeque; Dave Anderson knows his stuff. It's said that Dave is a "living and breathing barbeque encyclopaedia."
You had me at the word "barbecue"
Say the word "barbeque" and I'm there. So, when we were staying in Alexandria, Virginia while visiting Washington DC and we drove past the restaurant one evening, I insisted on a detour.
Yes, it's a chain but don't let that discourage you from giving it a try. The decor has that "chain" feeling but the ambience is family friendly and in my opinion, any barbeque joint that leaves a roll of paper towel on each table, wet wipes and a variety of sauces (6 in total) to choose from, means awesome sauciness is soon to arrive.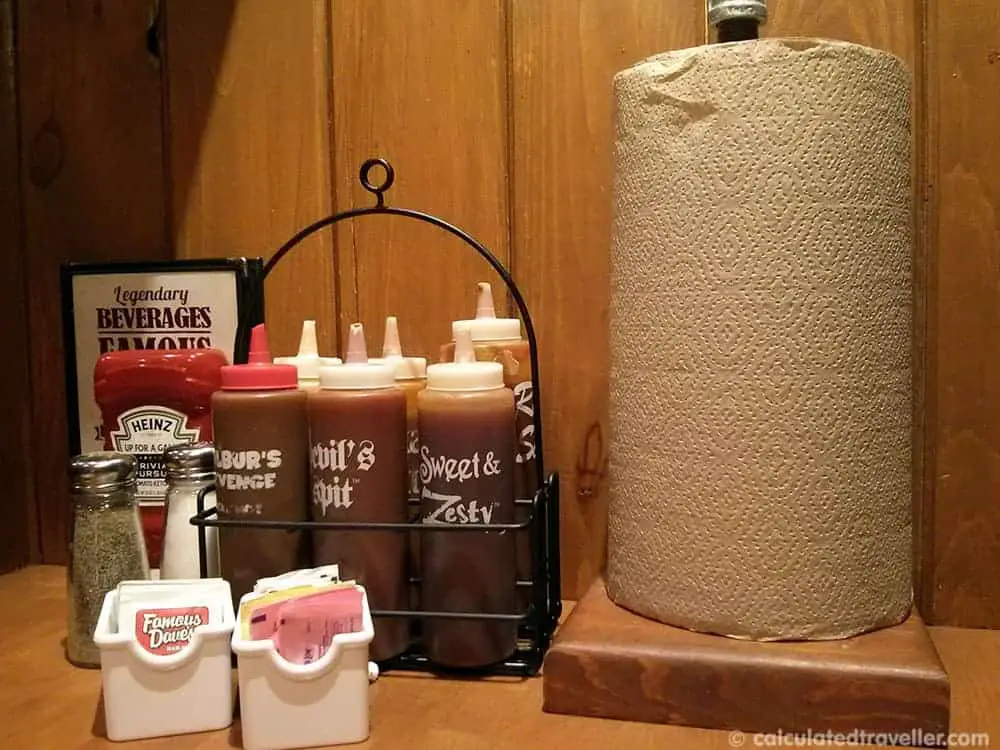 Low and slow is the number 1 rule when it comes to barbeque but what to order?
Brisket?
Pulled Pork?
Ribs?
So many choices and you want to have it all – am I right?
Why limit yourself to just one type of meat?
If it's on the menu I always go for the sampler and in the case of Famous Dave's Barbecue the sampler is called the "All American BBQ Feast."
Feast for Two – $39.99US
St. Louis-Style Spareribs, Country Roasted Chicken, Texas Beef Brisket or Georgia Chopped Pork, Creamy Coleslaw, Famous Fries, Wilbur Beans, Corn, Corn Bread Muffins all served family-style on a garbage can lid.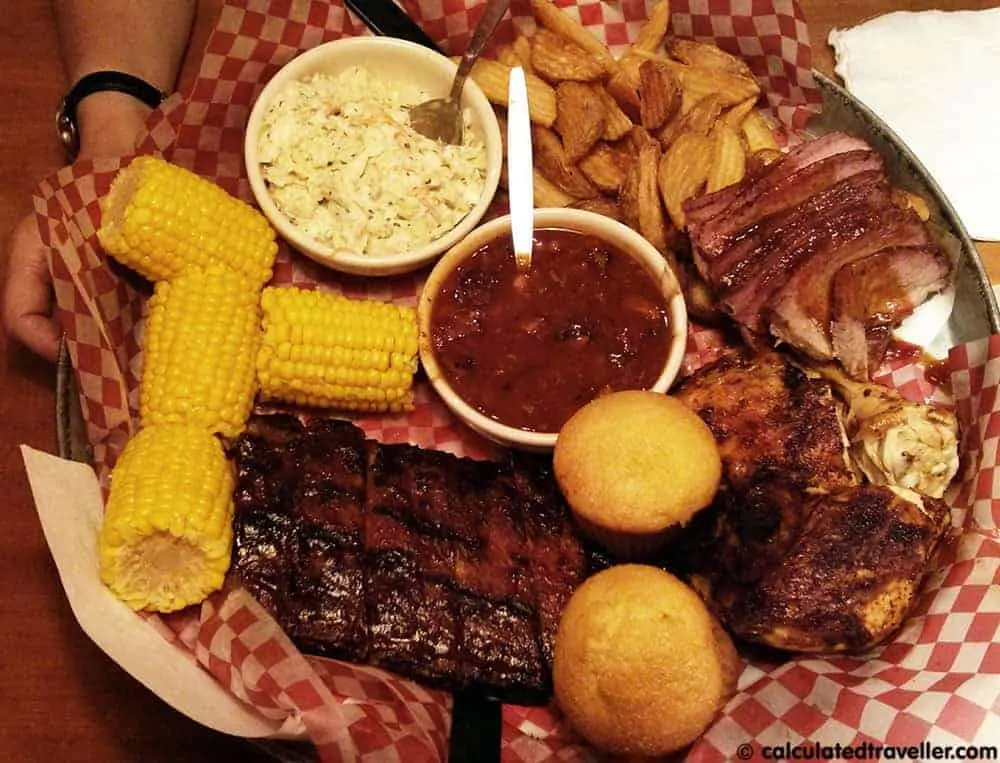 Garbage Can Lid????
Yes, you read that correctly. The story goes that Dave used to smoke his ribs in his garage and because he didn't have big enough platters to serve the crowds of friends and family, he would just present everything on a clean garbage can lid…and that tradition continues today.
Final Verdict of Famous Dave's Barbecue
First off, the portion size is massive. The menu says that it should feed 2-3 people, but honestly, I would think that 3-4 people is a more accurate estimation. There was so much food that we had leftovers for lunch the next day.
We've been disappointed before with "chain" barbeque restaurants, but honestly, we loved it all. The brisket wasn't fatty, the ribs were fall off the bone, and the chicken was nicely smoked and moist. The beans were exceptionally good and smoky with pieces of burnt tips mixed in – YUM.
I would visit Famous Dave's again and yes, I would order the sampler, but instead of beef brisket I'll try the pulled pork, and I'll make sure to wear stretchy pants!
Share your experience with Famous Dave's Barbecue or recommend another favourite barbeque restaurant for us to look for on our next trip.
For more barbecue in the USA read:
– Casual Dining at Porky's Bayside BBQ in Marathon Florida
– Sweet Smoky Goodness at Iron Works BBQ Austin Texas
– Cooper's Old Time Pit Bar-B-Que. It's Slap your Mama Good!