Seattle, Washington is a great place to visit with family or friends. It's the largest city in the Pacific Northwest region of America and is also the largest northernmost city in the country. The diverse trade hub is known for its sizeable LGBTQ+ community, music history, and some of the highest minimum wages in the United States. It's no surprise that Seattle's population is rapidly growing, with more people moving there every year!
When planning your trip itinerary, keep Seattle's weather in mind. Seattle gets just as much rain as the average US city, but far less sunlight. The temperature remains tolerable throughout the year, rarely dipping below 32 degrees Fahrenheit and seldom soars above 90 degrees. You can leave your sunglasses at home for this trip but certainly, bring an umbrella.
These free things to do in Seattle will keep you busy without draining your vacation fund. By saving money on attractions, you'll have more to spend on Starbucks and souvenirs!
1. Pike Place Market
Explore one of Seattle's most popular attractions Pike Place Market for free! Here, you'll find farm stands, crafts, and fun events. You can also catch some live entertainment from local buskers, who perform on the streets of this nine-acre-wide market. Be sure to bring some cash if you want to buy food or gifts!
Perhaps the best way to experience Pike Place Market for free is by taking a self-guided tour. Thankfully, the market has provided a list of spots you need to hit during your visit. Visit during any season to get a real taste of Seattle!
2. Waterfall Garden Park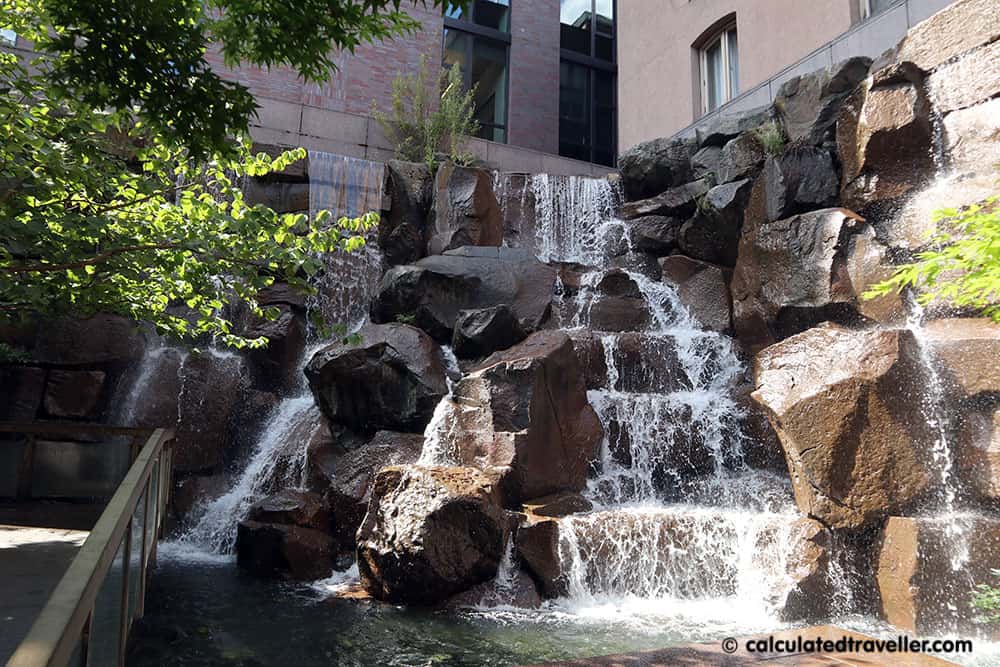 Seattle's Pioneer Square neighbourhood is home to a 22-foot-tall waterfall! Waterfall Garden Park is a tiny paradise that will give you a break from crowds and sightseeing. Stop by for a peaceful afternoon picnic in the middle of a hectic city!
Waterfall Garden Park has an interesting history. It sits in an area that was formerly occupied by UPS and is maintained by the Anne E. Casey Foundation, a non-profit that was started by UPS's founder.
3. Frye Art Museum
The Frye Art Museum always offers free admission and parking! Take a complimentary guided tour to see the 19th and 20th-century artwork. You can also tour the museum yourself if you'd prefer to. Feast your eyes upon American, French, and German masterpieces!
If you don't have a car in Seattle, you can get to the museum by taking public transportation. Several public bus routes go to the Frye Art Museum, as well as the Link Lightrail and First Hill Streetcar.
4. Olympic Sculpture Park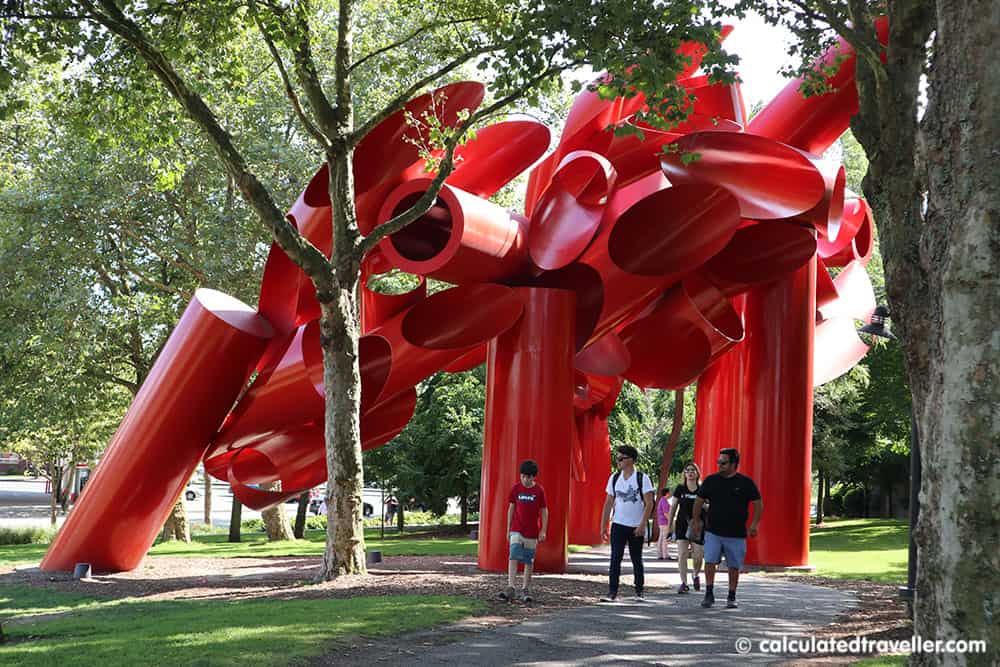 The Seattle Art museum manages a sculpture park with over a dozen works of art! From dusk until dawn, visit the Olympic Sculpture Park to see captivating pieces for free. This outdoor exhibit art walk is a perfect way to kill some time in Seattle (as long as it's not raining!)
5. Ballard Locks (Hiram M. Chittenden Locks)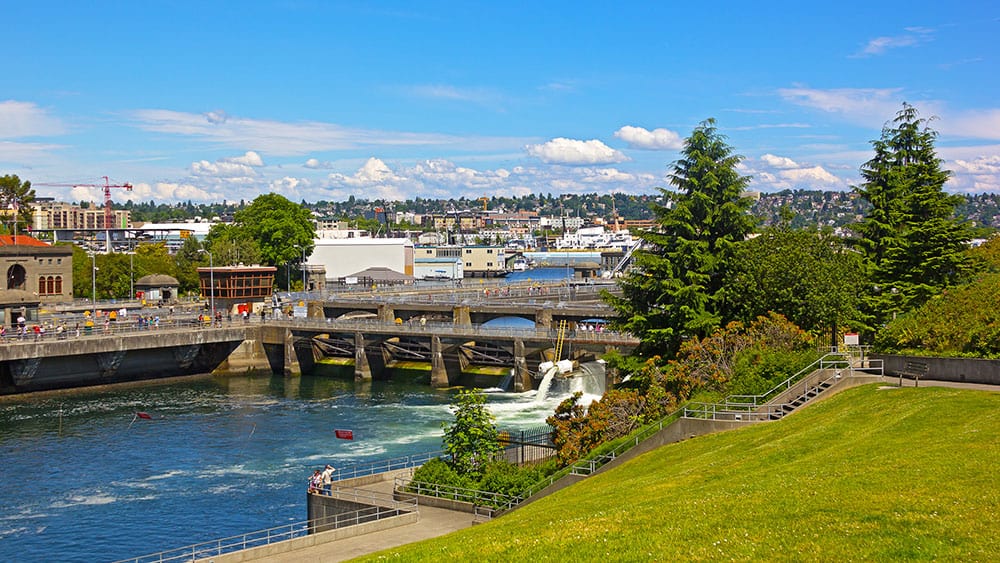 Over 100,000 boats travel through the Hiram M. Chittenden Locks (also known as the Ballard Locks) and its canal every year! Visitors can watch ships move between the Puget Sound Region and Lakes Union and Washington. Keep your eyes sharp to catch a glimpse of some marine life, like salmon swimming amongst the wooden boats in the summer! Between March and November, you can reserve your spot on a free guided tour so you can find out what's worth seeing.
The Ballard Locks are also home to a beautiful botanical garden. Watch the boats go by from the grass!
6. Discovery Park
Take a hike at Discovery Park! There are lots of trails to choose from on this 534-acre land, including forest trails and rocky beaches. Even inexperienced hikers can enjoy themselves at this park since the elevation is extremely gradual on the Discovery Park Loop Trail. Throughout the 2.8 miles, there are only 140 feet of elevation!
One of the best ways to experience Discovery Park is by hiking the Loop Trail. Click here for a hiking guide!
7. Ladies Musical Club
This club performs free classical music at different venues in Seattle. The women-only ensemble performs from October through May, multiple times a week. Some concerts are themed, with tributes to the Baltics and Offenbach opera pieces.
The Ladies Musical Club has quite an impressive history. Founded in 1891, a time when few women became professional musicians. Now, close to 150 women perform with the group.
8. View the Skyline
Why pay to view Seattle from the Space Needle when you can get great skyline photos for free? Head to Gas Works Park to see Seattle over Lake Union during the day. Alternatively, you can get an even better view from Kerry Park on Queen Anne Hill. From there, you can see the entire Seattle skyline – that includes the Space Needle!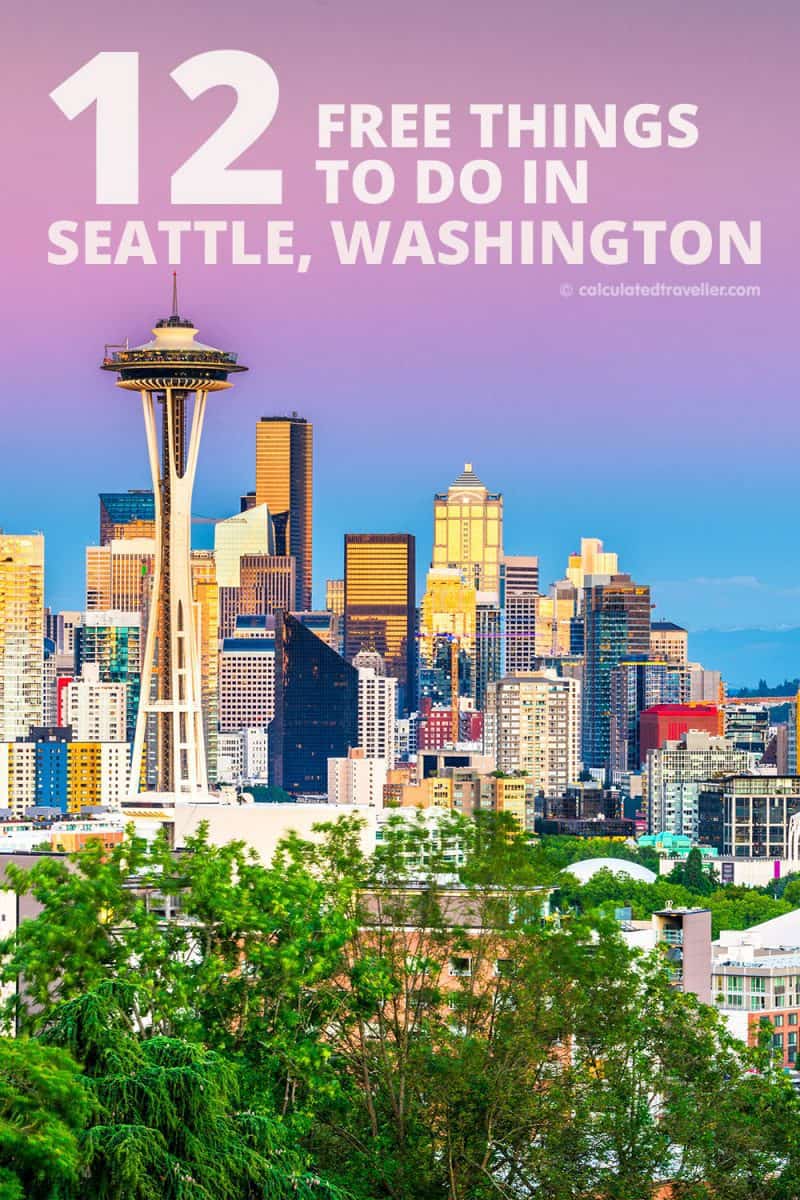 9. Seattle Center
Visit Seattle's cultural centre for a free event nearly every weekend! If you're in Seattle at the right time, you might catch some fun festivals. There's an Irish Festival in March, Polish Festival in July, and CroatiaFest in October. Even if you're not in town for a festival, you're almost sure to be around for other fun events!
The Seattle Center hosts events for people with different interests, but those who appreciate art will have the best time here. From art college fairs to theatrical performances, you can find it all here!
10. Golden Gardens Park
The best reason to check out Golden Gardens Park is to light an open fire. This park public park has designated campfire areas, long with trails and beaches. On a clear night, you can get an incredible view of the West Coast sunset!
Although the park is open year-round, visiting during the summer is more comfortable than at any other time. Bring your kids to the play area on a sunny day!
11. Seattle Public Library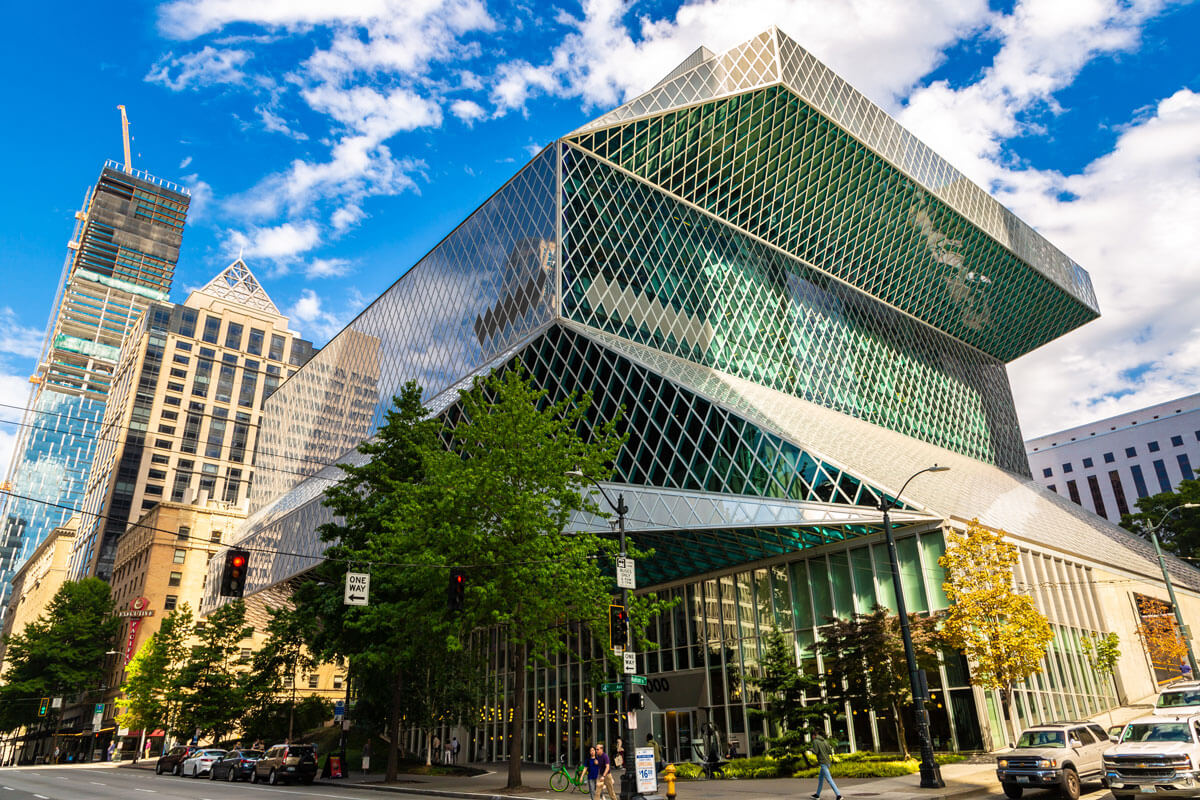 The Seattle Public Library is free to visit and offers free-WiFi and private skype rooms. With 362,987 square feet of space to explore the stunning building designed by Dutch architect Rem Koolhaas and Seattle-based LMN Architects offers more than 1.45 million books.
Read more about the Seattle Public Library in our article: Six Sights to See in Seattle Washington
Prefer to travel with your own secure private Internet hotspot?
Check out our suggestion and read our KeepGo Hotspot review.
12. Klondike Gold Rush – National Park Service
Located right downtown in Pioneer Square this fabulous little National Park explores the Klondike Gold Rush and its effect on the city of Seattle. If you have the time, participate in the Junior Ranger Program – it's available for children and adults and don't forget to stamp your National Park Passport.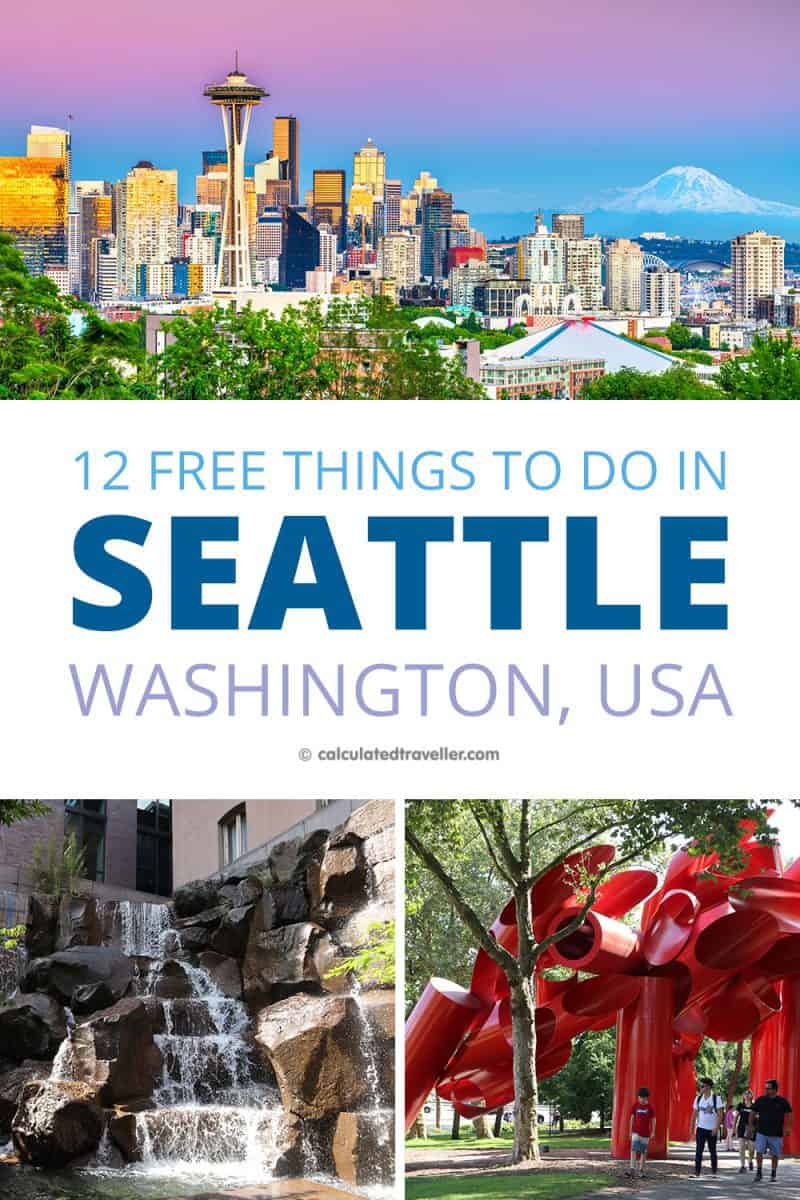 Seattle may be home to many expensive attractions, but it's also a great place to visit on a budget. Incorporating free things to do in Seattle is just one way to save money on your trip, but it's likely the most effective way to see the city. Don't let hefty price tags keep you from experiencing the Pacific Northwest's best city!
Now if you ARE looking to spend a bit of money have a gander of some of these recommended tours:
What is your favourite free thing to do in Seattle Washington?
For other Seattle articles, check out:
– Aviation Museums Around the World