When most people think of Kissimmee Florida, they think of Mickey, Minnie and the rest of the gang over at Disney. But, there is lots more to Kissimmee than theme parks, amusement rides and resorts! Whether you visit Kissimmee as a side trip to your Disney Magic Kingdom vacation, or you make it your go-to destination, you won't be disappointed with everything this fun and vibrant city has to offer.
When you want to take a break from the hustle and bustle of the theme parks, here are ten things you can do in beautiful Kissimmee.
1. Go Kayaking on Shingles Creek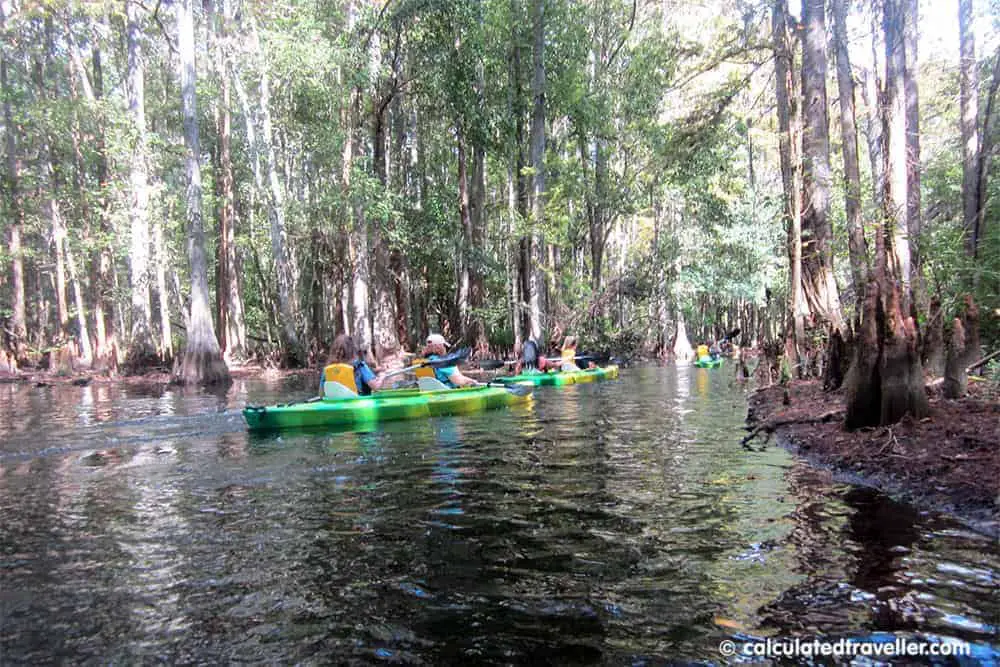 When it comes to what to do in Kissimmee Florida, I think spending time exploring nature is a great way to de-stress and relax in pure serenity especially after dealing with the crowds at the theme parks.
We had the best time in our two-person kayak as we navigated Shingles Creek looking out for the birds, turtles and of course, the gators!
To read more about my experience Kayaking Shingles Creek see our article Kayaking Shingle Creek Kissimmee Florida

2. Take an Airboat Ride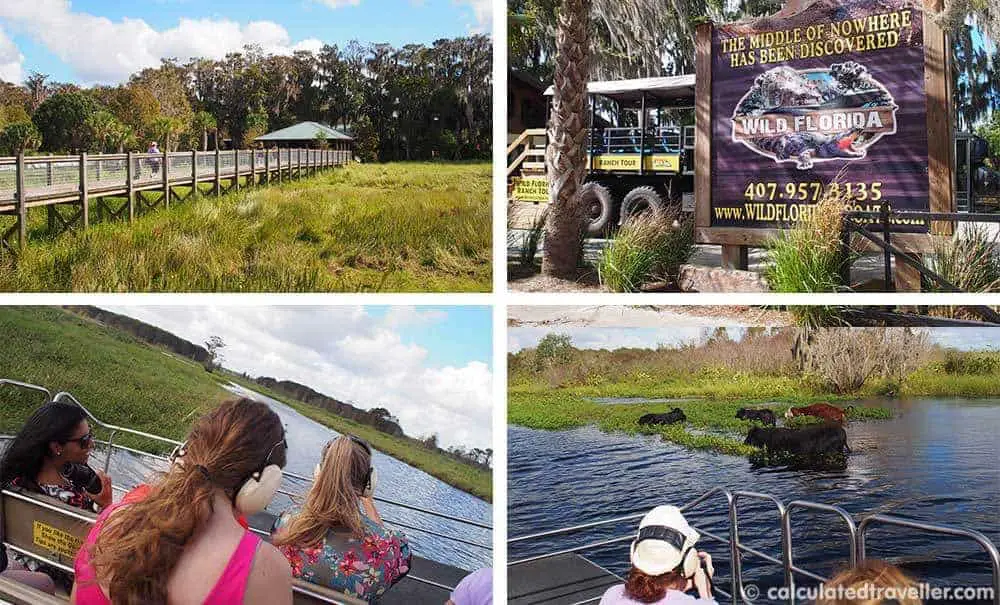 Airboats are a way for many Floridians to get from place to place and get to areas not accessible by car. Taking an airboat ride can be a fun way for you and your family to see some of Florida's unique wildlife up close. You may get a peek at alligators and even a zedonk, the donkey-zebra hybrid. You don't get to see that every day! Book an Airboat Tour through the Florida wetlands at Wild Florida Airboats and afterwards visit their Gator and Wildlife Park.
3. Discover some history at Pioneer Village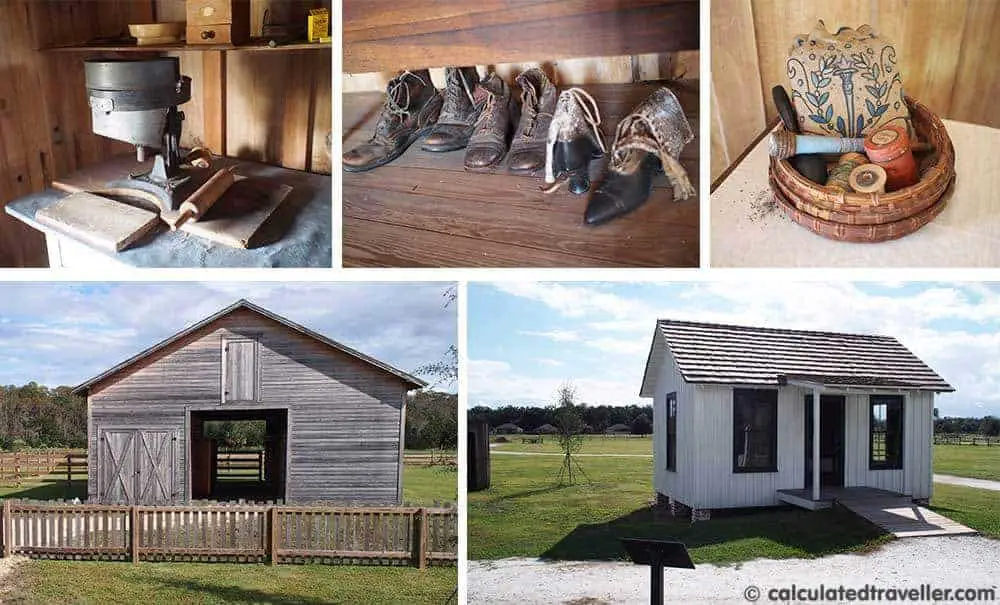 Do you love history? A great way to unwind and take a trip back into "old" Kissimmee is to take a walk around Pioneer Village. Enjoy its 8-acre nature preserve where you can walk beneath hundred-year-old trees and steal a peek at some of the local wildlife.
Spend a few hours touring the century-old buildings at Pioneer Village and learn more about the history of the area from the Osceola County Historical Society. There is a church, train depot, schoolhouse and other buildings, some dating back to the late 1800's. Walk through the grounds and read the signage to learn what life was like in Kissimmee during this period.
4. Take a Hot Air Balloon Ride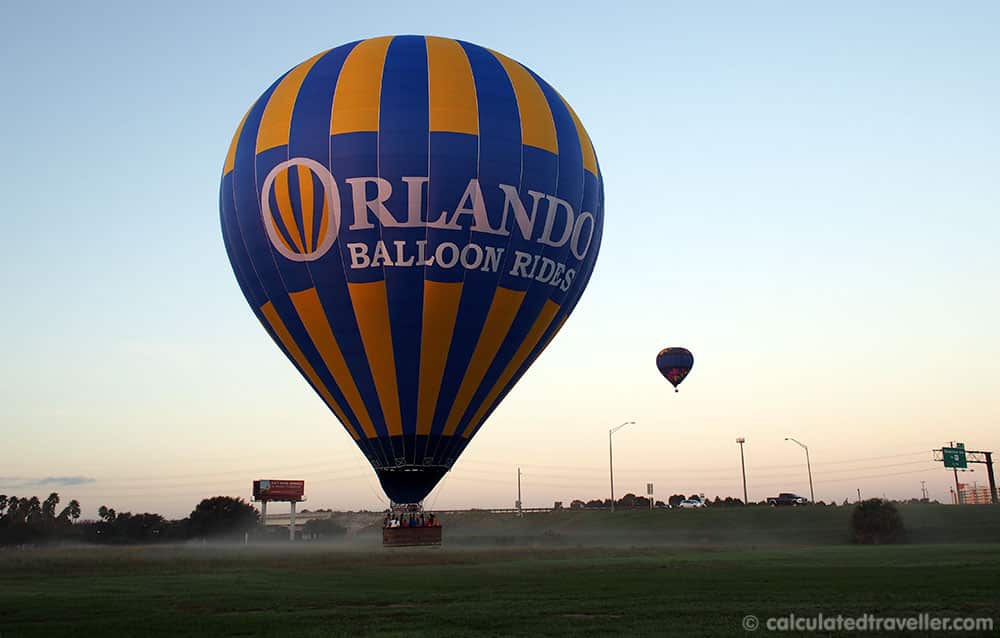 If you want a unique experience, there is no better way than a hot air balloon ride. Get a bird's eye view of the theme parks, orange groves and swamps on this hour-long adventure which lifts off at sunrise. Your guide will point out attractions from above, giving you a guided tour of the area. When you land, you can celebrate your adventure with a champagne toast!
5. Jump out of a "plane" at IFly Indoor Skydiving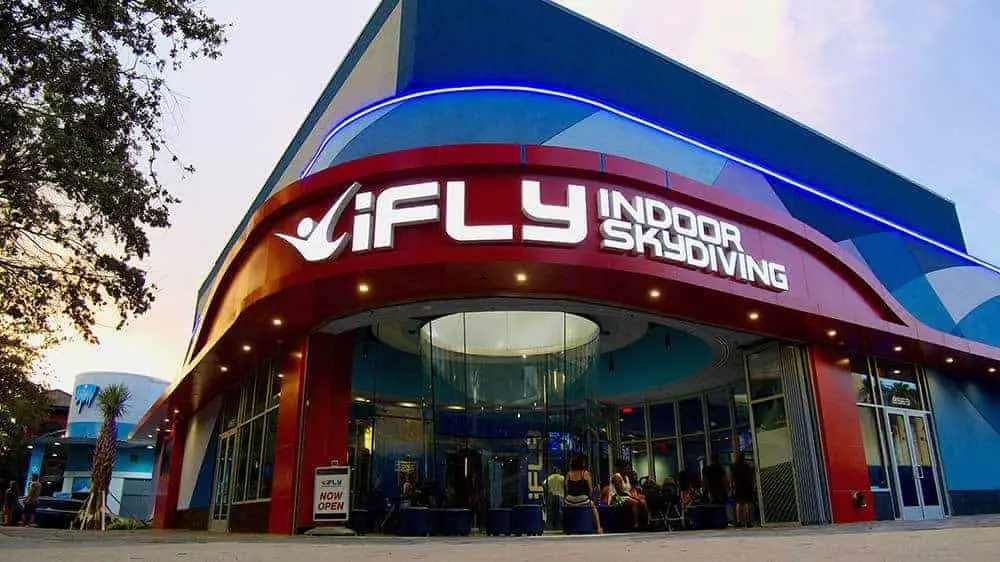 The howl of the wind in your ears, the feeling of weightlessness as you float suspended in air….Sound like fun? Then head over to iFly Orlando! I had an incredible experience trying my hand at Indoor Skydiving with the gang at IFly Orlando. It was the perfect way for this big chicken to get that adrenaline boost without actually jumping out of a plane!
To read more about my experience Indoor Skydiving (complete with videos) see our article Soaring at iFly Indoor Skydiving Orlando.
6. Shopping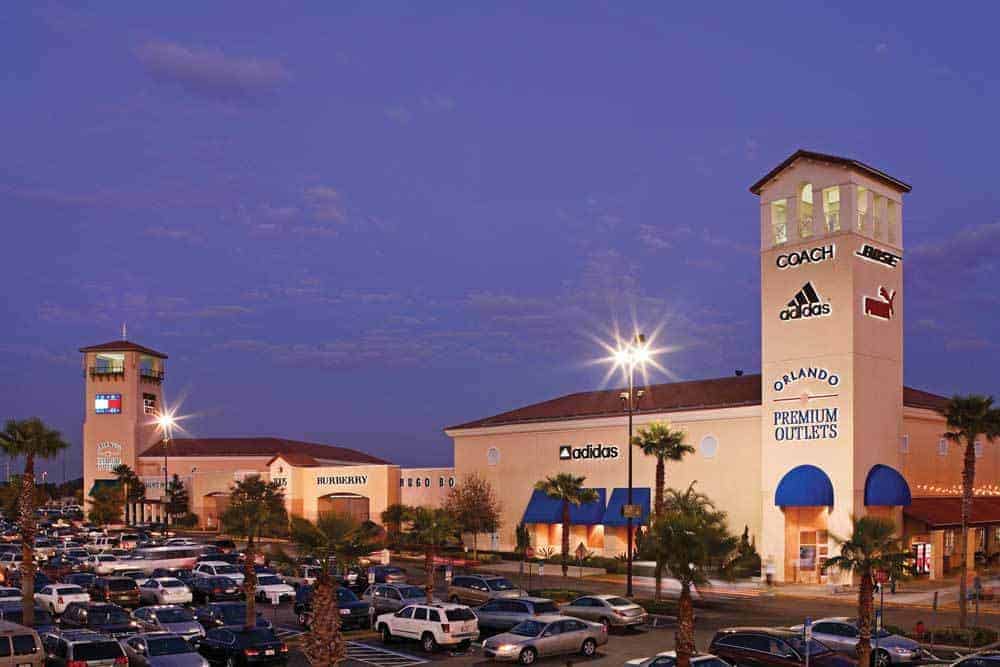 I love to do a little bit of shopping when I'm on vacation don't you? Whether you like designer purses or bargain clothes, there is a something for everyone at Kissimmee's malls and outlets.
Here are a just a few shopping choices in Kissimmee for retail therapy:
Orlando Premium Outlets
Located just a few miles from Universal Studios, the Orlando Premium Outlets hosts over 180 designer and brand-name outlet stores. Take a break from your theme park adventures to do some serious shopping here. Be sure to sign up for the VIP club online to get even more savings and money-saving coupons.
Lake Buena Vista Factory Stores
Lake Buena Vista Factory Stores is known as central Florida's best-kept secret for bargains. Take advantage of discount prices up to 75% off of retail. There is even an on-site resort if you need more than a day to browse the shops. Who wouldn't want to live at a mall for a couple of days?
The Florida Mall
There is a shop for everyone in your family at central Florida's largest shopping centre. The Florida Mall boasts two indoor play areas and the Crayola Experience. At 1.7 million square feet, you can spend a whole day walking the shops and eating at one of the 23 restaurants and eateries. Don't worry if you can't do it all in one day, they have a hotel here, too!
7. Stroll through Celebration
We've been visiting Celebration for years and highly recommend the quaint town for a visit. Originally designed and developed by The Walt Disney Company, the town of Celebration is quiet and charming. It reminds me of small-town America such that you would see on old black and white television programs.
If you are looking for something to do in Kissimmee for free (or almost free) do as we do — pack a picnic, sit by the pond and laze the day away. But if you are looking for good eats, I recommend a visit to Columbia 1905 restaurant on Front Street.
Read a review of the Clearwater Florida location in our article:
Columbia 1905 Restaurant Clearwater Beach Florida – Review
8. Medieval Times Dinner and Tournament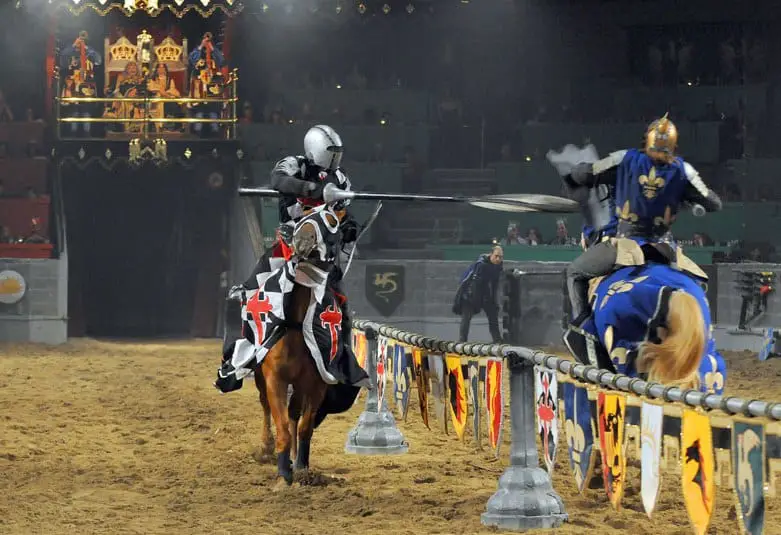 Medieval Times may seem sappy but we truly enjoyed our evening out cheering for our knight, and that was us two adults with no children. I know that my cousin has taken her two sons to Medieval Times multiple times and that this is their favourite thing to ask for when the discussion of where to celebrate their birthday comes up.
See our article Medieval Times Dinner & Tournament – Orlando, Florida
If Medieval Times Dinner and Tournament is not your style, there are many other dinner and show venues in Kissimmee to choose for your nighttime entertainment.
9. Kennedy Space Center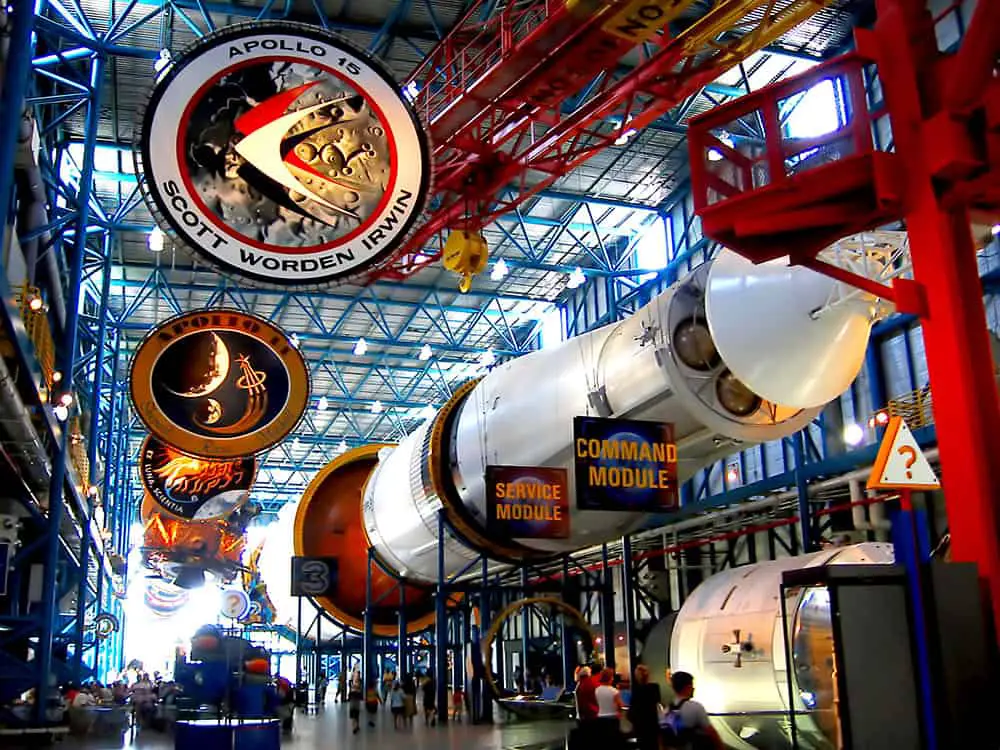 There is no problem here, Houston – We're at Kennedy Space Center!
Call me a space nerd, but this is one of my favourites places to visit and it's a makes for a great day trip. There are some remarkably fascinating exhibits such as the Journey to Mars, Rocket Garden and Space Shuttle Atlantis. Don't miss out on the tour of Apollo/Saturn V Center as well as the Launch Control Center. If you plan the date of your trip right, you just might be able to see a rocket launch.
10. Road trip to Clearwater Beach or Caledesi State Park

Sure, you can relax by the pool at your resort, but it isn't the same as a sandy beach, now is it?
When it comes to things to do near Kissimmee look no further than the gulf side of Florida and Clearwater Beach located about 2 ½ hours west of Kissimmee. Clearwater Beach itself is a great place to explore the sand, ocean, and sunshine but for a real beach adventure head over to Caledesi State Park.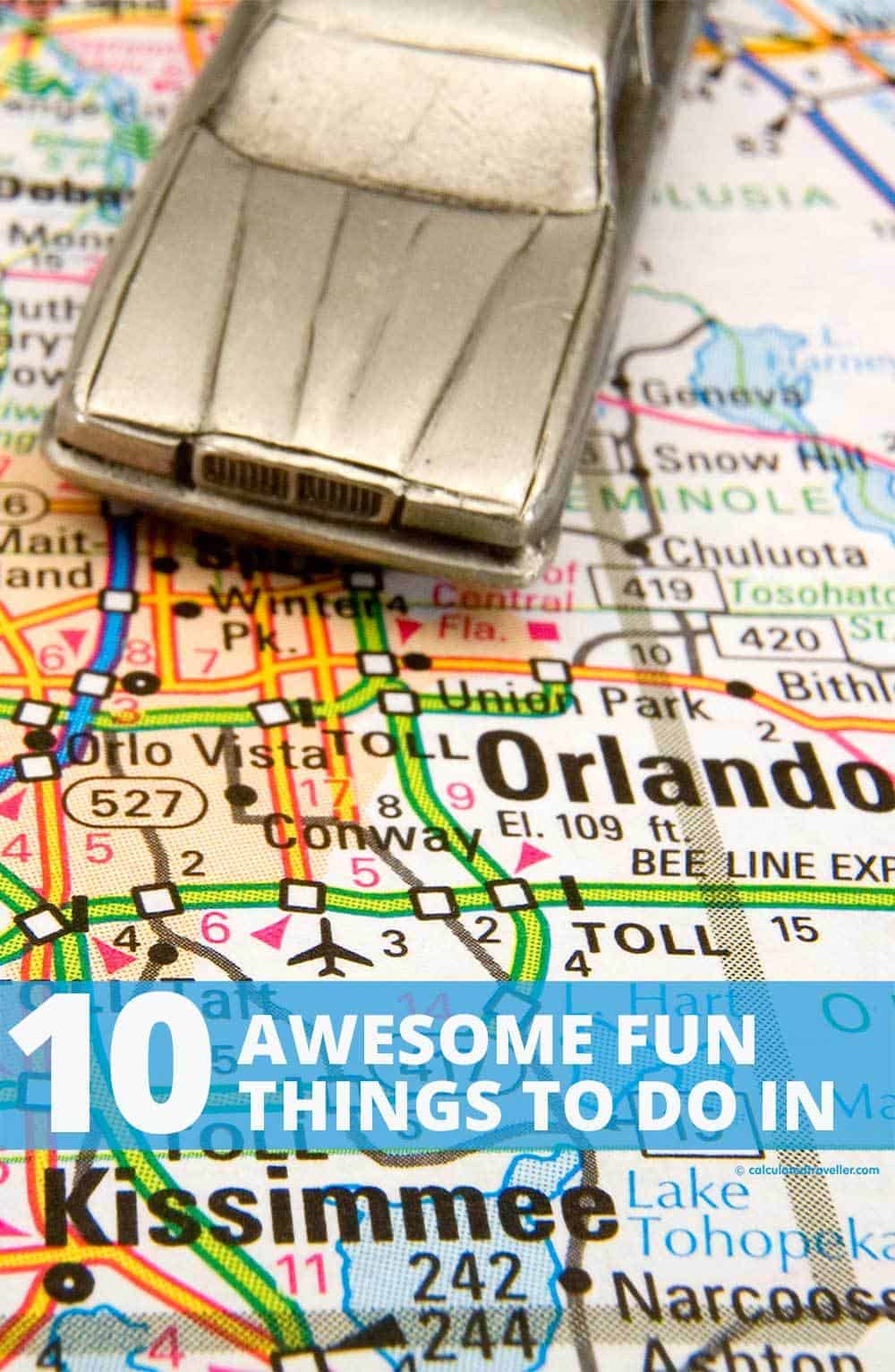 There are so many things to see and do outside the borders of the theme parks in Kissimmee. Take a break from the hustle and bustle of the crowds and explore the area – you'll be pleasantly surprised. From the adventurer to the shopper, you can find a little something for everyone here!
Check out our article: Fun Things to do in Central Florida for Value-Conscious Travellers
What's your favourite fun thing to do in Kissimmee Florida? Share in the comments below!
Looking for tours nearby? Check out these below: