When it comes to being a Calculated Traveller, one should always be prepared for emergencies and carry a travel first aid kit because you never know when you'll need a bandage for something as minor as a paper cut from your paper boarding pass.
When I travel, I pack a large first aid kit, but I also have a mini version with minimal supplies that I keep in my purse/day bag.
When I first created my mini first aid kit, I worried that I was a bit excessive until it was called into action not once but twice!
We were on holiday in Washington DC, and as we were walking past the reflective pond between the Washington Monument and the Lincoln Monument, I noticed a woman lying on a bench with her husband. She had her legs up and was nursing blisters (likely from new shoes) on her feet, and they were bleeding.
I was happy to help out and offer some alcohol wipes, antibiotic cream and bandages, and she was very thankful that I had a mini first aid kit in my purse.

The second time my mini first aid kit came in handy was on a press trip through Virginia. We were all on a bike adventure, and one of the journalists had a bit of a tumble off of his bicycle and scuffed up his shin. Thankfully, the first aid kit came to the rescue.
You can certainly buy ready-made first aid kits at your local drugstore and online at Amazon, but it's also super easy to create your own.
Travel First Aid Kit Essentials
Bandages – a few different sizes
Alcohol wipes
Hand sanitizer
Antibiotic ointment
Disposable Gloves
Safety Pins
Gauze pads
Surgical Tape
If you prefer natural treatments, I suggest you read Pack this! 4 Natural Remedies for Travel Ailments
Travel First Aid Kit DIY – Container Options
Recycled metal candy tin
Makeup bag
Pill bottle
Zip lock bag
Pencil case
Eye glass case
Travel soap container
Here's one final tip!
Before you set off on your journey, make sure to take an inventory of what's inside your travel first aid kit to make sure that you don't need to restock supplies.
Don't forget to read: How to Treat and Avoid the TOP 5 Vacation Illnesses
Safe travels!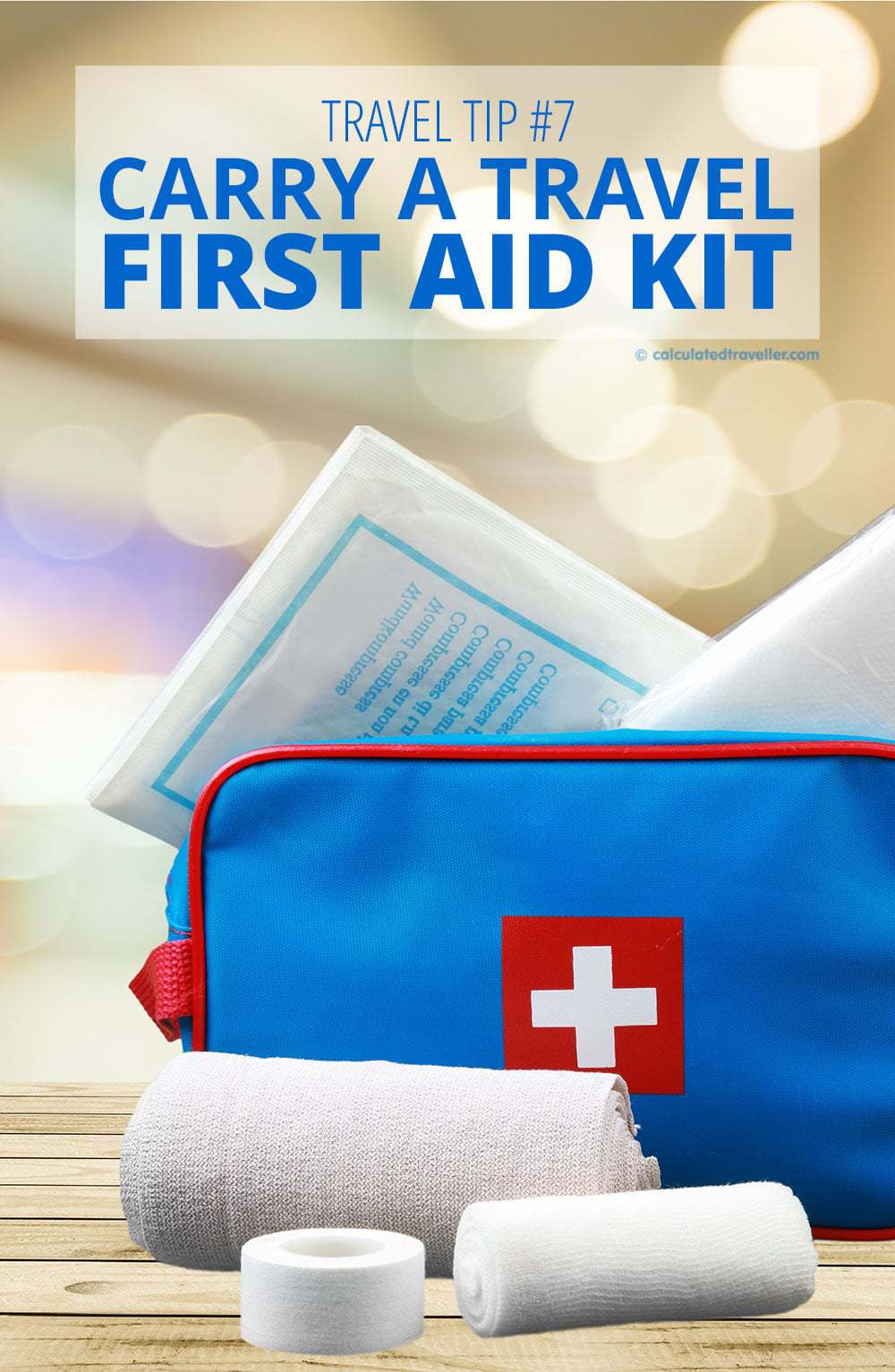 Do you carry a travel-friendly first aid kit when you travel? What's in your kit?
 
Check out: Travelling with Essential Oils