When I first dreamt of a visit to Fort Worth Texas I had visions of long horn cattle and cowboys on horseback.
I never once envisioned that I'd be seeing the world-class art and architecture that I found at the Kimbell Art Museum.
Kimbell Art Museum. "America's best small museum"
It is known as "America's best small museum".
Small in size perhaps compared to other museums but not small in terms of the collection it holds.
Ahem…Do any of these names sound familiar?
As I walked through the various galleries I was awe-struck at the artists in the collection. A few names you may have heard of wink: Van Gogh, Renoir, Picasso, Caravaggio, Rembrandt, Monet, Matisse, Cézanne, Michelangelo…
(this is a very short list of the many famous artists in the collection).
And when I say the name Michelangelo I do mean THE Michelangelo.
The Kimbell Art Museum possesses the first known painting entitled "The Torment of Saint Anthony", said to be painted when he was 12 or 13 years old. Measuring only 18.5 x 13.75 inches if you don't know it's there; you can easily walk by it, If not for the security guard standing by.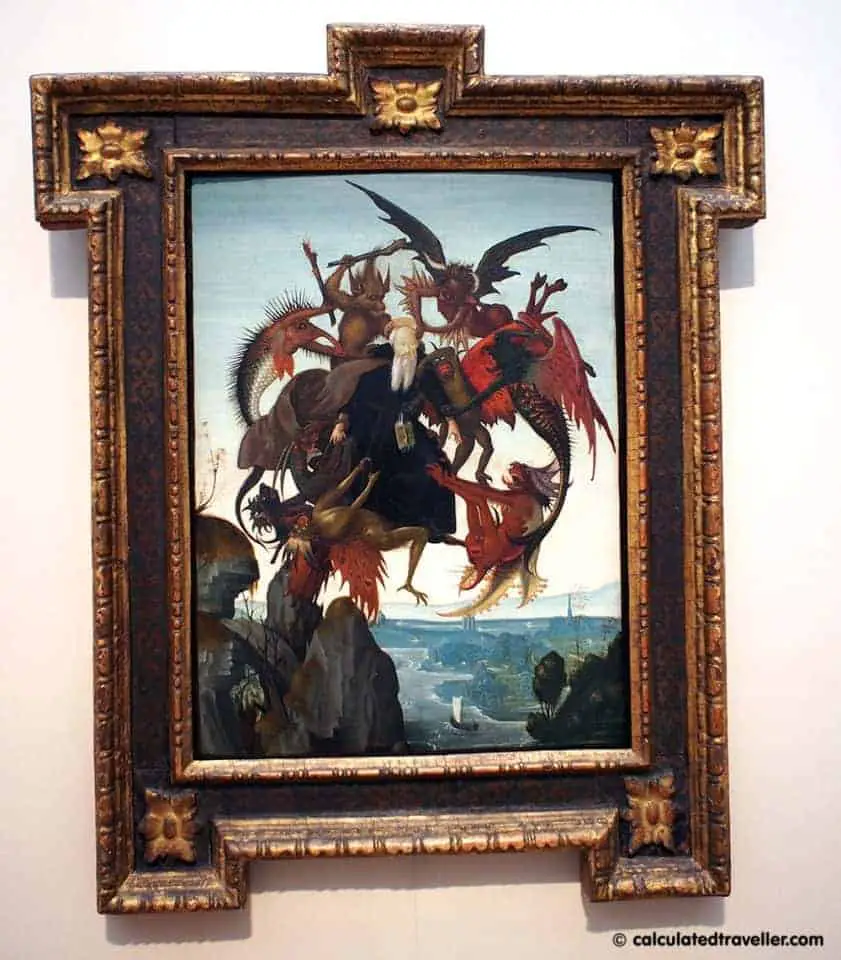 Oh and did I tell you that admission is FREE to the permanent collection?
As with all places I visit where architecture plays an important role, I turn to our resident architect on staff – Calculated Traveller Jamie – to give insight into the architect and really do the building justice.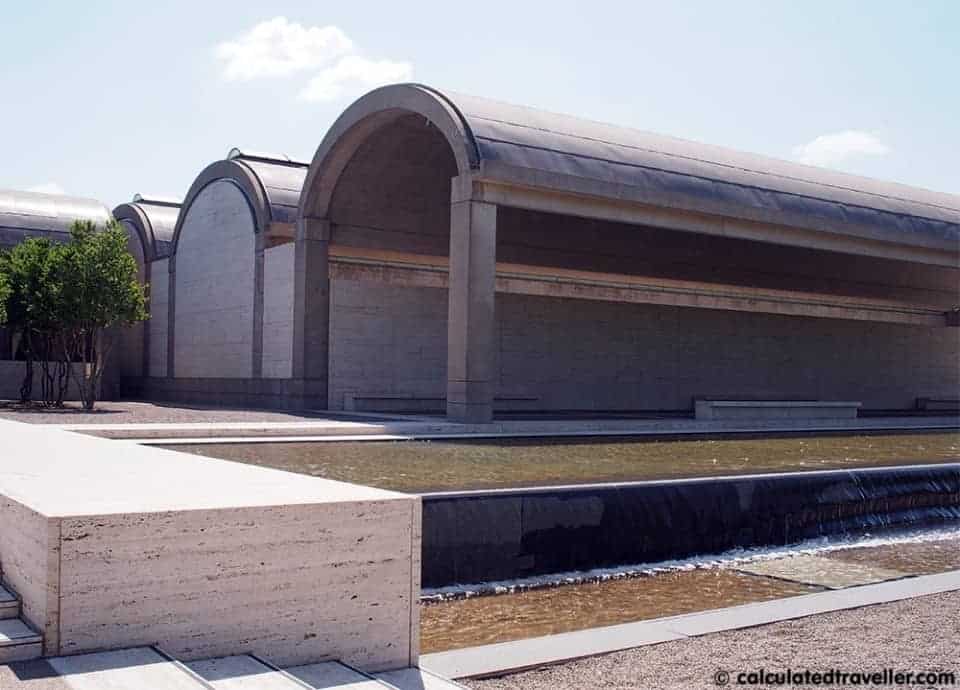 One of the most significant works of architecture completed by Louis Kahn, the Kimbell Art Museum is the epitome of late 20th century modern architecture.
Built in 1972, it's composition of texture, materiality, form, and light result in a building and space that is numinous in its experience – and that's even before you reach the artwork contained in the museum.
In true Kahn-fashion, The Kimbell Art Museum experiments with concrete in its ability to be sculpted and in its mixture – resulting in a form that is rich in texture, and perfect in form. The vaulted ceilings have a reveal at the peak, bathing the walls in natural light from above, and providing the artwork with the important diffused light.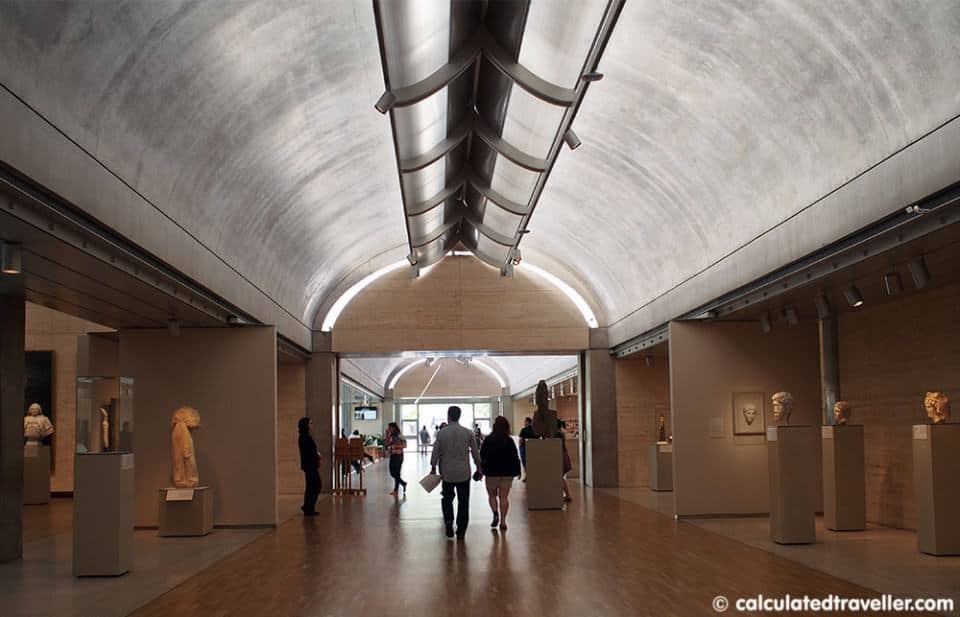 A signature of Kahn is his use of travertine – a limestone marble detailed in a way that gives it a sense of monumentality. A master of these details, one of my favourite things in the Kimbell Art Museum are the steel handrails: the unique form mimic the building's overall vaulted geometry, but are sandblasted with a matte surface texture – continuing the concept of the architecture to the smallest of details.
The addition completed by Renzo Piano – an equally significant architecture contemporary to today's time – is the perfect companion to Kahn's original building.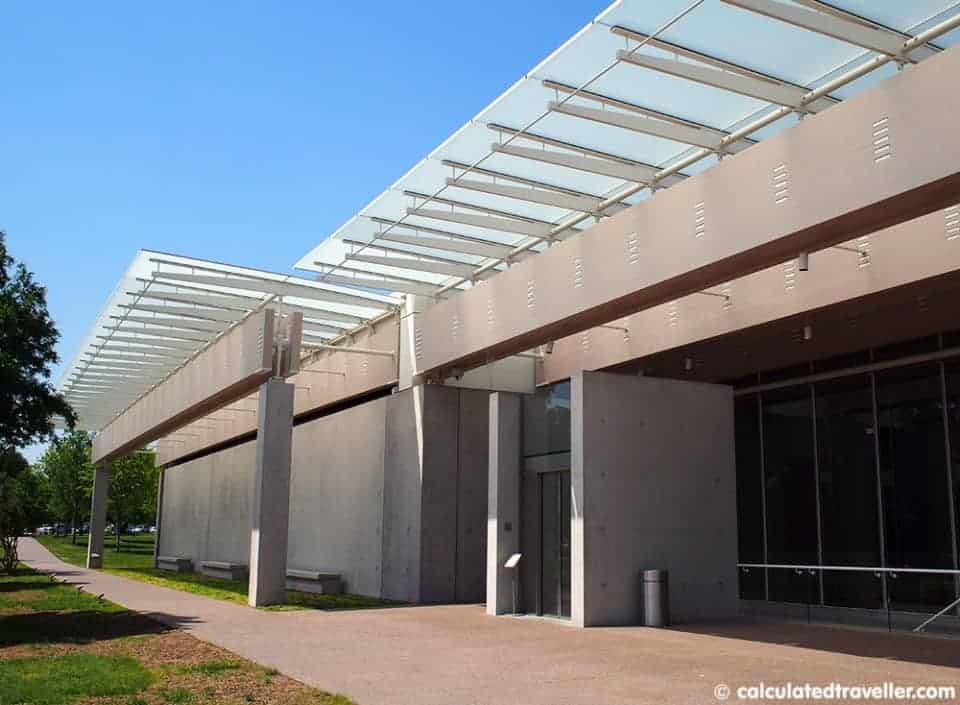 Amongst the "noise" of de-constructivist architecture, Piano's addition is simple and respects the context in which it is located – a hard task when next to Kahn's influence. The pavilion – located a big step away from Kahn's building – takes an opposite approach: it uses glass as an expansive surface under which the art is displayed, but continues a focus on bathing the space in natural light.
The building is truly transparent – a simple ceiling surface hovering over the ground, creating a continued connection across the landscaping to the original building. It's really a dialogue between Piano and Kahn, between the 40-year gap from which they were built.
Interested in another piece of great architecture in Fort Worth? Check out the article Fort Worth Water Garden.
Tips:
Admission to the permanent collection is free.
There is a fee for special exhibits. There is half-price admission all day on Tuesdays and from 5-8 pm on Friday.
Photography (no flash) is allowed in the permanent collection only.
Maintain a distance of 12 inches from all artwork.
Free parcel check is available.
Onsite dining is available.
Wheelchair accessible.
There is a free audio tour app available for IOS and Android.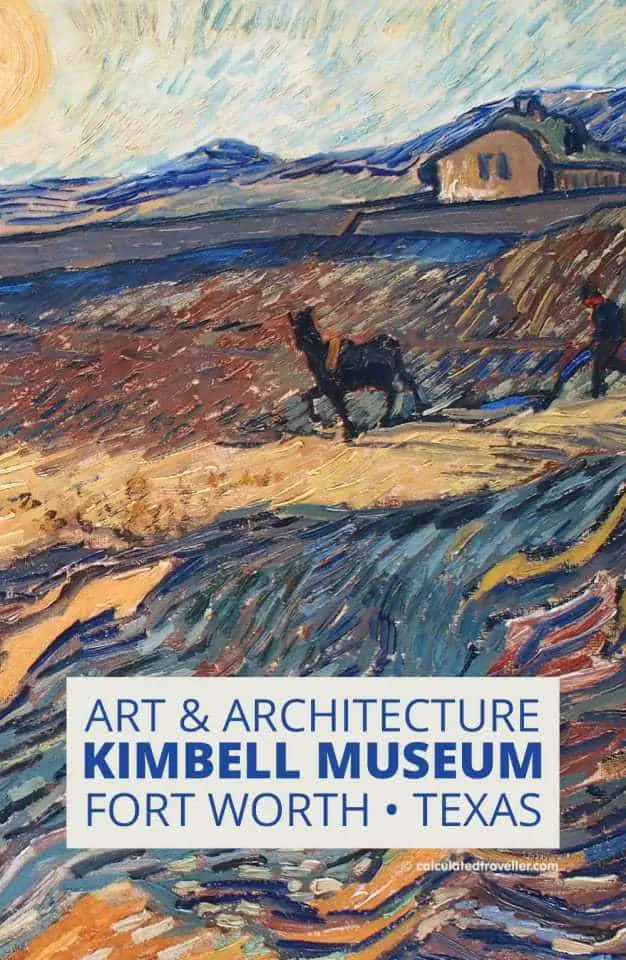 Kimbell Art Museum
3333 Camp Bowie Blvd, Fort Worth, Texas 76107-2792
 
Who's your favourite artist? Let us know in the comments below.
 
Travel assistance was provided by Texas Tourism. This had no bearing on my review of this item. As always, all my opinions are my own.
For more museums, check out these articles:
– Aviation Museums Around the World
– 5 Must-See Works of Art at the Metropolitan Museum, NYC