The plate of pasta before me is made of cucumber and the crab cake is actually hearts of palm… I'm eating a 5-course dinner at Shine Juice Bar in Orillia Ontario and I'm really confused.
What magic is this?
What wizardry is making these vegetables taste so darn good??
If you are a regular reader you're more apt to read about my latest adventure in barbecue than you are of reading about me eating anything organic, locally sourced, gluten-free and vegan.
Heck, I even gave myself gout (true story) from being too much of a carnivore, and I see salad as a must-have not a like-to-have. Yet, here I am indulging – and I do mean indulging – in a very tasty meal created by the magic of Chef Alex Cherubin.
Shine Juice Bar normally serves fresh pressed juices / smoothies, sandwiches, tacos, soups, salads and starters but tonight is a special event — "A Night in the Alley With Shine" to coincide with the 11th Annual Starry Night Studio and Gallery Tour in downtown Orillia.
A Night in the Alley with Shine Juice Bar
The alley has been transformed and the tables are now covered with red linen napkins, pretty glasses, flickering candles and fresh flowers, the lights strung above are twinkling overhead, the walls adorned with local art, live music is playing and the organic wine by Southbrook Vineyards is ready to be served…
Here's what we ate at Shine
Hearts of palm "crab cake" with a fresh slaw and caper aioli
Paired with a 2013 Southbrook Triomphe Sauvignon Blanc
Texturally it was exactly how a crab cake should be but there was not a speck of seafood in it. I was really amazed by this dish and I'm not ashamed to say I could have just eaten plates and plates of these babies. It was very fresh and a perfect starter.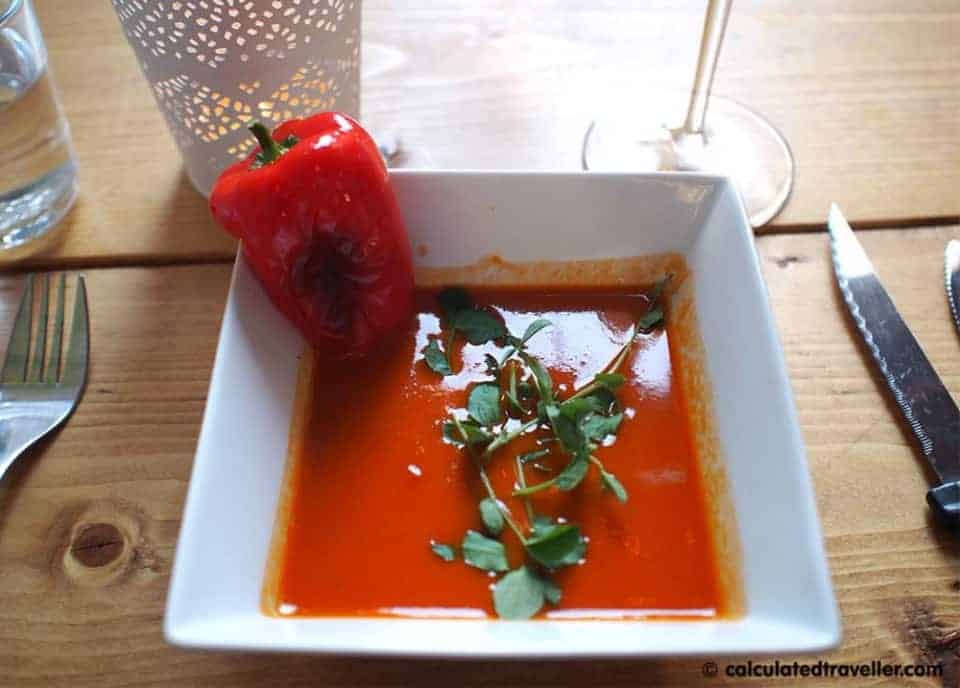 Local roasted red pepper and anise soup
Paired with a 2013 Southbrook Transitions Cabernet Franc Rose
Let me start by saying that I'm not a fan of anise. I find it bitter and too strong for my taste. So, after my first spoonful of soup my reaction was 'meh'. Once I took a sip of the selected wine however, the red pepper flavour became stronger and the anise mellowed. Hence the magic of a wine pairing. My response changed from 'meh' to 'pretty darn good' and I drank most of it. wink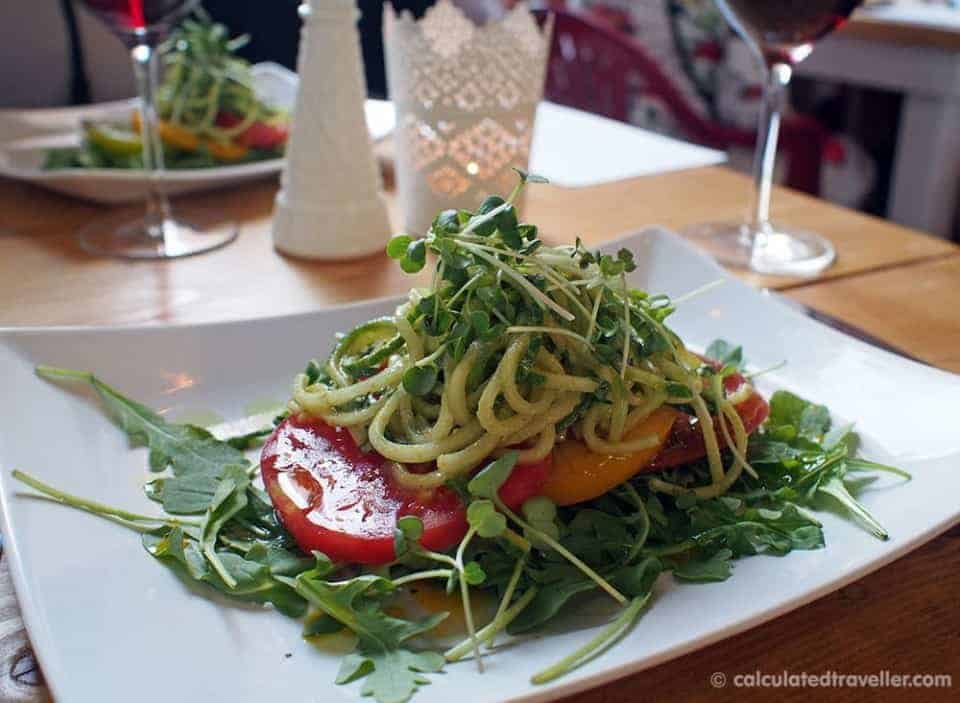 Ontario heirloom tomatoes layered with cucumber noodles in house-made pesto
Paired with a 2013 Southbrook Connect Red
So good, that I bought a spiralizer the next day to attempt a recreation. (I failed)
Mushroom trio with 8 different mushrooms
Paired with a 2013 Southbrook Triomphe Cabernet Sauvignon
Scalloped red potato with truffel oyster mushroom cream and grilled king oyster mushroom
Roasted portobello mushroom with crimini mushroom risotto
Local Thornbury Bakery crustini with wilted spinach, shitake mushroom and marcella fricassee
The risotto was really good – I kind of wished I had an entire bowl all to myself.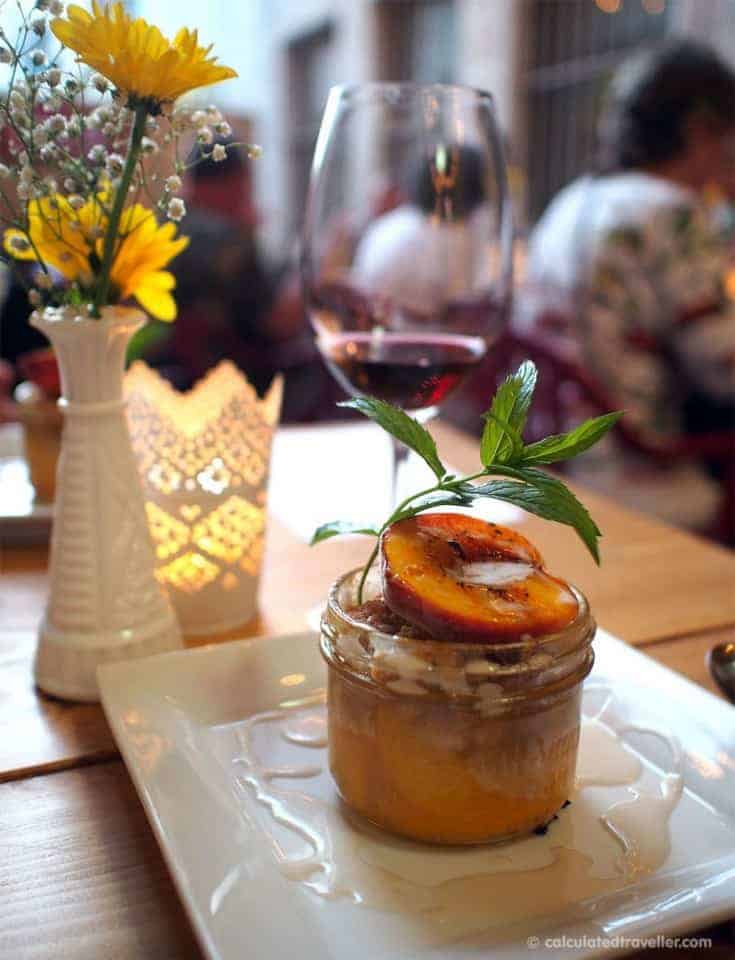 In-house made Niagara peach crumble with a peach brulé
One word – YUM
---
Contact Shine Juice Bar for their next "Night in the Alley" and reserve your seat quickly. With just 2 sittings of 25 guests, the event books up quickly.
---
Starry Starry Night Studio and Gallery Tour
Starry, starry night
Paint your palette blue and gray…
Don McLean's hit song "Vincent", an ode to Vincent Van Gogh and fittingly the inspiration for the name of the annual event, kept playing in my head as we left the restaurant and moved out onto the streets to tour the 20+ studios and galleries that had opened their doors for the evening. They even have wearable art in the form of models roaming the street wearing one-of-a kind creations.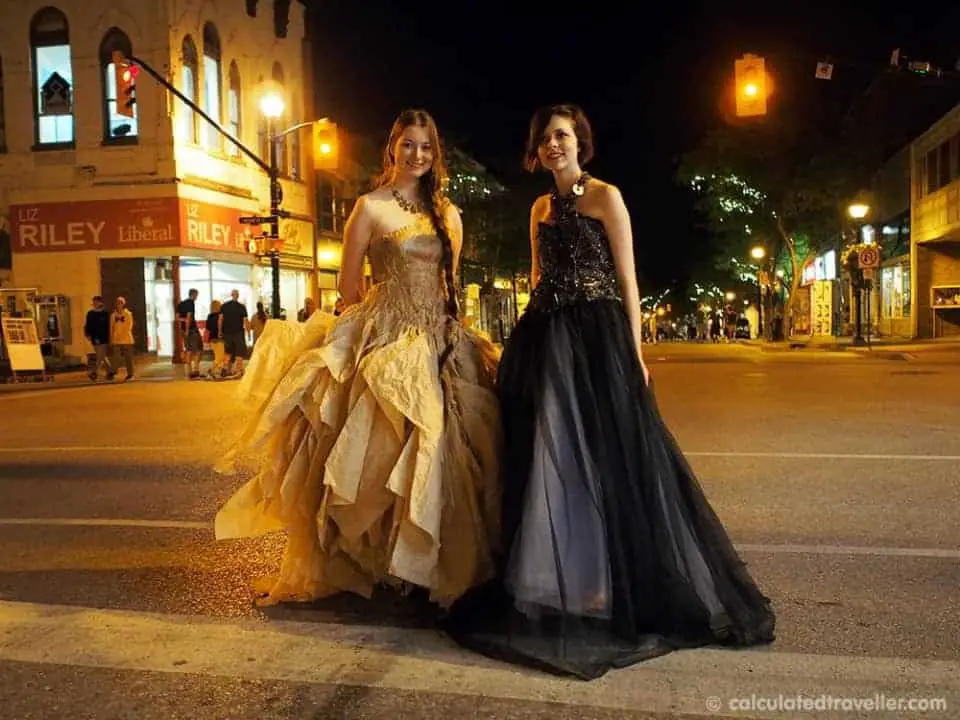 I had no idea that Orillia was such an artist community!
One big highlight for me was the juried "Streets Alive" competition where each year a theme is chosen — 2015's theme being "Doors" — with 37 transformed doors lining the streets my camera definitely got a workout!
With the streets closed to traffic, the stars bright in the night sky, and the sound of live music playing on the street corner it seemed like all of Orillia (as well as the art) was strolling the streets and enjoying their community.
It truly was a starry, starry night that shined and a great memory.
Shine Juice Bar & Cafe
11 Peter Street South, Orillia, ON L3V 5A8
 
While in Orillia, check out:
Mariposa Market – An Orillia Ontario Tradition
The Chippewas of Rama First Nation Pow Wow, Orillia, Ontario
Travel assistance was provided by Orillia Lake Country, Shine Juice Bar and Cafe and Southbrook Wines. This had no bearing on my review of this item. As always, all my opinions are my own.