I was just on the Caribbean Princess for Easter week celebrating the holidays at sea and I have to say that the cruise ships really do it right. It's lots of fun and stress-free for everyone involved and no one had to help with the dishes.
It's a bit more expensive to travel during the holiday season and you may miss the family unless they came on board with you. But you won't miss the hard work! Decorating the house, cooking the elaborate meal and the clean-up afterwards takes time and energy. Why not let the cruise ship staff take care of everything for you?
In the past, I've been at sea for Christmas, Valentine's Day, Easter, Halloween and American Thanksgiving.
I know you may be thinking "I love my extended family but I don't know if I want to spend every single minute with them!". Not to worry, you don't have to spend all your time together. Make it clear that even though you are family, you are all still on vacation. Review ship deck plans and choose cabins in different parts of the ship with different views. If you have different interests – take different shore excursions. Just make sure that you have all your dinners together and share news of what you each did during the day when you were apart.

Here are a few examples of what you may find on holiday cruises
Celebrating Easter on a Cruise Ship Holiday at Sea
Just this past Easter Monday, I watched the Easter Bunny happily take his photo with 50+ kids (in age and in heart).
There were chocolate decorated eggs on display, arts and crafts and cookie decorating stations for the kids. The Easter Bunny danced the Gangnam style hop with everyone in the Piazza and handed out goodie bags of chocolate and candy.
The people in the blue polo shirts are part of the children's program and were running the entire event.
---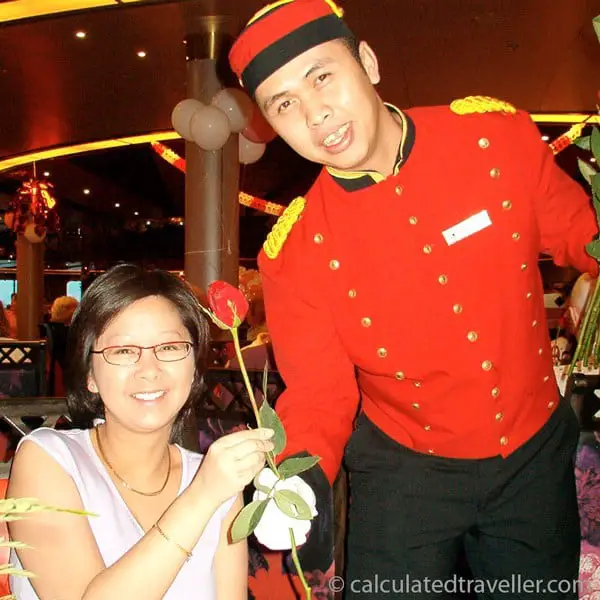 Celebrating Valentine's Day on a Cruise Ship
When I was on a February cruise for Valentine's Day, all the women in the dining room were presented with red roses and for dessert, we dined on petit-fours and chocolate covered strawberries. Talk about a great Valentine's Day gift! Receiving a week in the Caribbean on a cruise ship from your honey is not a gift you are likely to forget!
The photo is me receiving a rose from one of the Holland America cruise lines bell boys.
---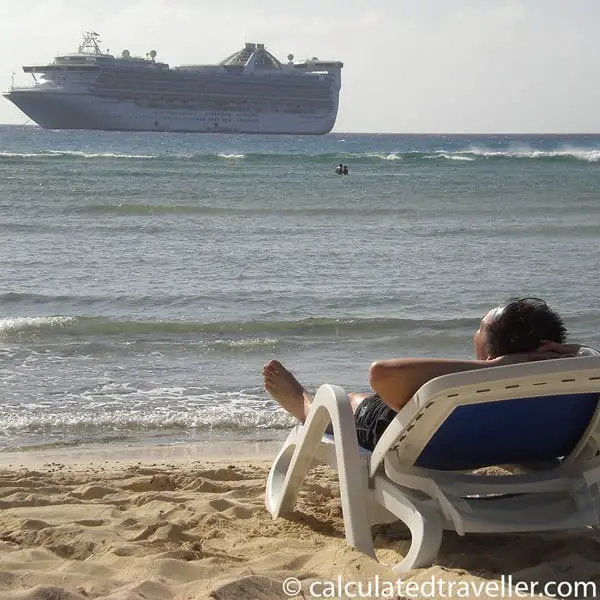 Celebrating Thanksgiving on a Cruise Ship
In November for American Thanksgiving, I watched football on the jumbo screen up on the pool deck while snacking on pizza, wings, hot dogs and nachos. Then later that evening, I sat down to a big turkey dinner complete with all the fixings.
The photo is of a vegetable art carving created by the Celebrity Cruise lines chefs to commemorate the occasion.
---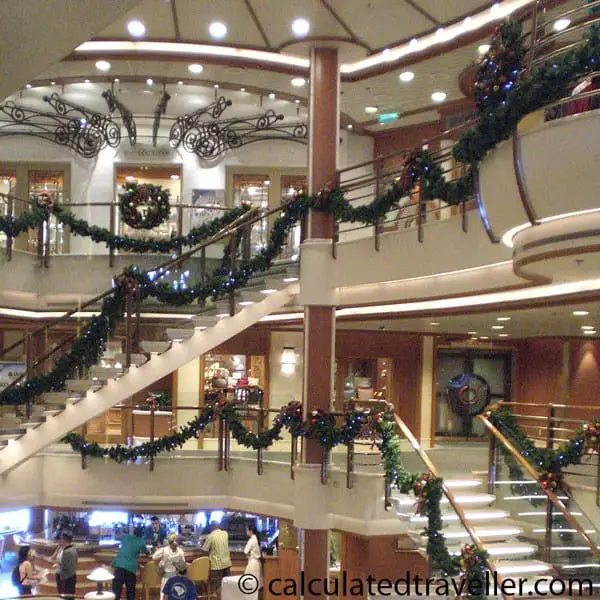 Celebrating Christmas on a Cruise Ship
For Christmas eve, passengers and crew gathered to sing Christmas carols and "The Night Before Christmas" was read in the atrium (with care) by the Cruise Director. On Christmas Day, the entire atrium transformed into a winter wonderland complete with snow "bubbles" floating in the air. Santa and his elves visited for the usual photo opportunity and handed out gifts to all the children of a stuffed animal (wearing a Princess Cruises t-shirt of course) and candy.
Photo is of the Atrium decorated for the holidays.
There are also religious services scheduled throughout the week for the various denominations led by either specially invited clergy or by passenger volunteers. For those celebrating Hanukkah, they had a menorah lighting ceremony each night.
The best thing about a holiday cruise and spending Christmas at sea is if you choose a Caribbean island itinerary. The sand isn't exactly the same as the snow falling on Christmas morning but it sure is warmer!
I haven't celebrated New Year's Eve onboard a cruise yet but I can just imagine the wild party it would be!
The next time you are looking for a cruise somewhere in the world, think about going during a holiday week. I guarantee you that celebrating a holiday at sea will be the most stress-free holiday meal/celebration that you've ever experienced!
Have you celebrated a holiday at sea on a cruise ship before? Share your fun with us while cruising in the comments below.
Looking for more cruise articles?
– Cruise the Caribbean: The Best Way to See the Islands
– First Time Cruise Ship Experiences
– 10 Reasons Why You Should Try a Cruise
– What I Love about Cruises