Hands up girls if you love purses!
If you are a girl who likes to travel like I do, then you love bags and purses made with travel in mind, but you have a heck of a time finding that one perfect bag.
In the continuing search for the perfect bag for travel, I test and review the new Lewis N. Clark WEA RFID-Blocking Mini Cross-Body Bag.
WEA RFID-Blocking Mini Cross-Body Bag — Travel Worthy?
For years I was a fancy leather purse girl, but once I noticed a huge dent forming in my shoulder caused by the weight of the bag and the added contents, I stopped that nonsense immediately. One of the key elements that I love about this RFID-blocking handbag is that it's lightweight.
The outside of the purse is soft, durable nylon accented with a quilted pattern on the front flap. The flap itself has a zippered pocket where the quilting is and a zippered pocket along the edge of the flap.
Underneath the magnetic flap is the main purse compartment with a zippered closure for extra security. Inside the main compartment are a key keeper, an interior zippered pocket and two slot pockets.
The back of the purse, the part that sits against your body, has an organisation pocket with RFID-protected card slots and a separate RFID pocket to fit a passport. The whole thing closes with a zipper.
It's pretty roomy but you do have to watch how many items you put in the zippered flap and in the main compartment because it starts to bulge and lose its sleek shape.
Here's a quick youtube video showing the bag in more detail
What I don't love about the Mini Cross-Body Bag for Travel.
The adjustable cross-body strap. I wish it were a bit heftier and fancier. It's a bit too utilitarian when compared to the quilted flap.
The zippers don't have any locking mechanisms, so there is no added security to prevent pickpocketing.
Lewis N. Clark WEA RFID-Blocking Mini Cross-Body Bag
Size: 10 in x 9.5 in x 1.5 in
Two colours black and teal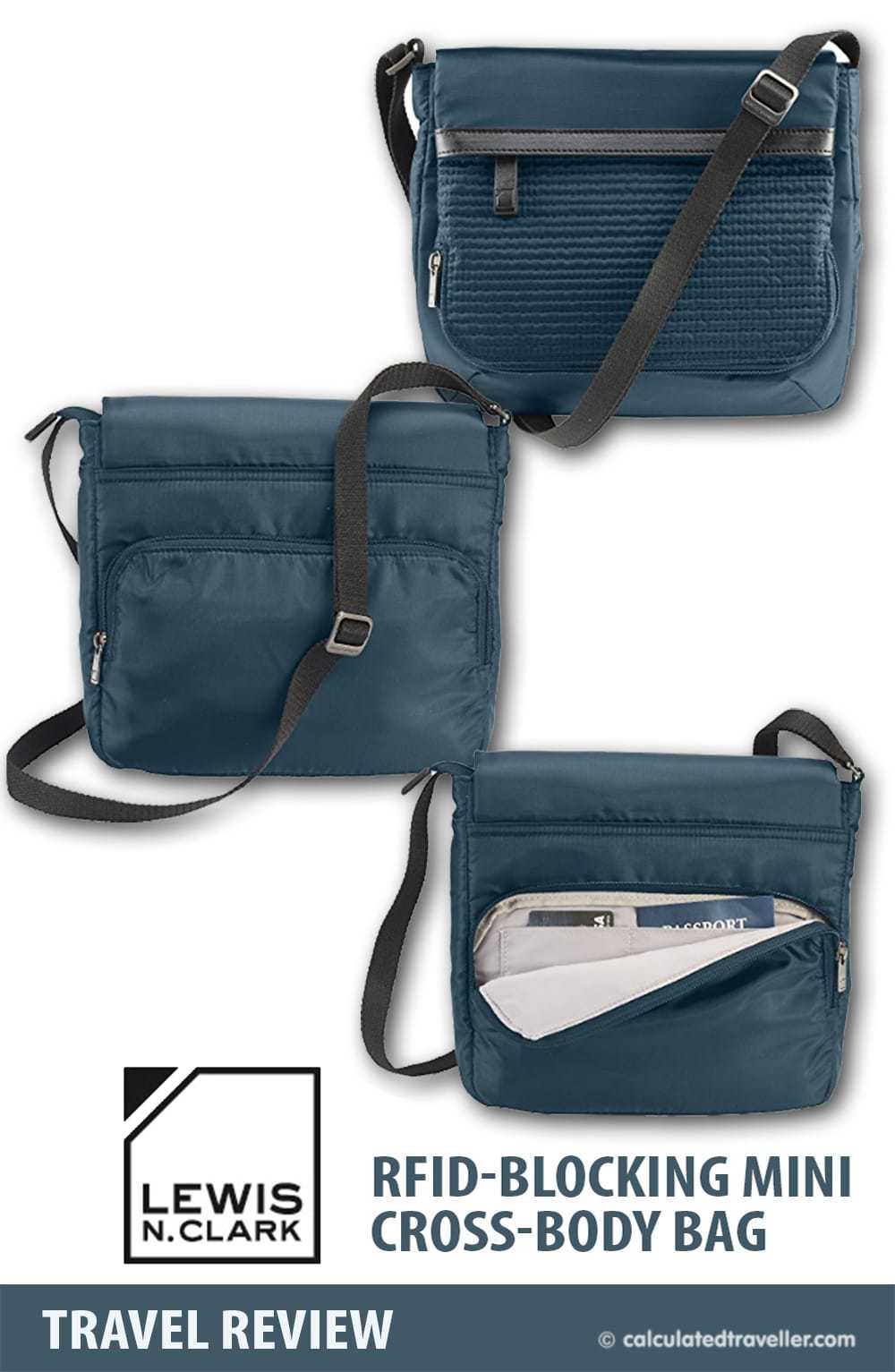 I'm forever on the hunt for a great travel purse, but over the years of testing and reviewing various bags, I think I've come to the decision that eventually I'm going to have to design my very own "franken-bag." Taking bits and pieces and "parts" if you will, from all the other bags I've ever owned, throw on a lab coat and scream, "It's alive!"
I've been looking at travel vests as of late and may test out one of those in the future
Check out these other Lewis N. Clark product reviews:
– Travel Bags Review
– Travel Gear Review
Do you have a favourite bag for travel?
 Lewis N. Clark sent me their WEA RFID-Blocking Mini Cross-Body Bag for testing purposes. I did not receive financial compensation for this review. All opinions are entirely my own.