Pills, Suds, and Safety
Travel gear ranks high on my list of "things I love" because it involves travel and items that will hopefully make my travelling life better.
Lewis N. Clark Travel gear is designed to make your travel life easier, smarter and safer so that you can get out there and explore and enjoy your life! I was super excited when they contacted me to try out their products as I just love this way of thinking.
Click this link below to read another Lewis N Clark Travel gear review where we test their Water Resistant Bag, 3-1-1 Toiletry Bag and Featherlight Packing Cubes:
Lewis N. Clark Travel Bags Review – Part 1
 
Lewis N. Clark AM/PM Pill Organizer 800
As I age and travel to more exotic locations, I've noticed that I'm travelling with more and more pills! It's a fact of life!
Even if you aren't taking prescription medications there are still vitamins and probiotics to stay healthy when you aren't exactly eating properly, and of course, antacids for when you are eating in excess, aspirin or ibuprofen for pain/headaches, antihistamines for allergy attacks — the list goes on and on!
If you are like me, then this Lewis N. Clark 4 in x 8 in (when folded) pill organiser (Photo above) might be your answer. I haven't used it on a trip and have only travelled "make-believe" for testing purposes, and I do think it would be useful to separate all my various medications.
Pro
Zipper in the back of the case to hold drug information/documents
16-labeled colour coded slide zip compartments – 8 for day, 8 for night
Durable
Good quality
Lightweight
Folds up and is secured with Velcro
Extra pill organizer pouches are also available
Con
If you fill each compartment with a lot of pills it may get bulky
Not crush proof
Only 8 days/8 nights or 16 compartments
Size isn't exactly what I would call "small" but it does hold quite a bit
Lewis N. Clark Laundry Kit
If you are a One Bag Carry-on Only traveller such as I am then you know that doing laundry is a must when you are on the road. My laundry strategy involves things in 3s because I'm wearing one pair, washing one pair, and I have one extra pair just in case! I wash a pair of undies and pair of socks in the hotel sink nightly.
Do these problems sound familiar?
The stopper in the sink isn't tight, and the water drains out
The towel bar is covered in towels, and there isn't anywhere to hang any other wet items
You don't want the entire hotel room to look like a laundry line
Here's your solution: a large universal stopper, some laundry detergent and a portable clothesline (sold separately)

 
Lewis N. Clark Laundry Kit
– Eight packets of Woolite® cold water wash
– 4-inch Drain plug is universal and will cover majority of drains
I've had my eye on a latex tubing clothesline for a while now but this was the first time I've used one. I always thought it was a bit of a gimmick to be truthful because I kept thinking that the rubber braid would just sag with the weight of the wet clothes. Honestly – it worked. I'm not sure that I would trust the suction cups to hold up the clothesline and heavy wet items, but at least you have the other two attachment options for extra security. Just be careful when securing the clothesline – don't stretch it too far in case it comes undone and snaps back at you and hits you in the face.
Lewis N. Clark Latex Clothesline
Pro
Comes with 3 attachment options – clip, Velcro or suction cup
Latex tubing stretches to 6 ft
Triple braided
No need for clothes pins or clips, just stick the corners of your clothes through the gaps in the braid
Durable
Well made
Was able to hold quite a few heavy pieces of clothes
Packs small
Con
Be careful if you are allergic to latex
Wish it came with a carrying case or mesh bag
Lewis N. Clark RFID Products
Ever since they've started putting microchips on our credit cards, I've heard talk of RFID.
But what IS RFID?
According to Wikipedia "Radio-frequency identification (RFID) is the wireless use of electromagnetic fields to transfer data, for the purposes of automatically identifying and tracking tags attached to objects."
In a nutshell, that's why you can just tap your credit card to the top of the reader in the store to do "quick pay" or "fast pay"– your card (AND your passport) has this technology built into it.
You gotta know that criminals are crafty, and once something new is invented – criminals get to work immediately to hack it. So apparently, they've developed readers where they can just walk by you and steal your "signal" – sneaky!
Lewis N. Clark sent me a Trifold leather wallet (4inx 3in size when folded) and a hard case style aluminium wallet to test and review.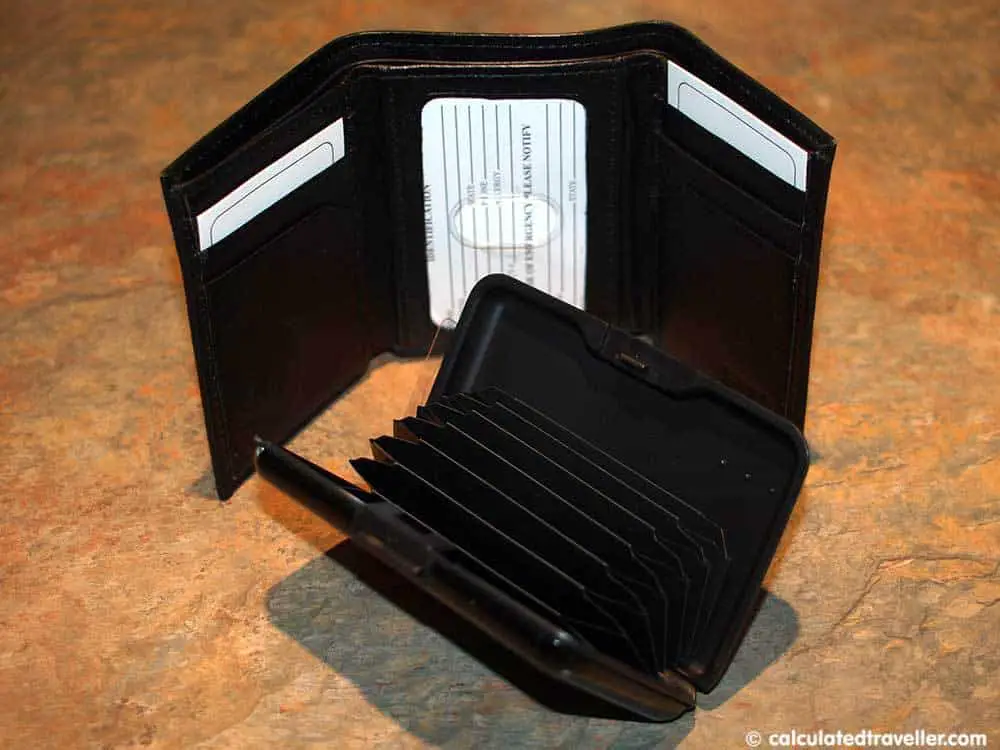 For both of the RFID products I wasn't able to test if they blocked the signal or not so, I'm going to have to take their word for it, but I have to say the products themselves are pretty nice, and I'm very pleased with the quality and workmanship.
 
RFID Trifold Wallet
Pro
Really nice high quality lambskin leather
2 compartments to separate your bills – great for multiple currencies
6 credit card or business card slots
Trifold
ID slot
Con
Hubby commented that it stuck up from his back pocket and that it was a little taller than his other wallets. But he's been using it ever since that day and hasn't complained since.
RFID Aluminum Wallet
I like the hard case, and I tuck cash and business cards into one of the slots if I'm carrying a smaller evening purse and not bringing my usual full wallet.
Pro
Strong and durable
Inner accordion slots
Has 10 slots for presumably 10 cards but I double up on a few of the slots and it still closes without any issues
Con
I'm not sure how long the pushbutton release clip will last because it is plastic but I've opened and closed it multiple times for testing, and I've been using it regularly for about a month now and so far so good. I might put an elastic band around it just as a precaution (but that's just because I'm paranoid)
Check out this video about RFID
Check out these other articles:
– Travel Security and Flexibility with Lewis N. Clark
– Lewis N. Clark WEA RFID-Blocking Mini Cross-Body Bag
– Taking Flight with Lewis N Clark Compression Socks and Compression Packers
I was provided products for review purposes. This did not affect the writing of this article – all my opinions are my own.
 
Have you tried any Lewis N Clark Travel Gear? We'd love to know what products you tried and what you thought of them. Let us know in the comments below.