You got to know that when a brand is named after and inspired by the great American explorers Meriwether Lewis & William Clark, that they mean serious business when it comes to travel products.
With a company history that goes back over 20 years, Lewis N. Clark travel bags and accessories are designed with function, quality, and durability in mind.
The good folks over at Lewis N. Clark sent us a few of their products for review, and honestly, there was so much gear that it was too much for one article! So, I thought I'd split it out in two. SO, make sure you check out Part 2 later this week – which will also include a special bonus (hint).
Carry-on Pouch 311
Let's start with the one item that every traveller uses – the 3-1-1 bag!
The TSA travel rules when it comes to toiletry bags are simple:
1 person
1 quart bag
3.4 ounces (or less) per container
Technically I guess that makes it 1-1-3.4 (but it doesn't sound as catchy this way!)
I love this version of the TSA Carry-on Toiletry bag. The plastic is thick and feels slightly rubbery and gives the impression that it is strong. I especially love the zipper because it's water-resistant.
I've had other clear plastic 3-1-1 bags, and the regular fabric zippers are sewn to the hard, stiff, inflexible plastic bag. If a spill occurs inside the bag, the liquid will seep through the stitching or fabric of the zipper and leak out. This bag isn't like that at all and leads me to think that any spill would be contained inside and not leak out.
Size: 7.5 in x 8 in
Pro
3-1-1 compliant size (1 quart)
Clear transparent TPU plastic
Durable
Waterproof
Water-resistant zipper (not often found on other 3-1-1 bags)
Con
Wish that there was a swivel clip attached to the loop by the zipper so that you can hang it on the outside of your bag when going through security. I added my carabineer to the existing loop but it isn't made for this purpose, so hopefully, it doesn't rip off with use.
Zipper pull is small and may be difficult to use if you have large fingers
Flat like an envelope – there are no gussets at the bottom to allow for bulkier items
Feather Light Organizing Bags
I'm a Carry-On Only traveller, and when you are living out of only one piece of luggage, the key is to stay as organised as possible.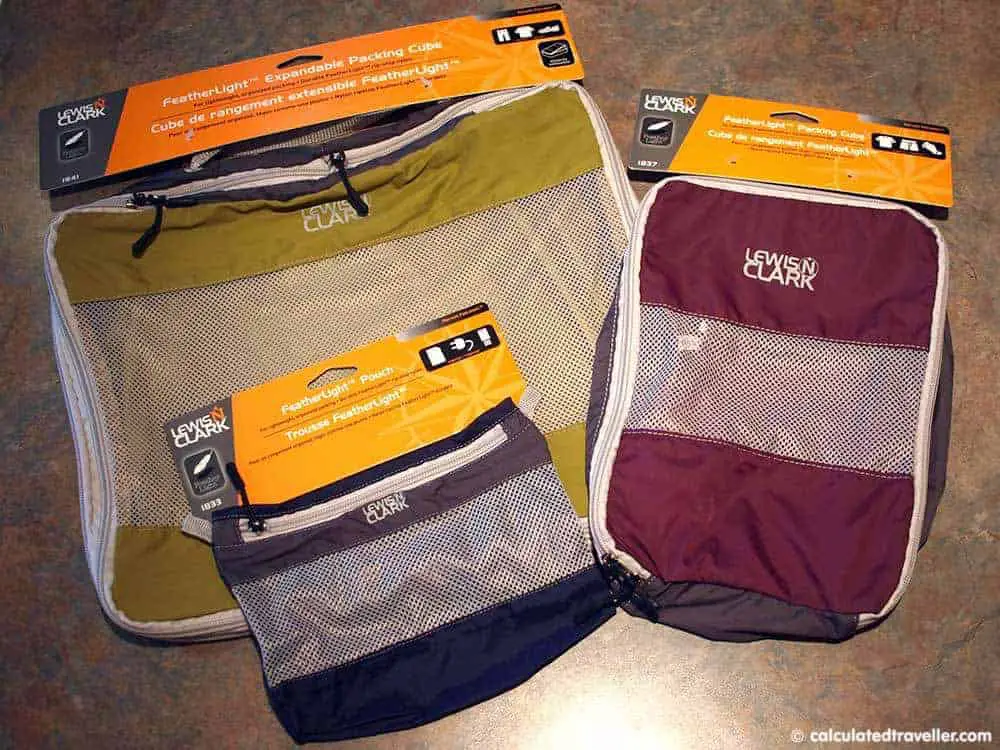 Even if you aren't a "One-Bagger" keeping similar items together and separating other items apart just makes sense. Separating clean clothing from dirty or casual clothing from formal helps to avoid the task of rummaging through all your belongs; causing yourself extra work searching and refolding everything over and over.
When I look at organising bags, I look at overall size first — if it doesn't fit nicely in your suitcase it ain't gonna work! It's like the packing version of Tetris – you are trying to optimise the limited space.
The second thing I look at is the weight of the organising bag – lightweight is essential because you don't want to add lots of extra weight to the limited pounds you are allowed to bring on board.
The third thing I look at is quality, the durability of the fabric and zippers. I want my bags to endure repeated opening and closing and multiple trips.
Feather Light Organizing Bags 3 sizes available:
Small: 8in x 6in
Medium: 8in x 10in
Large: 10in x 14in
Pro
Ripstop nylon
Lightweight
Covered seams on the interior
Mesh panel for breathability
Can see what's inside thru the mesh
3 colours – midnight, plum, pear
Corded zipper pull – easy to grasp
Little tabs on either side of the zipper to hold onto while opening
Cons
Label on the small bag suggests to use it for power cords/cables/tech. etc but I think it might puncture the mesh
Mesh for all sizes could get snagged on things
The medium bag did not have the little tabs to hold onto when opening and closing the zipper like the small bag had
Featherlight Expandable Packing Cube
3 sizes available:
Small: 7.5in x 4.5in x 5in
Medium: 8in x 11in x 5in
Large: 11in x 14in x 5in
Pro
Rip stop
Lightweight
Covered seams on interior
Mesh panel for breathability
Can see what's inside thru the mesh
3 colours – midnight, plum, pear
Expandable to 3 inches deep
Cons
Mesh could get snagged on things
No little tabs to hold onto when opening and closing the zipper
Wish it had a carrying handle
For tips on how to pack using these bags check out their video
 

Water Resistant Pouch
Water resistant pouches are new to me but make a lot of sense.
Truthfully, these make me wonder why I never thought to pack one of these before!
Perfect for the beach to keep sand and water out of things you want to keep dry and clean OR for those times when you are going kayaking, and you want something splash-resistant but not necessarily entirely water tight.
3 sizes available:
small: 10in x 8.25in
medium: 10in x 11.75in
large: 12.75in x 14.75in
Pro
Mesh reinforced TPU plastic
Water-resistant
Leak resistant
Water resistant zipper
Gusset s on the bottom
Swivel clip so you can attach the bag to things
Tabs on either side that you can grip onto when opening and closing the zipper
Con
Check out our other Lewis N Clark Travel Bags articles
Part 2 of our Lewis N. Clark Travel Bags Review
Travel Security and Flexibility with Lewis N. Clark
Lewis N. Clark WEA RFID-Blocking Mini Cross-Body Bag
Taking Flight with Lewis N Clark Compression Socks and Compression Packers
I was provided sample products for review purposes. This did not affect the writing of this article – all my opinions are my own.
 
Have you tried any of these products before? I'd love to hear what you thought..