Ever wonder what it's like to stay in a penthouse suite onboard a cruise ship?
I for one have always wondered!
Well, I got my chance when sailing onboard the Norwegian Jade through the Mediterranean when I unexpectedly received an upgrade to the most fantastic room and most amazing cruise ship experience.
The minute we entered the queue to check-in for our two-week Mediterranean journey we knew things were different – why?
There was no queue! Embarkation was so perfectly timed that we just strolled right up to the front of the line.
After check-in, we were escorted to a separate area with refreshments and hors-d'oeuvre, and from there we were personally escorted to meet our Concierge for the week, Leah.
Leah explained all the perks that were in store for us with the utmost of hospitality and then escorted us across the hall to an exclusive lunch at Cagney's Restaurant, one of their specialty restaurants, and after our meal, we were escorted to our suite.

Oh How Suite it is! Norwegian Jade Emerald Penthouse
Gobsmacked.
That's the one word that comes to mind when we first entered our cabin.
The Emerald Penthouse (or Cabin 11006), a 2-bedroom/2-bathroom family suite on the Norwegian Jade is massive at 546 square feet with a 54 square foot balcony. Utterly luxurious and comfortable in design and furnishings but there's more…
24-hour butler service
Complimentary bottle of champagne and fruit basket
Priority tender tickets
Priority embarkation and disembarkation
24-hour room service
Espresso/Cappuccino machine
Canapés in your room nightly
Deluxe toiletries
Plush bathrobes, slippers, towels
Fine linens, feather duvet and pillow menu
Bliss Collection by Norwegian™ pillow-top mattress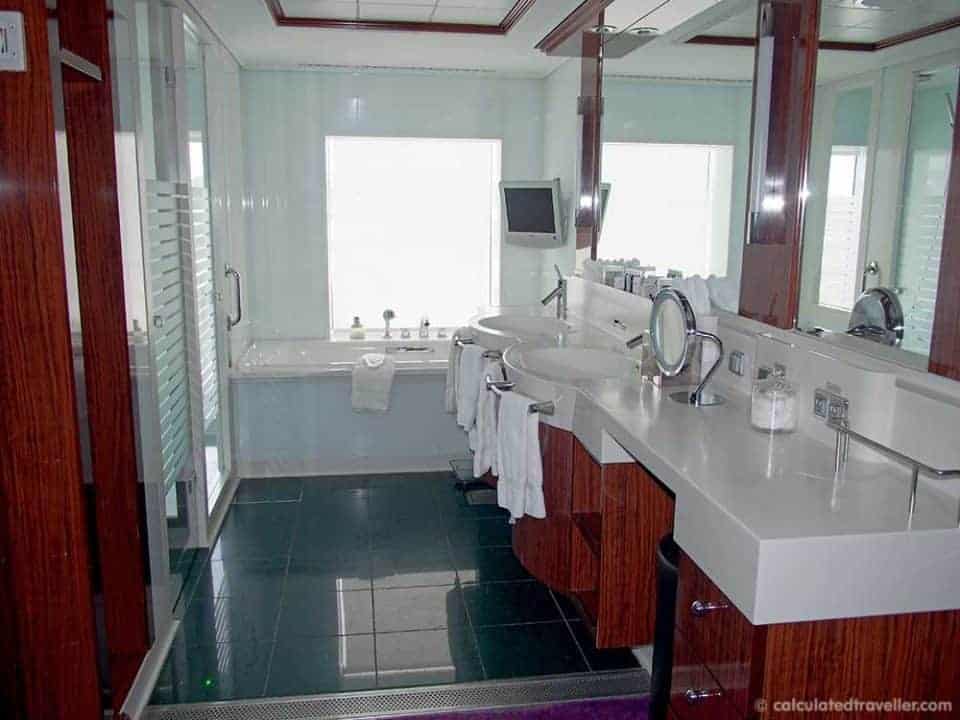 The washroom was massive and was practically the same size as our living room area. With double sinks, separate toilet (with its own telephone?!), shower and large jacuzzi bathtub area. The shower featured a full body shower system with a rain shower overhead.
We had four televisions and three DVD players in our suite!
One perk that we especially enjoyed was the option to have breakfast and lunch daily in Cagney's Restaurant. No need to go to the main dining room or fight the crowds in the regular buffet at the Garden Cafe. Dining at Cagney's was quiet, exclusive and allowed us to get to know the restaurant staff while we enjoyed the selections on the breakfast menu and also a self-serve continental breakfast buffet.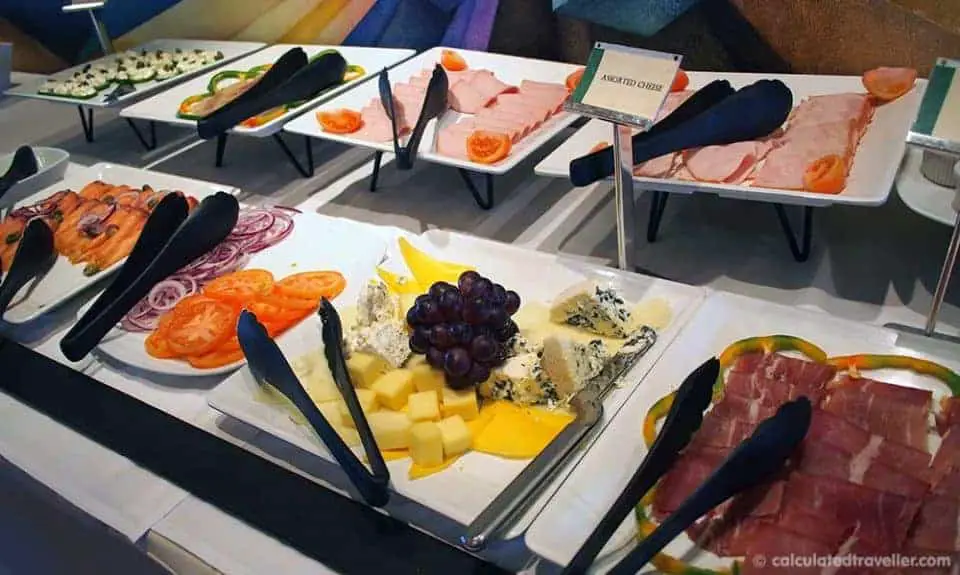 Crab Cakes Eggs Benedict with a side of potatoes and sausage. You don't see this on the regular breakfast menu!
We aren't accustomed to having a butler and concierge at our disposal 24-hours a day but we quickly adapted. Normally, we are very independent travellers and prefer to keep to ourselves but having two people available to ask any travel questions such as where to catch the local bus or the location of the closest Internet café to the port, etc. was so convenient. Sure, we could have lined up at the front desk or asked our cabin steward, these questions but there was no need to our concierge made it a point each evening to stop by at dinner to offer suggestions for our next port of call, change dinner reservations or to generally check-in on us.
A real treat within the penthouse suite is the bar with refrigerator and Espresso/Cappuccino Machine. Our butler restocked the supplies, did a general clean up, provided new china daily and always left a lovely plate of canapés. Alternating sweet and savoury each evening, these little treats were perfect should we wish to entertain guests in our stateroom.
Travelling by sea is the ultimate in relaxation with little to think about but where the ship will dock the next day and what book you should read next at the pool.
Staying in a penthouse on the Norwegian Jade however, is the ultimate pampering experience and should be on every cruise ship passengers bucket list!
Consider this bucket list item CHECKED!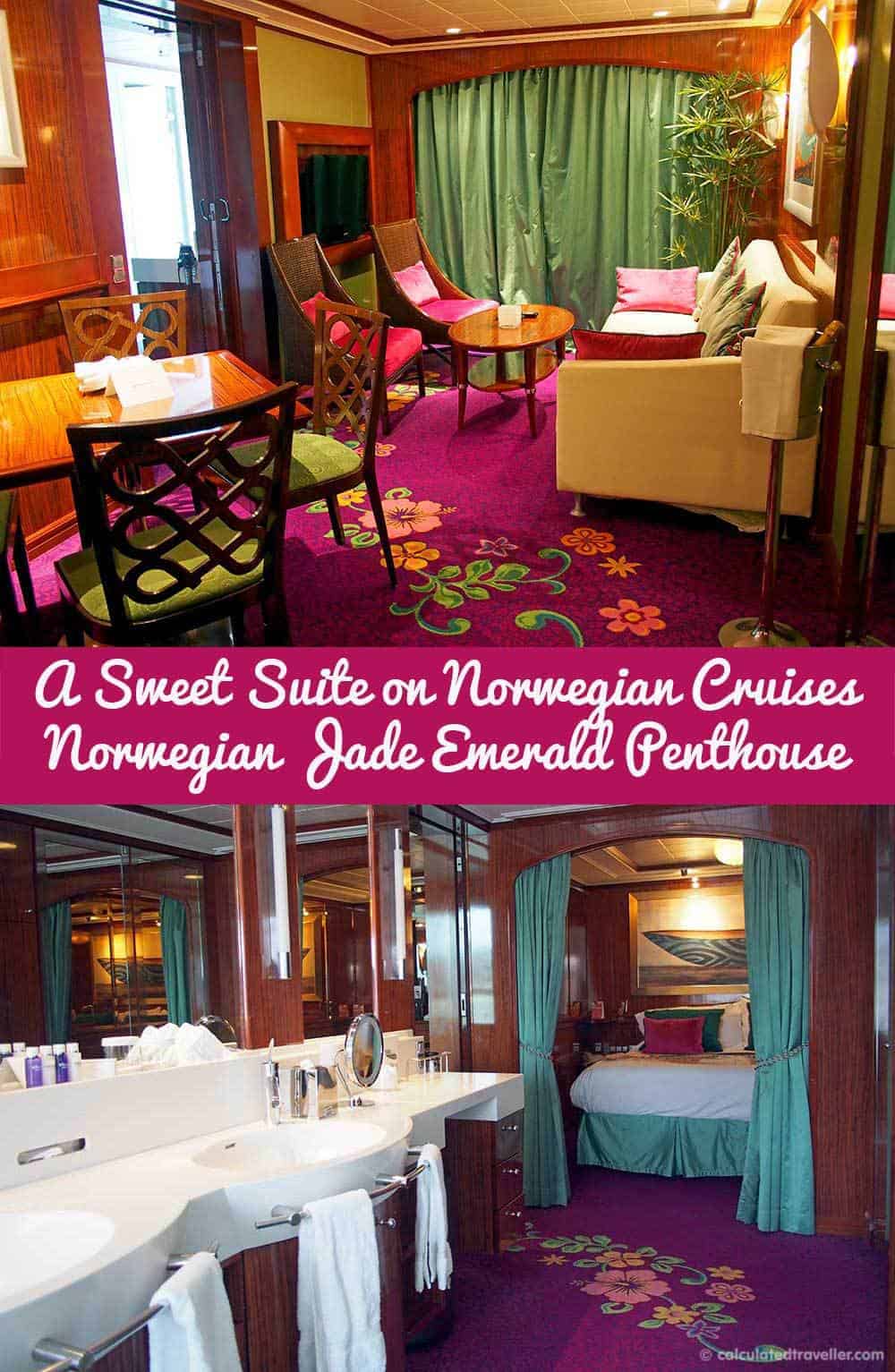 Not a cruiser? Check out these articles:
– What I Love about Cruises
– 10 Reasons Why you Should Try a Cruise
 
Have you stayed in a penthouse suite on a cruise ship before? Share your experience below.