Travel Memories are made of Wine and Paint…
The 6 of us girls are at Painting with a Twist Grapevine in Grapevine Texas creating our very own unique travel memory with wine and paint.
The studio is quiet except for the momentary outbursts of laughter, we are all silently concentrating on the masterpiece we are creating but the wine is flowing and we can't help but laugh each time the bell goes DING!
It's a girl's road trip to Texas gone wild and we are each creating our own masterpiece, our own souvenir and our own memory of a trip that we will remember for years to come.
I had never heard of Painting with a Twist before but I love the concept of a painting party with friends where you bring your own drinks and snacks, and at the end of the evening you each leave with your own work of art. The bonus is that they take care of all the clean up at the end of the party. All you do is bring your supplies to the sink, wash your hands and walk away with your painting and the memories. There are locations throughout the US.
About that Bell
What's with the bell?
The studio rules are simple.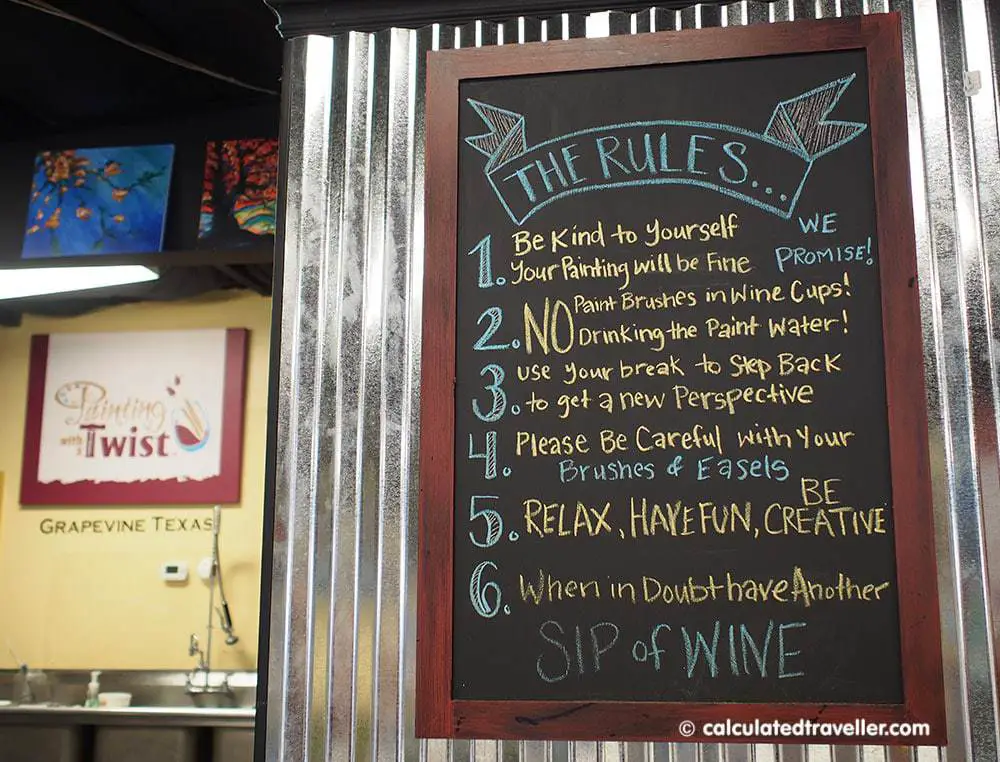 Any negative comment about your painting and DING take a drink!
Any negative comment about yourself and DING take a drink!
Any negative comment about anything really and DING take a drink!
(The bursts of laughter are making sense to you now – am I right?)
What happens at Painting with a Twist stays at Painting with a Twist
(That's not on the sign but it should be)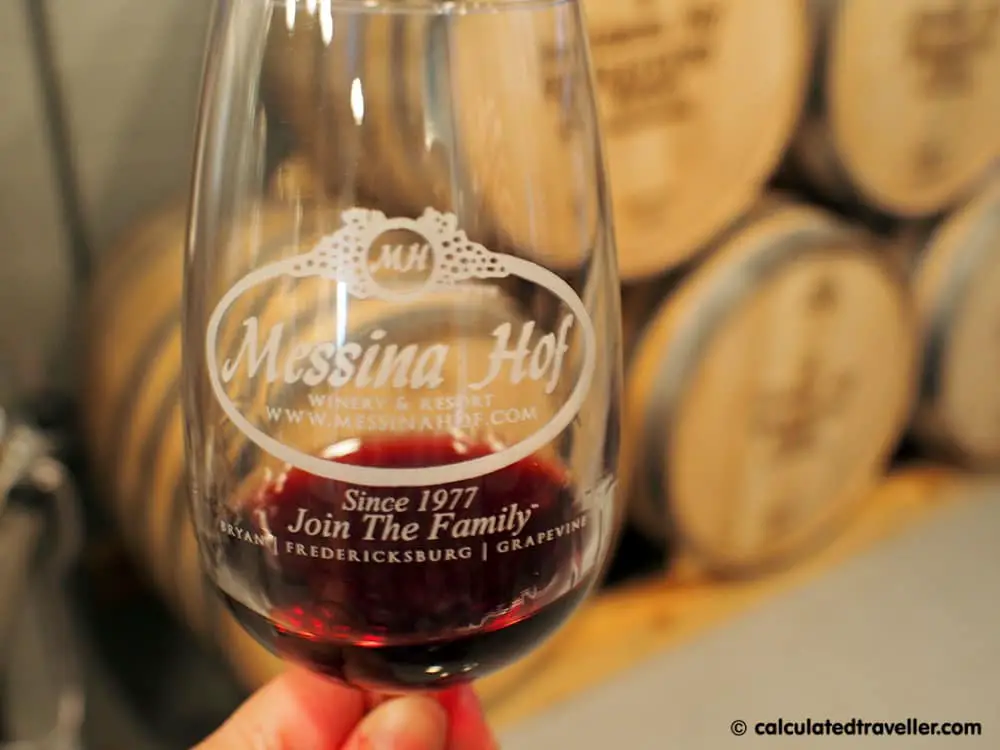 About that Wine
When in a city named Grapevine Texas you have to go on a wine tour, or have a wine tasting. Texas is the 5th largest wine-producing state in the US with 310 wineries and Grapevine is home to 8 of them as well as host to countless festivals and celebrations all having to do with wine.
Although we didn't have the time to actually visit the vineyards themselves, prior to our painting party we did have a wine tasting at Messina Hof Grapevine "urban winery" located downtown in a historic replica of the Wallis Hotel on South Main Street.
At Messina Hof Grapevine we were "schooled" by one of the best. With years of experience as a Sommelier and Tasting Room Manager, Mark Rettig taught us what to look for in terms of the colour, the clarity, the swirl, the smell, and of course how to properly taste fine wine.
For $10 a flight of 3 wines from their ample cellar was presented before each of us.
Let me tell you, it's REALLY difficult to choose only 3 wines to taste out of a list featuring more than 40 award-winning wines from 28 varietals but do the math = 6 girls with 3 samples of wine each – that's a potential 18 wines to sample provided that everyone shares.
Think it's easy to choose what to sample?
It's even harder choosing a bottle of white and a bottle of red to BUY for the painting party!
Messina Hof Winery also offers chocolate, cheese, pastry and charcuterie pairings as well as wine education classes and private special event rooms.
Wait a minute what does all of this have to do with Painting with a Twist?
Sorry, I got lost amongst the grape vines… let's get back to the painting at hand!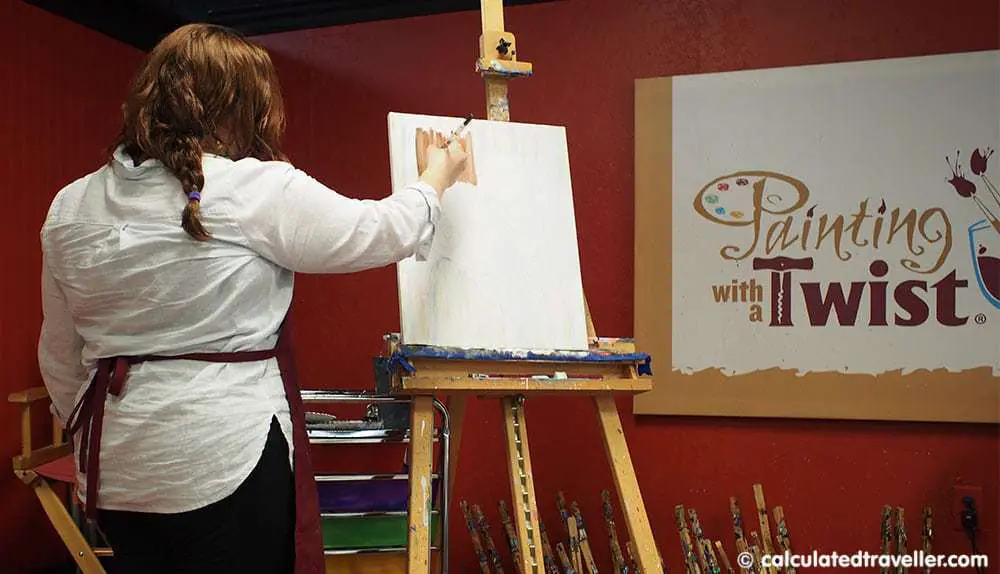 Painting Ladies and their Bottles of Wine
Masterfully taught step-by-step, stroke-by-stroke our instructor Kayla guided our brushes throughout our painting session.
Add a bit of white here…
Use this brush here….
Add some blue here….
Don't worry, no artistic skills are required – the canvas has a pencil outline of what you will be painting so it's practically paint by numbers and if you do mess up the instructor is there to rescue you.
Approximately 2 hours later
Voila!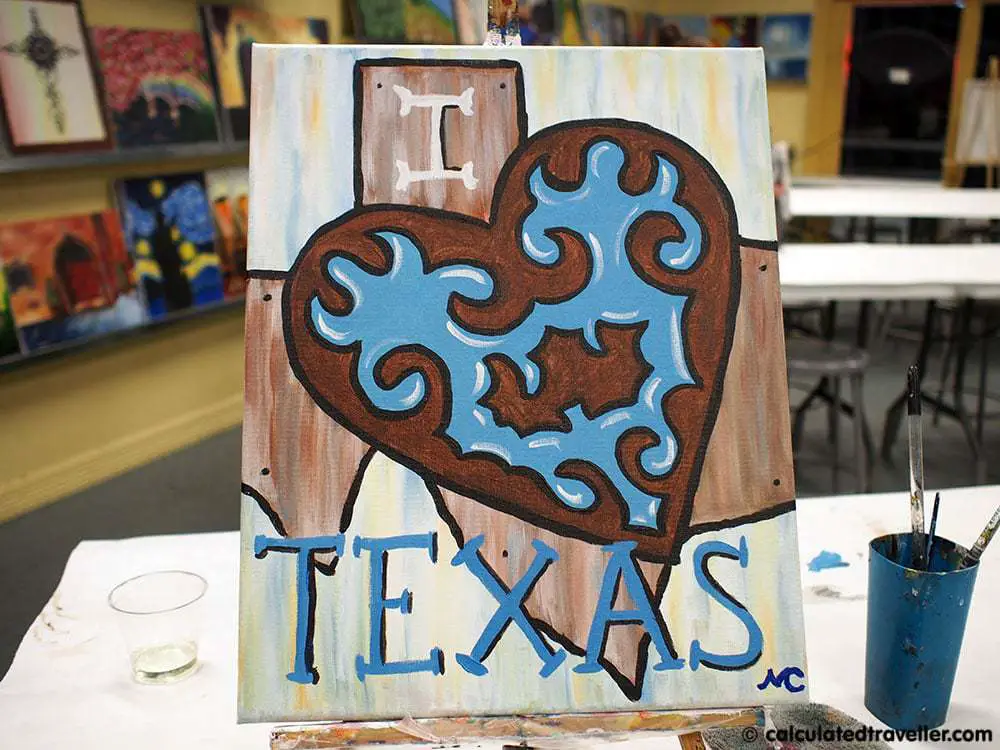 My masterpiece is finished and what a perfect souvenir to help me remember my time in Grapevine Texas with these girl friends!
Tips for Painting with a Twist
BYOB
Paint, canvas, brushes and aprons are provided
Although aprons are provided it's best to wear clothes that you can get dirty
We were lucky that the painting subject for that day was Texas themed. A different painting theme is preplanned by the staff, so do call ahead
Don't stress about your painting
Remember the rules!
Have fun
We shipped our painting home to us but if you plan on doing this during your travels, make sure that you pack bubble wrap/tape/packing paper etc to pack your painting home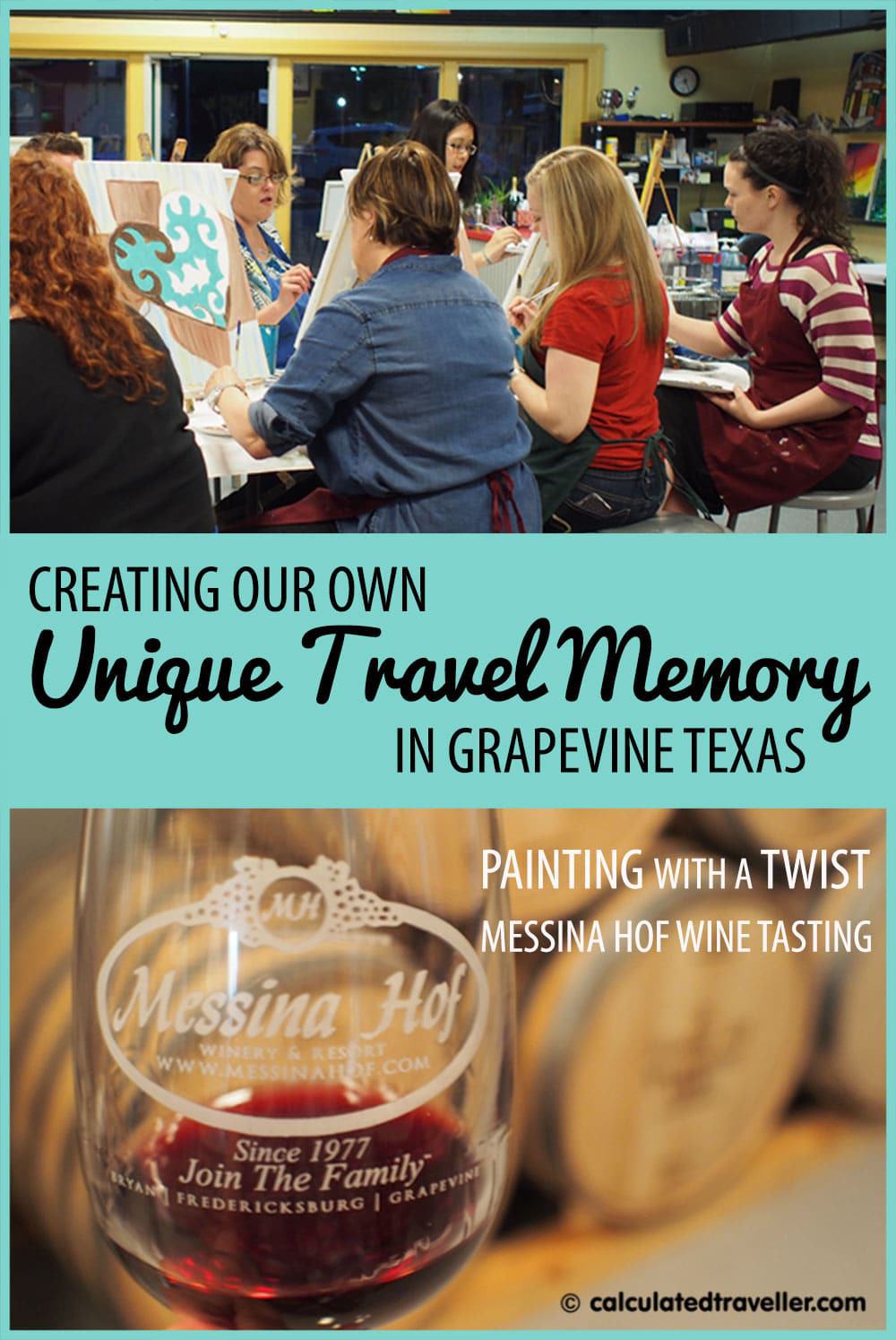 Painting with a Twist Grapevine
203 E Worth St Suite 100, Grapevine, Texas 76051
Messina Hof Winery Grapevine
201 South Main Street Grapevine, Texas 76051
Have you ever created a memorable souvenir on your travels?
 
Travel assistance was provided by Visit Grapevine and Texas Tourism. This had no bearing on my review of this item. As always, all my opinions are my own.
For other memorable souvenirs, check out:
Gone to Pot by Yours Outdoors in Ontario's Highlands
Creating Beauty out of the Fire – Artech Glass Blowing Studio – Haliburton