In the last days of the Second World War, with only a gentleman's agreement stopping German bullets, a Royal Air Force plane flew out to Holland, its bomb bays full of nothing but food. Piloting the craft was Windsorite Robert Upcott. His mission was to drop food on the Dutch people starving under German occupation. This is only one of the many acts of bravery that go on living at the Canadian Aviation Museum in Windsor, Ontario. 
My journey to a life in Canada truly begins here, at a World War II museum in a small town in Windsor, Ontario. When I first landed at Pearson International Airport, Toronto, I didn't quite feel as if I had arrived. Canada's big trick on me was that there was no trick. I expected to have flown past the curtain of stock photos and immigration ads. Yet, after almost a full day of travel, it was still there before me – the distant horizons, Fall colours and the purifying northern wind. I had further to go, past the screen of cliches, till I was truly home. To Windsor, I had to zig, before I could zag to my spiritual destination.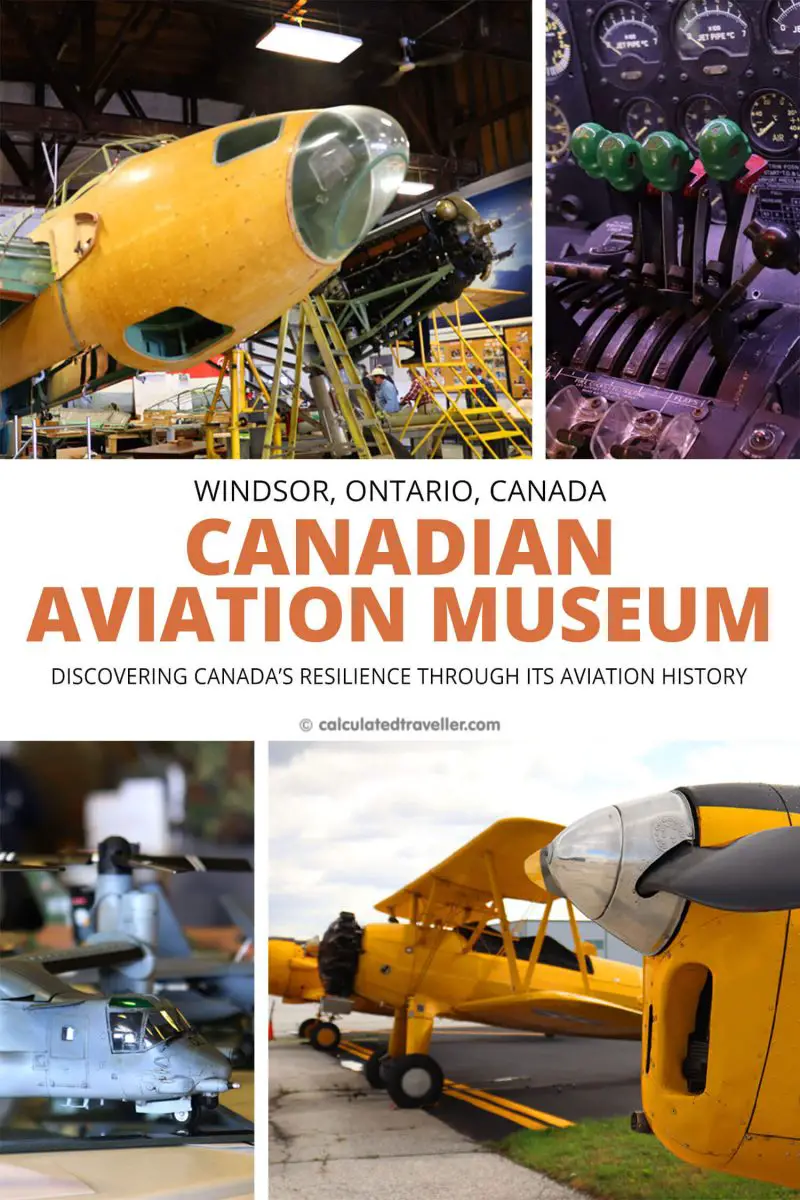 Windsor, Ontario – A Delightful Stop-over Between, America and Canada
Windsor, Ontario, is Canada's southernmost major city. From Toronto, that was a four-hour-long road trip by car. Highway 401 could have gotten me there a tad sooner, but I stopped for coffee. Any trail to the Canadian identity will go through at least one Tim Hortons coffee shop. Soon the hills of Ontario flattened out, and the vistas decluttered. By the end of my double-double and box of Timbits, I came upon Windsor's sentries – the endless fields of wind turbines.
We are here, one of the earliest settled regions in Canada. Its landmarks have witnessed many of Canada's shaping moments. The Françoise Baby House was headquarters to both the British and the Americans in the war of 1812. The Walkerville Brewery is a staple in the Canadian whisky industry and was central to rum-running escapades during the prohibition era. Willistead Manor and Duff-Baby House are time-capsules waiting for those fascinated by stories of North America's turbulent infancy.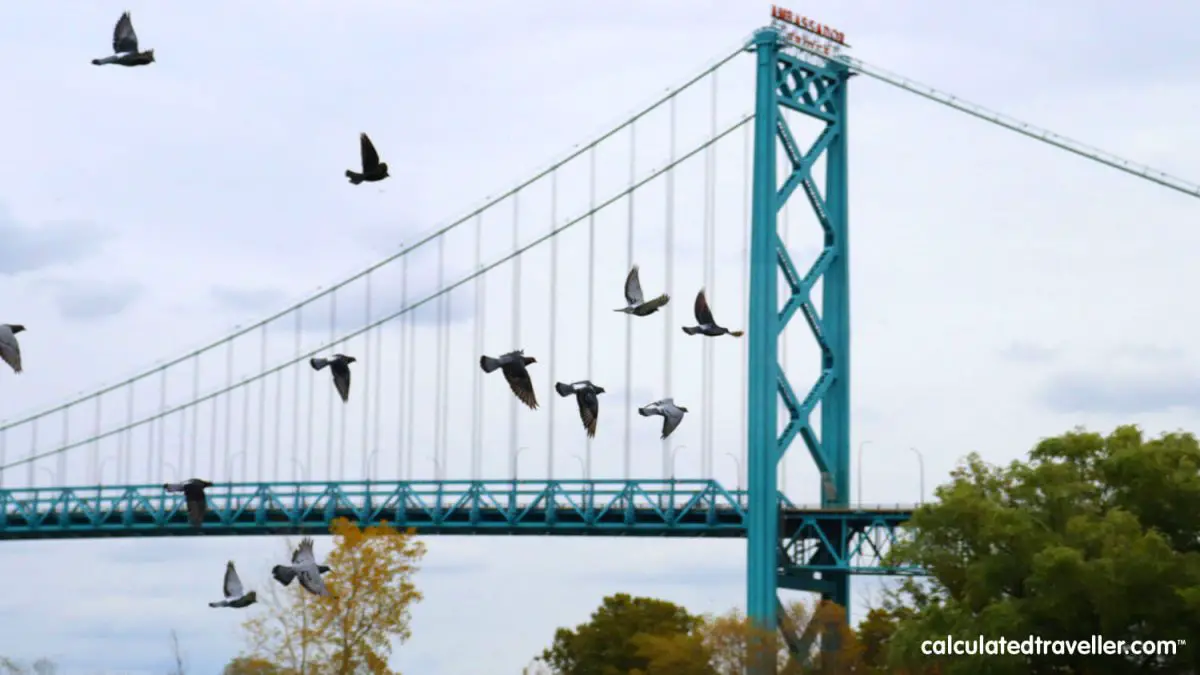 Home to the Ambassador Bridge, the busiest land border in North America, Windsor attracts travellers for both business and pleasure. Recovering from the bust of the car industry, Windsor is reinventing itself as an automation and tech hub. Aficionados of the grape can tour the award-winning wineries of Essex and Pelee Island along Ontario's South Coast. From the small cubicles of big cities, escapees of modernity can drive along the East of Windsor and rediscover themselves in some of Canada's biggest farmlands. Leamington's apple orchards and Colosanti's tropical plant nursery are there to remind you that, even at this late age, the Earth is still young.
Check out the article: A Slice of Windsor Ontario Pizza
How to Get to the Canadian Aviation Museum
The Windsor Canadian Aviation Museum is one of the first things you meet off Highway 401. Exit 14 will take you on to Provincial Road. From there, turn to Concession Road 7 and simply follow the signs for the airport. 
Located within the Windsor International Airport, Ontario, the museum is one of Canada's overlooked gems. Founded in 1993 as the Historical Aircraft Association of Windsor, or the "CH2A", the Canadian Aviation Museum adopted its new name in 2019. In Spring and Summer, the museum is open for public tours from Tuesday through Saturday, from 10 a.m. to 3 p.m. In Fall and Winter, it's open on Tuesday, Thursday, and Saturday, from 10 a.m. to 3 p.m.
PRO TRAVEL TIP: With only a 20-minute drive to the centre of downtown, the museum will be an easy loop-in to your exploration of Windsor.
Read about other Aviation Museums Around the World
Highlights and Events at the Canadian Aviation Museum
The museum consists of just a single hangar. You find it by the western boundary of the airport, and it's an unassuming corrugated enclosure of faded blue. A channel letter sign reads, "Canadian Historical Aircraft Association, No. 7 E.F.T.S". Those last four letters condense the gruelling years of Canada's World War II. Elementary Flying Training Schools were established under the British Commonwealth Air Training Plan. They were the first step towards becoming a combat pilot. More than 133,000 volunteers from commonwealth nations came to train at schools such as this one in Windsor., Between 1940 and 1944, a total of 2,267 candidates entered the hangar of E.F.T.S. No. 7. Of them, 1,673 graduated as pilots while others became bombers, gunners, and navigators.
Read about the No. 6 E.F.T.S. in Dunnville, Ontario
The Annual Aviation Model Show in Windsor Ontario
My visit to the museum coincides with the 6th Annual Aviation Model Show – the busiest day of the museum's calendar. Any other day you would expect to find a dozen visitors studiously queueing after a tour guide. Today, it's as busy and convivial as a market square. The hangar gate is tucked up, and in its shade are a BBQ and a makeshift cafeteria. The yellow training planes are poised outside the hangar — like a troop presenting arms. The historic aircraft, usually the hangar's preeminent occupants, are clustered in a corner to make room for today's honorees, the model makers of Windsor-Essex and their handiwork.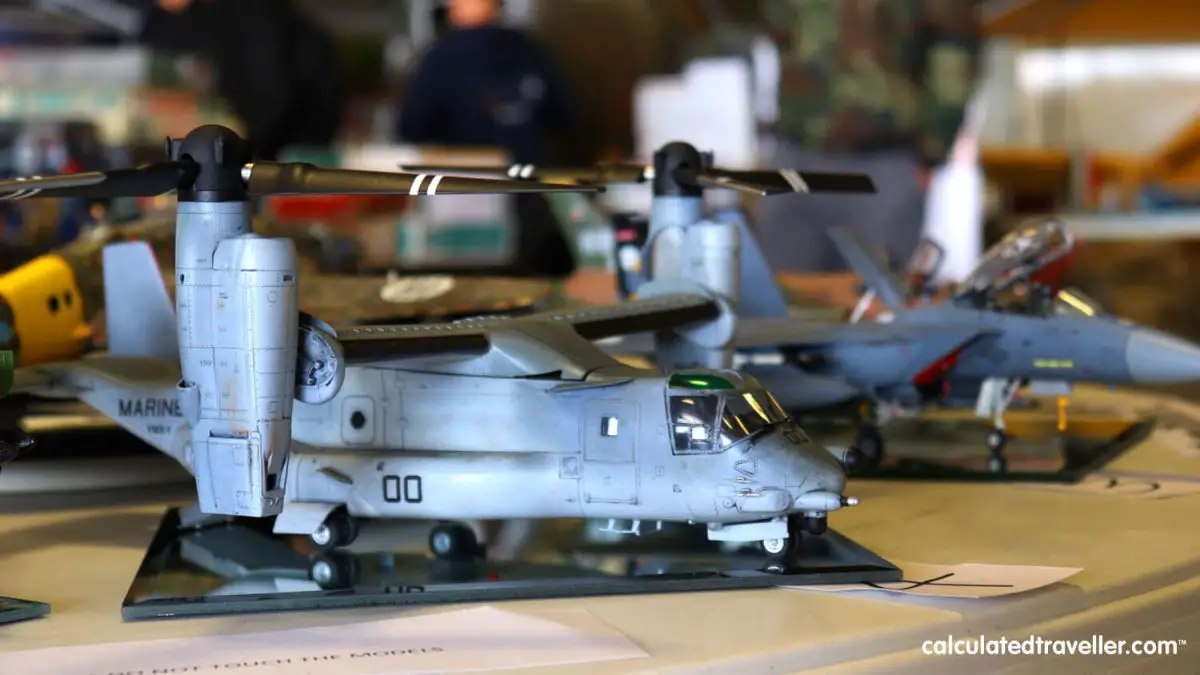 On rows of tables are hundreds of miniature combat vehicles, arrayed into armadas or convoys. These are historically accurate replicas. The craftsmanship of the model makers and the hand-made detailing to resemble the punishment weathered by war machines is incredible. Some of the models on display are built entirely from scratch without the aid of a kit as a starting point. Of course, each model boasts of a battle and an engineering breakthrough. You merely have to wait your turn and point, and the model maker will be eloquent about each turret and exhaust nozzle drawing you deeper into the history of the battle. 
PRO TRAVEL TIP: The Aviation Model Show happens every Fall, usually in the month of October. Dates are announced on the museum website and the Tourism Windsor-Essex, Peelee Island website. If you like your history with a little bit of excitement, this is the day I recommend you visit the Canadian Aviation Museum.
The Mosquito Bomber
The half-completed Mosquito Bomber project is possibly the museum's most unique offering. In 1993, history enthusiasts from Windsor gathered around a highly ambitious project – building a working replica of the DH .98 Mosquito Bomber. What's more impressive is that it's being built entirely from scratch, and to scale. By now most of the shell has been assembled. Two engines are mounted but remain unsheathed. As per the original specifications, the whole plane is made of wood that has been flexed by soaking in water. Manufactured during WWII in Downsview, Ontario, the Mosquito or "mossie", as it was nicknamed by servicemen, is an important piece of the Canadian identity. As it stands now, the Windsor Mosquito is a spectacular snapshot of engineering in progress.
The Lancaster Bomber
Occupying about a third of the hangar is a disassembled FM212 Lancaster Bomber. And among these uncoupled wings and unmounted turrets is the story that drew me out all the way to Windsor. The story of Robert Upcott, the Windsorite who took a plane full of food past enemy lines.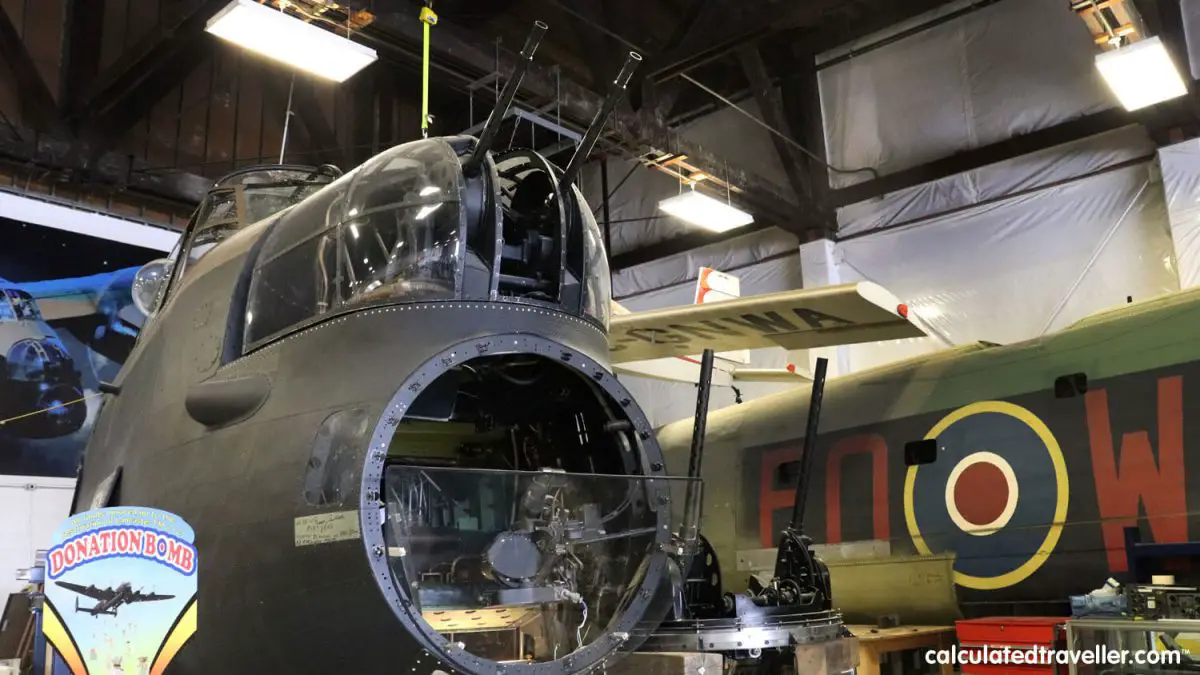 It was a Lancaster that Upcott flew to Holland on April 29, 1945, during the test flight of Operation Manna, an RAF-led mission to air-drop food on occupied Netherlands. At the time of flight, there was no official ceasefire between the Allies and Nazi Germany. Dropping food without parachutes, Upcott had to fly at an altitude of around 150 metres. That was too low for German gunners to make mistakes.
Earlier that month, the Allies had entered into an agreement with the local Nazi command. There was only one way to test the word of their then enemies, and that was the safe return of Upcott and his crew. Out of the kind of humour that survives all hope, the Lancaster chosen for this flight was nicknamed "the Bad Penny". Each crew member carried with him a penny as a charm. The bet was that, like a bad penny, Upcott's plane would just keep coming back. The Bad Penny, of course, came back. That launched Operation Manna. Soon, the USA joined with Operation Chowhound. Over a month, Allies dropped about 11,000 tonnes of dry food on the famine-stricken Netherlands. The Dutch expressed their gratitude by spelling "Many Thanks" with tulips.
Fast-forward 50 years later, Jack and Duffy Davidson, a Windsor couple, were stopping for coffee in Port Elgin, Ontario. They chanced upon a newspaper article that mentioned a construction project called "Lancaster". Curious, they read on to find that the project had seven roads; each named after a crew member of the "Bad Penny". The land developer was a Dutch immigrant named Peter Buttenar, who had a cherished memory of a Lancaster that flew so low that he saw the gunner wave at him, drop food for his family and leave. The Davidsons took the newspaper home, contacted the museum, or the Historical Aircraft Association, as it was known then. In 1996, a meeting was arranged between Buttenar, Upcott and the gunner who waved, Bill Gray. They met at Jackson Park, Windsor, in front of the decommissioned Lancaster that was mounted in honour of Operation Manna. What you see in the Windsor's hangar today is that Lancaster. 
Unfortunately, the plane could not be unmounted without disassembly. After weathering 50 years of seasons, the Lancaster would not be air-worthy even if restored.
Public Plane Rides at the Canadian Aviation Museum
Waiting outside the hangar are four perfectly preserved, historic, planes. All of them are fully functional and available for public rides at a fee. Three of them, the Chipmunk, Stearman and Harvard, were used for training combat pilots in Elementary Flight Training Schools. Their yellow paint-job is to signal other sky-farers that a training pilot is in the cockpit. The Fairchild 24R Argus, with its shallowly scalloped body, was used as a transport plane by both the US Air Force and the RAF.
Plane rides range in price from CAD $85 to $350 on the smallest plane, the Chipmunk. On the much more powerful Harvard, the prices range from $150 to $750. The most affordable option gives six to eight minutes of flight time. The most expensive option is an hour-long and is called an Honour Flight. Each Honour Flight is unique, marking the passing of a particular serviceman from Windsor, and the passenger receives a commemorative coin as a souvenir.
Flight Simulators, Wes Bridgen Archives and Gift Shop
"The Link Trainer" flight simulator is a contrasting object when viewed next to the detailed miniature models and majestic aircraft on display. Overlooking a glass-topped table with a map is what appears to be an oversimplified model, no more than an oblong blue box with stubby wings. Despite its appearances, the Link Trainer was an extremely important training tool for combat pilots during WWII. It was designed by Edward Link, an American inventor, by adapting organ and piano parts into this ground-breaking prototype for the modern flight simulator. Pilots in training would be locked in the cockpit and given the kind of instructions issued by a control tower. The cockpit would rock and move to emulate flight conditions while the pilot would adjust his controls from within.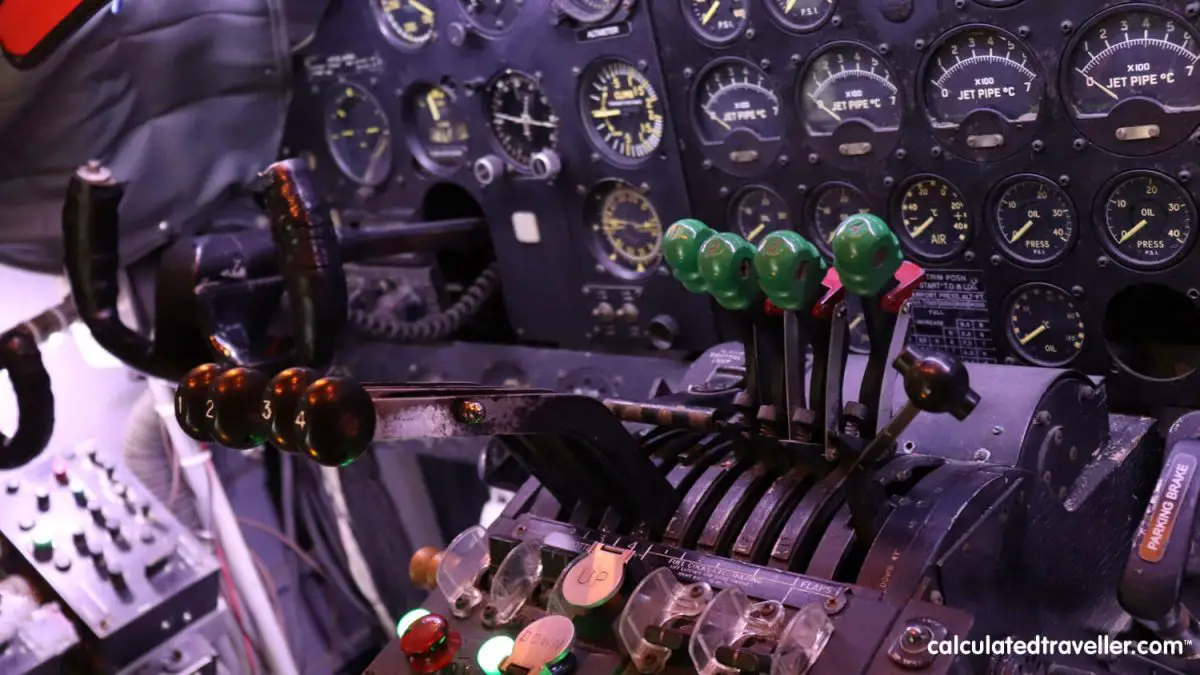 At the very rear of the hangar, you will find a modern descendant of the Link Trainer, a true-to-life simulator previously used by Air Canada. Volunteers of the museum have restored it to partial functionality. Visitors can sit inside and take part in an educational drill.
Outside the hangar, what used to be the parachute loading bay has been transformed into the Wes Bridgen Archives. This is a small museum of memorabilia donated by local servicemen. In glass cabinets, you can find personal effects of soldiers, pilots' helmets and goggles, photographs and letters. Standing by are mannequins with decorated officers' uniforms, flight suits and artillery.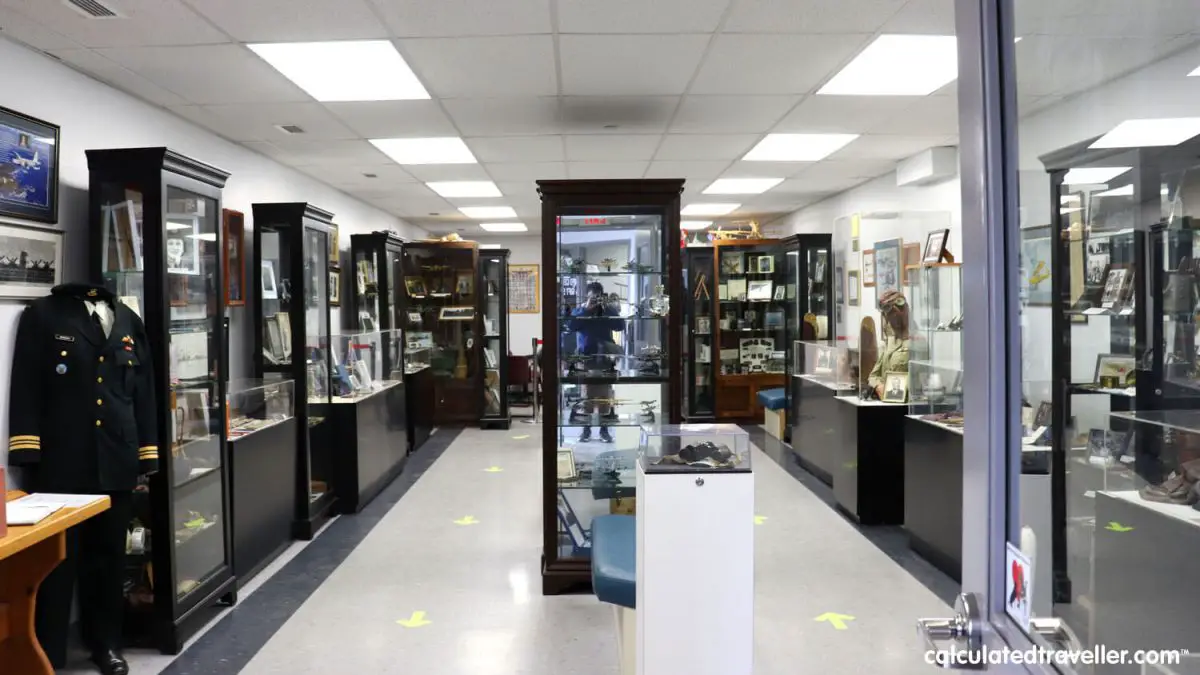 Once you are done with the museum, don't forget to stop by the gift shop. You can find little souvenirs, booklets, and copies of "A Bad Penny Always Comes Back", a children's book by Glen Mitchell about Operation Manna.  A Remembrance Day trip here is a day your child will remember.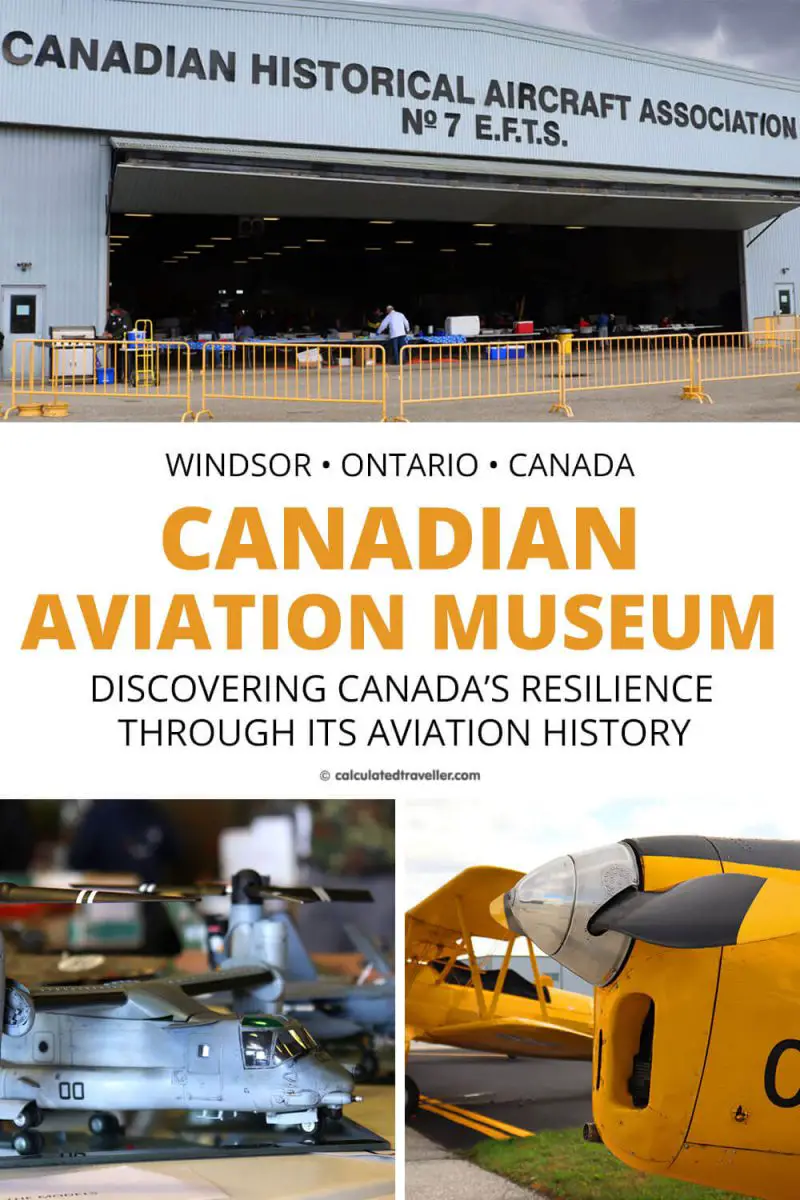 I left the museum just in time for the golden hour, my head full of the stories of bravery I heard. The Northern wind cleansed, the Fall colours burned, and the horizons expanded. As my car glided along Highway 401, I realized that what surrounded me was more than a screen of cliches. Of course, history had not spared Canada. What greeted me at the Pearson International Airport, and continued to accompany me on my road trip, was a scene of regeneration.
All this information was bestowed on me by my cheery guide at the Canadian Aviation Museum. We were weaving through groups of teenagers, young parents with their children, and couples out on dates. Whereas, eighty years ago in this very hangar, boys and girls this young were flying off into clouds of flak or riveting bombs. It's a humbling thought that they were willing to die so that we could have a chance to live. My journey to the Canadian identity may take me to other places. In the meantime, at this museum, I did learn of Canada's resilience.