At the Pismo Beach the Inn at the Pier in San Luis Obispo California, I sit on a king bed covered in crisp white linen. A modern decor of beige blue and yellow tones that mimic the beach outside surrounds me as I attempt to write.
I can hear the noise of the street, the sound of bongo drums, the laughter of the people talking. It's infectious and distracting. I put down my notebook and pen and leave the calm, serene suite to sit outside on the chairs of my balcony and pretend I'm part of the party down below.
The Inn at the Pier with 104 boutique suites has pretty much everything one desires in a hotel. With easily accessible electrical plugs everywhere you look, I have a multitude of USB plugs at the ready to charge my electronic devices.  An espresso coffee maker complete with a choice of different blends, a bar fridge, safe, large 55″ flat-screen TV, and makeup mirror is there as needed.
I'm only booked to stay here for two nights, but I could see this hotel being the perfect place to stay long-term.
There's a comfortable armchair to sit in and read with a light overhead.
There is a desk and a comfortable chair complete with a desk lamp for work.
And shall I ever need some research assistance I can simply ask Alexa for help via the Amazon Echo sitting on top of the desk.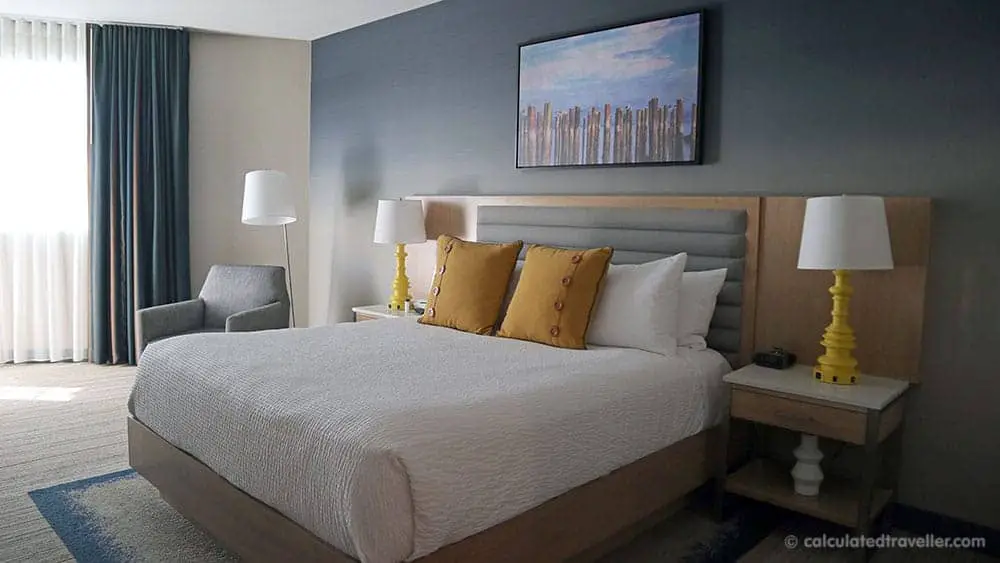 What's Inside Suite 259 at the Pismo Beach Inn at the Pier
The bathroom has a separate shower and toilet area
Ironing board and iron
In-room safe
Vittoria Espresso coffee machine and coffee/tea
Lighted makeup mirror
Armchair with reading light
King size pillow top bed
Desk with chair
Bar fridge
Bathrobes
Private balcony with seating and a view of the city (partial view of the ocean)
Amazon Echo
The Inn at the Pier does offer amenities galore, including a sizeable spacious fitness centre, a dipping pool with hot tub, bar, and restaurant on the roof.
There are a few faults, as nothing can indeed be perfect.
There is no microwave in the guest rooms
The windows and balcony door aren't soundproof
Suite 259 is a far walk from the elevator
I could not find any recycling bins throughout the hotel or in my room.
The Inn at the Pier Rooftop is great for a quick dip in the pool, and a beautiful place to chill in the afternoon sun with a full view of the coastline. However, I was a bit put off by the security. A hotel key card is required to access your room, but access to the rooftop bar and guest room hallways is not secure and are open to the public.
Dining at Blonde Restaurant and Bar, Inn at the Pier
Found on the main floor of the hotel, the Inn at the Pier restaurant and bar serves breakfast, lunch and dinner. We ate here for breakfast both mornings of our stay.
The French toast of local artisan sourdough bread soaked in an orange-scented custard served with fresh berries, real maple syrup and powdered sugar was a winner especially with the addition of a side of bacon.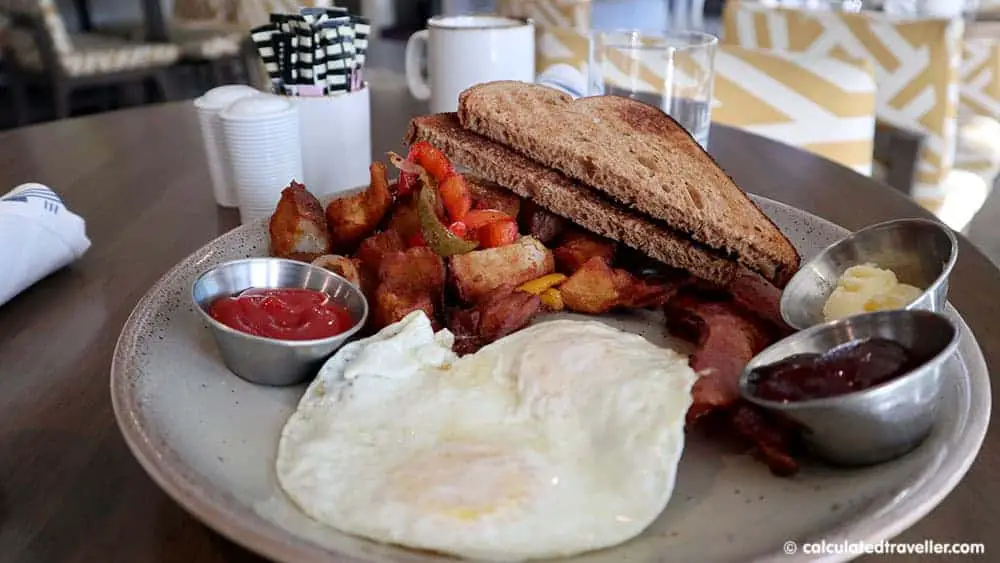 "The Ushe" (or the "Usual") breakfast of 2 eggs made to order, choice of bacon or chicken apple sausages, house potatoes, choice of toast with whipped butter and seasonal house preserves. I found the dish to be a bit greasy, but otherwise, the flavours were tasty.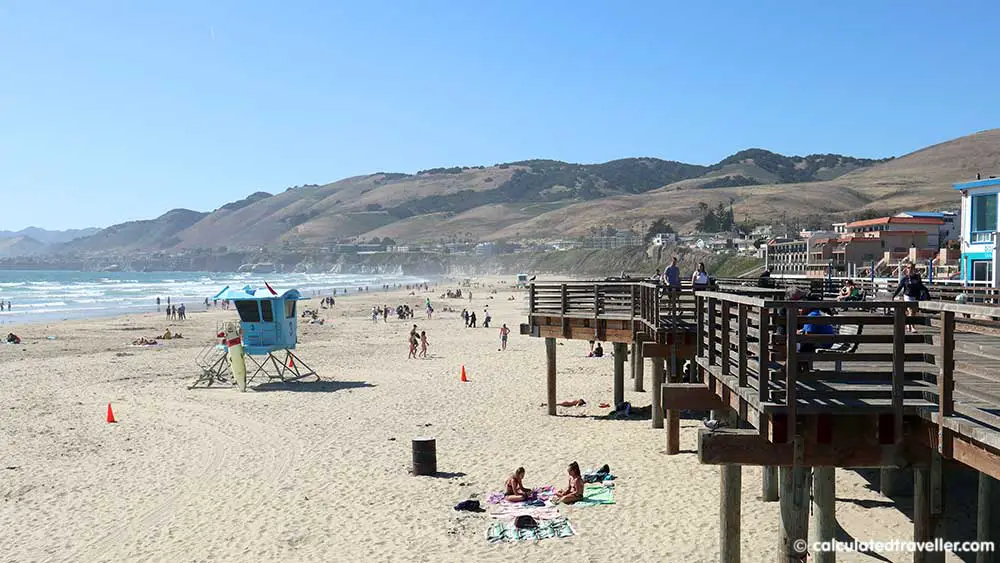 What's in the area of Pismo Beach Inn at the Pier?
If you're looking to explore the area of San Luis Obispo County, but not travel too far, you will be happy to know that you are right on Pismo Beach. This beach is perfect for taking a morning stroll, breathing in the fresh ocean air, and gazing into the crisp blue sea for miles. Pismo Beach and the 1200-foot Pismo Beach Pier is steps away from the Inn at the Pier. I could have spent hours out here.
North Pismo Beach has lots of trails, beach access, ocean viewing and is home to Memory Park Pointe Vista and Dinosaur caves park.
If you are looking to explore other beaches nearby, there is also Avila Beach, dog-friendly Pismo Beach Park.
Right around the corner of Inn at the Pier is downtown Pismo Beach with a multitude of souvenir shops, restaurants and bars. If you are looking for sweets, there are a few candy and ice cream shops also.
Serious shoppers should take a quick 10-minute drive over to the Pismo Beach Premium Outlets with 37 stores including Coach, Calvin Klein, Kate Spade, Michael Kors etc.
For more California beaches check out our article HERE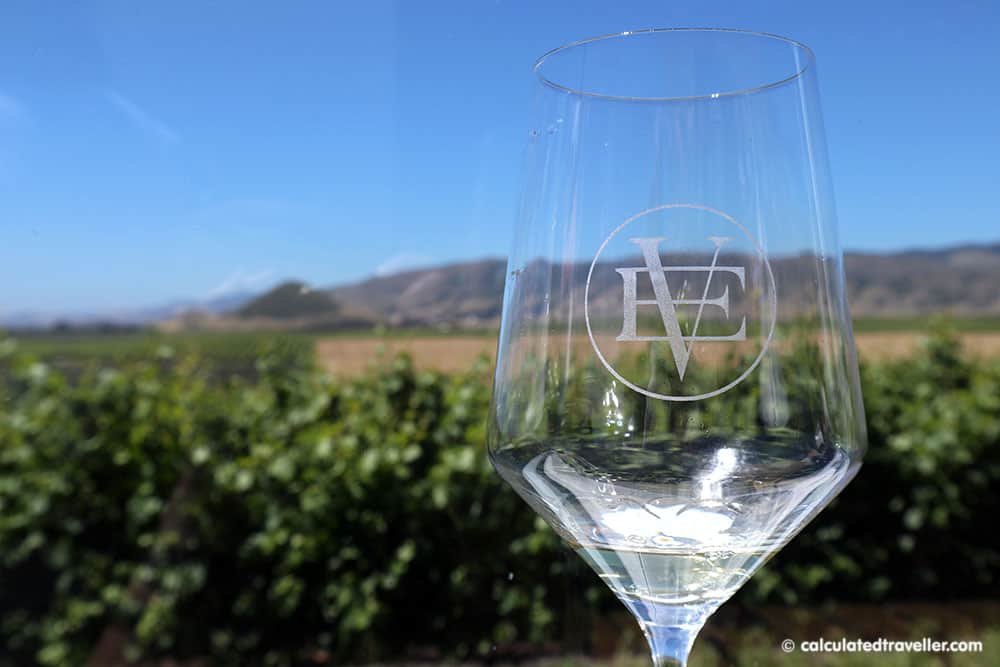 Edna Valley Wine Country
Hop in your car for a beautiful scenic ride, and you find yourself entering Edna Valley Wine Country. You could easily do a wine tasting or two since there are over 250 wineries in Edna Valley and Arroyo Grande Valley. The coastal climate makes this area perfection for creating award-winning wines. Of course, visiting this area is truly the only way to taste the delicious wines for yourself.
Hearst Castle
Before you return to the hotel for the evening, I encourage you to drive to Hearst Castle. Located approximately 40-minutes from the Inn at the Pier Pismo Beach hotel, this is one historical stop to make. A museum like no other it's noted as a National Historic Landmark and is one beautiful sight to see. As you approach Hearst Castle, you can see due to its vantage point that it sits high above everything else, and at one point it sat above the village of San Simeon. Ensure you take the time to look at Casa del Mar, Casa Grande and steal a glimpse of the beautiful outdoor swimming pool that is famous for its teal hue.
Morro Bay
When you're in the mood to explore this area a little more, make your way over to Morro Bay. This area is well known as a coastal city in California. Gorgeous doesn't begin to describe the trails and lagoons you will see. Another reason I loved Morro Bay is the miles and miles of beaches. The volcanic peak is known as Morro Rock.
Located in the Morro Bay area is Tognazzini Dockside Restaurant in historic Embarcadero. I would describe the atmosphere of this sit-down restaurant as cosy. We ate our seafood from the patio, under the watchful gaze of Morro Rock in the background. You may be lucky and catch a glimpse of the fishing boats with fresh, delicious seafood returning to shore.
Morro Bay Skateboard Museum
To me, there is nothing more compelling than seeing the history of something. The Morro Bay Skateboard Museum had me intrigued even before I walked through the doors. This museum is unique because you get to see the entire history of skateboarding to the present day. The museum features exhibits from skateboarding in the early 1930s through 2019. I was able to walk through the museum and see over 200 skateboards from the various eras.
Oceano Dunes Natural Preserve
Oceano Dunes Natural Preserve is a natural attraction that one must see with their very own eyes. As I got closer to the tall ocean dunes, I couldn't believe their size and majesty. Many hikers spend time hiking these dunes. I don't blame them because it's something I could do all day! Not only can you camp on this beach, but you could also go horseback riding, and drive right up to the beach. If you are in an adventurous mood, you can rent an ATV or buggy from one of the many rental companies on the beach. Keep in mind that this is the only state park that allows this in California. Many people would say this is reason enough to visit Pismo Beach on any given day.
Guadalupe-Nipomo dunes preserve is 22000 acre and the most extensive dune complex at the edge of Pismo Beach where you can ride ATVs dune buggies right on the beach. Also available are horseback rides, Hummer tours, motorized scooters, ATV rentals, and sand surfing.
All in all, the Inn at the Pier was a great place to stay right near the beach. It was comfortable, breakfast was tasty, the service was excellent, and the location of the property was convenient to get to all the various attractions in the Pismo Beach area.
Pismo Beach Inn at the Pier
601 Cypress Street, Pismo Beach, CA 93449, United States
Read more reviews HERE
For other places in the area:
– Tasting Paso Robles Wine Country
– Allegretto Vineyard Resort in Paso Robles
–
I was provided with a complimentary stay as part of a Media Trip of the California area. All opinions are entirely my own.