Nestled in among the farms and orchards about a 30-minute drive from downtown Miami is the 10 acres of jungle rainforest known as Monkey Jungle. The sign at the entrance says it all…
"Where Humans are Caged and Monkeys Run Wild."
Family owned and operated, the primate "bio-park" was founded in 1933 by Joseph and Grace DuMond as a bio-park, research facility, educational facility, conservation area, and breeding sanctuary.
We had an opportunity to visit Monkey Jungle this past December and had a great time… we didn't know what to expect at all, and I honestly say I could have spent hours here.
At Monkey Jungle, Penelope greeted us at the door…
The fun started once we entered the front door when we were greeted by a staff member, holding the cutest little newborn named Penelope.
In the photo, she looks like a stuffed animal, but I assure you she is real, and she was so sweet and tiny…a great start to the beginning of our monkey adventure. We were told that Penelope was hand raised by Sharon DuMond – and you could really tell that she was being cared for with love. (I so wanted to hold Penelope but was too bashful to ask and got as far as asking to take her photo.)
We picked up our boxes of "monkey food" and with our map of the grounds in hand, we were off to explore.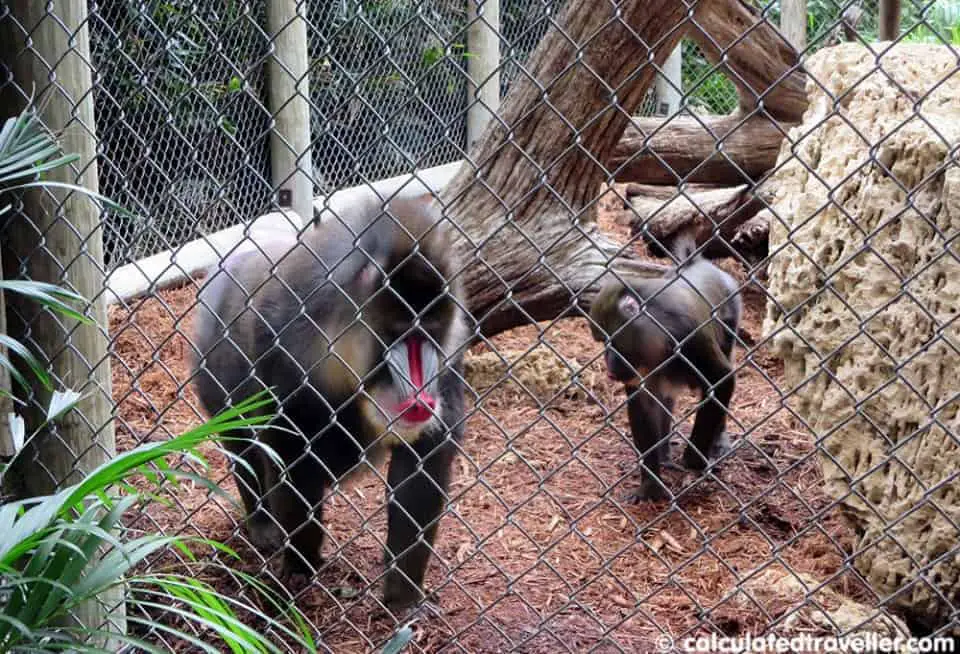 Who's training whom?
Down the chain link covered tunnels, we walked, with not a soul around when we noticed these little metal cups hanging by chains from the ceiling of the enclosure.
Before we knew it, there was a scampering sound and a little monkey appeared. He reached through the fencing quickly pulled the empty cup to the top, rattled it and let it go. Ray and I looked at each other with huge smiles on our face and laughed with glee…. Well, apparently he was sending us a message, happy to oblige I opened my box of raisins and dropped a few in the cup. The monkey pulled the cup up, retrieved his prize and dropped it.
We continued along the tunnel and not only were they following us but, the word was out, and more and more monkeys started to appear all wanting to "play".
There isn't a defined route that you need to follow, but we wanted to see all 4 of the presentations first to get them out of the way and then explore the rest of the grounds on our own and not have to keep an eye on the timetable.
There are four presentations available for viewing:
Mei the Orangutan
King the Ape
Amazonian Rainforest Feeding
Wild Monkey Swimming Pool
The presentations were informative and meant to show how incredibly intelligent the primates are, but personally, I don't like to see animals "perform", which is what the Orangutan and Ape presentations seemed to be. I much preferred the Rainforest Feeding and Wild Monkey presentations because the monkeys were just roaming wild and just being fed.
But, what we loved the most (and spent most of our time) was moving from enclosure to enclosure to feed the various breeds of monkeys. We went through 4 boxes of raisins and of course, I wanted to buy more.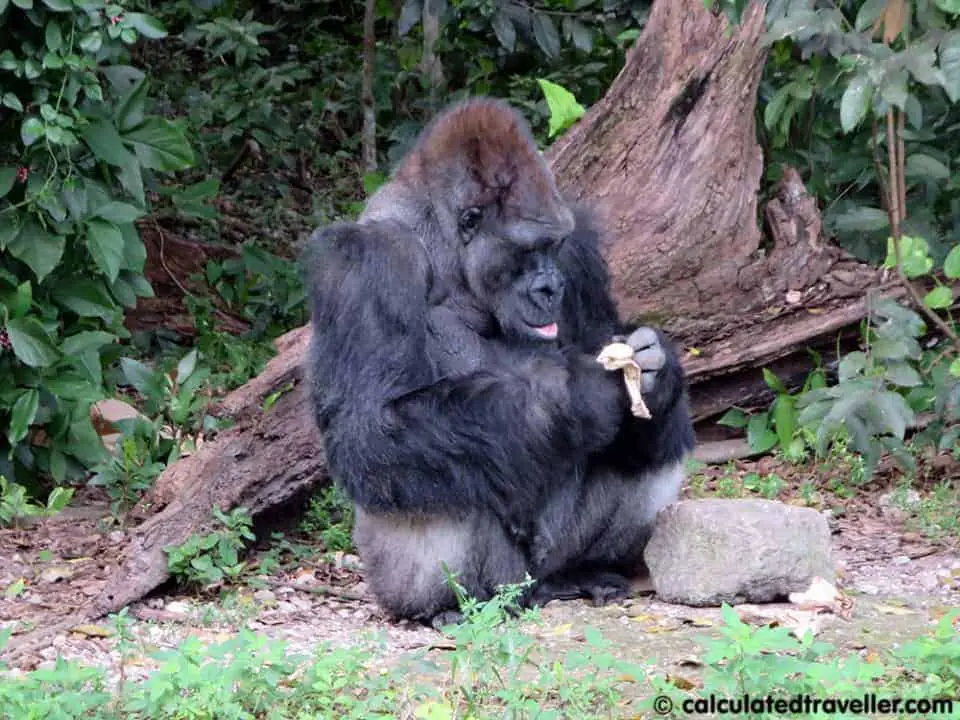 There are more than just monkeys to be seen; there is also a large aviary area as well as tortoise and iguanas.
Monkey Jungle is a non-profit organisation. They have an "Adopt a Primate" program as well as a volunteer program. They also offer Birthday Packages which I know the kids would just love because I loved it here, and I'm a big kid at heart.
Monkey Jungle Tips
Don't wear new shoes or sandals. The walkways are covered in red cocoa mulch and will stain.
Make sure to buy lots of "monkey food" at the front desk – 1 box of raisins was not enough. (There are food dispensers available throughout the park as well)
Do not feed the monkeys directly, they are wild and may bite – always use the feeding cups and tubes
Aim to go early in the day before the monkeys get too full from everyone feeding them.
Check the presentation schedule online before arrival so that you can time your visit accordingly.
Restrooms are located by the wild monkey swimming pool.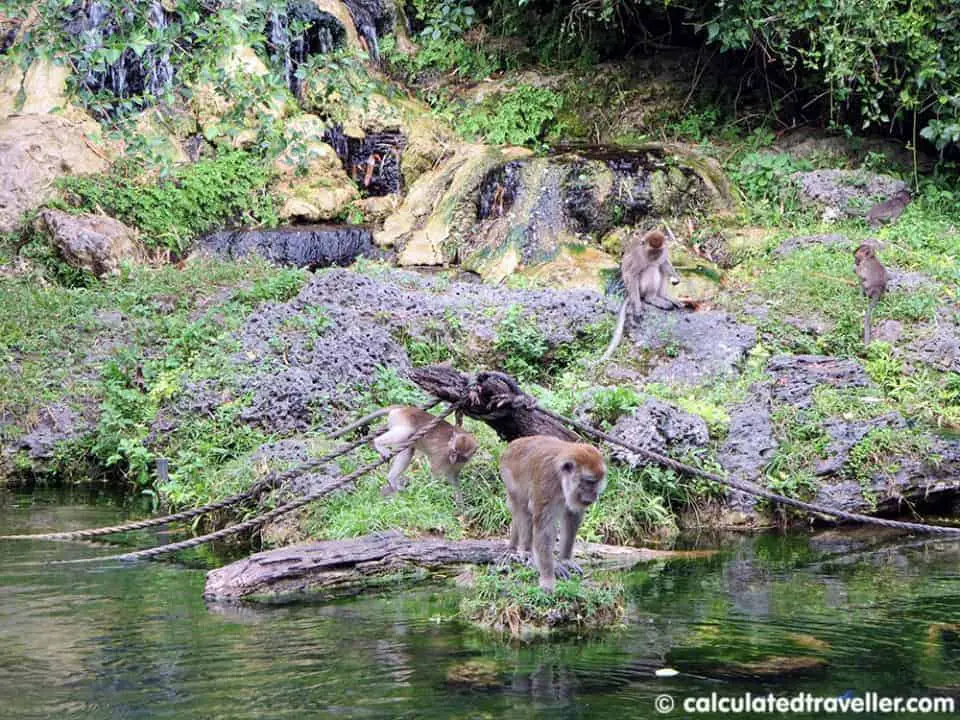 Note: Travel assistance was provided by Monkey Jungle and the Greater Miami Convention and Visitors Bureau. The opinions expressed, positive and/or negative, are entirely that of the author and are not a reflection of the compensation received.
Monkey Jungle
14805 Southwest 216th St. Miami, FL 33170
(305) 235-1611
Looking for more articles about Miami?
– 11 Things to do in Miami Florida
– An Introduction to Little Havana Miami Florida
– Eating my way through South Beach with Miami Culinary Tours
– Mojitos, Architecture and Art at the Lincoln Road Mall in Miami